Windows 11 does not yet have a stable version available, but can already be used in a trial version (beta). This new operating system is not extremely demanding compared to its predecessor, Windows 10. How do you know if your PC is compatible with Windows 11?
Minimum requirements for Windows 11
Some features of Windows 11 have specific requirements, but to run Windows 11 there are minimum system requirements. That is, the basic configuration, without which you will not be able to install Windows 11 on your computer:
Processor : 1 GHz frequency or more, with 2 or more cores on one 64-bit processor compatible or a system on a chip (SoC).
RAM memory : 4GB.
Storage space (Disk): 64 GB.
UEFI compatibility (UEFI Compliant Secure Boot), Secure Boot and TPM.
Graphic card : DirectX 12 / WDDM 2.x compatible.
Screen resolution : 9 inches.
Microsoft account required (Family edition).
Secure Platform Module (Trusted Platform Module, 2.0).
With the minimum configuration, you can already be sure that your PC is compatible with Windows 11 or not. As said, there are some Windows 11 features that have requirements beyond the minimum configuration. Higher demands, detailed by Microsoft.
Read also: Download the Windows 11 installation file.
Find out if your PC is compatible with Windows 11 with PC Health Check
Microsoft PC Health Check is a tool that some people used to check the compatibility of their computers with Windows 11. Proposed by Microsoft, it is unfortunately currently withdrawn for technical reasons.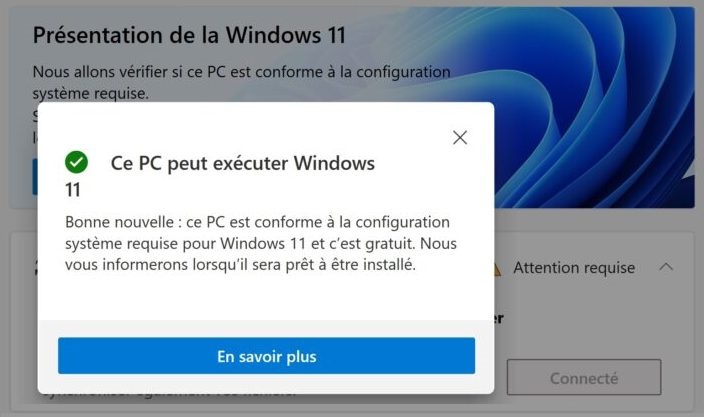 The tool allows, in a few clicks, to be informed if the PC is compatible with Windows 11 or not. It was provisionally withdrawn then put back online. You can again download and install PC Health Check on your computer.