Today, many people use the application WATCHED to stream for free and access content from multiple platforms and channels. But the procedure by which the application accesses the contents is illegal. Is it still a good deal?
It all depends on what the term "illegal" means to you. But if this question has occurred to you and you are looking to find out more, then we will try to see it more clearly.
Who says streaming platform says subscription. Unfortunately, as we all know, a monthly or annual subscription is not an easy affair for many people. With the scale that streaming has taken these days, especially with the advent of the pandemic of Covid-19, many streaming enthusiasts have turned to free alternatives.
One of the most popular today is WATCHED Multimedia Browser. It is in fact an application available in Android, iOS and computer versions, allowing you to enjoy streaming and IPTV services without subscription or registration.
The application simultaneously acts as a media player and web browser to access content hosted on remote servers. Before we see how to download and use WATCHED to stream for free, let's try to understand how it works. But remember that its content access procedure is illegal.
WATCHED with free bundle, how does it work?
It is not a streaming app per se, since it does not host any content. Rather, it uses so-called packages " Bundle Deals ". The term bundle refers to a bundle, a set of products supplied in bulk, often in a promotional context.
As said above, the application also integrates the functionality of a web browser. And so, by using WATCHED to stream for free, users access bundles, data packets hosted on remote servers.
These bundles contain paid series, films, channels and television programs, which are then accessible free of charge by users. To access it, the user will indicate the address of the server and, from that moment, will see all the programs appear.
To clarify, the WATCHED Multimedia Browser application itself is not illegal. The notion of illegality comes into play from the moment we speak of a bundle. Bundles are illegal services hosted on servers that are in turn illegal and not officially known. The most used bundle server today is at https://huhu.to.
In short, using WATCHED to stream for free via bundles is perfectly illegal. Apart from the problem of illegality, another possible danger exists in the use of bundles, we will come back to this. But if you want to use WATCHED to stream for free, here's how.
Read also: How to stream for free with TV5MondePlus?
Download WATCHED Apk for Android, for iOS and for Computer
WATCHED is available on multiple platforms. You can therefore use it on Android, iPhone or iPad as well as on your computer. The app is again available in Play Store, after a time away from the Google application store. It had been withdrawn there, for reasons that we do not control.
Download WATCHED Apk for Android | Download WATCHED on App Store.
It is therefore possible to download WATCHED from either the Play Store for Android smartphones or the App Store for Apple smartphones. You can also download the desktop version.
Download WATCHED for Windows, macOS, and Linux.
For a while, there has been a Modification (Mod) of WATCHED, called WATCHED More (WATCHED +). This version is a clone, therefore unofficial, and also allows you to follow films and programs for free. It works, yes, and you can try it out too if you want.
It hardly differs from WATCHED, in its appearance or in its operation. However, I cannot guarantee that it is a clean application. I don't know much about how reliable it is for users' privacy and their data. Download WATCHED (Mod) for Windows.
How to use WATCHED to stream for free?
After downloading and installing the application, here's how to take advantage of WATCHED Multimedia Browser:
Open the app and tap the add icon framed in green.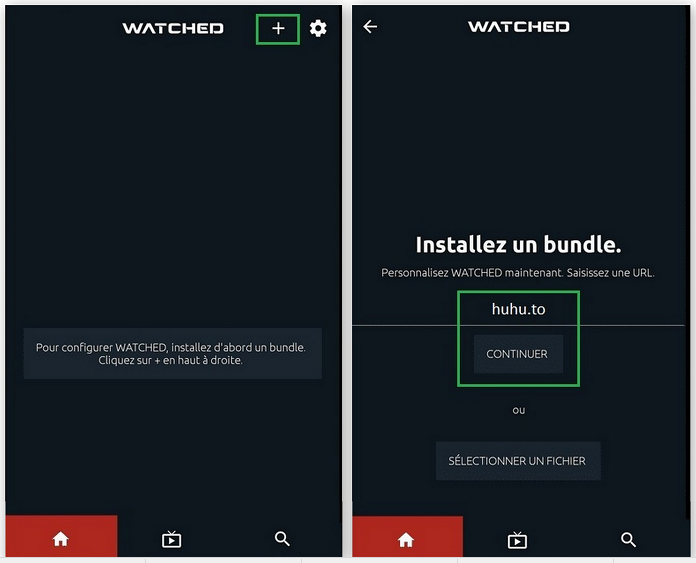 Afterwards, WATCHED will give you the possibility to enter a URL corresponding to the bundle you wish to install. The most used bundle server today is at https://huhu.to. Enter the server address, with or without https://, so you can simply type huhu.to and click on Continue. From there you will be taken to the page with hot movies and series.
Select a movie, a series of your choice and select a source server. A list of different servers will be presented to you according to the languages. Select one of them and start your streaming session.
As you have probably noticed, the application has three main features. Apart from the first one representing the reception and allowing to use WATCHED to stream for free, there is also the one allowing to search for a film, a specific series, as well as the intermediate functionality allowing to follow the TV live.
Read also: Download YouTube videos without downloading software.
IPTV access: Live channels on WATCHED
Apart from films and series, WATCHED also provides access to live television channels. It provides access to IPTV (IPTV) channels, which is a technology for broadcasting video signals through broadband connections. This technology uses the Internet Protocol (IP) to guarantee better reception.
Here is how to proceed to follow the TV channels directly from your smartphone:
Click on the menu icon at the bottom center of the WATCHED screen. This is a TV icon between the Home icon on the left and the Search icon on the right. As soon as done, at the top, click on HUHU.TO at the Playlist level.
A list of channels accessible free of charge will be at your fingertips, with the possibility of personalizing it. At the top of the list, right side, click the down arrow icon ▼ to select the source channel language by country.
Select according to your preferences, press the channel of your choice and you're done.
Read also: How to install Disney + on PS4 and on Apple TV easily?
WATCHED: illegality and risks of use
There are a lot of illegal tools on the internet, and oddly enough, they are often very useful. So let's forget about copyright for a moment to talk about other possible dangers associated with the use of WATCHED. As said above, the app itself is legal. The problem comes from the data to which it gives access, the bundles.
Being illegal and coming from unknown servers, the use of bundles, of these packages coming from servers of which you do not know anything about the operation or the owners, represents a potential danger for your devices and your privacy. These servers or bundles could carry viruses that are harmful to your devices and / or data.
Quality has a price, free also has a price, sometimes heavier. So if you go for this app, if you decide to use WATCHED to stream for free, it is at your own risk. At least you already know a little more.
However, if while using the application you notice a problem related to the confidentiality of your data, do not hesitate to uninstall it immediately.