To install a new version of WhatsApp, some users start by uninstalling the outdated version. This leads to loss of application data. Now find out how to update WhatsApp Messenger without losing your data.
On Android, there are two ways to do this while saving app data. The first is to update the app through Play Store, the second is to download and install the updated APK file. It is a manual update.
On iOS (iPhone or iPad), the only method, or rather the recommended one, is to go through App Store, Apple's official store.
Why update WhatsApp?
Through updates, the development team of WhatsApp improves the application. In the event of a security flaw in the application, updates can be very important to correct these flaws.
An update can fix many flaws in the app and bring new features. However, sometimes an update is the cause of an application malfunctioning. In this case, the developers are quick to come up with a new patch update.
Read also: Phone number is not allowed to use whatsapp.
Update WhatsApp via Play Store (Android)
Before proceeding, avoid uninstalling whatsapp. Its very important. Otherwise you won't do an update but a new installation of WhatsApp, and will lose the application data. Use the button below to install a WhatsApp update from Play Store.

Play Store will open and you can start updating WhatsApp by simply tapping " Update profile ».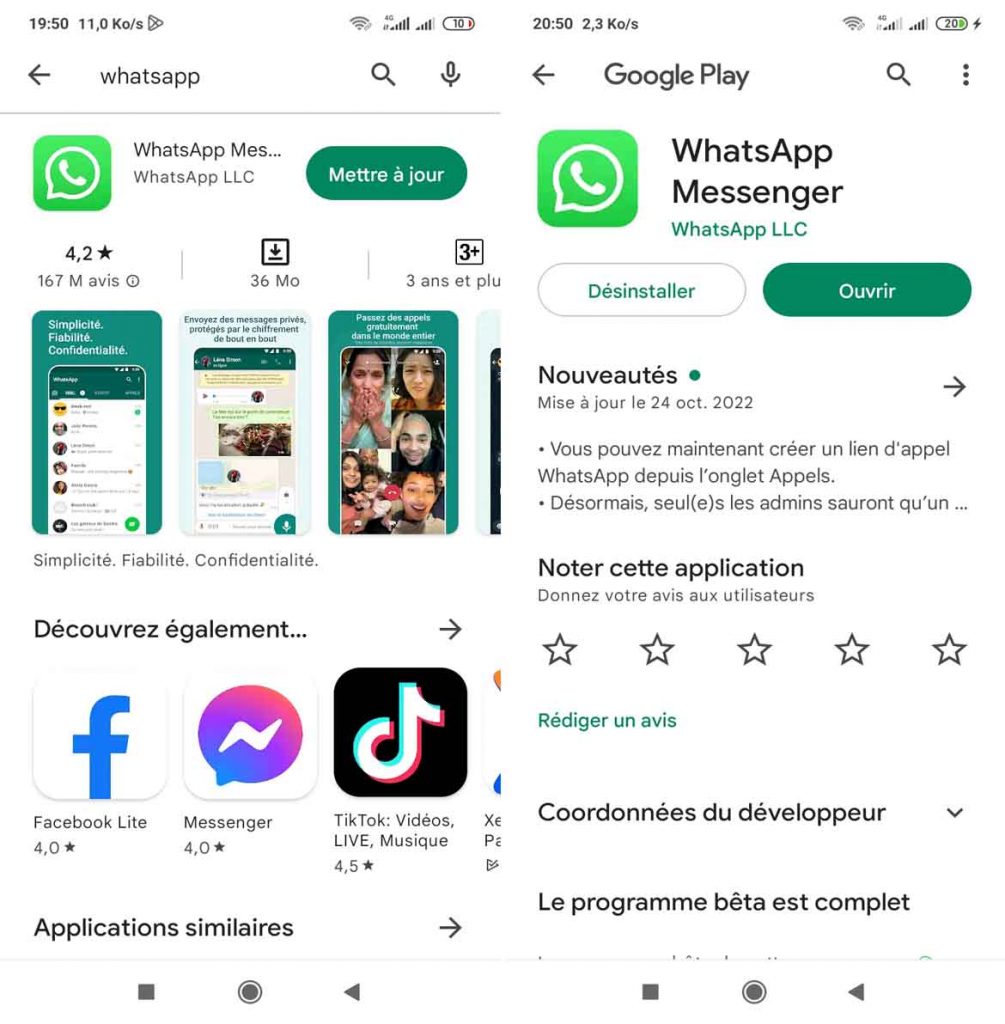 Play Store will automatically download and install the new version of WhatsApp. At the end you can press " Open to launch the application and find your chats.
Update WhatsApp on iPhone or iPad
Just like for those using Android smartphones, proceed without uninstalling WhatsApp so as not to erase its data. On iOS, use the button below to go directly to the App Store on your iPhone or iPad to install the update.

By clicking on the button above, the App Store will launch directly on the WhatsApp application. Launch the update, then let the App Store finish downloading and installing it. All you have to do is take advantage of new features of WhatsApp.
Read also: Lock WhatsApp with fingerprint.
Update WhatsApp without Play Store
On Android, as I pointed out at the beginning of the article, you can update WhatsApp in two ways. After exploiting the first one (Play Store), now let's see how to proceed by installing the WhatsApp APK file.
Download WhatsApp Android APK
The file . Apk is an installer package that can be used on Android to install apps or update them manually. This is a manual WhatsApp update. You will need to download the whatsapp.apk file and install it.
Download WhatsApp APK file HERE. Wait for the download to complete. The downloaded file, then go to the next step to install it. At the end of the installation, you will be able to open WhatsApp (now updated) and use it
Install WhatsApp APK on Android
Before starting the manual update, avoid uninstalling WhatsApp from your device. This is the trick to update WhatsApp without losing its data. Open the WhatsApp .apk file and install it. WhatsApp will be updated once the installation is complete.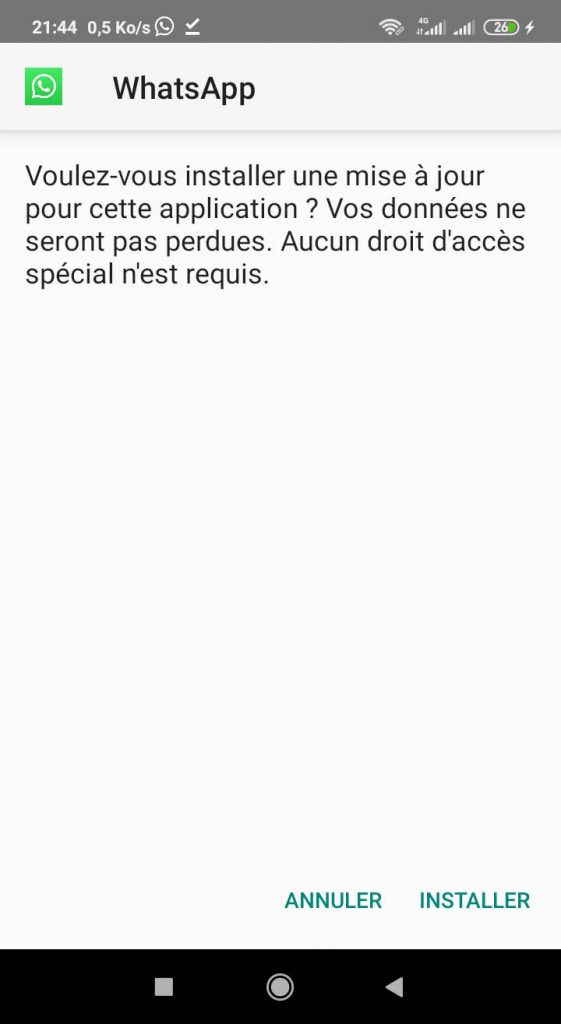 You may see this before authorizing the installation: " Install an update for this app? Your existing data will not be lost. ". This is to make sure that it is not a new installation but an update operation without loss of data.
After installing the app update, launch the app for use.
Update WhatsApp without App Store, is it possible?
On iOS (iPhone and iPad), to update you will have to go through the App Store, which is Apple's official store. Unlike Android, iOS does not allow application installation from sources it cannot verify, in order to protect its users from possible threats.
There are, however, other, not recommended, ways to install apps on an iPhone by hijacking the App Store. Some of them consist of jailbreaking the iPhone in order to install applications on it through stores other than the App Store.
Why can't I update WhatsApp?
On Android, there are many reasons why WhatsApp Messenger cannot update. First, check if you have enough space on your device. Then make sure WhatsApp is compatible with your device.
If you are unable to install the WhatsApp APK file, check if your device allows apps to be installed from APK files. Meet in the Device settings → Security → Unknown sources → Allow. Then go back to the already downloaded WhatsApp APK file to install it.