From iOS version 13, zipping or unzipping a file on iPhone is possible without using a third-party application. iOS now supports files in the .zip. On many operating systems, it is the most widely used compression format.
Whether sending a large file or saving data in compressed format, follow the few steps below to archive or extract compressed files on iPhone.
Create ZIP file on iPhone or iPad
It is possible to compress any file or folder on iPhone by changing it to format .zip. On your device, open the app " files ou Files ". Select the file or folder to compress by holding your finger there and choose " Compress ».
If you want to select multiple items to archive them in one action, select them. Then go to the bottom right of your device to expand the context menu, through the three dots (...). Then choose " Compress And wait.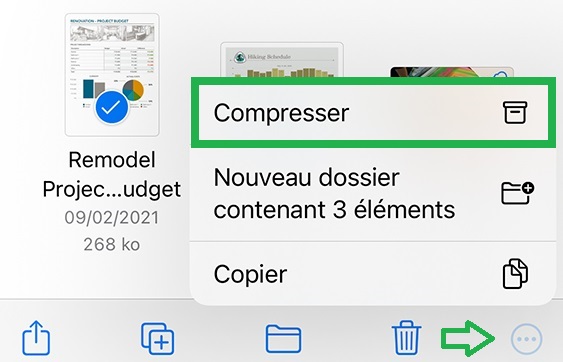 On iPad, open the application " files And find the affected file. Touch it, then on " More And select the compression option. The ZIP will be created, with the same name as the original file. You can rename it anyway, if you wish.
Read also: Compress a file or folder with password.
Open a ZIP file, Unzip a file on iPhone or iPad
To unzip a file on iPhone, open the application " files ou Files »And find the compressed file (.zip). Touch the file and it will be automatically decompressed. You can also, by touching it, select the option " Relax ».
A folder will be created with the name of the original ZIP file. You can change the name of the folder by simply holding your finger there. The use of specialized file compression applications is still possible. You can find them in the App Store.