Google recently announced the change in the connection method. This is the addition of a second verification step, after entering the mot de passe, aimed at strengthening account security. Two-step verification on Gmail will be automatically activated from November 09, 2021 and will be mandatory on many accounts.
Why a second validation step?
The objective here is the protection of your personal data by strengthening the security of your account. By using more than one login step, you will reduce the risk of your account being hacked and your information from being stolen and exploited by hackers.
Thus, for any malicious person, the theft of your mot de passe will not guarantee access to your account. Except in case of access to your phone, in addition to having your password. To log in, you will need to have your phone with you. One more reason to always lock your phone.
After entering the password, you will be asked to pass a second verification on your phone. Each time you log in on a new device, Google will send a notification (login prompt) to your phone, which you will be asked to confirm.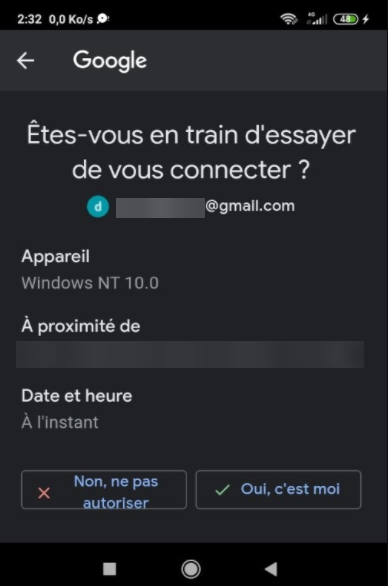 When you enter your password, Google prompts will be sent to all phones you're signed in to. All you have to do is press the notification to read it and confirm the connection or reject it.
You may also receive a verification code by SMS. Receiving it will depend on your carrier's coverage and may involve costs (rarely). This is one of the two-step verification methods on Gmail. However, make sure that you are the only one with access to your SMS.
Check Gmail Account Recovery Info
To verify your identity at the time of connection or in the event of suspicious activity on your account, Google may use one of the following three methods:sending the verification code to your phone number, on your recovery email address orsending connection notifications to your private phone.
This is why before activating XNUMX-step verification on Gmail, it is recommended to confirm the account recovery information. Google may use either of these to help you sign in if you're having trouble signing in.
Click on the link above to confirm your account recovery information. In the page that opens, expand the " Connection and recovery ":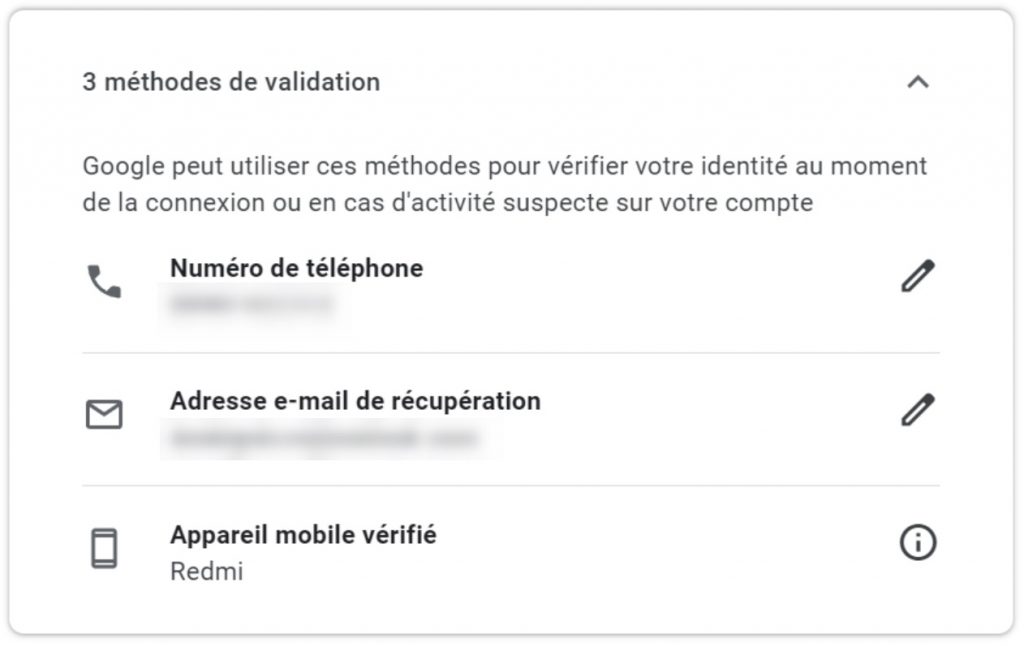 Enter your phone number or leave the existing one if it is correct. Then provide a recovery email address, the one that would be used by Google to help you recover your account.
Use another Gmail account to which you have access or a address of any e-mail service. Outlook, Yahoo, etc. Any email address will be accepted.
Enable two-step verification on Gmail
To activate two-step verification on Gmail, simply click on the link in the email you received from Google. Or log into your Gmail account, click on your avatar icon, then on " Manage your Google account ».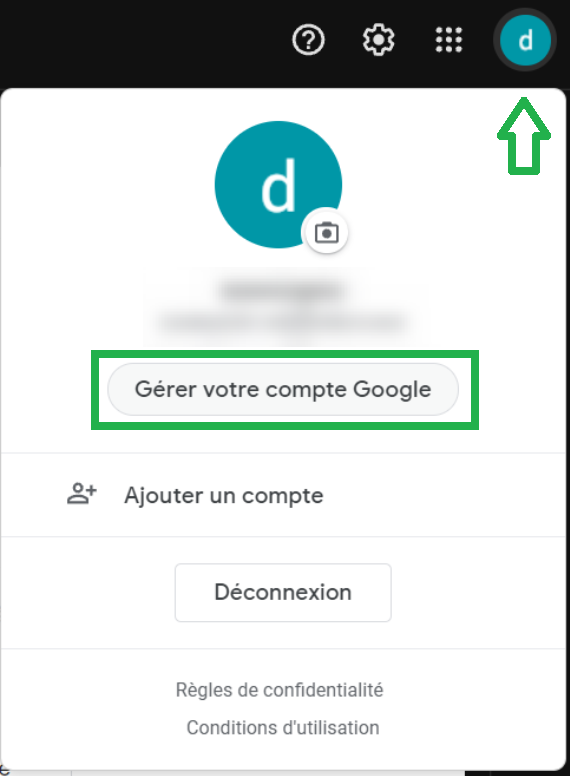 In Gmail settings, switch to Safety and search " Two-step validation ":

Click on it then on " Start ". Google will ask you to verify your password. Are you using a good password? Enter it and continue. The mobile device you are using will be displayed, all if you have more than one. Continue and validate your phone number: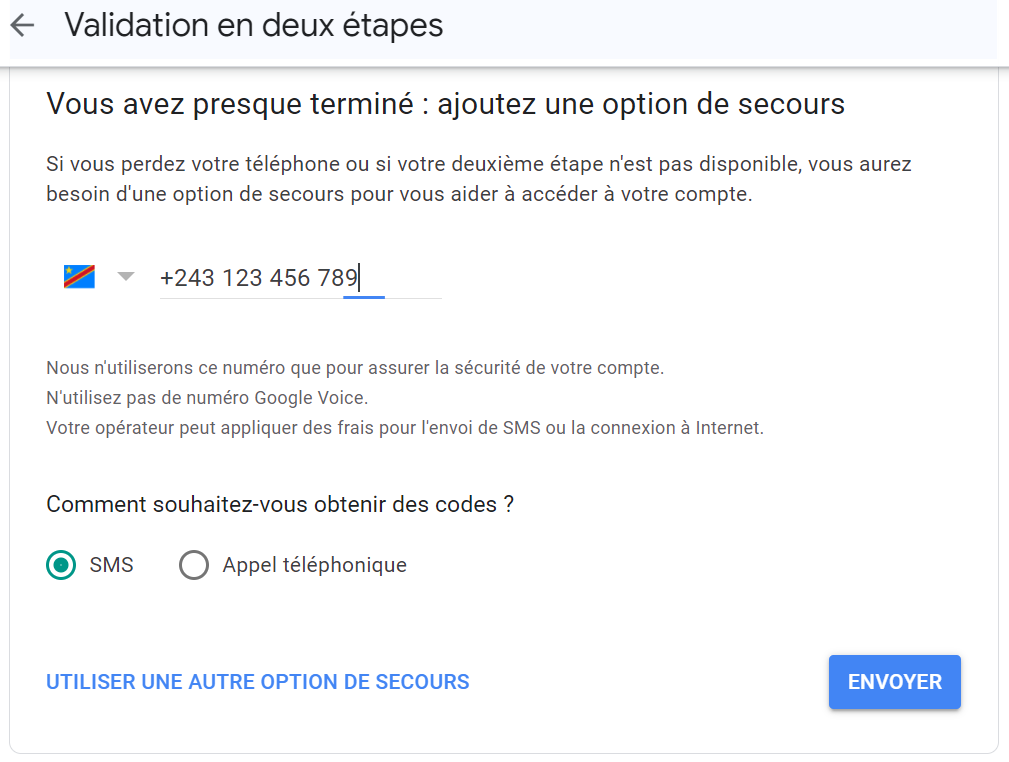 Before submitting your number, click on " USE ANOTHER BACKUP OPTION ". Emergency codes (keep them secret) will be provided to you. You can print or download them and save them in a safe place.
These codes will give you access to your account when you are without your phone. Keep them and click on " USE THE SECONDARY TELEPHONE NUMBER RATHER »To return to the configuration of the telephone number.
Choose, by checking, if you want to receive the code by SMS or by phone call and send. Very important : the phone number you provide must be in the phone detected by Google, otherwise the request will not be processed.
Depending on the method you have chosen, a code will be sent to you by SMS or communicated by phone call. I recommend that you proceed by SMS. Once received, enter the code and continue with two-step verification on Gmail: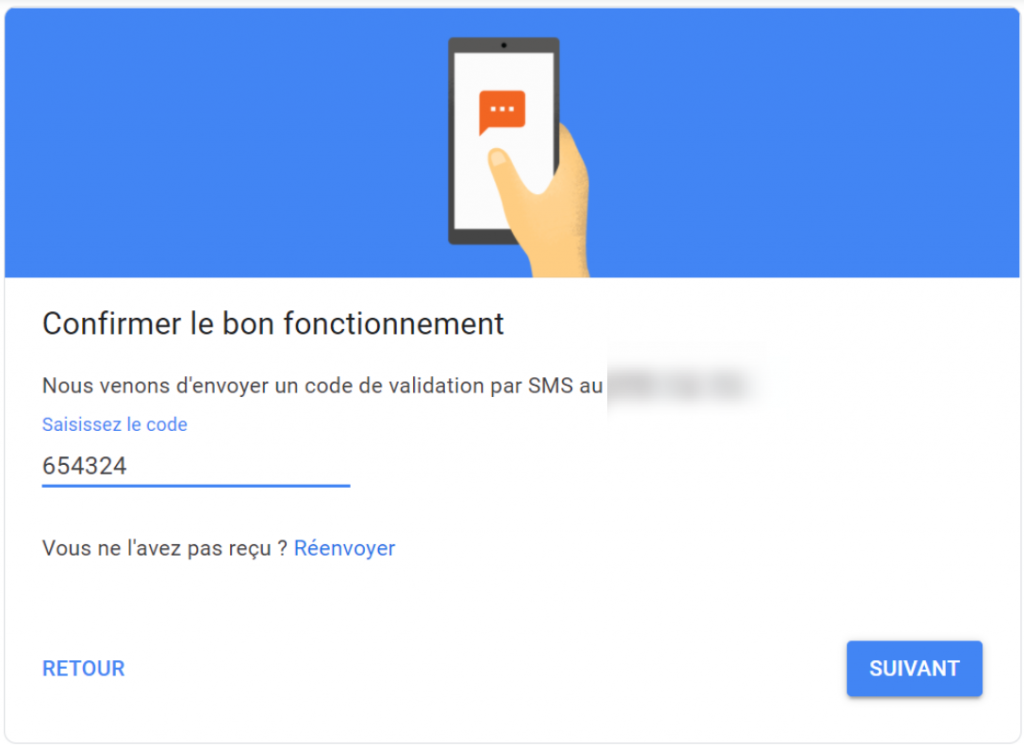 The second step will be the Google login prompt. Click on " Enable And wait.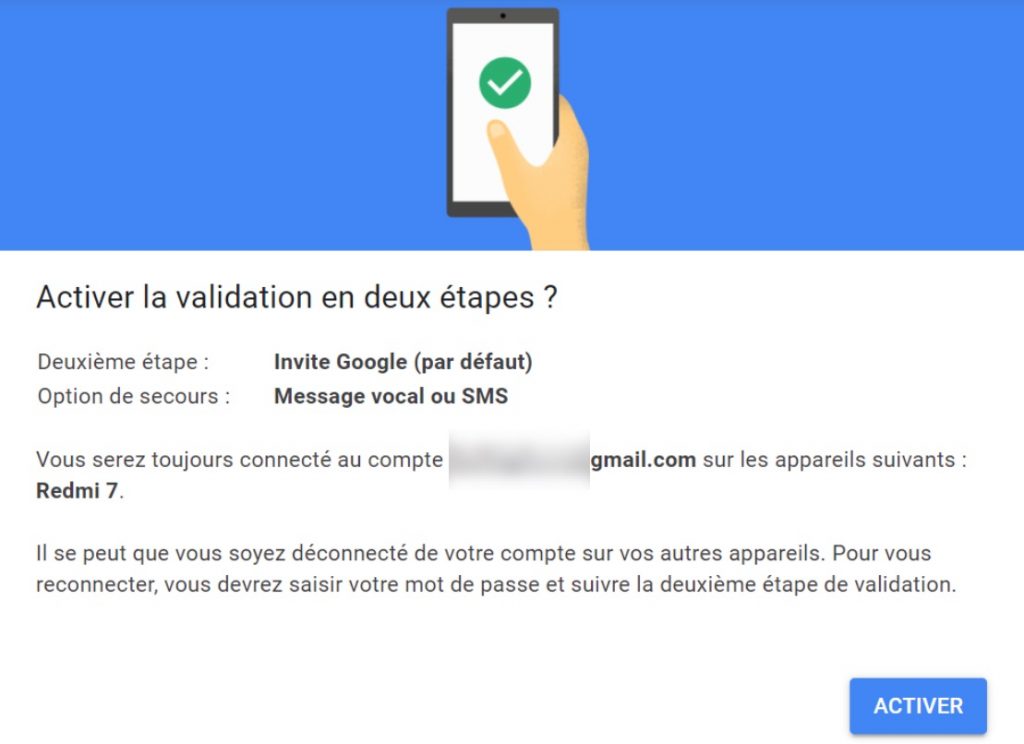 As soon as it is activated, you will receive a notification on your phone, indicating the successful activation of two-step verification on your Gmail account. You will also receive an email in your inbox.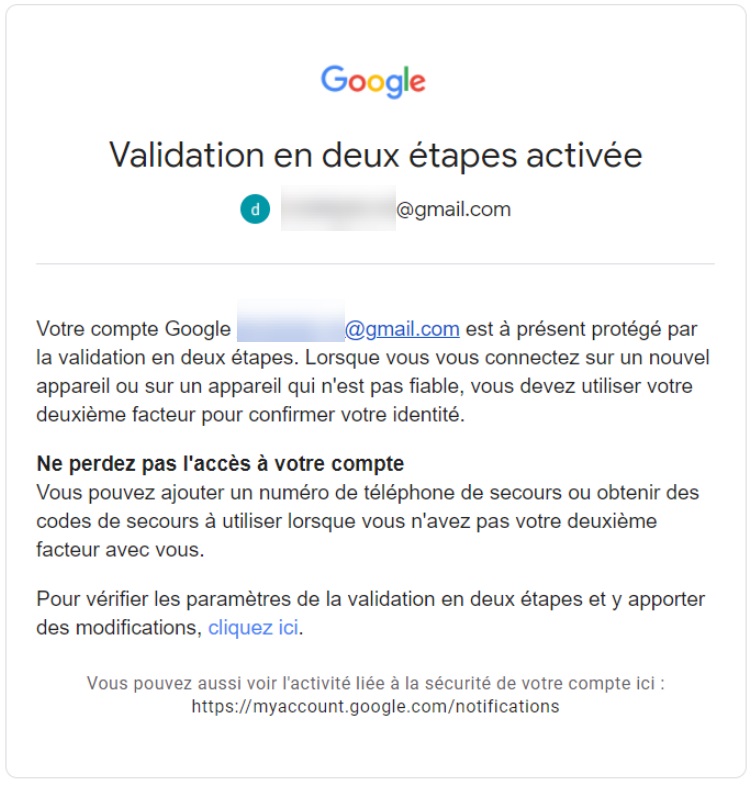 Change or turn off two-step verification on Gmail
The information provided for two-step verification on Gmail remains editable. To change the phone number, for example, go to your account management settings, then in Safety. Find " Two-step validation And click on it.
Your password will be requested once more. Enter it to access the various two-step verification information. You can turn off two-step verification, add another phone number, and more.
It will also be possible to change your second identity confirmation step, by configuring a new verification method. You will be able to use Google Authenticator, for example, to generate a new code valid for a few seconds and for one-time use.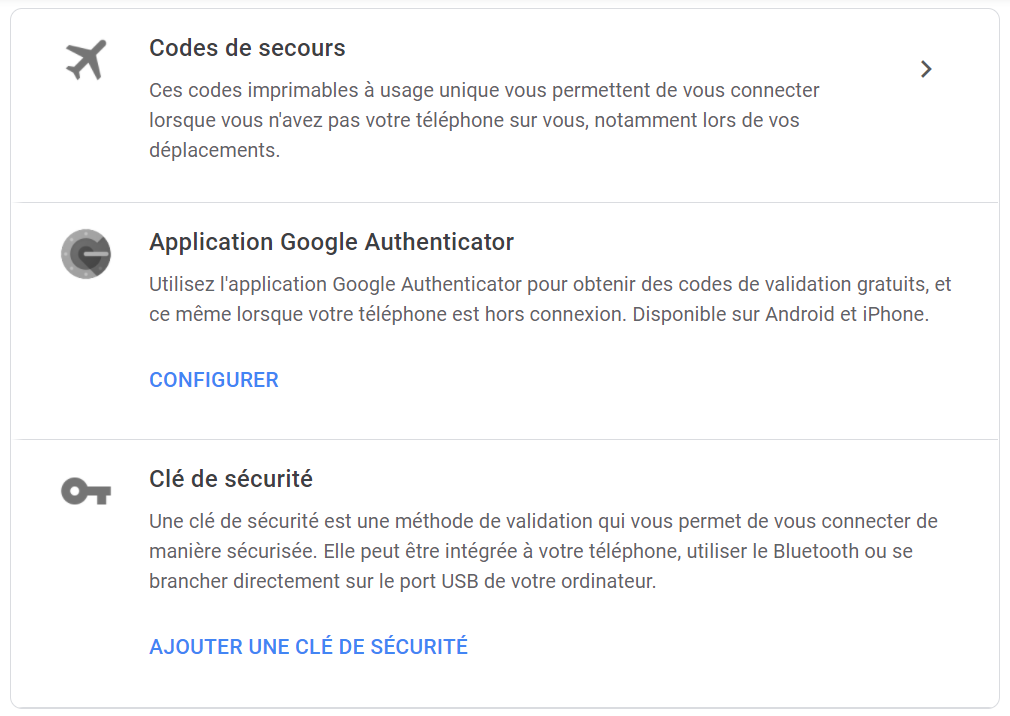 Further down the same page, an option is provided to bypass XNUMX-step verification on devices that you feel are sufficiently reliable. Your personal computer for example.
Using two-step verification on Gmail increases the security of your Google Account, but does not completely protect it. If someone happens to know your password and access your phone, your emergency mailbox or the secret codes provided to you, then that person will simply have access to your account.