Very popular especially with young people, TikTok is today one of the most used social networks, accessible via its mobile application available on Android and iOS. Through this article, find out how to download TikTok free to share videos online.
TikTok preview
Launched in 2016 and developed by the Chinese company ByteDance, TikTok is a social network, an online video sharing application. Allowing users to create videos in short format (a few seconds), accompanied by music, TikTok has taken on the mission of promoting the creativity of the world and bringing joy.
Considering the mission that the social network has assigned itself and the number of teenagers, young people it has raised to the rank of celebrity, it seems that TikTok is doing well in any case. In fact, thanks to TikTok, some young people were able to sign contracts with big production houses, artistic agencies, etc. Others saw each other engaged by the social network.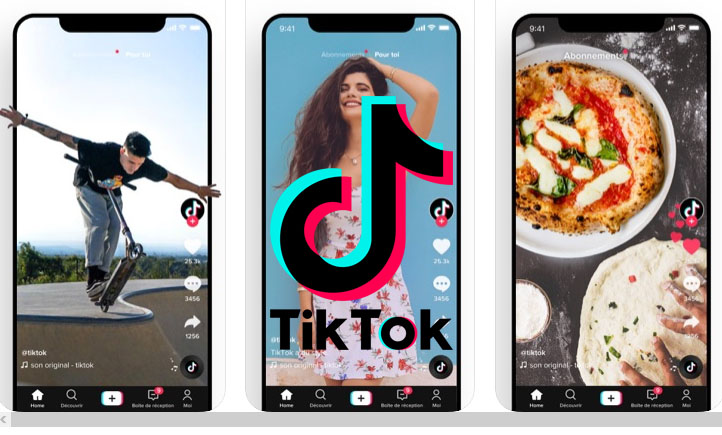 TikTok now has over 150 million users. Present in several countries, but not in China yet its native land, it is also available in several languages. Chinese users cannot download TikTok, there the social network is not accessible. The version of TikTok that can be used in China is called douyin, from the same company, ByteDance.
Read also: Download a TikTok video without watermark.
Read also: Download Snapchat for Android and iOS.
Download TikTok for Android and iPhone or iPad
With TikTok, users can film and personalize themselves, share their clips on the network or watch those made by others and react. A whole range of features are available for processing videos. To accompany the clip, several genres of music are integrated into the application, up to the user to choose.

To use TikTok you can also download in APK package, you will have to install and launch the application. You will then create an account in a few seconds with a email or a phone number. Have an account on Twitter, Facebook, Google or Instagram would also suffice to use TikTok.

After downloading the application and registering, you will be able to start your creation. The first step is to select or search in the application itself a song, a musical title that will accompany the clip. After that, you will have to select the filters, in short the customizations to apply to the video, then start recording and share at the end.
TikTok also allows you to save some of your clips without having to share them on the social network. So you can film yourself and keep your videos private to yourself, to share them when you want.
Read also: The best free video chat apps.
Download TikTok Lite for Android
TikTok also has a light version, TikTok Lite, simple and faster. Despite its lightness, TikTok Lite has all the interesting features of its big sister. This version of TikTok also allows you to create and share music videos by appearing in playback.

Available on Google Play, you can download TikTok Lite and share videos online. You will find all the features of the classic TikTok application, which you already know. Among other things, playback speed control, image filters and other effects. Download TikTok Lite as APK package.
Download TikTok for PC, use TikTok on Windows or macOS
Enjoying TikTok and sharing or following videos directly from your computer is quite possible. Unfortunately, TikTok hasn't released a desktop version yet, so you're going to have to go through virtualization. To do this, Install a android simulator on your computer and download the APK package from TikTok.