As social distancing measures become more and more hardened and some continue to lock themselves in, others are using technology through video conferencing tools to keep in touch. with their loved ones. There are free video conference chat apps that you can use to stay connected with family, friends, and friends.
To stay connected despite social distancing, discover directly the free video chat apps you can use.
Skype
In existence since 2003 and acquired in 2011 by Microsoft, Skype is a good option when it comes to free video chat apps. It allows users to make free HD audio or video phone calls for up to 10 users during a call, as well as screen sharing and call recording.
Even without an application installed, a new member can join the chat group through their browser, using a simple invitation link.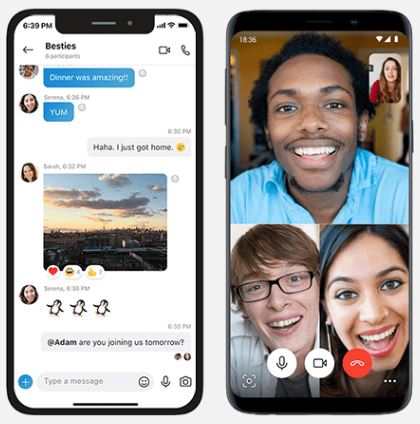 Skype can be used on Windows, Mac OS X and Linux, as well as Android and iPhone. For years, it has attracted individuals as well as professionals with many communication features. It has a simple interface and communications between users are encrypted. Skype also allows you to make calls to landlines and mobiles (chargeable).
Download Skype for Windows | MacOS | Linux | Android | iPhone or iPad.
House party
Very interesting with games, House party is one of those free video conferencing chat apps that can be used on smartphones and desktops. Per session, the application allows a video conversation of more than seven people. Houseparty offers users to play games while having a conversation and notifies when friends are available to video chat
Using Houseparty is simple. After downloading the application, you will need to create an account and add people to the discussion. While chatting, the app screen will display each new user added.
Read also: The best apps to quickly learn your languages favorite.
Through messages, you can also invite your friends to download Houseparty and join the discussion. This is the link through which they can download the app, register and start chatting with you.
Download Houseparty for macOS | Android | iPhone or iPad.
Google Hangouts Meet
It is an instant messaging and video conferencing platform developed by Google. The mobile application of Hangouts Meet is available on Android and iOS allows you to create videoconferences from two to 25 users.
For Firefox, Chrome, Safari, and Microsoft Edge users, no need to install any extensions or software. They can create or participate in videoconferences directly from their browsers.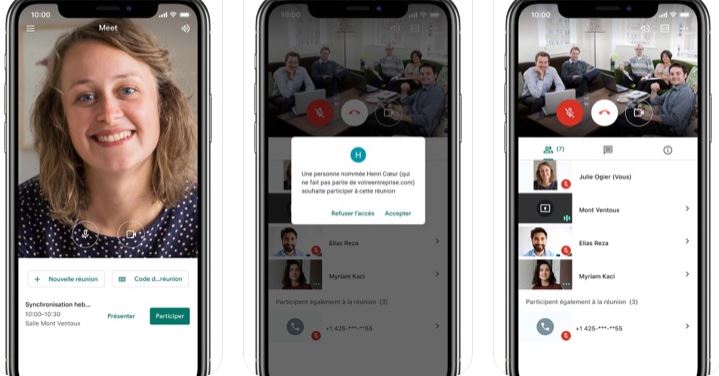 Communications with Meet are secure for user confidentiality and privacy. The transferred data is thus encrypted to guarantee the security of the meetings. Thanks to the full integration of Meet with G Suite, it allows you to join a meeting directly from an event or a email invitation.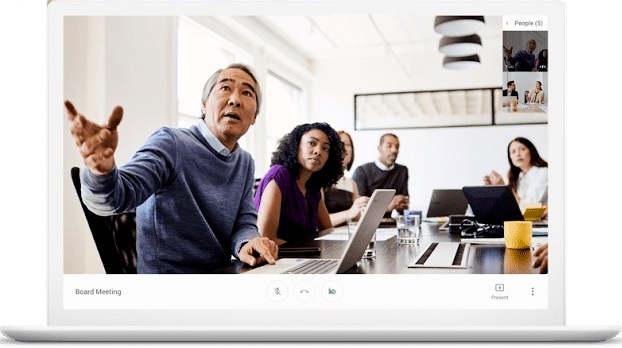 To get in touch with your family and friends, all you have to do is create a meeting, then share the link.
Download Google Hangouts Meet for Android | iPhone or iPad.
FaceTime
Although only usable on Apple devices, FaceTime remains one of the best free video chat apps. To chat with your loved ones, you must have a computer Macbook, iPhone, iPad or iPod. You will be able to make calls in groups of more than 30 people.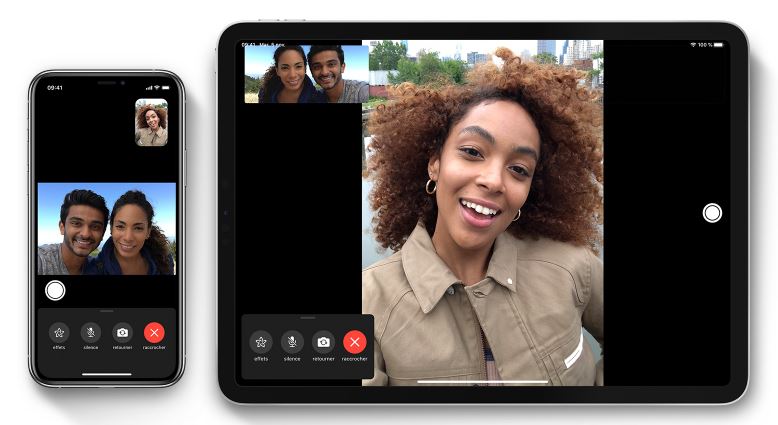 To enjoy FaceTime, open the app, call your contact, and turn on the video. For adding multiple people to the conversation, use the add icon, find the person in your contacts, and add them. In your contacts list, anyone who can support FaceTime's group chat will appear in blue.
Read also: Why is your computer battery draining so quickly?
FaceTime has several fun features. During the conversation, if you wish to add a new participant, you will only have to slide your finger upwards to display the menu allowing the addition. Add them and enjoy the video chat.
Download FaceTime iPhone or iPad.
Facebook Messenger
Already one of the most used messaging apps, Messenger de Facebook is another alternative for people looking to stay in touch through video conferencing chats. To take advantage of it, all you need to do is have a Facebook account, which you probably already have, download the app and start the chat.
Select a person of your choice among your friends, then tap the video camera icon near the top of the screen. The application allows you to chat with more than 5 people in video call.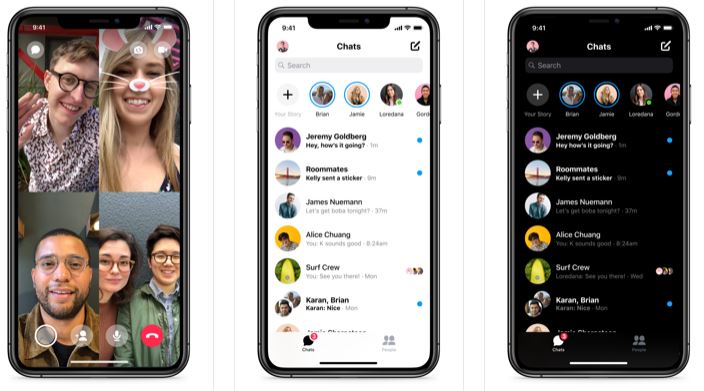 Facebook Messenger also offers you the possibility to register your children, to allow them to communicate with their friends and classmates. With a Messenger for Kids account, they can communicate with their families or friends, but the account is linked to the parent's for tracking.
It is therefore up to the parent to add the people (children or adults) with whom his child will be in contact, also to add new contacts and to define the hours of use of the application by the child.
The parent can also configure the automatic deactivation of the application or consult the history of the child's communications for follow-up. All of these advantages make Messenger one of the best free video conferencing chat apps around.
Download Facebook Messenger for Android | iPhone or iPad.
Zoom
Although generally used by businesses, Zoom is one of the most widely used mobile video conferencing applications. Usable on multiple platforms and devices, you can enjoy it on computer or smartphone.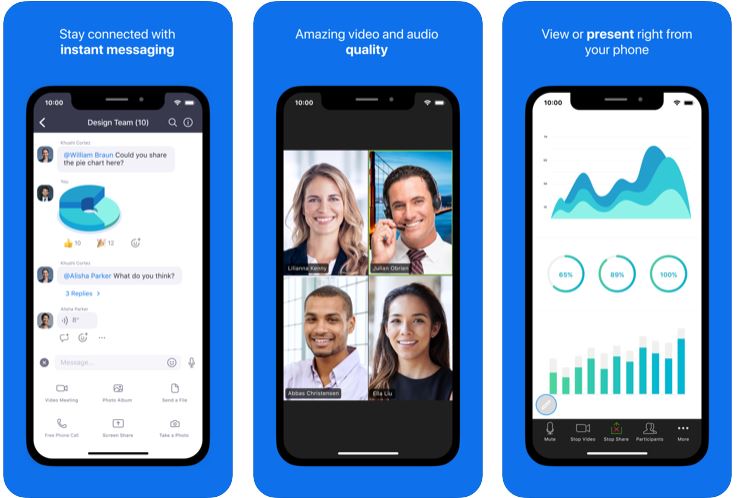 After downloading and installing the application, the user joins a conversation from an identification number and a meeting name (conversation). The fact that it is mainly used in a professional environment does not prevent friends and families from taking advantage of it to stay connected.
Download Zoom for Windows | MacOS | Android | iPhone or iPad.
WhatsApp
You probably already have it on your smartphone. Today the most used messaging application, WhatsApp also allows you to make video conference calls with your friends and relatives very easily. Usable on almost any platform, Android, iOS and desktop, this is one of the free video conferencing chat apps of choice.
Read also: How to create a free email account in two minutes?.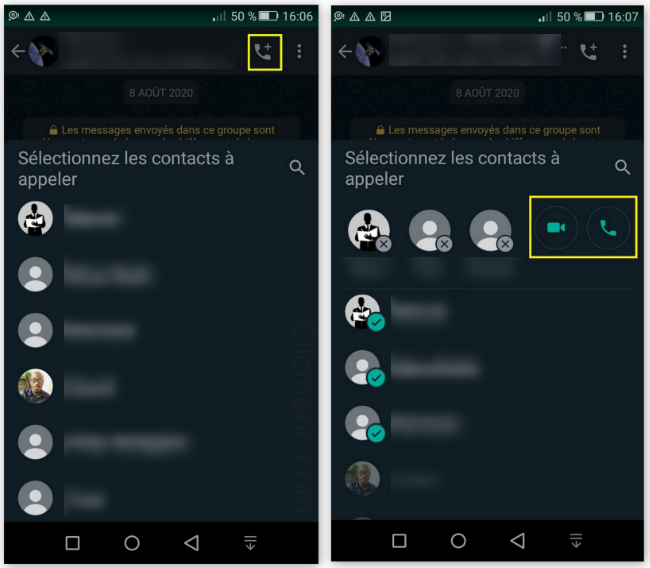 To make a group video call, you must have created a group in advance and added selected people to it. After to start a video call, press the icon with the + sign and start the live conversation. Once in the group, you can also choose who to call and start a video call.
Download WhatsApp for Android | iPhone or iPad.
Remember all the same that
All free or paid video conferencing chat applications require access to your front or rear camera and microphone. Although secure, these applications are not immune to hacking or possible bugs. So be careful and pay attention to the permissions you grant them on your devices (mobile or computer).
As for inviting discussions through links, avoid sharing them with the general public, so as not to invite unwanted people. Keep them private by sharing them only with the people you want to connect with.
Also remember that none of these applications replace an emergency call. They would therefore not be used in place of your telephone to call emergency services (Police, ambulance, etc.) in case of need.