Architecture and 3D modeling software have become very essential for modern architecture. They allow the design and production of virtual representations, conceptual drawings that can be physically set up in real life.
These software are mostly paid with a free trial period, and can be used in fields other than architecture, such as geotechnics.
Currently, doing architecture without resorting to this software is almost unthinkable. They allow you to easily make imagined 3D drawings such as buildings or the interior of houses. Some even make it possible to design and simulate the obstacles that a structure could face in real life (earthquake, storm, erosion, etc.).
Architecture and 3D modeling software saves time and can be used to track the management of activities, jobs and tasks. They often offer the option of exporting the result and continuing the work in another professional design tool.
How to choose the right architecture and 3D modeling software?
The choice of software remains of paramount importance, depending on the nature of the tasks you plan to perform. If you go for one that does not meet your expectations in terms of results, it could affect the quality of your work and cause you to waste time. What customers might not like at all.
Even if each software has certain characteristics, the list that you are going to discover includes the best architecture and 3D modeling software on the market. You will also discover some of their characteristics, to be able to make a better choice.
The best architecture and 3D modeling software:
3D Rhinoceros
Very powerful modeling tool, 3D Rhinoceros is one of the most used in architecture. It allows to model very simply relatively complex structures by offering all the necessary tools for a designer.
You can make physical models (by translating solid objects), 3D models, animations, etc. By its simplicity, Rhinoceros 3D allows you to produce quality designs without necessarily being an assisted design pro.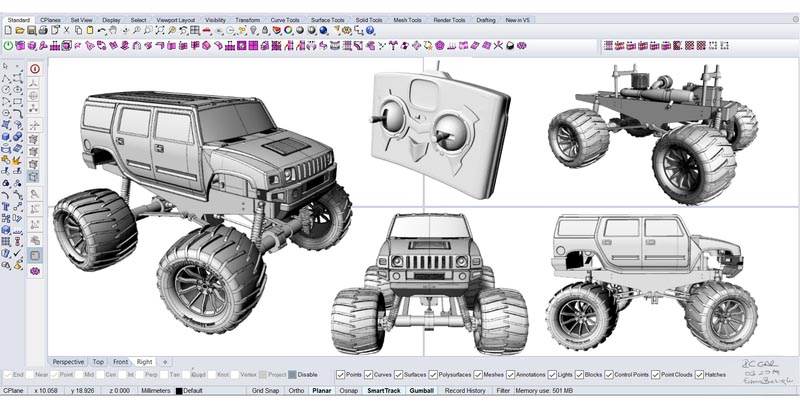 The software also allows users to create additional extensions (plugins) using the script, but this requires programming knowledge. It also allows you to simply use built-in extensions without having to mess around with code.
In addition, it allows to obtain real objects using a 3D printer. All these advantages make Rhinoceros 3D one of the best 3D architecture and modeling software and a tool of choice for designers.
Download Rhinoceros 3D for Windows

| MacOS

AutoCAD
Already familiar to several categories of people, AutoCAD is architectural design software that many rely on. These are some students, engineering and architectural professionals, etc.
Being one of the most used architecture and 3D modeling software, it offers integrated objects that can be used by beginners. It allows them to do modeling by creating, from geometric models, plans and sections.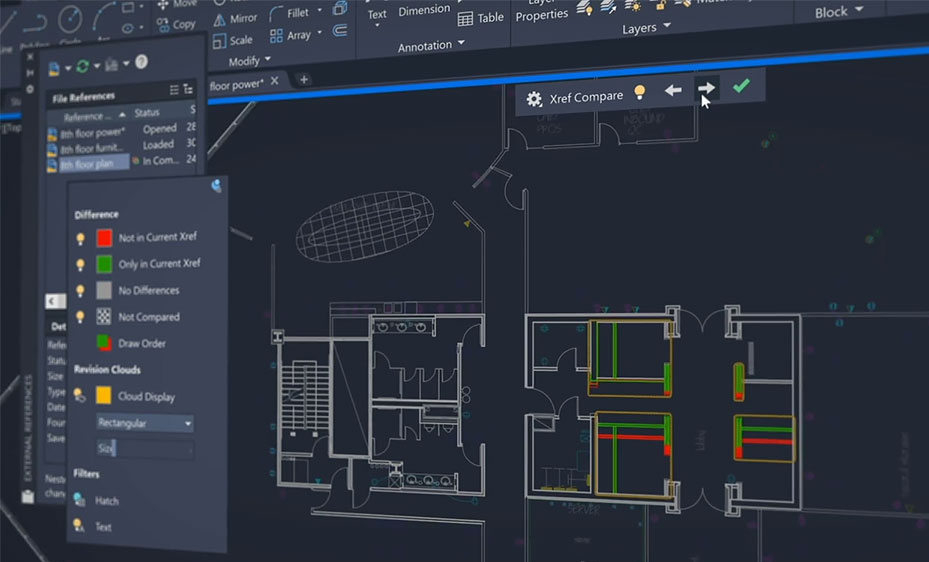 AutoCAD is the first learning tool for a considerable number of people new to digital modeling. It allows you to create 3D models, to represent structures by learning the basics of design.
After making a design in AutoCAD, you can then export the completed designs. This allows you to hone your modeling concepts in other more advanced tools of your choice.
Read also: Why use a VPN to access the internet? What better VPNs?.
Very popular, mastering AutoCAD has become essential in the recruitment process within some organizations working in engineering. This essential character pushes many people to learn how to use it for their professional aspirations.
In addition, many design tools support AutoCAD projects, so you can finish a model in another design package.
Download AutoCAD for Windows and macOS | Android | iOS.
Revit Architecture
An advanced building information modeling tool (Building Information Modeling), Revit Architecture goes beyond simple design and modeling. It is also involved in the planning and coordination of the same work carried out by multiple engineering players (often from several disciplines) to ensure that the work is carried out over time.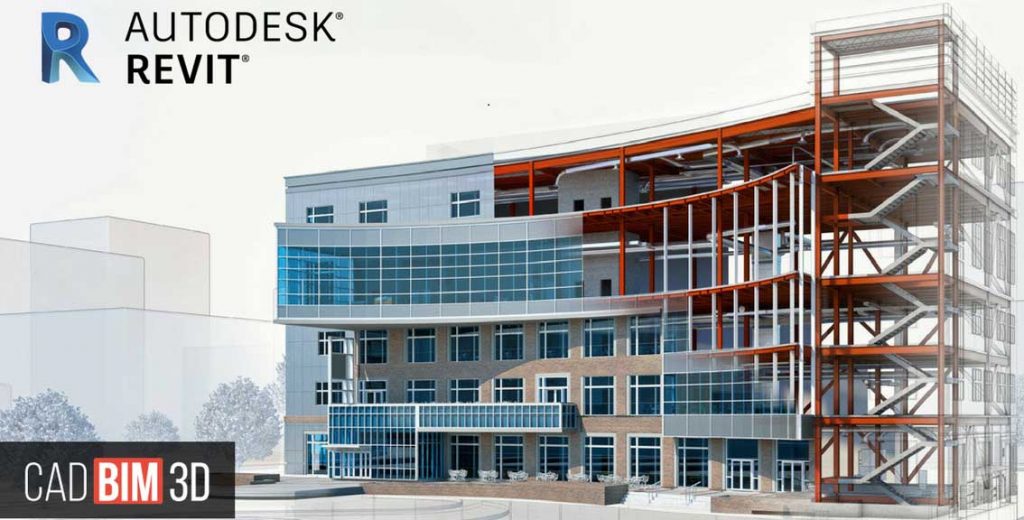 As building information modeling is very important in sustainable architecture, Revit Architecture provides a range of really suitable tools.
It provides the tools to create accessible objects in any design. Also makes registrations, coordinates changes and modifications made to your model.
Download Revit Architecture for Windows and macOS.
3DS Max
With 3-dimensional modeling and the possibility of creating animations, 3DS Max is one of the architecture and 3D modeling software to turn to. It offers one of the best modeling experiences, very powerful extensions and also supports files designed in AutoCAD.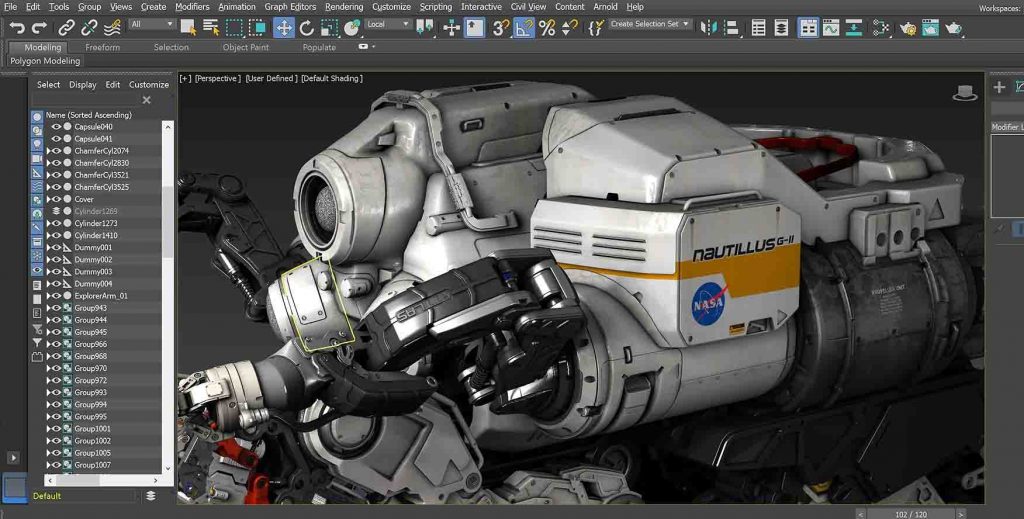 The software offers many essential features and extensions in terms of 3D modeling and rendering. 3DS Max offers tools like character studio, the character animation engine CAT (Character Animation Toolkit) and the rendering engine mental ray.
One of his specialties is the creation of animations with many dynamic effects and huge 3D animation tools. It benefits, like some other modeling software, from an online community with many help tutorials.
3DS Max offers scene-related data analysis tools such as Scene Explorer, it uses MAXScript scripts and can receive additional extensions.
Download 3DS Max for Windows and macOS.
SketchUp
SketchUp is one of those architecture and 3D modeling software used by those wanting to start in digital modeling. For a whole host of reasons, many prefer SketchUp to other modeling tools.
It allows you to become familiar with 3D modeling by making high quality models after just a few exercises. You can start with simple models and then take advantage of the advanced features and create more complex 3D models.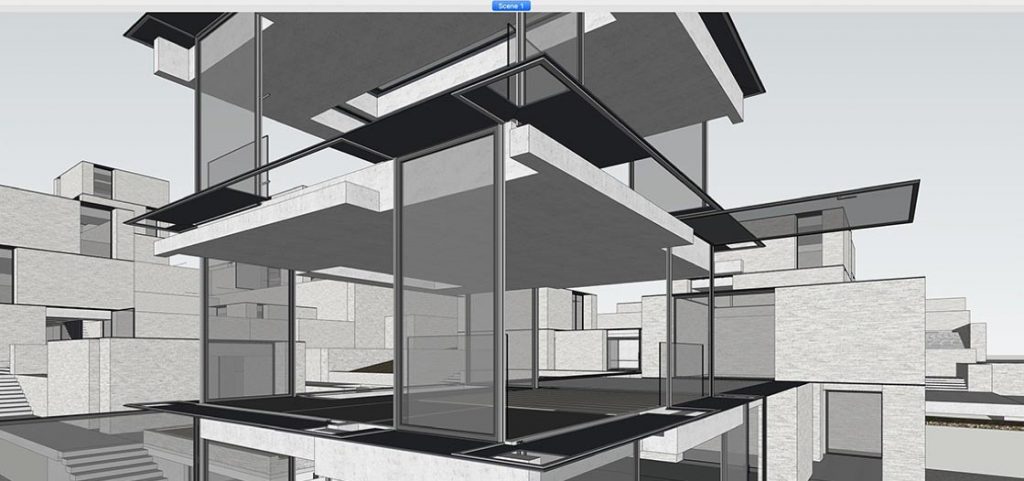 Developped by Stamps, it is now owned by Google who bought it since 2006. Its main advantage remains its price and its free for personal use. It is therefore free to download, making it an ideal choice for beginners and people with slim budgets.
Read also: The best makeup apps for Android and iPhone or iPad.
Read also: How to learn a language quickly? The best apps.
One of its advantages is that, even in the free version, it offers several very interesting modeling features. SketchUp allows you to perform 3D modeling very quickly thanks to its speed of execution. Being a property of Google, it allows the extraction of satellite images provided by Google services.
Download SketchUp for Windows and macOS.
AutoCAD Civil 3D
Compatible with other tools like Revit Architecture or AutoCAD, civil 3D provides design and documentation tools for building information modeling. Which comes as a supplement to the simple drawing and modeling features it already offers.
It is a tool specifically designed to meet the complex needs of civil engineers and intervenes in several civil engineering disciplines.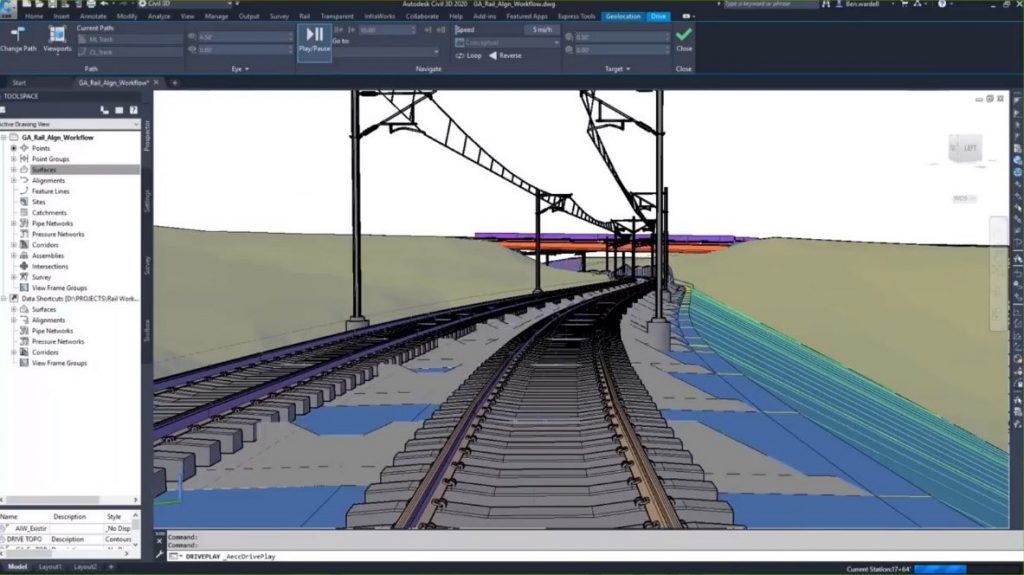 Civil 3D offers built-in functions to improve the drafting, design, and construction documentation processes. It integrates a package with features allowing engineers to perform calculations, model terrain, roads, highways, etc.
Download Civil 3D for Windows and macOS.
ArchiCAD
ArchiCAD offers tools adapted to students as well as to other beginners in architecture and numerical modeling. Being one of the most used architecture and 3D modeling software, it is easy to use and allows new or old designers to produce 2D or 3D models. It allows you to create and edit various elements such as floors, patio doors or stairs.

Through its built-in libraries, ArchiCAD automates some complex design activities to make it easier for designers. It allows you to design complete documentation throughout the project (documents that can then be exported to PDF DXF, etc.).
ArchiCAD also allows the integration of many other tools of its kind and to create realistic models using the plugin V-Ray ou CineRender for the most recent versions of the software.
Download ArchiCAD for Android and macOS.
Maya
Like some of its predecessors on the list, Maya turns out to be another modeling learning software for many newbie users.
It acts as a larger design tool by addressing general and broader notions. Maya allows its users to learn the basics of 3D modeling, which gives it an educational character.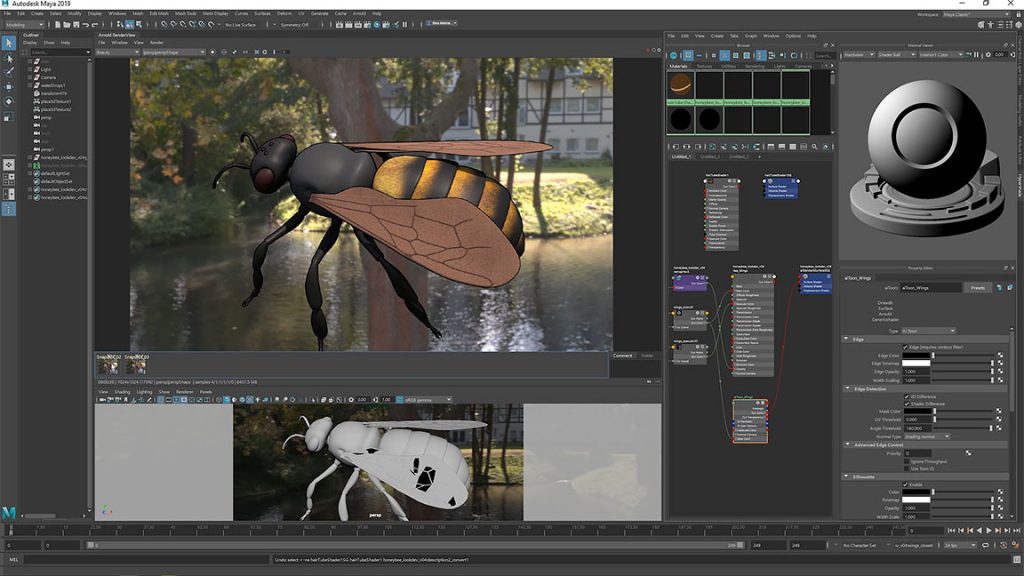 It allows the designer to develop his imagination and his creative capacity by giving him a wide field of maneuver and total freedom in his work. After starting a design in Maya, you can export it to another software to give it another touch.
Download Maya for Windows and macOS.
Other architecture and 3D modeling software
Here are other digital modeling and architecture software you can discover and try:
Fusion 360
Very popular and supported by many other modeling software, Fusion 360, offers design, testing and manufacturing tools. It is one of the 3D architecture and modeling software offering the possibility of creating very realistic presentations.
Among its other advantages is the ability to export creations to other devices such as your smartphone for later presentation. It also offers the possibility of using the cloud for sharing teamwork.
Dynamo BIM
Dynamo BIM is available as an extension that can be used with another tool such as Revit Architecture. The tool is also available in a full version that can be used independently. It is known to make the job easier by offering several geometry tools (some of the best) and the ability to make quick changes.
Catia
Fast, precise and easy to use, Catia, is software based on the most precise modeling technique available. This is the principle of modeling by curves (NURBS: Non-Uniform Rational Basis Splines, in French: Non-uniform rational B-splines).
This makes it one of the most powerful architecture and 3D modeling software. It is suitable for 3D printing and allows to model several types of physical objects.
Chief Architect
Chief Architect can be used for the interior architecture of a house or the construction of a building. It is above all a software adapted to specific and well chosen uses.
FreeCAD
Free and open source, FreeCAD can be used on all major computer operating systems (Windows, MacOS, Linux). FreeCAD allows models to be understood and tested using reverse engineering. You can therefore add models to modify their parameters and see what their behavior might be.
While using some of these 3D architecture and modeling software, you will surely notice some differences, but each of them has its peculiarities. They are mostly paid (free in trial version), but it is up to you which to choose.
It is still possible to use several at the same time to push your design further.