An application whose name no longer rings new in the ears of many Internet users, Snapchat allows you to quickly share your present moments with relatives and friends, through photos and videos. In this article, learn how to download Snapchat 2022 for free.
Developed by the company Snap .Inc, Snapchat is a very fun application. Available on Android and iOS, it allows users to communicate with loved ones through photos and videos visible only for a fraction of the time. Up to a minute, since recently.
Download Snapchat 2022 for Android and iOS, Snapchat APK
Available in multiple languages, Snapchat offers a whole host of features. The app allows you to have live conversations, explore other people's stories or follow influencers, websites, media, etc. For Android smartphones, the application, with APK or without, can be downloaded using the button below.

After downloading, install the package. If you already use Snapchat, for you this will only be an update operation. On Android, you can also download Snapchat 2022 through Play Store.

After downloading, launch Snapchat to share photos with contacts. Using the app is not complicated.
Read also: Download TikTok Free for Android and iPhone or iPad.
How to use Snapchat to share photos and videos?
If you have just downloaded Snapchat 2022 and have never used it before, remember that its use is quite simple. By opening the application, a connection to the Snapchat account will be required. Log in with your username and Your password.
If you do not have a Snapchat account, you will be able to create one very easily by providing your personal information such as names, email address, password, date of birth and phone number. To confirm the account creation, a verification code will be sent to you by SMS.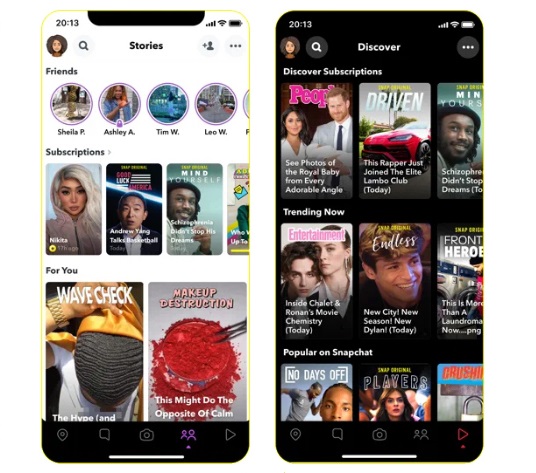 To share content in Snapchat, capture a photo or video and select the people you want to share it with. As for friends, Snapchat offers several ways to add friends. This is possible from their usernames, your address book, from the Snap code or from proximity.
Read also: Download Facebook Messenger for smartphone and computer.
After the capture, you can add texts to your photo, video before sharing, and even define the display time during which the item to send will be visible to your contacts. The received message can only be viewed once, then will disappear.
If your recipient saves the received item or takes a screenshot of it, Snapchat will notify you right away.
For those wishing to retouch their photos before sending, the application offers many filters. You can therefore edit, personalize your images or videos before sharing them, and even create your own stories with a lifespan of 24 hours.