SmadAV has a free version as well as a paid version. Like any software, its paid version offers more features, unavailable in free use. Get a free key from SmadAV to activate it and upgrade to Professional version.
Features of SmadAV Pro
The Pro version of SmadAV, unlike the free version, does not display its upgrade offer window on startup. Those who are in the habit of shutting down their computers know how annoying the automatic launch of SmadAV at startup can be.
Here are the features of SmadAV Pro, in addition to all those of the free version:
RTP protection and Anti-ransomware protection settings.
Blocking execution of unknown software from USB keys.
A Tools section and a list of exceptions.
Personalization with modification of the theme color.
Administrator password and Enterprise license.
Enabling SmadAV will not give you full protection, however. Always use a full antivirus for better security of your computer and your data.
SmadAV Pro Free Key; About activation
The activation method we offer is free and 100% legal. It consists of asking us for an activation key through this form, click HERE. As subject, specify " SmadAV Pro Free Key ". We will only use your email address to send you an activation key.
Our response time can vary from a few hours to 2 days. The activation keys we provide were obtained from SmadAV, in an official way. So don't have any doubt about SmadAV Pro Free Key we offer. This is an official activation.
The license is valid until 2023 (365 Days) for a single computer, one year from the date of activation. During this time, you may not receive automatic updates from SmadAV. Unless you do it manually.
How to activate SmadAV and switch to Pro version?
Did you get your SmadAV Pro activation key? To activate, make sure you are running at least SmadAV version 14.7. Here is how to use the obtained key to activate SmadAV and upgrade to the Pro version:
Launch it.
Go to " Settings » and find the part « SmadAV Pro Registration».
Enter the provided name and key respectively in the " Name " and " Key ».
Click on " Sign up » to validate the activation.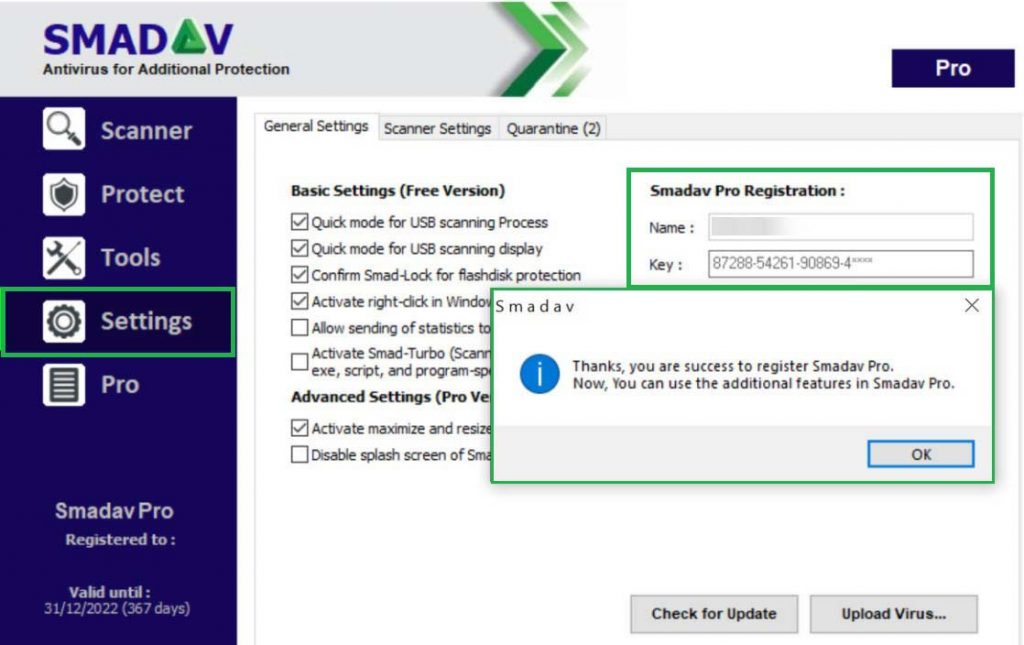 SmadAV will be activated and you will use the Pro version for 365 days. Remember, there is still an additional protection tool. It will be activated, but will not give you full protection against threats and viruses. Also use a full antivirus.