Tinder can be used on several platforms. It has an application for Android and iOS smartphones, but can be used on computer or smartphone without theTinder app. All you need is a web browser. On your computer or smartphone, you will find out how to set up a Tinder account and use it.
How does Tinder work?
Tinder works on the same principle as most dating sites. After registration, through a Gmail account, Facebook or a phone number, the user will have to add a photo and define precise criteria. If he wants to meet a man or a woman, of a certain age group and residing in a given area.
To offer you people with profiles similar to yours, located within a defined perimeter, Tinder uses the device's location function.
After defining the criteria, people near you, sorted according to your preferences will appear. At that time you will be able to Swiper (swipe to one side of the screen or the other). When you are interested in a profile, you slide (Swipe) to the right to Like, to the left otherwise, to ignore (Dislike).
When two profiles are interested in each other, it is a " Match ". In Tinder parlance, this means that two people liked each other, so there is a match. As long as there is a match between you and a person, you can strike up a conversation.
Using Tinder is free. However, free use is limited in functionality, for example, limiting the number of likes to be performed per day. The solution to overcome this is to switch to paid use, Tinder Gold or Tinder Plus.
Use Tinder on computer and smartphone without an app
This process gives you the option of bypassing the download and installation of the Tinder application. You can therefore connect either on your computer or on your mobile, by simply opening one of your web browsers. Firefox, Brave, Chrome, Opera, Edge, etc.
Before setting up a Tinder account, first make sure that the your device's tracking system is activated.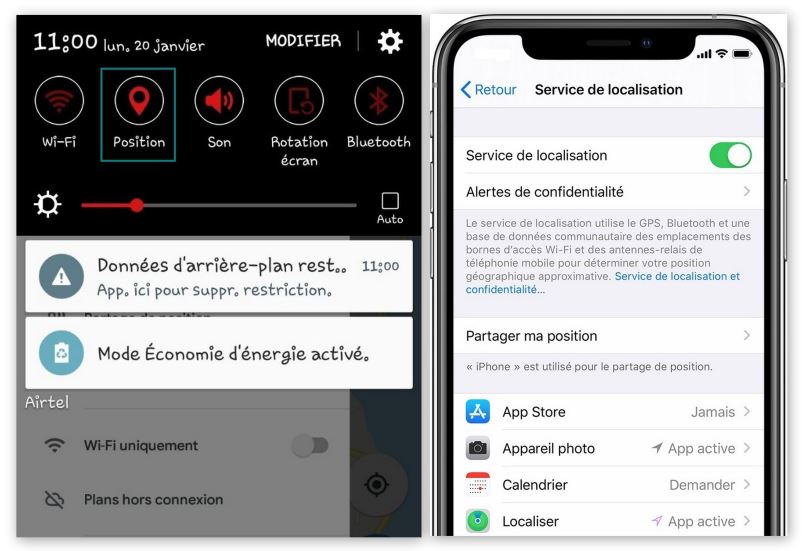 On a computer or smartphone, Tinder will use location to suggest people to meet.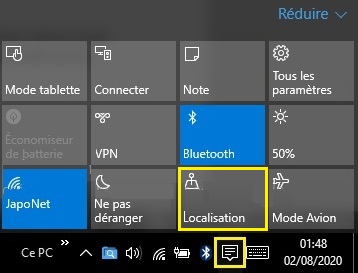 If you are under Windows 10, the image above will guide you to achieve this. Have you activated localization? Well, now let's see how to proceed to set up a Tinder account, and without installing the app. To start, open this link to to access to the Tinder site and register.
Once on Tinder, you will have three choices. Between the connection with Google, with Facebook or with a phone number, make the choice that suits you. Here, suppose you choose to proceed with a phone number.
Set up a Tinder account
After choosing the connection mode " Phone number », Enter the latter.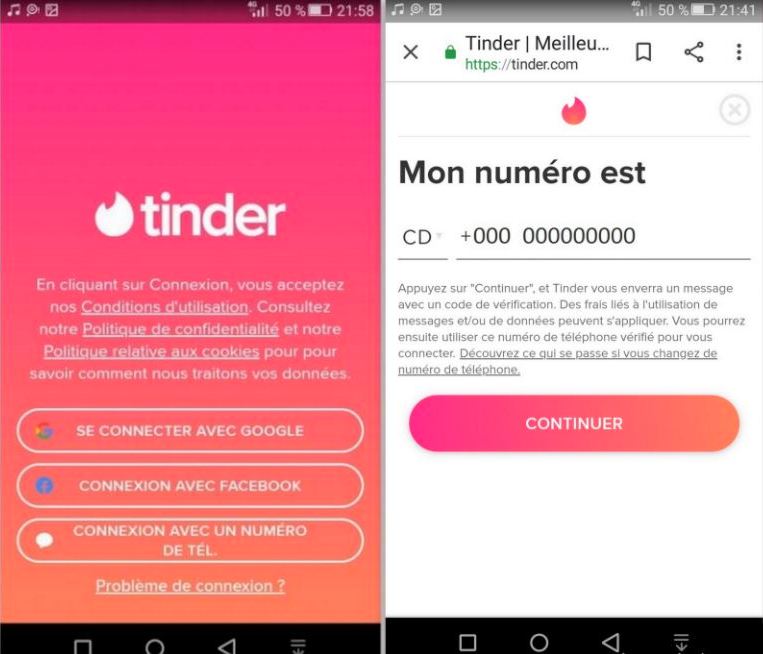 Then wait for Tinder to send you a code to confirm your number. Once received, enter it: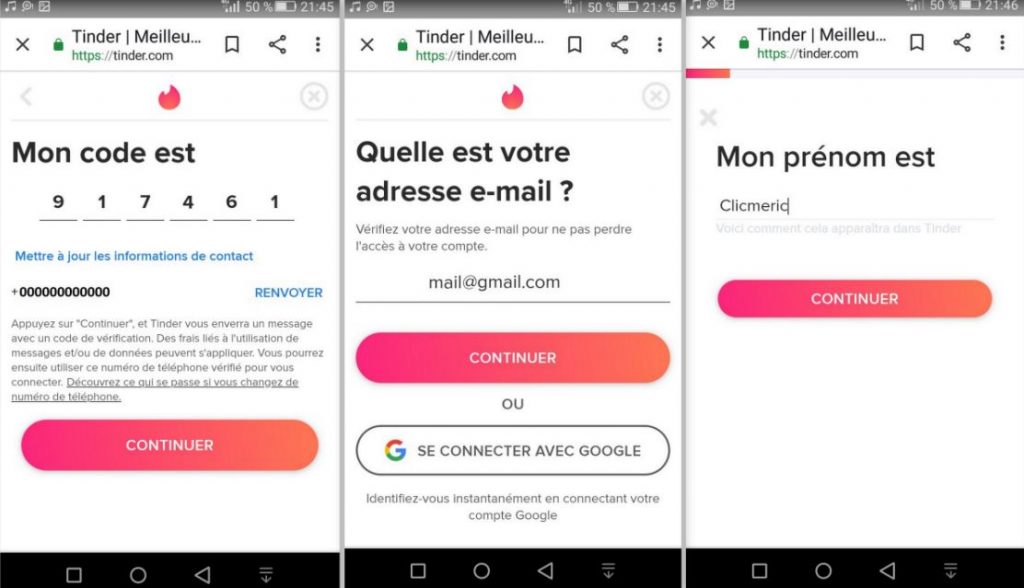 Also enter Your email address to guarantee access to your account in the event of a problem, as well as your first name. The first name is the one that will be displayed to all the users who find you. After that, continue with the configuration. Here are the elements to define to set up a Tinder account:
Enter your date of birth.
Select your gender. Check " Show my gender on profileTo help other users know if you are male, female or otherwise.
Select your sexual orientation. Straight, Gay, Lesbian or Bisexual or whatever, you can choose three at a time. Then check if you want to display your sexual orientation to other users who will view your profile.
Choose which gender people will see your profile. Whether men, women or everyone. To widen your room for maneuver, go for everyone.
Select your passions among those that will be offered to you, or skip this step.
Add a photo and click Registration. You can add more later.
After setting up all these details, you can then start using Tinder, as your account will be ready. But first, if you are asked to do so, allow Tinder to use your location to suggest people to meet around you. Then activate notifications if you are interested.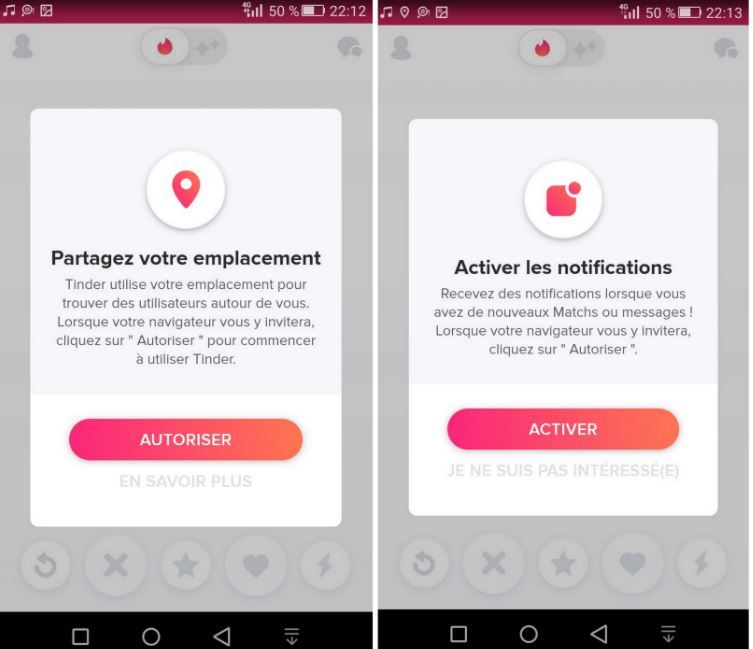 At the end of the account setup, Tinder will directly start scanning for potential matches. The scan will be carried out according to the criteria and within a defined perimeter, which you can modify and enlarge.
Change age and distance settings to find more people
By swiping your area, Tinder may not find a matching person, or find too few. To increase the scanning field and re-edit the criteria, go to the settings by clicking on the icon above left: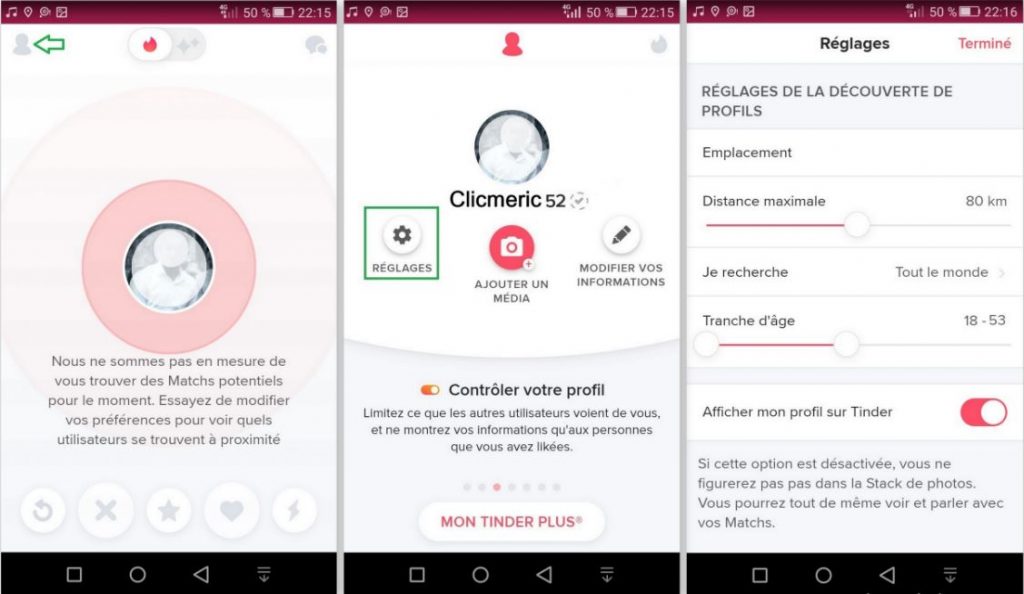 Go to settings. From there, you can also add other media (photo) or edit your personal information. Once in the settings, increase or decrease the distance and / or the age range. To finish, click on " Completed "Above the right of the screen to restart the scan.
Download the Tinder app, Set up a Tinder account on Android and iOS
The procedure for setting up a Tinder account through the mobile app is the same as without the app. Before setting up your account, start with download and install the app. Sign up and set up your account there. With or without apps, the steps remain the same to set up a Tinder account.