Long awaited by some users, the "Ephemeral Messages" feature is now available on WhatsApp. With you can send temporary messages on WhatsApp. The functionality can be used in two-to-one conversations, as well as in group conversations.
You can now take advantage of this new functionality and send temporary messages on WhatsApp. However, there are some details to take into account in order to use it well. Once the feature is enabled, sent messages are automatically deleted after seven days.
A temporary message sent, even unread after seven days, will disappear before being viewed by the recipient. But, as described on the whatsapp site, these messages do not offer strict confidentiality. Since they can be saved or captured " screenshot By the person who received them.
Read also: How to schedule an automatic message on WhatsApp ?
Messages sent before the feature was activated are not affected. Just like messages that are initially temporary, but which are transferred to other groups or conversations in which the feature is not activated.
Also remember that the media sent (photos, etc.) disappear from the conversation. Unfortunately, if automatic downloading is enabled on the recipient's device, the affected media files will remain stored on their device, despite their disappearance from the conversation.
How to send temporary messages on WhatsApp?
Sending temporary messages on WhatsApp is very easy. In group or two-person conversations, all you have to do is turn on the feature, which you can turn off at will. As for groups, only administrators can activate or deactivate temporary messages.
Read also: How to enable two-step verification (PIN) on WhatsApp ?
Here is how to proceed:
Step 1 : Open the discussion or group in which you want to activate the feature. Tap the name (description) of the contact or the group. Scroll down and click on " Temporary messages " or " Ephemeral messages ».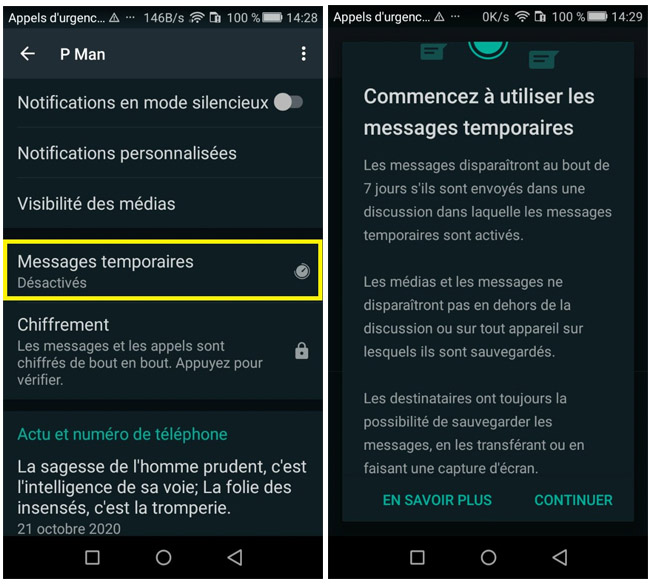 Step 2 : Press on " Continue "Then on" Activated ". At this point any messages you send in the discussion or group will automatically destroy themselves after seven days.
Do the same if you want to turn off the feature. But be careful, don't let this feature let your guard down while using WhatsApp. A message that you leave with someone for 7 days can be used in almost any way.
In addition, we already know that for applications such as GBWhatsApp, the quick deletion of sent messages (by mistake or not) does not take effect. With such applications, it is quite possible that messages configured as " temporary Are not.
So only send messages that you deem not compromising, and only to people you trust.