Have you installed a driver, software or something else on your PC and you notice that Windows is now malfunctioning? You can restore Windows to an earlier date and use it as it was that day. This is what you will find out in this article.
A computer, as we know, can break down at any time. It only takes a wrong manipulation or an infection by a virus for the galley to arise. And, unfortunately, there are issues that Windows Restore can do absolutely nothing for.
Restore a Windows PC, what is a restore point?
To hope to restore Windows to an earlier date, you will need to make sure you have at least one restore point. A restore point is a file previously saved by the user (or by the system itself).
It carries the configurations (of a given moment) of the operating system. A time when the computer and the system were still working fine. In the event of a malfunction, the user can resort to it by going through the restoration, in order to restore the system to a previous state.
The user can create one or more, whenever he is about to perform an action that would interfere with the functioning of Windows. It is therefore not possible to restore Windows to an earlier date without one or more restore points.
Even without wanting to try anything unusual, it is still advisable to get into the habit of creating restore points. This article discusses the issue of restore point and how to create one..
Restore Windows to an earlier date: Open the restore tool
Before proceeding, remember that Windows restore only concerns the operating system. That is to say the software, drivers installed and other changes made to the operating system before the restore point was created. Your personal files will therefore be spared.
Regardless of its version, you can restore Windows to an earlier date. This can be done either while the computer is being used, that is to say by launching the restore as an administrator. But is also possible during the start-up phase, that is to say if you no longer have access to the Windows interface.
Read also: Install DriverPack Solution Online and Offline.
Open Windows PC Restore from Control Panel
To use this tool, you must indeed have access to the interface of your operating system. Yes your computer fails to start correctly, then you will be able to use the other option: go through advanced startup tools.
To start the Windows restore, go to the Control panel. In the search box (top right), type " Recovery ". You will be presented with a list of results, sorted by categories.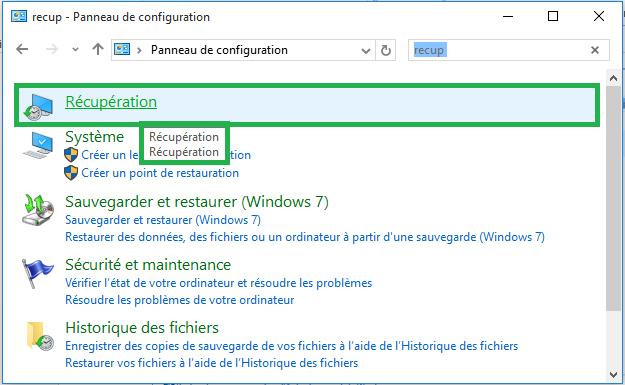 Among the results, select " Recovery". In the next window, click on " Open System Restore », As in the screenshot below: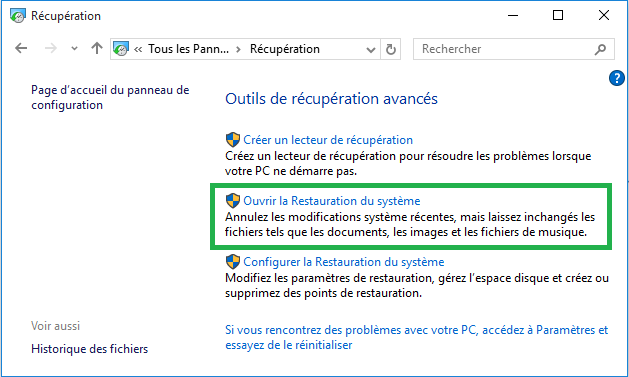 You can even keep it simple, that is, go to the start menu level and search for " Recovery ". Windows will suggest it to you.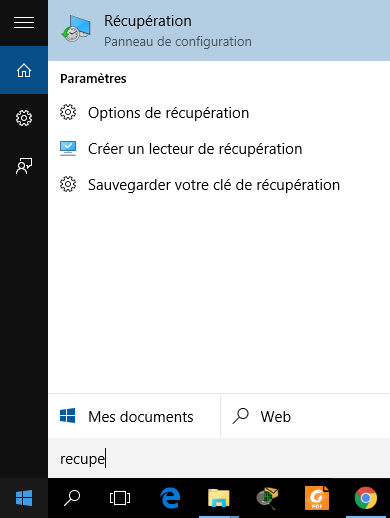 By launching it, you will once again find yourself in front of the same control panel window. You can then start the operation and restore Windows to an earlier date. You will discover the rest of the process. Let's take a look at some other ways to achieve the restore tool first.
Open Windows PC Restore from System Protection Tool
It is still possible to access the Windows restore functionality without having to go through the control panel. You can access it by launching the restore point creation tool, in its system protection tab.
There is more than one way to launch the tool in question. You can do this by going to the start menu level and searching for " Restoration point ". Windows will suggest it to you.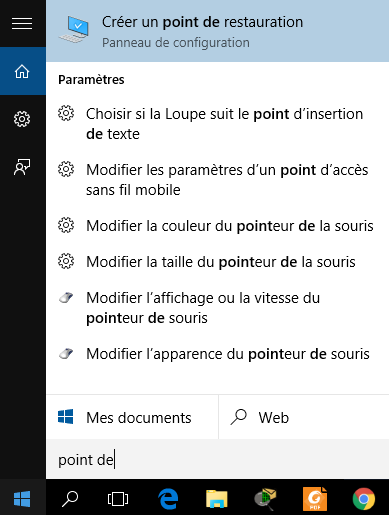 You can even access it using the Windows Command Executor. To do this, combine the keys Windows + R. You will be presented with a tool similar to this one: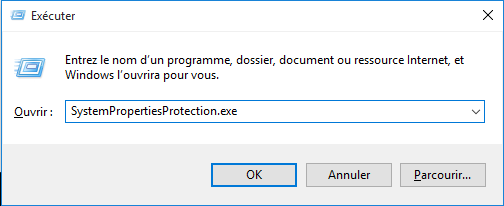 This is the Windows command executor. Enter the command " SystemPropertiesProtection.exe To launch the System Protection Tool to restore Windows to an earlier date. Once the command is launched, you will have this small window: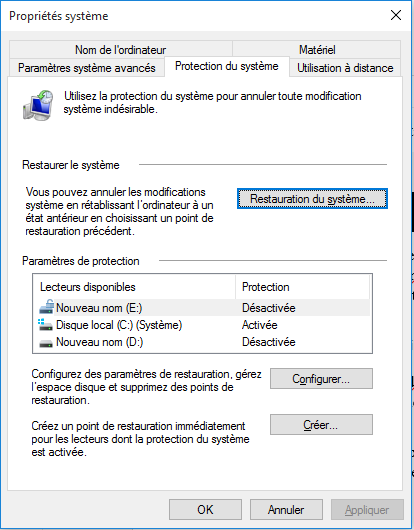 You can then click on " System Restauration To start the process.
Restore Windows to an earlier date: Start System Restore
Are you about to launch Windows Restore? Hope you were able to reach the restore tool using the method that you found the easiest. Now here's how to restore Windows:
Step 1 : No matter how you decided to achieve it, run System Restore. Click on " Next At the very first step. You will have in front of you a window with the catering point (s) available and ready to be used.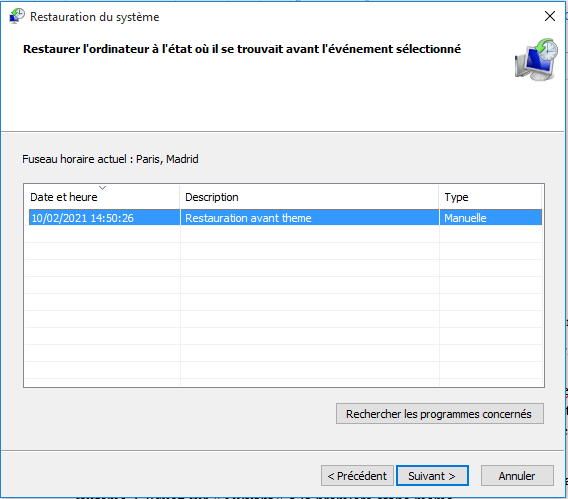 As you can see, each restore point is described by a full date format (day, month, year, hour, minute, and second). But also by its name and its mode of creation. I don't know how many restore points there are at your place, but on my capture there is only one.
Step 2 : Select it, if there is only one, or choose the restore point of your choice if there is more than one and click on " Next ».
You can also click on " Search the programs concerned To see other dining options. This part concerns some programs installed before or after creation of the restore point. Click on Next and, to launch, click on " finish ».
The system will warn you that it is impossible to cancel the operation once started. Accept to restore Windows to an earlier date. At the end, you can restart the computer, if it has not done so automatically.
After restarting, your computer will be in the state it was in before the selected restore point was created. The programs that were installed there after creating the restore point will disappear, and those deleted will be restored.
When the restore is started, Windows automatically creates another restore point. This would allow you to return to the state the computer was in just before the restore started. The phenomenon is therefore reversible only once completed, but not in progress.
Restore Windows to an Earlier Date: Windows Interface Inaccessible
As said at the very beginning, it is also possible to initiate System Restore even when you don't have access to it. That is to say if your PC no longer starts correctly and you no longer have access to its interface. To get there, the manipulation to do will depend on the version of Windows you are using.
Advanced boot options on Windows 10, 8 and Windows 7
Since these two operating systems (Windows 10 and 8) have a lot in common in terms of appearance, accessing troubleshooting tools is done almost the same way. Although there is not just one way to do it.
Bootable by bootable USB key (Boot menu)
This is to proceed as if you wanted to perform a new installation of Windows. Create an installation USB key and copy the Windows files to it. This method applies to all versions. That is, from Windows 7, 8 to Windows 10.
Turn off your computer, plug in the USB key and restart it through the boot menu.
As if you wanted to install Windows, select the language and go to the next step without starting the installation. So do not click on " install now ", absolutely not. Instead, choose to repair the computer.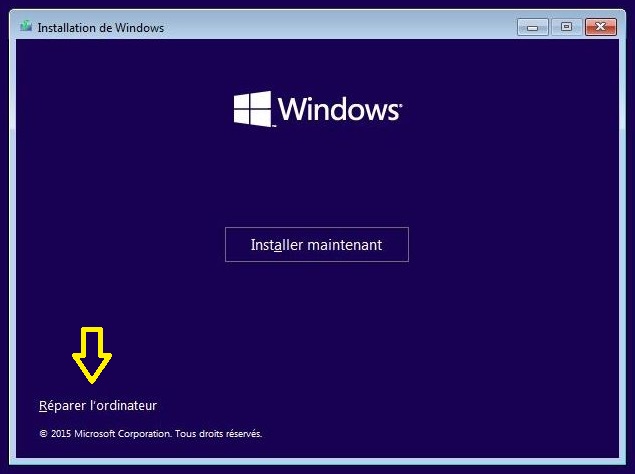 Than to install Windows, which you do not want and are not about to do, go to the bottom left of the window to proceed to repairing the computer.
On Windows 8 and 10 you will choose " help "Then" System Restauration ". You will then follow the steps to restore Windows to an earlier date. On Windows 7 you will select your operating system and do " Next ". You will then choose " Restore the system And then continue with the restoration steps.
Start by sudden extinction (Forced start)
If you want to restore Windows to an earlier date but don't have access to it, use this method only as a last resort. It works fine, but in some cases could damage your hard drive. Also, it only concerns versions 8 and 10 of Windows.
Nothing says this will inevitably happen to your hard drive, but I have to warn you. A hard drive does not appreciate sudden extinctions. Here is how to proceed to restore Windows to an earlier date through the forced start:
Remove the your computer battery, plug it into the mains and turn it on. During the ignition phase, unplug the charger, just when Windows starts charging. Uh yeah that's exactly what you're telling yourself, make it suddenly shut off.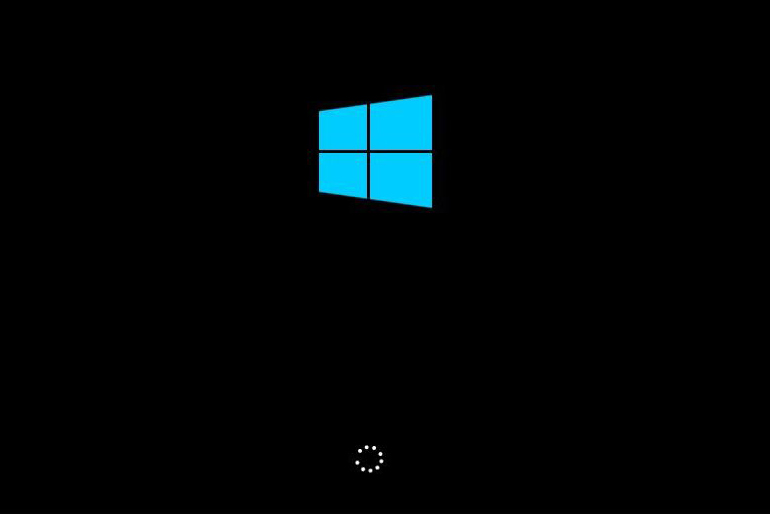 The screenshot above shows Windows loading. In short, it is like this: you turn on the computer, it displays or not the logo of its brand. As soon as Windows starts charging, you suddenly shut down the computer by unplugging the charger.
Do it once, then a second time. At the third start Windows will show that it is preparing the automatic repair. It's also doable even on battery power, but it works best without a battery. This makes it possible to shut it down at the right time, that is to say before Windows starts normally.
Windows will announce that it is preparing for the repair. Wait until the advanced startup options are displayed. It is through these options that you can restore Windows to an earlier date. They will look like the screenshot below: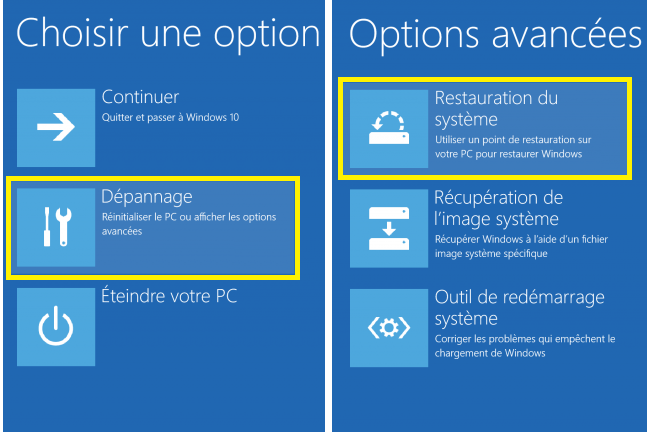 Do not turn off your computer, do not allow to continue either. Instead, choose the Troubleshoot option then System Restore. Then choose your administrator account and log in to continue.
Windows restore will start, and you can follow the steps as outlined earlier in the article. That is to say : choice of catering point, etc. Next, launch of the restoration and finally, restart the computer.
What if you can't find a restore point?
To restore Windows to an earlier date, the existence of at least one restore point is imperative. Without it, there would be nothing that Windows would refer to in order to restore your computer without its state of such and such other day. So you simply will not be able to restore your operating system.