You need a Word or Excel file, you realize that it no longer exists on your computer and you don't know what to do? It happens to every computer user one day or another, but know that you can recover it. In this article, learn how to recover already deleted Word and Excel files and other file types.
You probably already know that by deleting a file, it is automatically placed in the trash. But, do you know that a file is not permanently erased from your hard disk, even by deleting it from the recycle bin? Uh yes, your file can still be recovered.
There are specialized tools for recovering deleted data. They allow you to restore different types of files; documents, images, videos, etc. Among these tools; AnyRecover. It is one of the best and easiest to use available on Windows and macOS.
Overview of iMyFone AnyRecover
AnyRecover is a product of iMyFone, a software publisher that offers many utilities. AnyRecover can recover deleted data from computer, not just Word and Excel files. With it, you can recover different types of data, depending on your needs.
Compatible with Windows and macOS, AnyRecover is a powerful recovery software, providing recovery capability for over 1000 file types. It all happens in three small steps. It can recover files from many types of media.
Features of AnyRecover
AnyRecover offers many features:
It allows to recover data from several storage media; USB key, memory card, external hard drive (SSD or other), Flash drive, Digital camera, etc.
It supports many file types, more than 1000 file formats. Among these formats; TXT, DOC/DOCX, PDF, etc. for documents, JPG/JPEG, PNG, etc. for images, ZIP, RAR, SIT, ISO, etc. for the archive.
Download and Install AnyRecover on Windows
With AnyRecover, you will be able to recover deleted Word and Excel files from your computer very easily. But first, proceed to download and install the tool through the button below:

You will have the choice between downloading and trying the tool for free or buying a license to benefit from the full functionality and a better user experience. After downloading, install the tool and start using it.
Recover Word and Excel files with AnyRecover
Recovering files with AnyRecover is done in three simple steps; Select location, Scan, Preview and recovery. Here is how to use AnyRecover to recover already deleted Word and Excel files in detail:
Select location
Launch AnyRecover. When launched, it will show you different locations on your computer, including the Recycle Bin and the Desktop. Click on one of these locations and the scan will automatically start.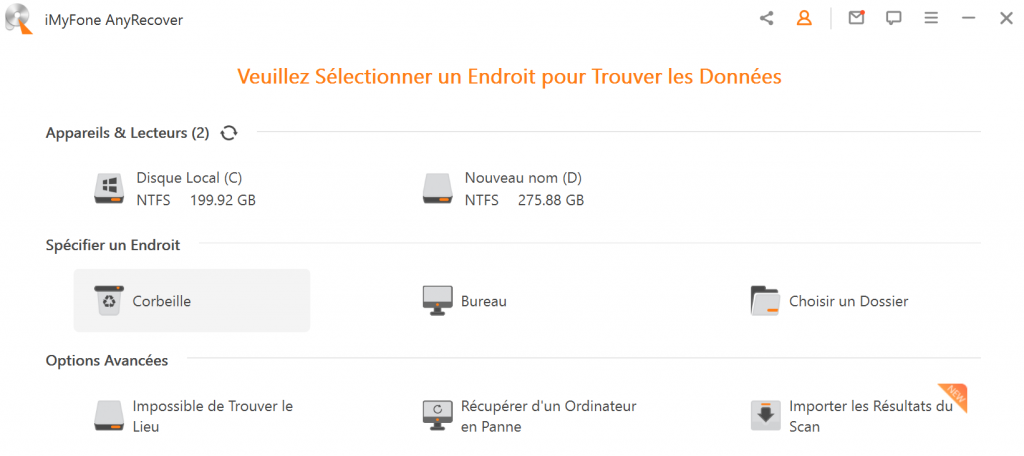 If you know the exact location where your file was stored before it was deleted, go there by clicking on " Choose a folder ". As in the figure below:
Browse your disk by clicking each time on the small arrow

to expand and display other folders and subfolders. Once the folder is found, click on it then on " Scanner ».
Scan, in-depth analysis
The scan will be started. AnyRecover will perform a full scan of the location, showing the results in real time. You will be able to follow its evolution (progress bar). Avoid launching the recovery of files before the end of the analysis, so as not to recover incomplete files.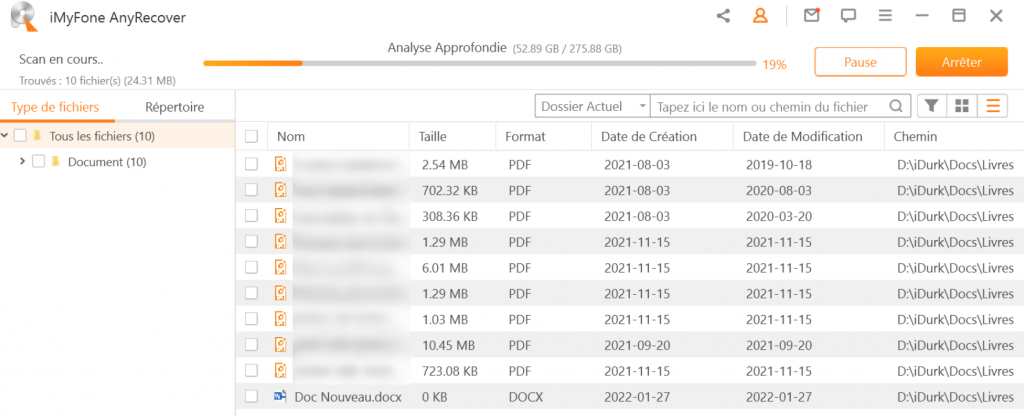 If you wish, you can stop the scan, or pause it and resume later.
Preview and recovery
At the end of the analysis, if it is a Word, Excel, PDF document, double-click on it. By doing this, AnyRecover will perform a preview. This interesting feature allows you to check if the file in question is the one you want to recover.
Preview is possible on documents (Word, PDF, Excel, etc.), on images and many other types of files. Note that for some files previewing may not be possible, but these files will still be recoverable.
To recover Word and Excel files, or any, check the file to recover, several if necessary. Go to the bottom right of the window to click on " Retrieve ».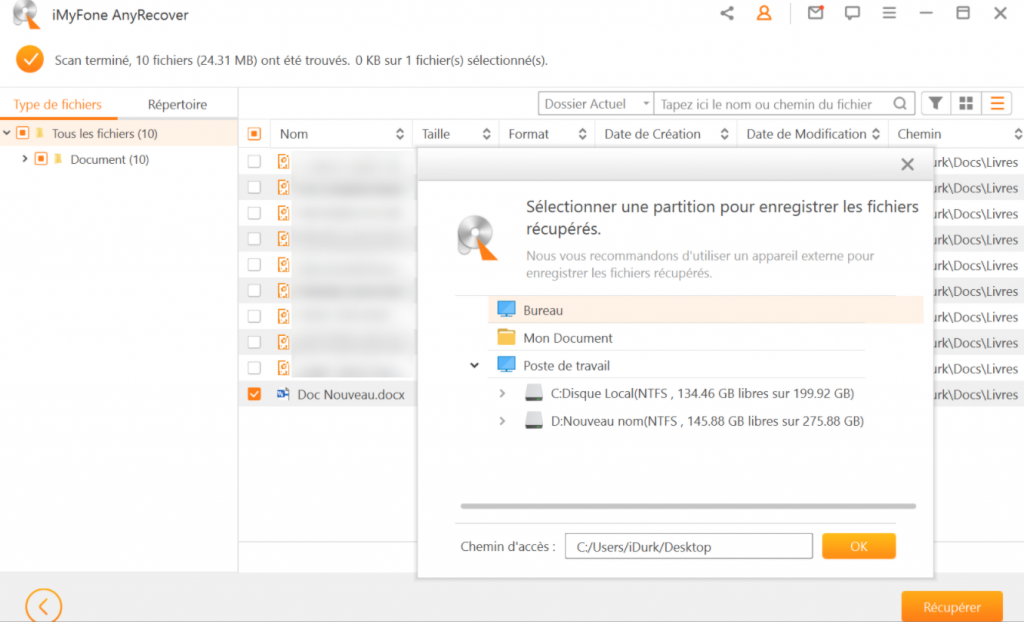 Select the save location. On my capture, the selected save location is desktop. It is recommended to save a recovered file on an external medium, hard disk or USB key, or on another partition of the computer, other than that in which the file was housed before its deletion.
Scan and recovery time will depend on your disk capacity and computer performance. A large capacity disk will take longer than a small capacity one.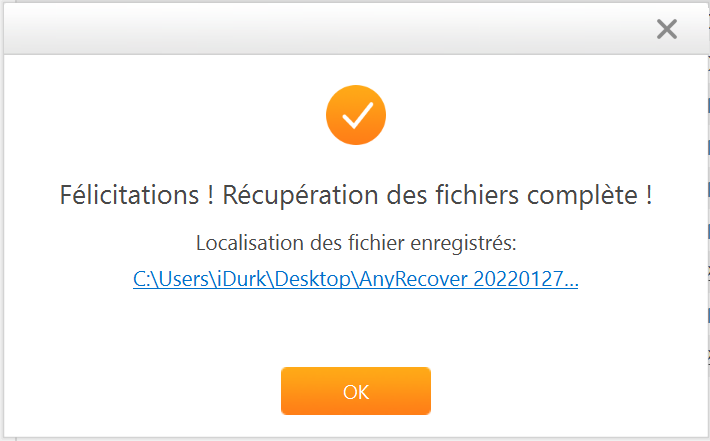 AnyRecover will create its folder in the chosen location and open it automatically. You will find your restored files there, stored in different folders according to their types. Documents, for example, will be stored in AnyRecover → All Files → Documents.
With AnyRecover, you can recover Word and Excel files, PDF documents, Emails, etc. You will be able to restore almost any type of file, quickly and easily. With its clear and intuitive interface, AnyRecover is one of the utilities to have on your computer, Windows or macOS.