WhatsApp Messenger is a free tool for anyone with a supported smartphone, but some may not be able to use it. Has your phone number been blocked by WhatsApp? If so, this is an account ban.
When your phone number is banned by WhatsApp, you usually get two types of messages both hinting at being blocked: " Your account is temporarily blocked " or " Voyour phone number is blocked and not allowed to use whatsapp ».
Why is your phone number blocked by WhatsApp?
WhatsApp bans accounts (numbers) if it has recorded inappropriate activity from that account that violates its terms of use. In most cases, these are numbers that used unofficial versions of WhatsApp (Mods ; versions Courageified).
These versions of WhatsApp, which violate its terms of service, are developed by third parties. It is mainly about GBWhatsApp et WhatsApp Plus. There are many modded versions of WhatsApp, all preferred for many features they provide.
In the beginning, when the first Mod was born (GBWhatsApp), several accounts had been blocked by WhatsApp. Today this ban can be avoided thanks to the Anti-Ban functionality integrated into the new versions of some of these Mods.
If your phone number is blocked by WhatsApp, it's probably for this reason. It is also not impossible that your account may be blocked for dangerous content passing through it or for having been reported by users as an account carrying out malicious activities.
How to unblock a blocked WhatsApp phone number?
If your phone number is blocked by WhatsApp, the only way to try to unblock it is to contact WhatsApp support. Your case may be studied and, if deemed necessary, your account will be unblocked for further use.
Open THIS LINK to submit your request. In the application form, provide the following information:
The country of the number concerned as well as the number itself,
Email-address ; enter it twice to confirm,
The type of device you are using (Android, iPhone, etc.),
The message describing the problem and in which you request the unlock.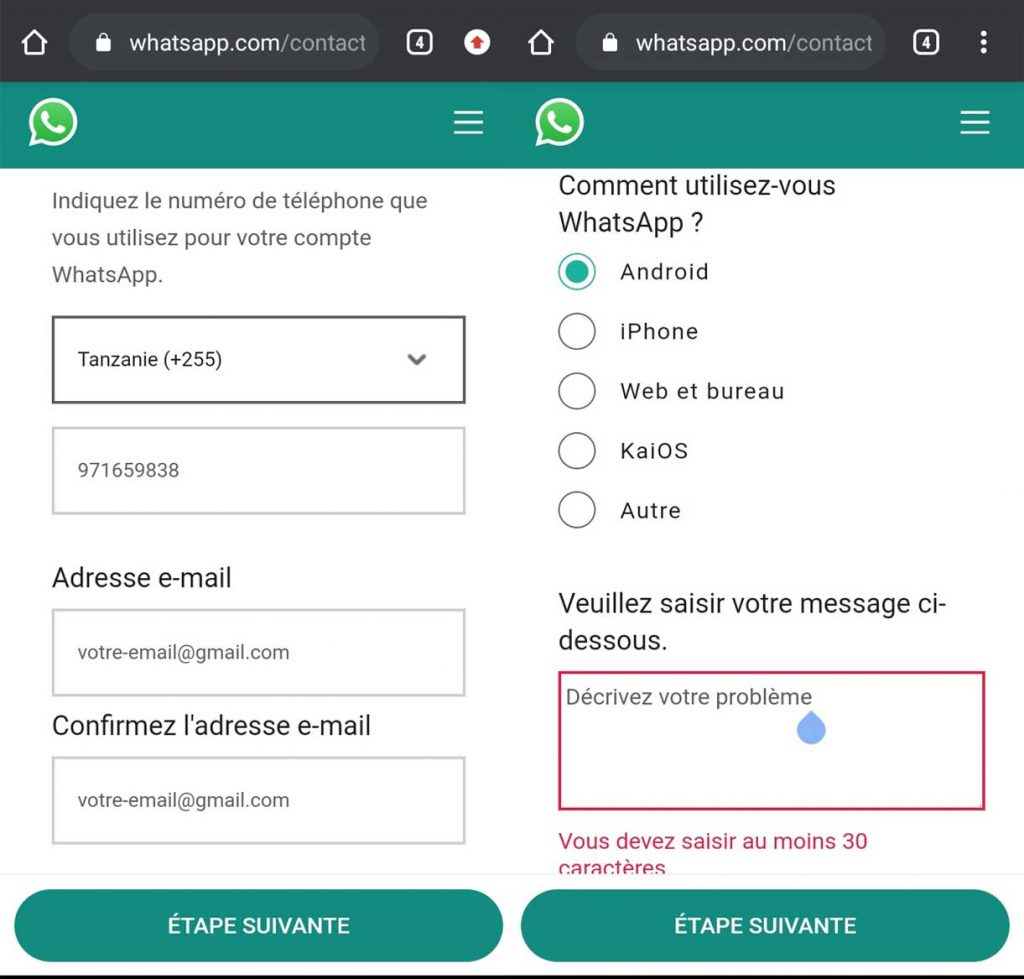 Describe your issue, providing details that may help unblock your phone number. Once the message has been entered, press the button to go to the next step.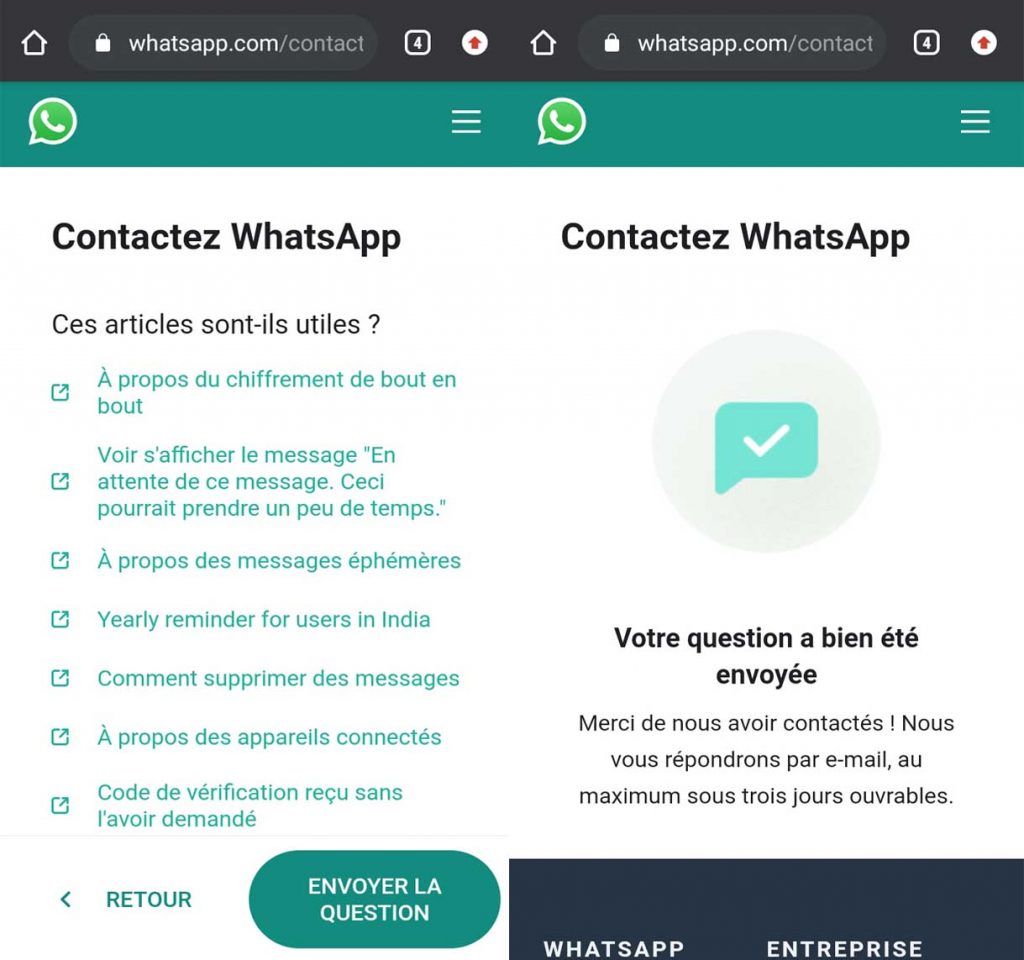 Ignore the content that will be offered to you and continue the process by pressing " Send the question ". Your request will then be sent. You will receive a response within a period not exceeding, according to WhatsApp, three days.
If by chance the phone number blocked by WhatsApp manages to be unblocked, make sure to avoid any activity that may lead to blocking again. A second ban may be irreversible.
If you were using an unofficial version of WhatsApp before the blocking, immediately skip the official version. Otherwise you will be able to see your number banned again, this time permanently and without any possible recourse.
Read also: GWhatsApp to official WhatsApp without data loss.
How long does it take to ban a WhatsApp number?
WhatsApp will never notify you before your account is blocked. Some users realize this when re-configuring WhatsApp, after a loss or change of device. The blocked account number will therefore no longer be usable on WhatsApp.
A WhatsApp number can be temporarily or permanently blocked. For permanent blocking, the number can never be used on WhatsApp again. On the other hand, for a temporary blocking, the number can be reused on WhatsApp once unblocked.
Will your number be unblocked? When will it be unlocked? To these questions I cannot answer you. All you can do is submit a request to the WhatsApp support team and wait patiently. With a bit of luck your number can be unblocked.
What to do if your WhatsApp number is not unblocked?
The phone number blocked by WhatsApp may not be unblocked either because it is a permanent measure or because WhatsApp has decided that it is not time for your number to be unblocked. Might as well be ready for anything.
What you can do in the meantime is find another number you can use. This will allow you to have WhatsApp while waiting to see what response will be reserved for the request to unblock your phone number.