Vous est-il déjà arrivé de vous poser la question de savoir s'il est possible de partitionner un disque pendant que vous l'utilisez et comment le faire ? Ça tombe bien, puisque l'opération est tout à fait possible, et nous allons voir comment procéder étape par étape, très simplement, pour partitionner un disque dur sur Windows.
Contrary to what some people think, partitioning a hard drive is not possible only during the process of reinstalling an operating system. Personally, I prefer to do it while using the computer, given the simplicity of the operation.
There are software dedicated to partitioning (gratuits et payants), mais nous n'allons pas nous en servir. On va utiliser le gestionnaire des disques de Windows. Partitionner un disque dur sur Windows : quelles sont alors les étapes à suivre ?
Partitionner un disque dur sur PC Windows
To get started, go to Windows File Explorer (Windows + E). Cliquez avec le bouton droit de la souris sur Computer (CePC) in the left sidebar of your window: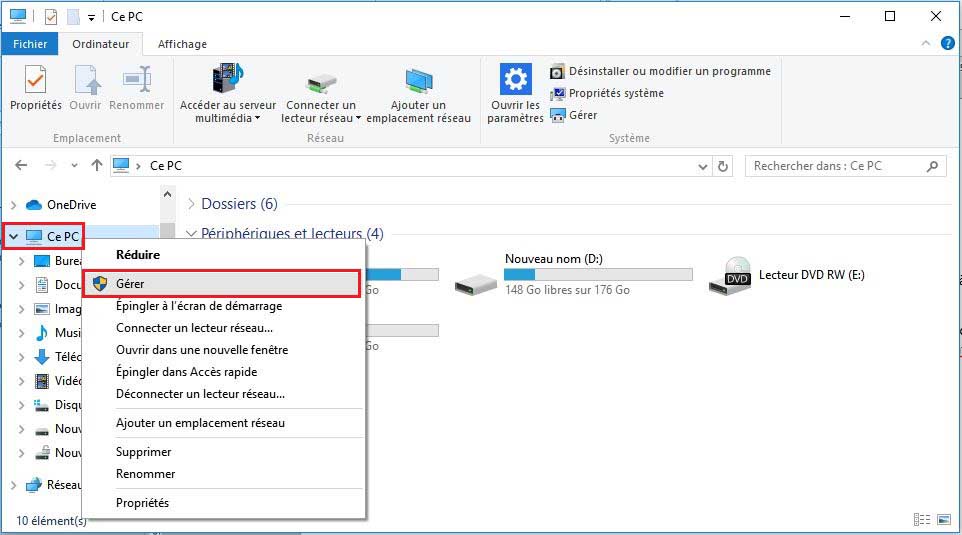 In the menu, click on " Manage » pour vous rendre dans le gestionnaire de l'ordinateur. C'est l'outil permettant de partitionner un disque dur sur Windows. Il permet de partitionner un disque pendant même que vous l'utilisez.
Le gestionnaire de l'ordinateur est un outil complet, comme vous pouvez le voir. Il vous permet par exemple de gérer les tâches ou d'observer les événements enregistrés au courant de l'utilisation de l'ordinateur. Cet outil permet aussi de gérer les périphériques, et bien sûr le stockage avec la possibilité de partitionner un disque dur sur Windows.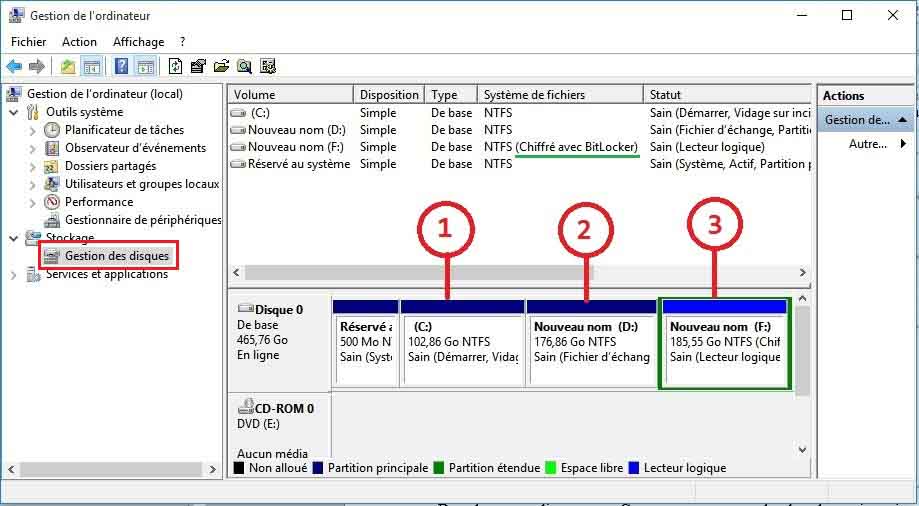 There we are in the option " Disk management ". And you can see the available partitions, their file systems, and their statuses. Regarding my disk, there are three available partitions. The first being 102.86 GB (disk C), the second of 176.86 GB (disk D), the third 185 GB (disk F, Encrypted with Bitlocker).
And the 500 MB one? This partition is reserved for the system. So we're not going to include it in the list.
Volume reduction
My hard drive has a total capacity of Go 465.76, we will start by reducing the volume of one of the existing partitions. You can also choose to delete a partition to free up space and repartition the disk.
Warning: If you delete a partition, you will automatically lose all your data. On this, I therefore urge you to be cautious. Make sure you really want to delete the targeted partition.
I choose to go with the disk D (176.86 GB). So I'm going to reduce the volume to get some unallocated space. To do this, right-click on the partition whose volume you want to shrink, then on " Reduce volume ":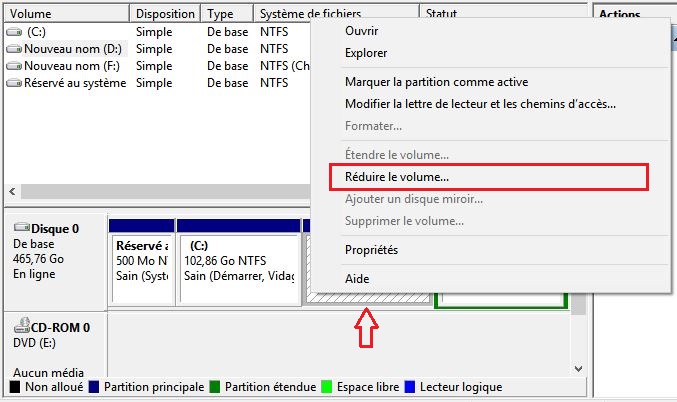 Then, you should see the window appear with the total size of the disk before the reduction, the available reduction space, the amount of space to be reduced (which you will be able to define), as well as the total size that the disc will have. after reduction.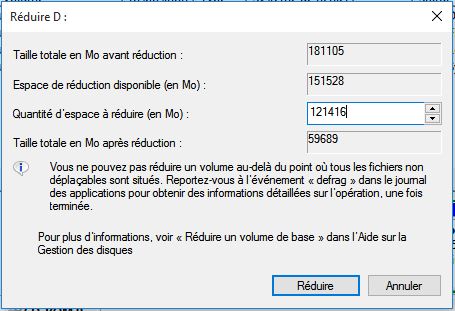 You cannot, as the window indicates, shrink a volume beyond the capacity required by the existing files on the disk. In addition, the reduction capacity is calculated by Megabytes and this happens automatically every time you increase or decrease the space to be reduced.
Then click Lower, and wait a few seconds: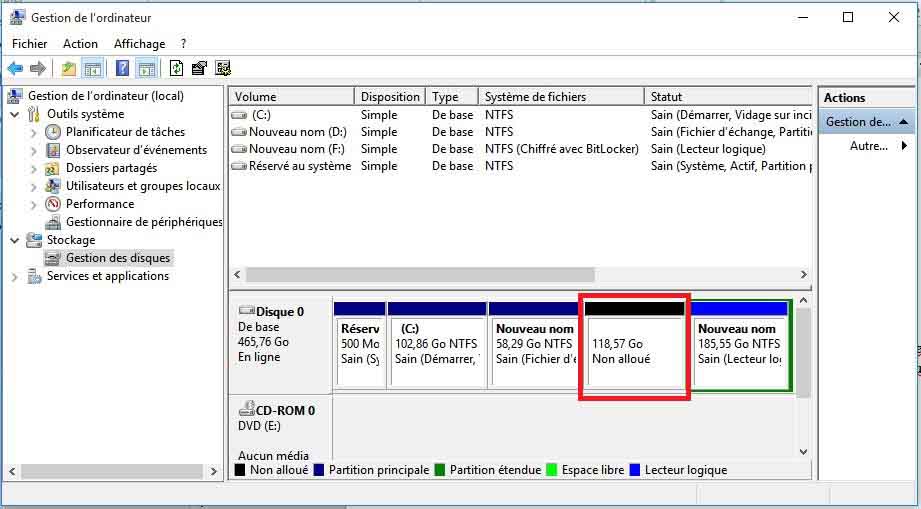 That's it, there is now an unallocated space of 118.57 GB, and the disk D which initially was 176.86 GB becomes Go 58.29.
Creating a new score
Now that we have some unallocated space, let's use it for a new partition. You can also distribute this space for more than one partition. Let's go with a score, after when you understand the whole process, you can try several new scores.
Read also: Back up the drivers for your computer.
Click on unallocated space, then click New single volume. You will start Create Simple Volume Wizard. For the first step do Next, the second step is to specify the size of the partition. It looks like this: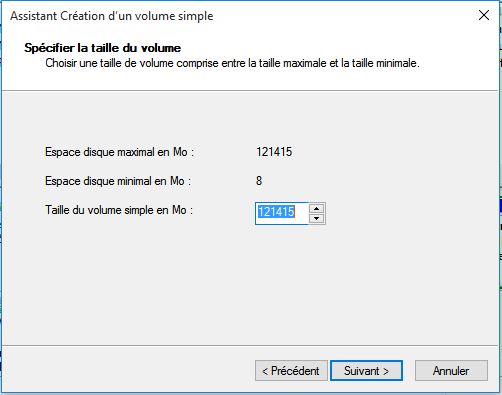 You can choose to either allocate all the available space to your new partition being created, or also to allocate only part of the available space to it. For the moment I allocate all the space to it, Next.
The third step is to assign a letter to the drive, you can leave the default configuration and do Next. For the fourth step also I advise you not to change anything, or else just change the Volume name, then Finish and wait.
That's it, your new partition is now ready to use.
C'est la base à connaitre sur comment partitionner un disque dur sur Windows. Mais en tombant sur cet article, vous avez peut-être un disque avec une seule partition. Si tel est le cas ne vous posez pas de questions, la procédure reste exactement la même.
Si votre disque dur n'a qu'une seule partition, vous avez donc une marge de manœuvre plus large, créez-y d'autres partitions, vous connaissez déjà tout à propos. Qu'en dites-vous, est-ce vraiment compliqué de partitionner un disque dur en cours d'utilisation ? Laissez vos questions ou suggestions en commentaires.