PDF is one of the file formats we use the most, and not just on computers. On Android smartphone too, there is several tips to better manage PDF files. To start, you need to know how to view, open a PDF file on your mobile.
To open a PDF file on Android, as on a computer for that matter, you must have it locally on your device. In addition, you must have a PDF document viewing application on your smartphone.
Viewing a PDF file online is also not excluded. But this task falls to your Web browser and the platform you are viewing. Many of them (web browsers) allow you to open PDF files without having to download them.
Find PDF files, where are they on Android?
Apart from having the PDF file on the device as well as the application allowing it to be viewed (PDF reader), to open a PDF file on Android it is sometimes essential to know its location on the device's memory. However, this is not always necessary.
Read also: Automatically open PDFs on Windows.
In fact, many PDF viewer apps scan the device's memory and list all the PDF files on it. You can therefore rely on certain PDF readers to find your documents without knowing where they are stored on the device.
These applications make life very much easier, but to better manipulate a PDF file, it can be useful to know its location. If it is a file downloaded from the internet, you will find it in the folder /Download ou /Download from the file manager.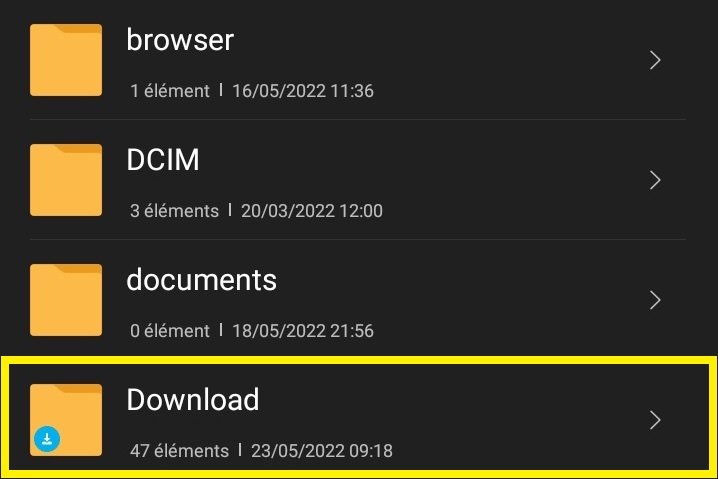 Files downloaded from the internet, from your web browsers, are all stored in this folder. Some mobile applications also, depending on their design, can store elements downloaded by the user.
Read also: Merge PDF files for free.
Find PDF File in File Manager
On Android, current versions of file managers make it easier to find files by grouping them together. They group them according to their categories; music, videos, images, documents, etc.
In the list of your applications, find and launch the file manager. Press on " Documents ". Your documents will be displayed, all formats combined. To view only PDF files, tap " PDF ».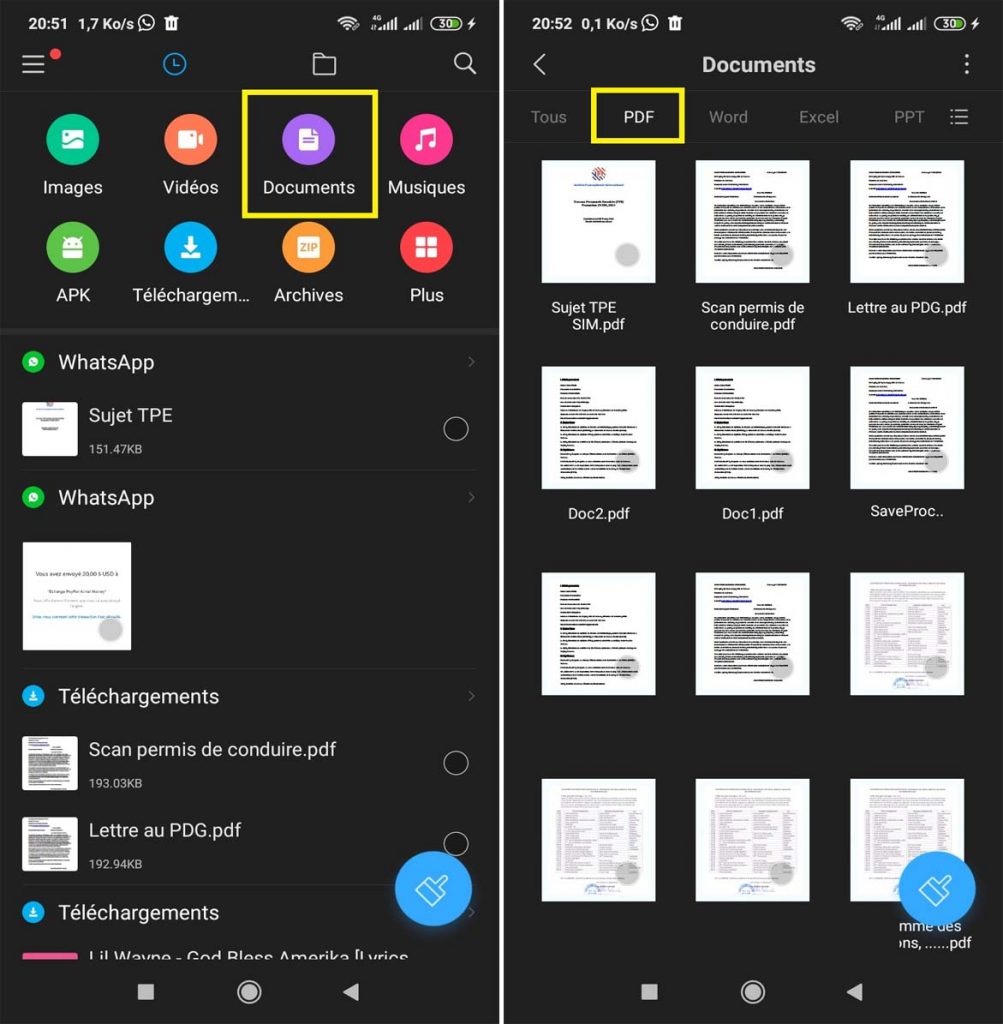 You can then browse the list to find the PDF file of your choice. For each PDF, you will be able to perform a whole bunch of operations; moving, copying, sending, deleting, etc. But there is another way to search PDF in file manager.
Browse the folders to try to find the file. This is unfortunately not always practical, especially if you have a very large number of files on the device. The easiest way is to press the search icon, enter the file name (or just a snippet of the file name) and start searching.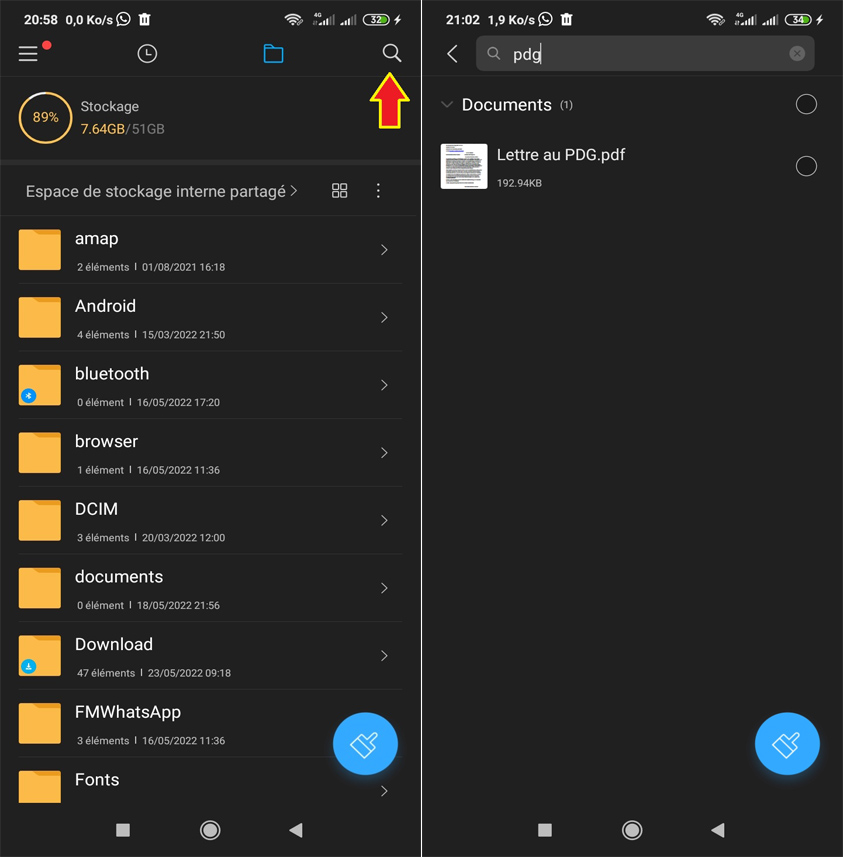 As you can see from the capture above, I wanted to find the document named " Letter to the CEO ". I didn't catch all of his mon, but only the excerpt " CEO and the document was presented to me. In the same search box, if you enter " . Pdf and start the search, then all files in PDF format will be displayed to you.

The file manager will perform a scan and display them to you. It will then be up to you to find the one you want to use.
The best free PDF readers for Android
There are many applications to open a PDF file on Android. Some of them are more than simple PDF readers, and offer many features for managing PDFs and other document formats.
You will find 100% free applications on the internet, others free but with Premium versions. For users who just want to view their PDF files, the free versions are fine. Everything will depend on how far you are willing to go in using the application.
Chances are you have a built-in PDF reader in your Android system. Here are some of the most used:
You can download them, all of them if you want, from Play Store. There you will find lots of other applications that can be used to open a PDF file on Android. Install the ones that interest you, test them and, if necessary, uninstall them to try others.
Open a PDF file on Android
Since you already have an idea of ​​where to find your files, let's see how to open a PDF file on Android. It's simple, once you find the file, tap to view it. It will be opened by the default PDF reader application.
If you have only one application for reading PDF documents, it will open your file directly. If there is more than one application on your device that can do this, then the Android system will ask you to choose the one with which you will open the selected PDF file.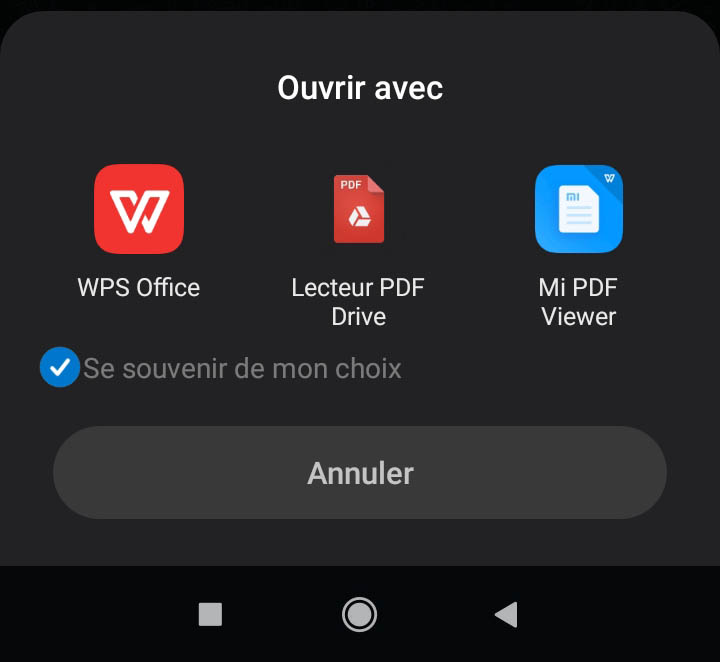 Unless one of the apps installed on your device is set as the default player. What you can change, if needed. Among these applications that you can download to open a PDF file on Android, there is WPS Office. Download and use WPS Office to view PDFs.
Unable to open a PDF file, Can't open PDFs?
PDF is a very good format for documents, but is not immune to problems. If you are unable to open a PDF on your device, before pointing your finger at your file, make sure you have a PDF reader installed and working properly.
Install two or three to better identify the source of the problem. If despite installing several readers you still cannot open PDF files on your device, then it is possible that your PDF files are corrupted.
You may have obtained them already corrupted, from the source. It is also not impossible that your smartphone is infected, or that you are trying to open a PDF file that has already been deleted from your device. So check if the PDF is present in your files.
Another probable cause of the problem is the encryption of the PDF you want to open. Make sure it is a free-to-read file