Available since September 2018, Microsoft Office 2019 contains various well-known tools such as Word, Excel, PowerPoint, etc. Outraged Windows, Office 2019 can also be used on Linux and macOS. Find out how to download Office 2019 ISO easily.
What's new in Microsoft Office 2019
You will find Office Word, Excel, PowerPoint, and all the other applications in the range (here we are not talking about new features). After installation, if necessary, you will be able to activate Office using some of the most popular tools such as KMSPick ou KMS Auto Activator.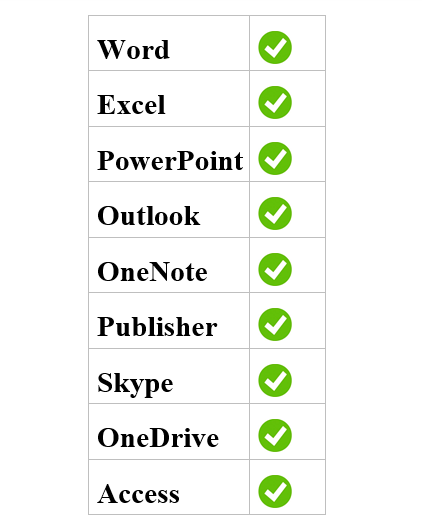 The 2019 version of Microsoft Office brings a number of new features. There you will find new handwriting tools, translation and editing tools, and more. Among some of its new features, let's say that Microsoft Office 2019 allows you to:
Translate words, phrases, and other text selections into another language using Microsoft Translator. You will find this functionality in Word, Excel and PowerPoint.
Create mathematical equations using LaTeX syntax. You will find this functionality in Word.
Insert (in Word, Excel, and PowerPoint documents) Scalable Vector Graphics (SVG) that includes filters. For PowerPoint, it is also possible to smooth the animations, transitions and movements of objects in slides with the Morph transition.
Switch between slides in any order using the Zoom feature. These are PowerPoint presentations.
And many more functions
Read also: Download ISO files from Windows 10.
Download Office 2019 ISO with Windows ISO Downloader
Windows ISO Downloader is a tool for downloading windows images and Office. It provides download links for different versions of several tools from Microsoft. Download ISO Downloader and run it.
Click on the " Office "At the top right corner of the software and check" Office 2019 ". Then select the version as well as the language of the Microsoft Office ISO file that you want to download. Then click on " Download ».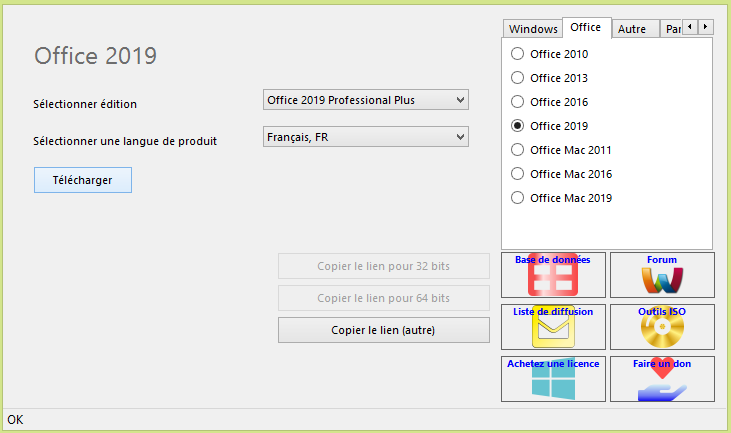 The download link will be generated and launched in one of the web browsers installed on your computer. If you chose the 2019 version, you will download Office 2019 ISO, edition and chosen language. The generated link (which can be copied to clipboard) can also be used in Internet Download Manager.
Would you like to download Microsoft Office 2019 ISO file with Internet Download Manager?
Once the link is generated in ISO Downloader, click on " Copy link To put it on the clipboard. Then open Internet Download Manager. Click on " Add url And paste it, if it will not be automatically retrieved from the clipboard.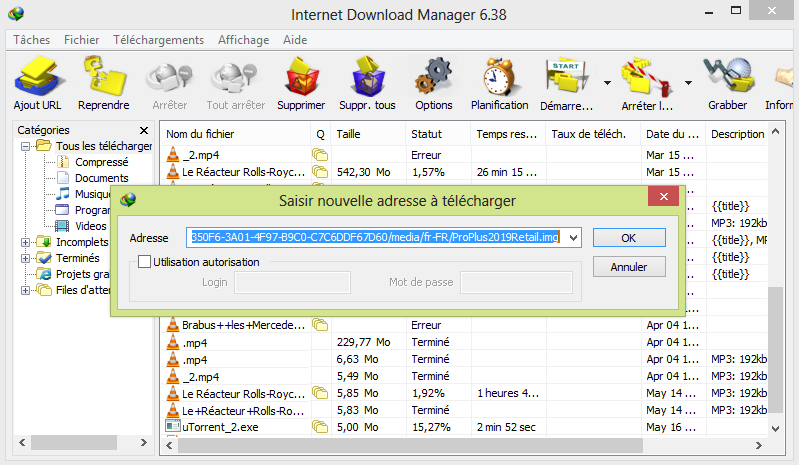 Click on " OK " and on " Start To start the process and download Office 2019 ISO. Due to the size of the file, the use of a download manager, such as Internet Download Manager, would be necessary. This would prevent the download from restarting if the connection is cut.
Microsoft Office 2019 ISO File Links
If you want to download Office 2019 ISO without using the offered software, then here are various links to download it directly. Each of the files in question is a significant size and requires enough data to complete the download.
| | | |
| --- | --- | --- |
| Office 2019 Edition (FR) | Size | Download link |
| Family and student | Go 3.50 | Download |
| Professional | Go 3.50 | Download |
| Professional Plus | Go 3.40 | Download |
For either file, start the download and wait for the end.