Mozilla Open Source Browser Firefox can be used on a computer as well as on mobile devices. With Google Chrome on Android and Safari on iOS, it is one of the most used browsers on smartphones. You will be able to download or update Mozilla Firefox on Android and iPhone or iPad.
The mobile version of Firefox is lightweight, very customizable. Its interface allows easy handling. Its synchronization functionality allows, once connected, to find the open tabs, history, favorites and Passwords saved on any device.
The best way to get Mozilla Firefox on Android and iPhone is to download it from your device's official app store. This will ensure that you are installing the most up-to-date version of Firefox that is best suited for your device.
Download Mozilla Firefox for Android
If you are already using Mozilla Firefox, you can update it directly from Play Store. This is the easiest way to do it. The update allows you to take advantage of the latest features and security tools. You can also do it manually.

Using the button above, you will be offered to download or update Mozilla Firefox.
Download Mozilla Firefox APK for Android
Installation of Mozilla Firefox on Android is also possible using the APK package. You will be able to choose the version of Firefox of your choice and download the APK file from the Mozilla download server. To download its APK file:
Open this link. You will be taken to the Firefox GitHub page and you will find several versions there. For the version you want to download, for example 94.1.2, click on " Assets " or " Assets ».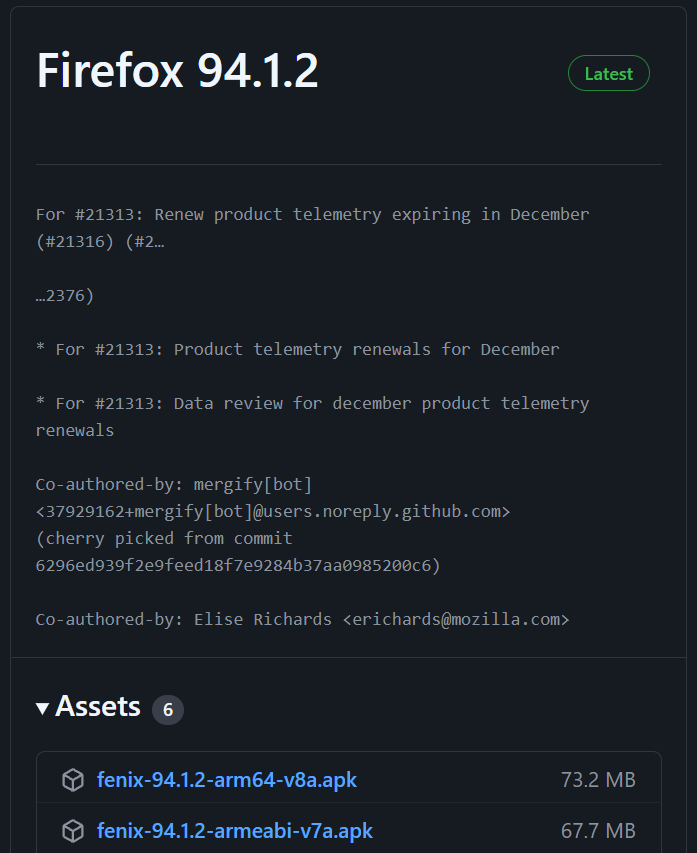 APK versions are automatically uploaded to GitHub. Select the version of your choice and start the download. After downloading, start the installation of Mozilla Firefox on your Android smartphone or tablet.
Download Mozilla Firefox on iPhone or iPad
Download or update Firefox on your iOS device. Unlike Android system, iOS does not accept installation of apps from external files. To install Mozilla Firefox, you will need to do it directly from the iOS application store, App Store.

Firefox is only available in the App Store for iPhone and iPad.
Download and install Mozilla Firefox on Android and iPhone or on your iPad tablet. It is a browser that is proven to be effective on many of the platforms on which it is used. Also on mobile it supports extensions available in the official Mozilla library.