Thanks to tools like Rufus, creating a Windows installation key has become very easy. Although even without it, you can still create a bootable usb drive with command prompt. Find out in this article how to create a bootable USB drive with Rufus.
Rufus is a small free and fast utility, allowing the creation of a USB installation media. For this, the user must have an ISO file to use. It is multilingual and designed to work on Windows 7 and all later versions of Windows.
Rufus also allows you to create an installation key for Linux distributions. You can thus use it, on Windows, to create a USB key that can be used for the installation of Ubuntu for example. Find out later how create an Ubuntu installation USB key.
Read also: Install Windows, a complete step-by-step guide.
Create a bootable USB stick with Rufus on Windows
Download Rufus for free. Before using it, make sure you have a USB drive with enough space to accommodate Windows files. Over time, Windows installation files become more and more cumbersome.
An 8 GB key should do the trick, or a 4 GB one in some cases. Make sure you also have the Windows version ISO file for which you want to create the installation key. Here is how to proceed to create a bootable USB stick with Rufus.
Plug in your USB stick and launch Rufus. As device, select your USB drive. At the level of the start-up type " Disk or ISO image ", click on Selection. Browse your hard drive and select the Windows ISO image to install.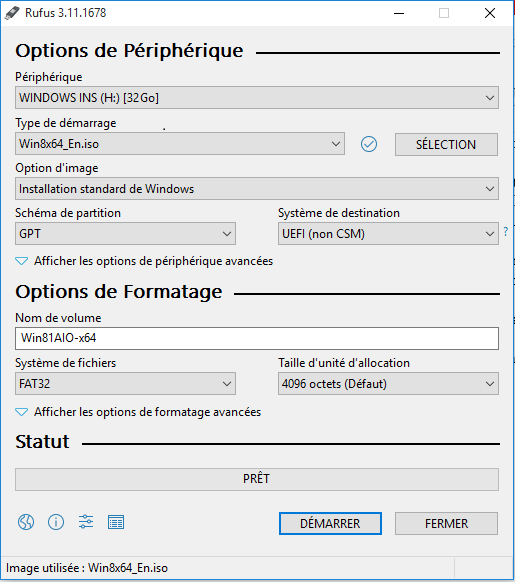 At the level of the image option, leave the default configuration " Windows standard installation ". For the partition scheme, if your motherboard uses BIOS (BIOS or UEFI-CSM) as firmware, select MBR.
In the other case, select GPT. That is, if your motherboard uses UEFI (Non CMS) as firmware. Leave the default configuration so you don't get confused and ignore the advanced options.
For the diagram GPT, select FAT32 as the filesystem. If you select NTFS, you will have to deactivate the Windows secure boot (Secure boot) to be able to use your USB key. So let FAT32. As for the scheme MBR, the only file system available is the NTFS.
For the allocation unit size also leave the default configuration. For the volume name, change it or leave it.
You can now start the operation by clicking on " Start ". Confirm by clicking on OK to start the process and make a USB drive bootable with Rufus.

Once the process is complete, click Close and that will be all. You will only have to install Windows on your computer by restarting it from the boot menu.
Read also: Install Ubuntu and Windows in dual boot.
List of keys to call up the boot menu
As a reminder, here is a small list of keys to call up the boot menu, according to the brands and models.
HP: Esc or F9.
Toshiba: Esc or F12.
Lenovo: F12, F8 or F10.
Dell: F12.
Acer: Esc, F9 or F12.
Asus: Esc or F8.
Samsung: Esc, F2 or F12.
Compaq: Esc or F9.
Fujitsu and eMachines: F12.