On Mac, it is quite possible to write documents using voice dictation from MacOS. That is to say without resorting to third-party software like Dragon (paid). To use text dictation on Mac, it will be enough to simply activate and configure the functionality.
Using voice dictation on Mac is very easy and convenient, especially since it proves its efficiency. Its use requires a good internet connection, with or without external equipment, such as a microphone (depending on the model of your device).
Some Apple computers have built-in microphones, fortunately of good quality. For other types of Apple computers, you will need to have an external microphone. Whether a single microphone or associated with a headset, wired or wireless.
This feature allows you to write text vocally and simply. As with Siri, the voice assistant you probably already know, the spoken texts are sent to Apple for analysis and processing.
Text dictation on Mac doesn't allow you to place commands, it's up to Siri. You will therefore not be able to use it to launch applications on your Mac. Whether writing documents, notes or messages, this feature proves its usefulness.
Read also: How to download and update macOS ou repair a macbook ?
How to use text dictation on Mac?
Nothing complicated for use. Only upstream, it will start by configuring the functionality. Again, again, nothing complicated. Among the configurations to be made to use text dictation on Mac, the choice of language.
But also the keyboard shortcut which you will use each time to launch the functionality. To activate and configure voice dictation:
Step 1 : Through the Apple menu, meet in System Preferences And click Keyboard. In the game " Dictation ", Last tab on the right, click on" Enabled ". You will be notified when your statements are sent to Apple for processing. Accept by clicking on " Activate voice dictation ».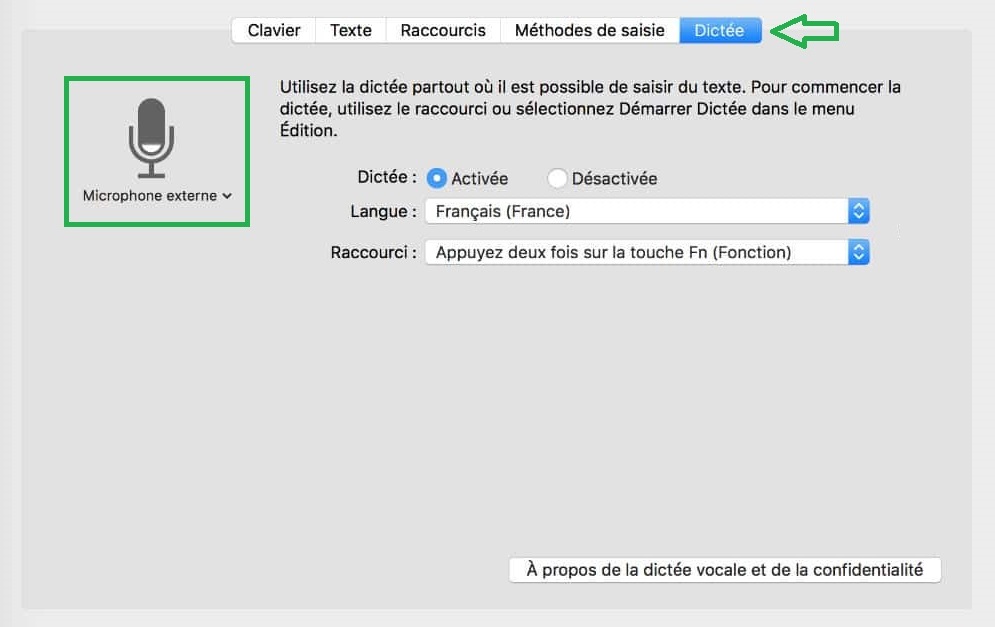 As you can see, the issue of confidentiality is not left behind. Especially since the dictated texts will be instantly transmitted to Apple for processing. You can find out more by clicking on " About voice dictation and privacy ". This will allow you to continue or cancel.

Step 2 : Select a language of your choice, in which you will have to dictate your texts. Pull down the menu to choose the language, which you can customize or to which you can add others. The deletion of a language remains possible through the same menu.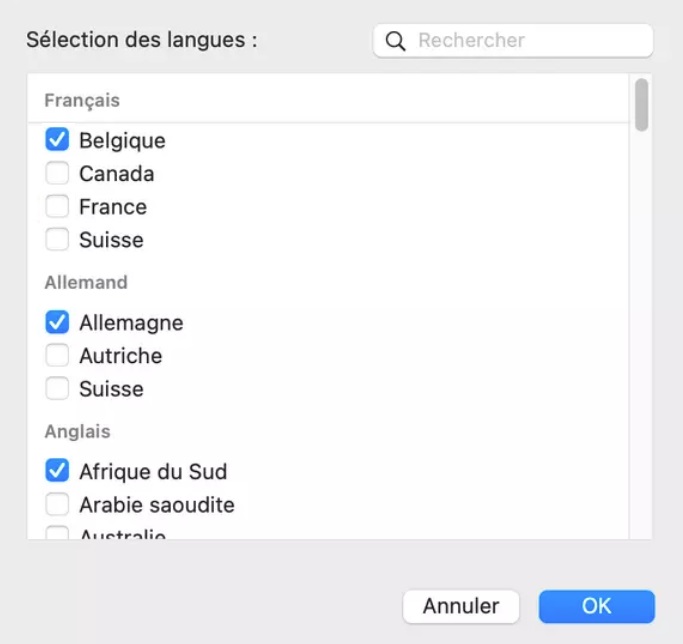 Read also: How to install and use Windows on Mac?
Configure the voice dictation keyboard shortcut
After activation, you will have to define the keyboard shortcut for launching voice dictation if necessary. It will be a personalized keyboard shortcut, which you will have defined according to your preferences. Here's how to set up the keyboard shortcut and use text dictation on Mac:
Step 1 : As before, through the Apple menu, meet in the System Preferences. In the game " Shortcuts ", choose one among those which will be proposed to you. To add your own shortcut, click below on " Personalize their campaigns In the drop-down box.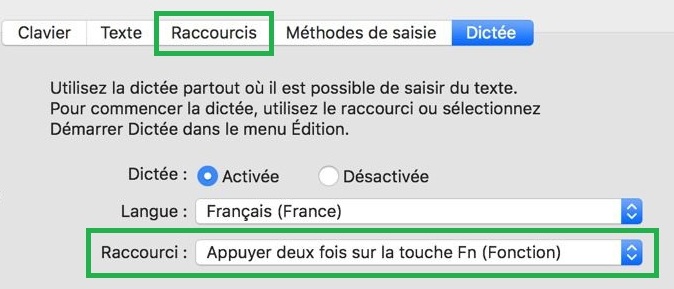 Step 2 : To personalize your shortcut and define the one that suits you, press the keys of your choice. The functionality will take care of recognizing them. You can do the combination " Option + a touch of your choice ». Option + KEg.
Read also: How to recover damaged or deleted files on Mac?
Start and use text dictation on Mac
To start and use text dictation on Mac, open an application that allows you to enter text. Launch the application and, once the input box is displayed, use the defined keyboard shortcut to start the voice dictation.
A window will present you with the microphone icon, with an indication of the sound level. This icon is followed by a beep indicating that your computer is ready to receive your utterances. Before you start dictating, pay attention to the beep. Your Mac will not pick up anything after having issued it.
At this point you can start dictating your words. They will be displayed as the dictation progresses, and will change during. At the end of the dictation, you will be notified by a beep. You can also stop it, if you assume you are finished, by pressing the start dictation combination or the return key.
Everything you type on the keyboard will also be taken into account. As for mistakes or bad listening to words by voice dictation function, your Mac will report.
In this case, click on the word concerned and choose one of the proposals which will be presented to you by the computer. Or do a manual correction using the keyboard, if you don't want to dictate the exact word again.
If you have configured multiple languages ​​and want to switch to another, use the microphone icon on your screen. If you are using English, click on " English »And other configured languages ​​will be offered to you. Choose one and start voice dictation again.
Read also: IPhone and Android apps to learn a language quickly.
Manage punctuation and formatting
While dictating you will also need some commands. They will be used to insert punctuation marks or to perform certain formatting. There is a whole list of spelled out commands that your Mac will recognize.
So it's up to you to indicate when to wrap, when to add a colon or a question mark. To insert punctuation, you will have to say its name. For example, " Exclamation point " to get " ! ". To write " Very good ! ", You will have to state" Très bien exclamation point ».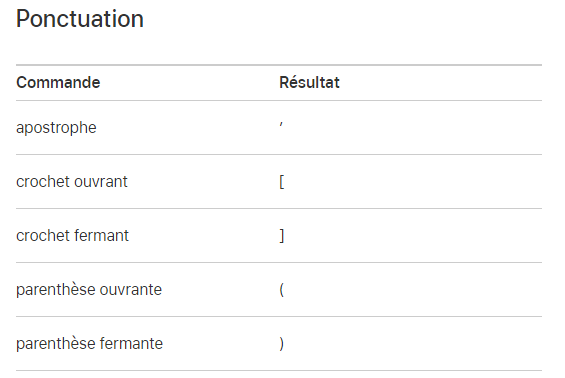 The screenshot above shows some examples of commands related to punctuation. To use text dictation optimally on Mac, knowledge of some of these commands would be very important. Another catch that might interest you: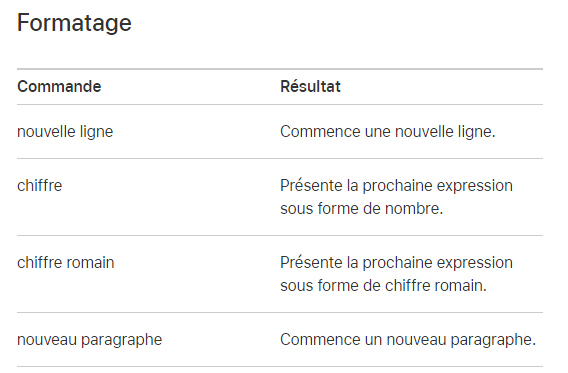 The screenshot in front of you shows some voice commands related to formatting the text. As I tried to say, or as I said, there is a whole list of commands. Discover the list in question by visiting this link. They might be of use to you.
With a few configurations and a few commands, you'll have almost everything you need to get to using text dictation on Mac. However, for better listening, avoid saying words that you do not want to appear in your texts. Since your computer will try to convert any audio it receives to text.
During use, therefore, try to get closer to your Mac to avoid certain errors. You will be even more comfortable if you use a quality external microphone. Although for MacBooks for example, the built-in microphones could already be sufficient.