Are you using an iPhone and want to secure your device by locking it? Find out how to set up a passcode and Touch ID on your iPhone. Locking your device protects your personal data from malicious action. As long as it is not unlocked of course.
Set up a passcode and Touch ID on iPhone
Set up an unlock code on iPhone
To enter a code and lock your iPhone, go to the Settings device and open the option " Touch ID and code ". On recent iPhone models that have the feature Face ID, the locking option is called " Face ID and code ».
If you were already using a passcode, the device will ask you to access the lock options. Otherwise, you will then have the option of defining one.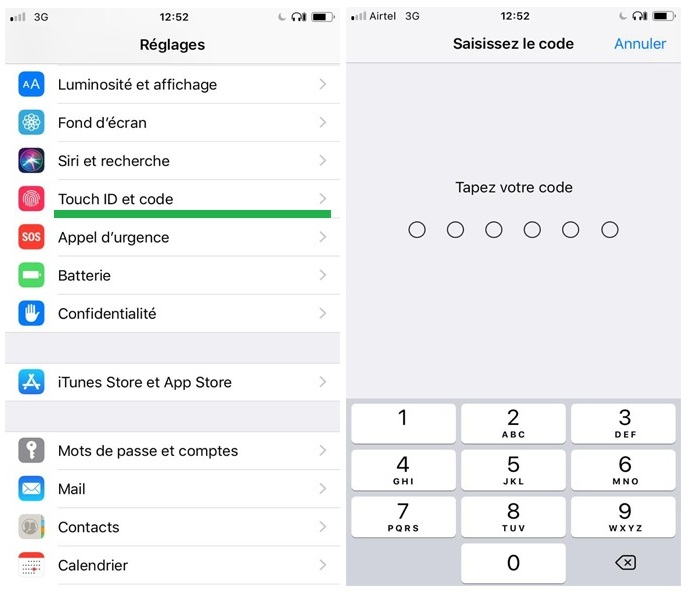 If you do not use any code for unlocking, click on " Activate the code ". Then enter the code with which you will have to unlock your device and confirm it. You can then change or delete the access code in question.
After its configuration, you can use your code to authorize access to certain features of your iPhone, such as the control center, the notifications center or to reply to messages. Configure an access code that only you will know and that you will not forget.
Read also: Why should you always lock your phone?
Configure Touch ID functionality on iPhone and iPad
Functionality touch ID offered by Apple on its devices, allows them to be easily unlocked by reading the fingerprint. Apart from unlocking devices, it allows (for some models) to make purchases and payments with a simple finger gesture.
To use it, go to Settings of your iPhone and go to the " Touch ID and code ". If you are already using a passcode to unlock your iPhone, you will be prompted for it by the device. Enter it to access your fingerprint configuration.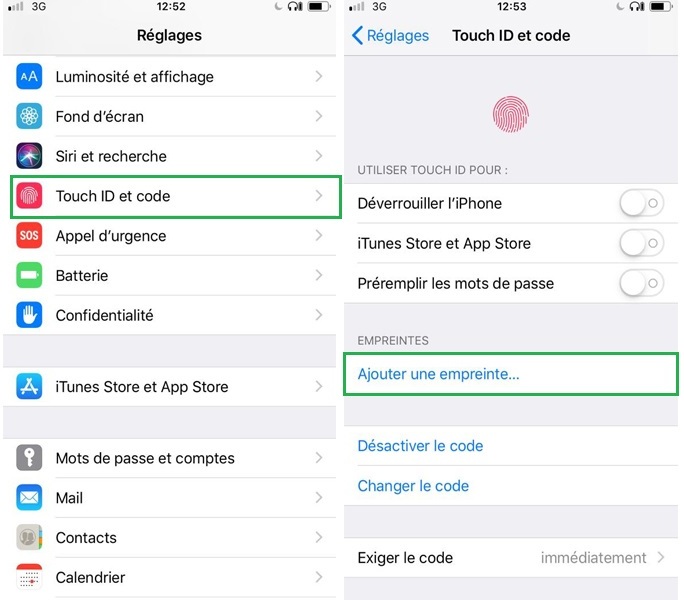 In the game "FINGERPRINTS", add the fingerprint of one or more of your fingers. Don't forget to activate the feature in the "USE TOUCH ID FOR". Before starting the setup, make sure you have clean fingers.
Read also: How to Lock an Android Phone?
Then place your finger on the home button of your device until you feel a vibration from the iPhone. The device may also ask you to remove it (your finger).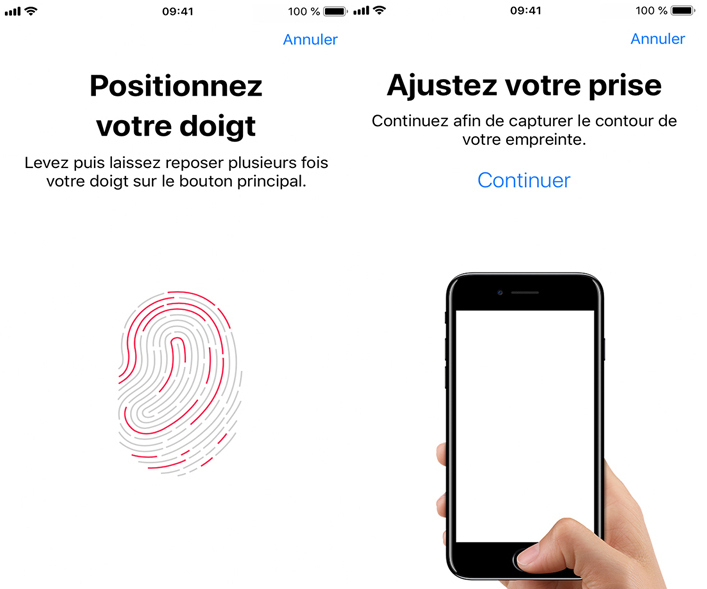 Repeat the maneuver several times. Lift and rest your finger several times to allow iPhone to finalize your fingerprint setup. Afterwards, the device will prompt you to adjust your grip. Hold it as during normal use by touching the home button with the contours of your finger.
At the end, your fingerprint will be registered. You can then add another finger and create a list of up to 5 fingerprints. Avoid registering multiple fingerprints. By doing this, your device will take longer and longer to perform the recognition. If you're having trouble setting up passcode and Touch ID on your iPhone, let us know.