Lock a folder by mot de passe or a file, which computer user has never had this idea in mind? If you are one of those wondering how to do this, then this article will have been written for you. "Null" or "Expert" in computer science, you will be able to get there step by step.
Why lock a folder or a file? Simply to protect it from bad people. There are quite a few tools available for encrypting data locally, but in this article we'll explore three. This is'EncryptOnClick, AxCrypt et VeraCrypt. Let's get right to the point.
Password Lock a Folder or File with EncryptOnClick
EncryptOnClick is a free folder and file encryption tool, using AES-256 bit encryption as an encryption algorithm. Through its minimalist interface, the software allows you to encrypt and decrypt data in a few clicks.
Encrypt data with EncryptOnClick
To lock a folder or file with EncryptOnClick, first download and install the software. He compress and encrypt files the same time. After a file or folder is encrypted, it will change its extension and have the extension (.EOC).
Download EncryptOnClick for Windows.
After downloading, install and launch the software.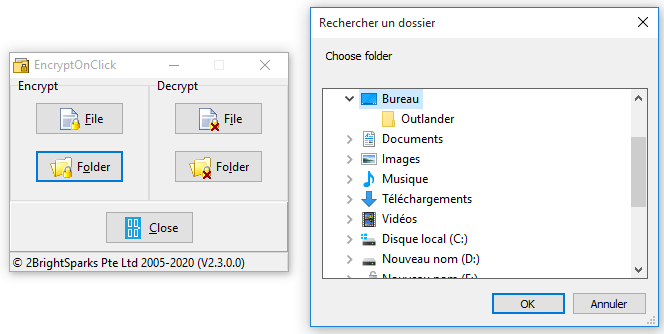 In the game Encryptt as in the part decrypt, you can maneuver with a folder or with a file. To lock a folder with a password, click on " Folder », Browse your Hard disk and select the folder to encrypt.

Then enter the password you will use to unlock your folder. After entering and confirming the mot de passe, tick the boxes " Do not delete file " and " Encrypt file names " if necessary.
The first box, Do not delete file, allows to keep the original element after encryption. If you want to make the original disappear, then leave it unchecked. The second box, Encrypt file names, for its part, also allows the names of the selected elements to be encrypted. Then start the encryption by clicking on OK.
The image above shows the recently selected folder. As you can see, EncryptOnClick has locked the folder through the items in it. Taking a look in the properties, you will notice that each of the encrypted files will have taken the extension (.EOC).
Read also: Secure your personal data on Windows.
Decrypt data with EncryptOnClick
To unlock a folder, file, open EncryptOnClick again. In the game decrypt, select the relevant item, depending on whether it is a folder or a file. For us here, it is indeed a file.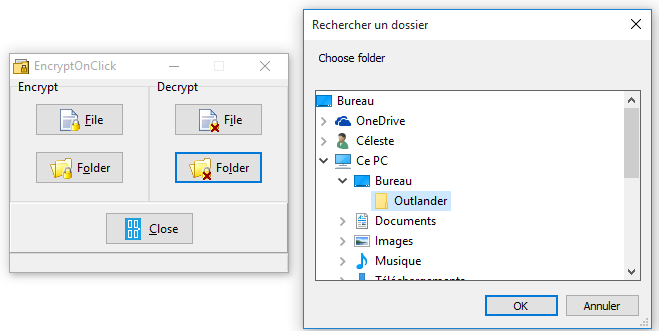 After selecting the relevant folder, enter the password configured at the time of encryption and click on OK. If necessary, check the box " Do not delete file after decrypting ". By doing this, you will keep the locked files next to the ones you have unlocked.

With EncryptOnClick, password locking a folder is a snap.
Lock a folder by password or a file with AxCrypt
AxCrypt is another great file encryption tool. It allows to encrypt data, files with ease. It is a complete encryption software, easy to use since it is integrated into the contextual menu from where it becomes directly accessible. Just like EncryptOnClick.
To lock one or more files with AxCrypt, first download the tool. Then install and open the software to start encryption. You will have some simple operations to perform during the installation, then you will have access to the software for the encryption.
Download AxCrypt for Windows and macOS | Android | iOS. You can also get its mobile versions, as the tool is well available for Android and iOS mobile operating systems.
Install and configure AxCrypt
For installation, open the executable file, accept the terms of use and click Installer.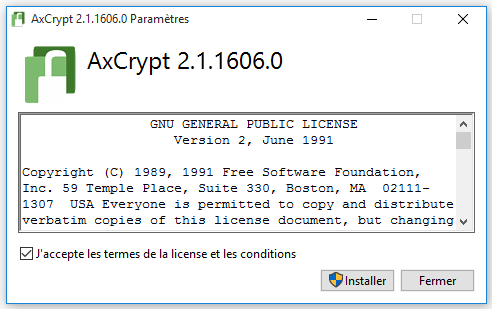 Wait for the installation and the configuration progress, it will only take a few seconds. At the end, launch the software for a first use. At this level, you will have to connect with your E-mail adress to receive an AxCrypt ID confirmation code before you can use the software.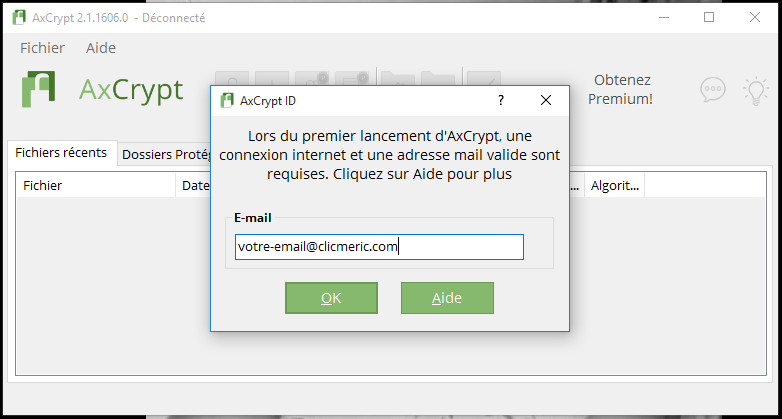 Enter your address and click OK, make sure you have internet access. To be able to use AxCrypt and lock a file with a password, go to your email inbox to retrieve the confirmation code. Copy it, then go back into the software to paste it in the recommended space.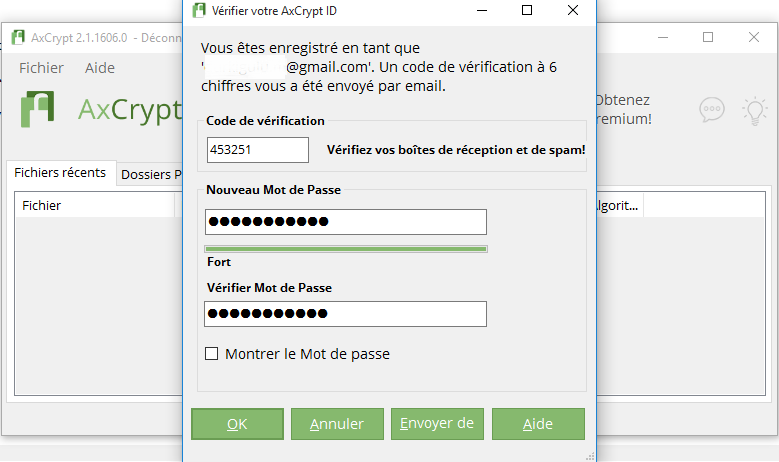 After pasting the verification code received by Email, configure a password. This is the password AxCrypt will use to encrypt your files. Enter a password and confirm it. You will be asked for it each time you open the software, before any manipulation.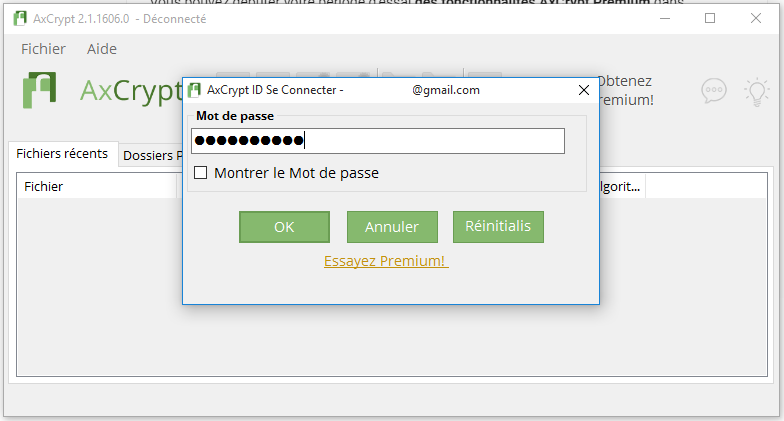 After that, you will have to log in with your new password. Enter it and click OK to enjoy the software. It is only after this connection step that all the functionalities Free of the software will be available to you.
Read also: Compress a folder with password on Windows, macOS, and Linux.
Encrypt data with AxCrypt
Unlike EncryptOnClick which allows you to lock a folder with a password, as well as one or more files, AxCrypt allows you to lock only files. If you want to encrypt an entire folder, you will need to select its files individually or in bulk instead.
Open AxCrypt. Click the add icon to browse your drive and select files to lock. You can select one, two or more.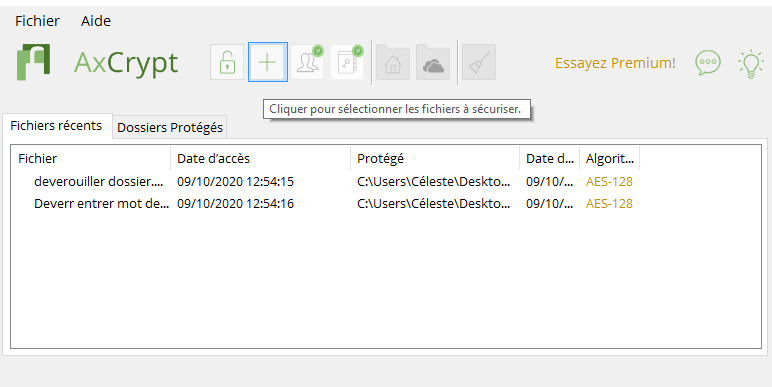 By doing this you will have directly encrypted the selected files. It's too simple, so you will only have to select the files and AxCrypt will do all the rest of the work directly. If you go to the source folder of your files, you will notice that the selected ones have been encrypted.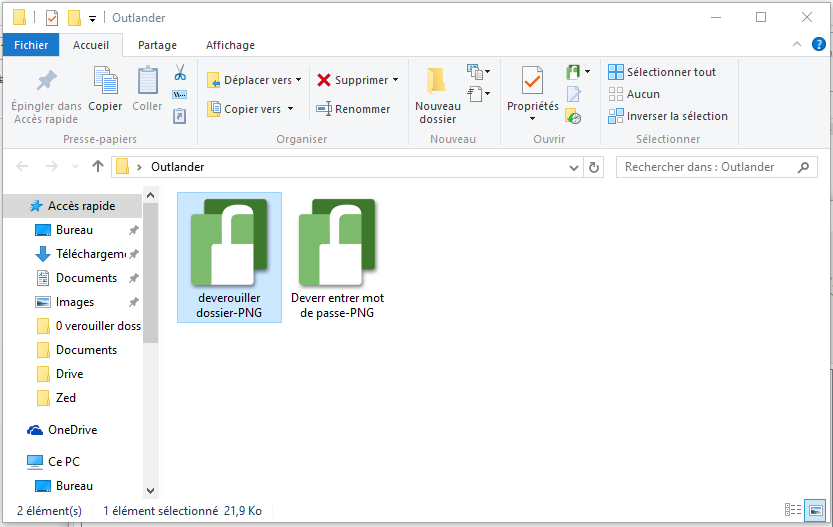 Decrypt data with AxCrypt
To make locked files accessible again, go once again to your encryption tool, AxCrypt. Click on the file of your choice among those that you will have encrypted, stop the encryption for this chosen file.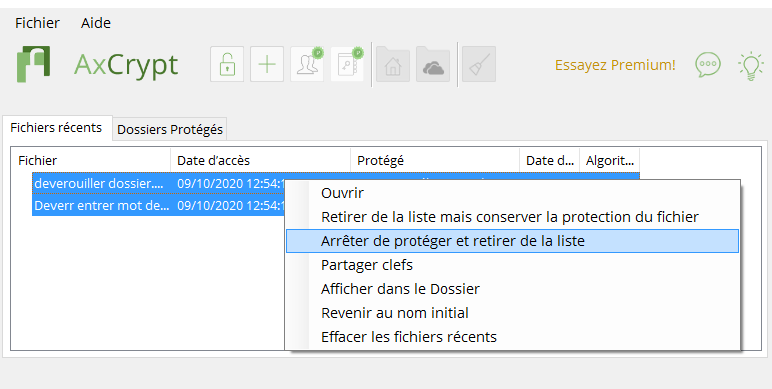 You can select one, several or all files at the same time. After selection, click on " Stop protecting and remove from list ". Your recent files list will be empty, and your original files will be accessible in their folder.
AxCrypt offers the possibility to perform other operations on your files, as you can see in the context menu. There is another method to decrypt files encrypted with AxCrypt. Open your software again and do the following: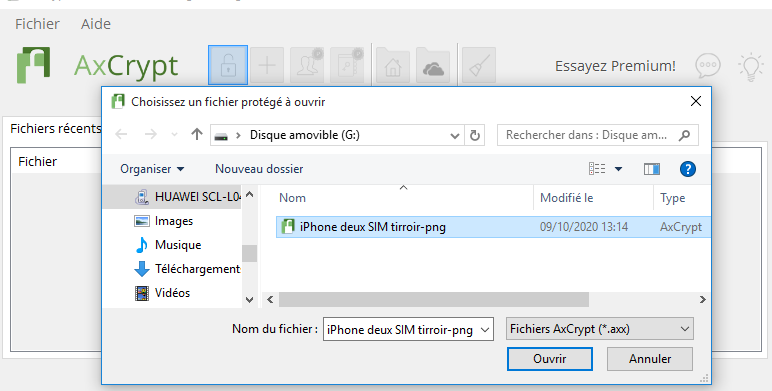 Click on the padlock icon to browse your drive. Select the encrypted file and open it. Regardless of its location, it may be on a USB key or on your hard drive. Understand that with AxCrypt you can also lock files on a USB stick and walk around without fear.
Password Lock a Folder or File with VeraCrypt
VeraCrypt is open source encryption software with a whole host of features. It allows to lock files, folders by creating encrypted, visible or hidden container files. The files to be secured will then be placed in the container files by the user.
Configure VeraCrypt and create a new volume
Download VeraCrypt for computer. After download and installation, launch VeraCrypt to start encryption. Then go to the menu Volume and click on " Create a new volume ". Or simply click on the " Create a volume ».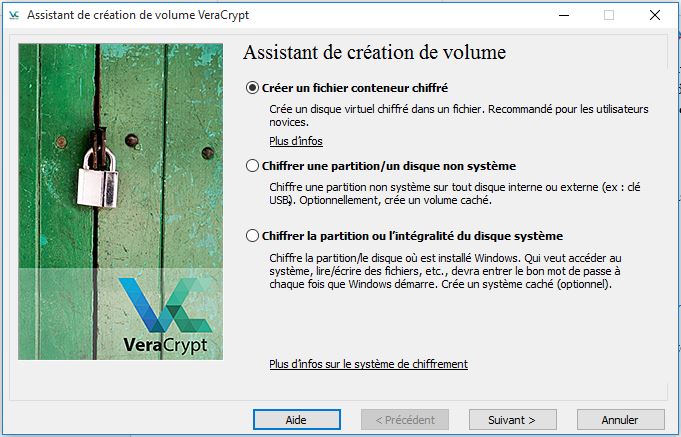 To lock a folder by password, or a file, choose the option " Create an encrypted container file » and do next. In the next window, choose between two options: VeraCrypt Standard Volume et VeraCrypt volume hidden. Choose the standard option and do Next.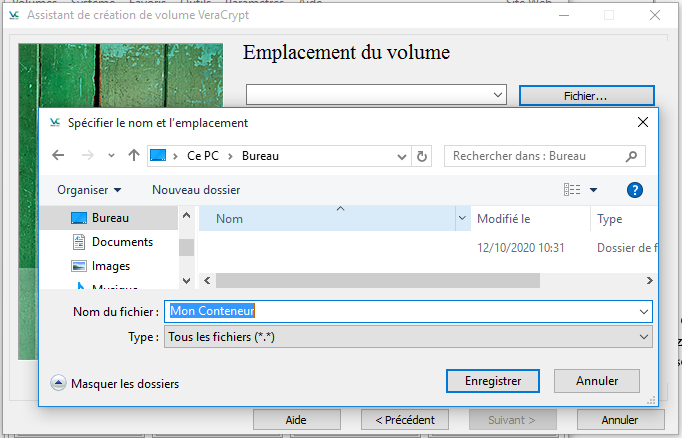 Then click on file to create a new container. You are not going to choose any file. In the game file name, simply enter the name of your container and click on Save. Mine will be called " My Container And will be housed on the desk. Register And click Next.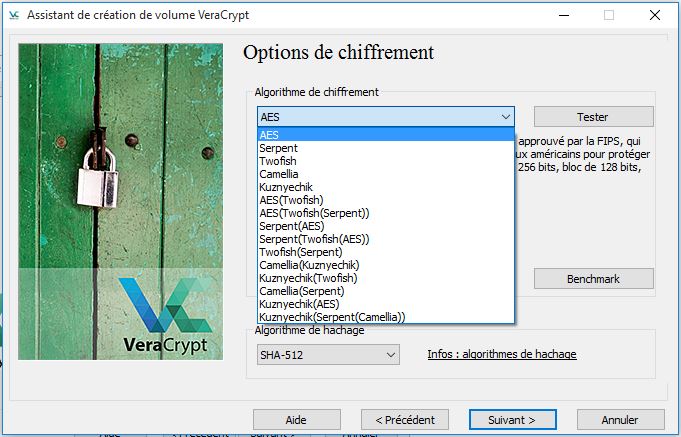 Select your preferred encryption algorithm and hash algorithm or leave the default settings and click Next. Then specify the size of the container you want to create, by Kilo, Mega, Giga or Terabytes and go to the next step.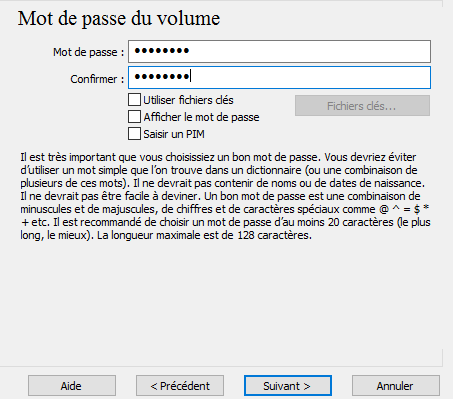 Enter the password and confirm it. Use a complex password, that only you will know and that you will not be able to forget. VeraCrypt recommends using a password of at least 20 characters, but you can use fewer characters. Enter, confirm it and go to the next step.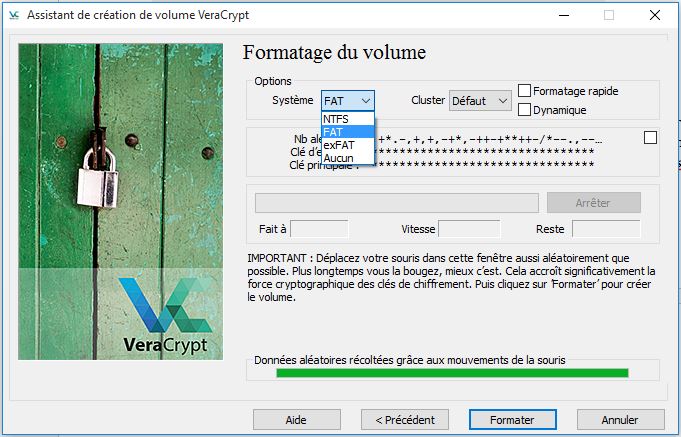 Select the file system between FAT: (fault), NTFS ou exFAT. The system FAT: is compatible with several operating systems, and allows you to store smaller files. If you want the option of storing larger files in your container, then go for NTFS.
Then click on " Format And wait for the preparation of the container file to finish. At the end you will be notified of the score creation. Exit the volume creation wizard, or click Next to create another one.
Mount a container, encrypt data with VeraCrypt
After creating the container file, you will need to mount it to be able to use it. It is about making it accessible. It will take on the appearance of a new disk in your Windows File Explorer, and will be usable much like any other partition.
Open VeraCrypt to mount a container and lock a folder with a password.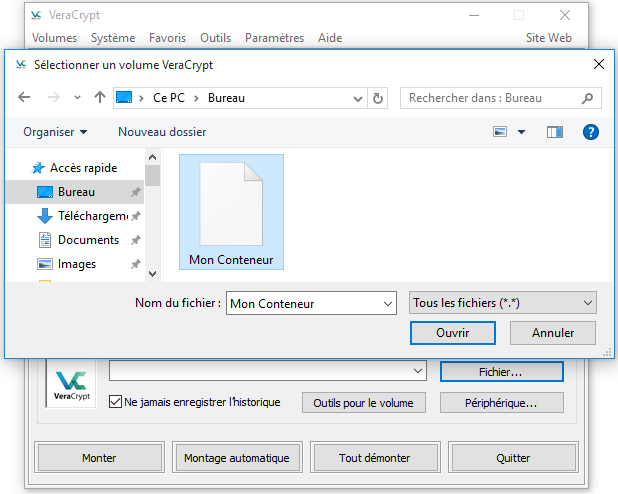 Click on " File », Browse your disk and select the container file created previously. Then click on " ascend », Enter your password and wait for VeraCrypt to do the editing. After, go to the file explorer to use your container.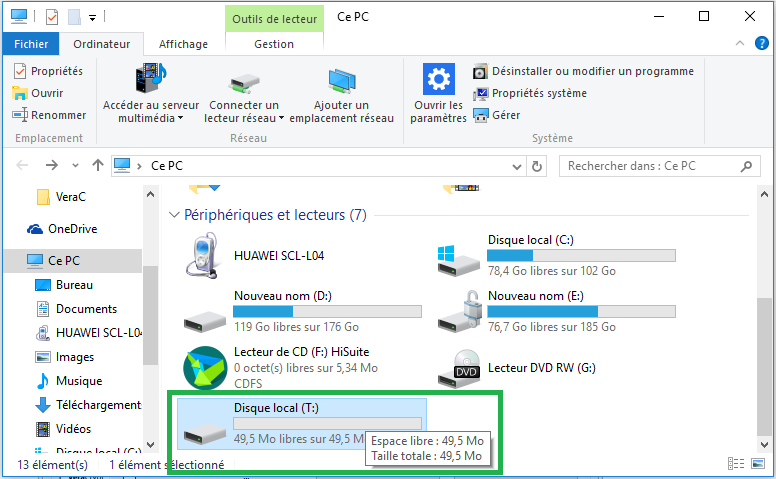 As you can see, I created a partition of around 50 Megabytes. I can already add to it, create folders and files there but the whole cannot exceed its size. To have a larger container, give it a larger size during its creation. By copying elements there, they are directly encrypted.
To unmount a VeraCrypt volume, open the software. Select your volume and proceed to unmount.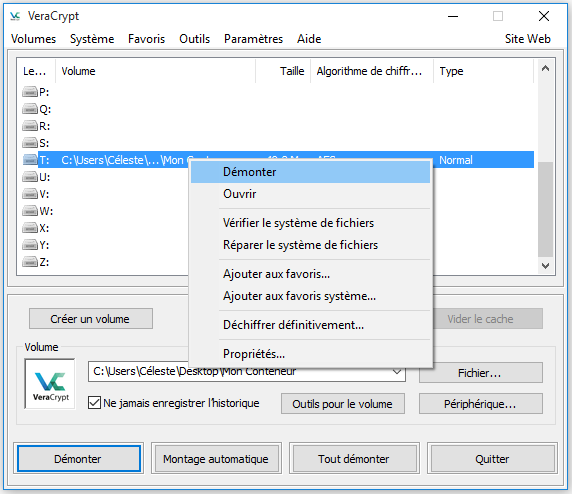 By performing the unmount, your new volume will disappear from File Explorer. You can reassemble it at any time and exploit it again. Be especially careful to keep your encrypted container file. It would not be accessible without a password, but would be the victim of accidental or intentional deletion.
Other software to password lock folder or file
Apart from these three tools presented, EncryptOnClick, AxCrypt and VeraCrypt, there are other software dedicated to security, file encryption. Among these software:
My LockBox : easy to use and available in several languages, My LockBox is a tool allowing to lock a folder by password, to secure and to hide the folders of your choice. It allows you to protect any folder with a password.
Folder Guard : here is another simple and easy to use tool, like its predecessors on the list. Folder Guard allows you to lock a folder or any type of file of your choice. The folder, the locked file will not be accessible without a password. It allows you to configure one or more passwords for encryption.
There are other software programs that allow you to perform almost the same operations as those mentioned in this article. Apart from that you can also password lock a folder using archive software like 7zip or WinRAR.