You want to learn to type faster on the keyboard computer ? In this article you will discover some tips and tools that can help you achieve this. Typing on a computer is learned, and it usually happens through practice.
You will therefore understand that the biggest secret to typing faster on the keyboard is training. Get in the habit of typing every now and then, regardless of the nature of the text. Over time you will notice a gain in speed. Beside that, here are some tips to apply:
Know your keyboard layout
To learn to type faster on the keyboard, you first need to know the keyboard layout that you have in front of you.
AZERTY or QWERTY, it is important to know the layout of your keyboard and the location of the letters you will use most often. Keys with punctuation marks are not left out.
Good knowledge of the keyboard will help you position your fingers correctly. At the start of learning, it is practically impossible to hold your hands steady on the keyboard. As you get used to it, you will be able to hold your hands and fingers in a position that allows each finger of the hand to be assigned a certain number of keys.
For now I will not ask you to type X key with only X finger of the hand. This might not make it easy for you, especially if you are just starting out. Just place both hands on the keyboard, and start typing as you can.
In the beginning the positioning of the fingers can be problematic. If you want to go faster in learning and know how to place the fingers in relation to the keys, then you can refer to the table below.
| | | |
| --- | --- | --- |
| Finger | Main key | Other keys |
| Two inch | Space | Alt, Alt Gr |
| Index left | F | C, V, G, T and R |
| Right index | J | U, J, N, è, Y, H and B |
| Left middle finger | D | R and X |
| Right middle finger | K | I and K |
| Left ring finger | S | Z,E |
| Right ring finger | L | O and at |
| Left little finger | Q | Star, A, W, Ctlr, Shift |
| Right little finger | M | Enter, Clear, P, 0,%, °, +, =, $. |
This table shows the keys that each of your fingers will need to control. Each of your fingers will be placed mainly on one key, and will be able to control others.
While typing, do not keep your fingers far enough from their starting positions. Tap a key and, each time, return your finger to its base key. This will save speed by quickly assigning the finger to another key, if needed.
Adopt a good posture to type faster on the keyboard
Posture is another important factor in faster typing on the keyboard. Adopt a posture that allows you to keep your back straight while seated. Once you get used to a more or less rapid seizure, your posture will no longer be a problem for you. You will be able to type in almost any position.
Still regarding posture, here are some tips to follow:
While seated, keep your back straight. Bend your elbows at a good angle (wrists level with the keyboard) and your feet flat on the floor. To do this, adjust your chair or find one that allows you to adopt this posture and have a good height.
With your chest slightly forward and your shoulders slightly back, keep a distance of 50 to 70 cm between your eyes and the computer screen. Tilt your head slightly forward, while maintaining the eye-screen distance.
Practice by rating yourself to type faster on the keyboard
Occasionally, practice typing faster on the keyboard. You can listen to the radio and try to type the lyrics at the same time. You can also take a printed text and start the countdown on your watch.
There are also very interesting games and software that can help you learn. These applications operate on a simple principle: you take one step, you move on to the next. Just like games.
Among them, Typing Master, which you can download directly through this link. The software is chargeable but also has a free (trial) version, which you can use. Download and install it on your computer. It also exists Rapid Typing.
Use Typing Master to practice typing faster on the keyboard
After installation, launch typingmaster. You will be asked for your name, enter it and start using the software.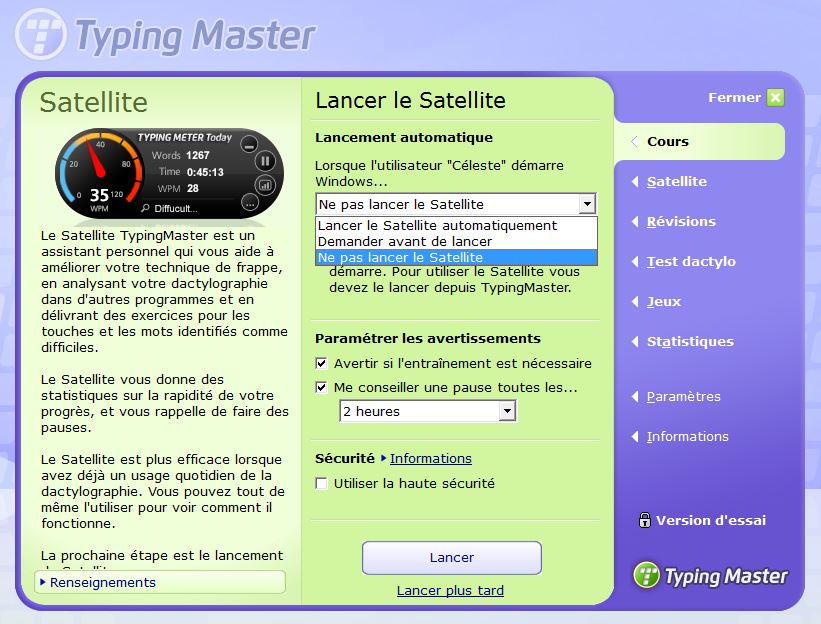 At launch, the software will offer you to use the " Satellite ". It is in fact an assistant whose role will be to help you improve your typing level. It would intervene by analyzing the way you type in other applications on your computer. At the end, it would provide you with statistics on your progress.
For now, skip the input wizard. Click on " Start later "Or, above the window, select" Do not launch the satellite ". In the left bar, you will notice the existence of two tabs " Typist test " and " Games ».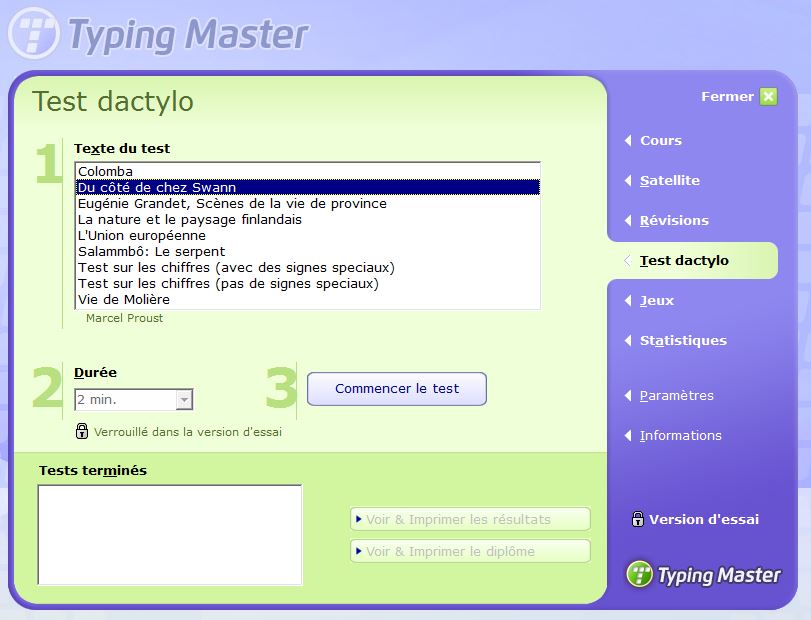 The part " Typist test »Will offer you texts to enter within a period of time. Select the text of your choice, set the delay in minutes and start the test. The software clearly indicates steps, 1, 2 and 3. Unfortunately, you will not be able to set the time limit using the free version.
For the game " Games », Select the type of games you want and start playing.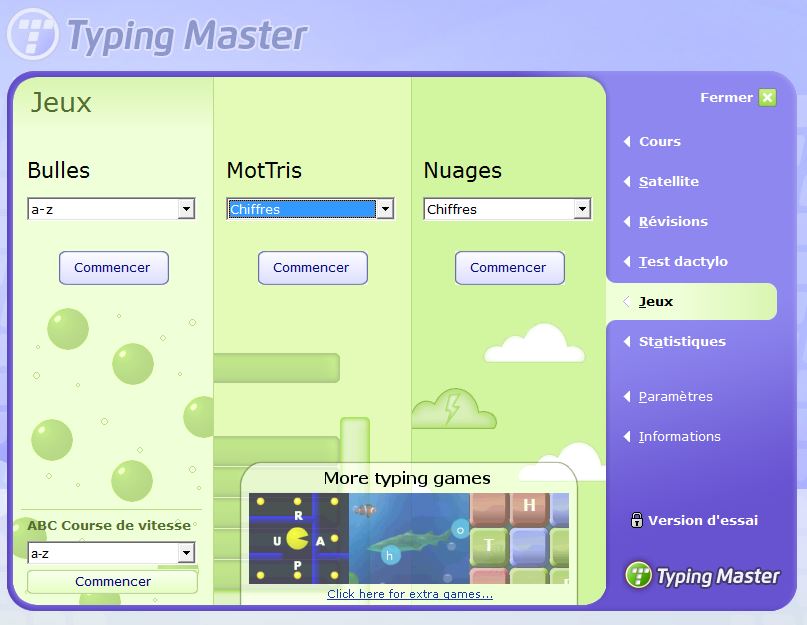 At the end of each exercise, you will be able to view your statistics. To do this, go to the " Statistics »And click on« Progress report »You can even print your statistics or send them to someone.