Zoom Meetings is one of the most widely used video conferencing and instant messaging apps. Cloud-based, Zoom is usable on Windows, macOS, Android, iOS and Linux. Find out how to start a meeting on Zoom, and how to join a meeting in progress.
On computer or mobile, with Zoom you can launch a video or audio conference and invite people to participate. First of all you need to download and install its app on your device. Download Zoom Meetings now.
Install Zoom and create an account
On computer or mobile, you will discover step by step how to start a meeting on Zoom. Assuming you are using a smartphone, Android or iOS, download and install Zoom Meetings. It is available in the official Play Store and App Store.
Start the download and installation. Then open Zoom to start your first meeting. Upon opening, the application will give you the option to register, join a meeting or connect. With or without an account, click on " Log in ».
Read also: The best video conferencing apps.
If you already have a Zoom account, enter email-address associated with it as well as the mot de passe. Otherwise log in with your account Google (Gmail) ou Facebook. You probably have a Gmail account! Proceed with (Sign in with Google).
Zoom will open a window through which you will enter the Gmail address and password, or select a connected Gmail account. For verification, provide your date of birth and send the form by clicking on " Create account ».
Start a meeting on Zoom by Android or iOS phone
Once the account is created, you will have access to the various features of the application. But before launching a meeting on Zoom Meetings, go to the " Meetings »And click on« Edit »To edit certain parameters of the meeting.
As you can see, a meeting will have its number, link and secret code. This is the information you will communicate to the people you want to invite to your Zoom meeting.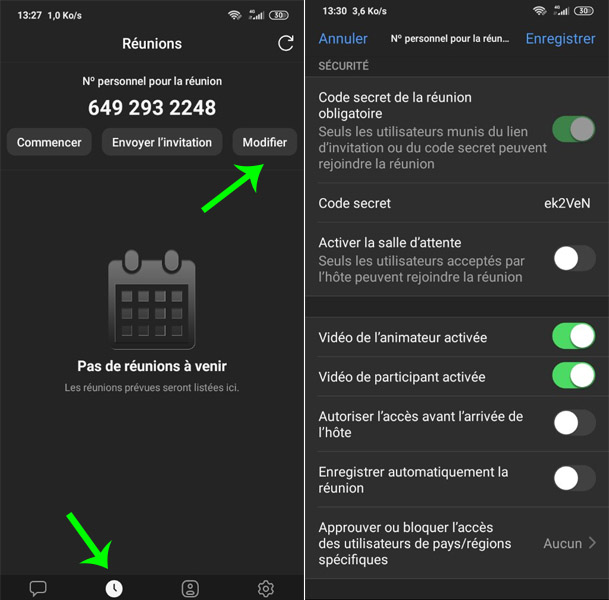 Activate " Animator video " and " Participant video Before starting your new meeting. Modify or leave the secret key and activate or not the automatic recording. You can also block access to users from specific regions or countries.
Save the changes before leaving. You will be able to share the meeting link " Send invitation »By SMS, Email, etc. To start a meeting on Zoom, click on " Start »Or, in the reception, on New meeting, Start a meeting.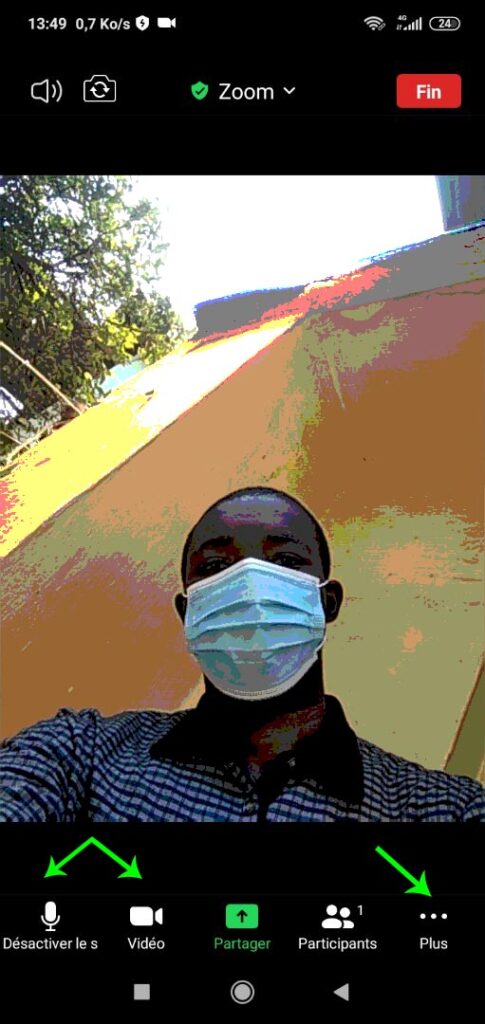 Once you start the meeting, make sure to turn on the video and microphone. Then click on " More »And go to the meeting settings to edit its subject and activate the display of the names of new participants.
To view your meeting information, click " Zoom ».
You will be shown the number of the meeting, its secret code and its link. Share this information with the people you want to invite. A long press on the meeting link will place it on the clipboard. It can then be pasted and sent like any message.
On computer or mobile, the steps are the same to create and launch a meeting on Zoom. During the meeting, you will be able to use other features of Zoom, such as initiating conversations and choosing which participants they will be visible to.
Schedule a Zoom meeting
With Zoom, it is also possible to schedule a meeting for a certain date / time. In the home page of the application, click on " Programme ". Name your meeting, select the date, start and end time, and time zone, if necessary. Click on " finish ».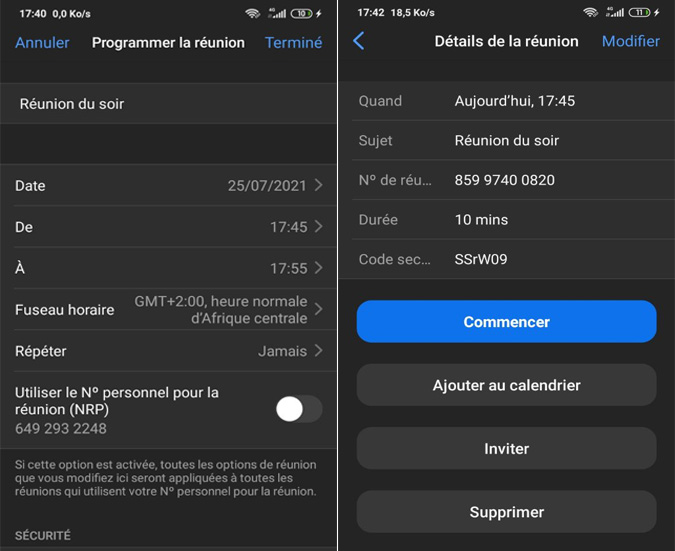 Then share the meeting information (link, number and key) with your friends to invite them. They won't be able to join the meeting until you start it.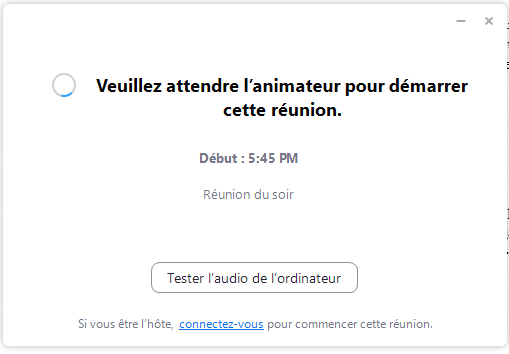 Join a Zoom meeting on computer or smartphone
Joining a Zoom meeting requires you to have your number and your secret key. You can also use its link. If you are on a computer, download Zoom for Windows, macOS and Linux. Install, launch the program and click on " Join a meeting ».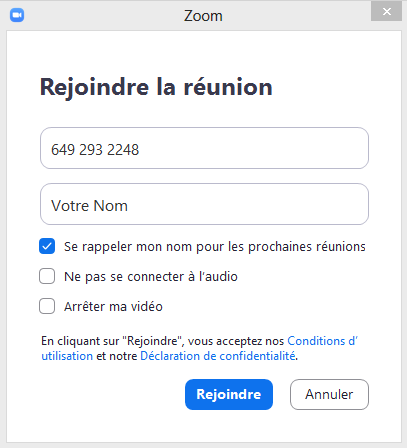 Enter the meeting ID (Number) as well as your name, the one that will be displayed throughout the meeting, and click " Join Us ».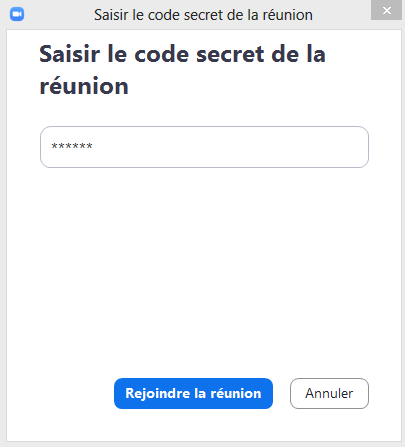 Then enter the secret key and click on " Join the meeting ". Wait for Zoom to establish the connection. Click on " Join with a video », Then on« Join audio through computer ».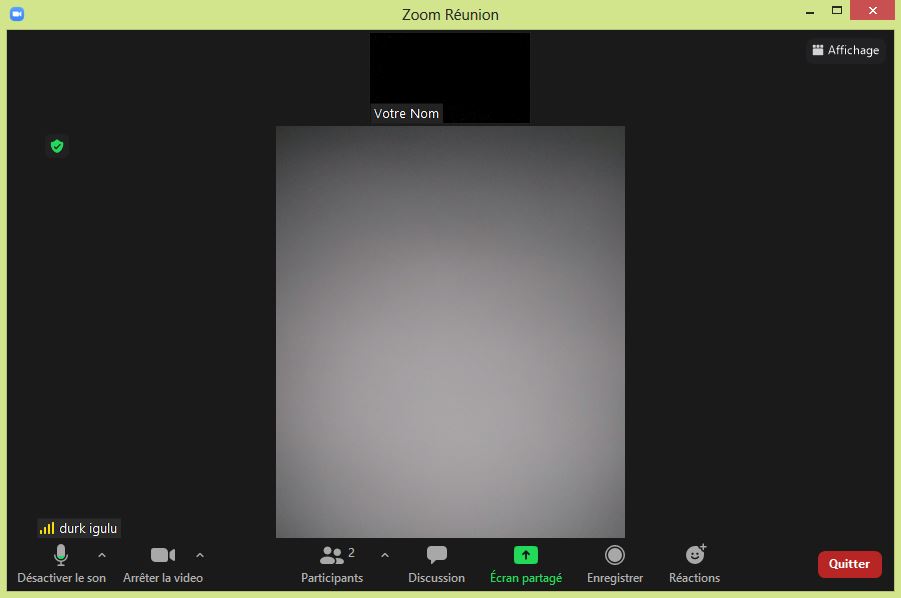 Throughout the meeting, you can start discussions, react with smileys or record the meeting on your computer / smartphone. Unavailable, you can turn off sound and video to turn them back on once available.