Who could believe it! Only a few years ago the idea of ​​a dual SIM iPhone was unimaginable, it is no longer the case. Apple has changed the rules of the game, and therefore it is now possible to use dual SIM on iPhone.
On some of its models, Apple has decided to integrate the eSIM function, allowing the use of two cellular networks without having two physical SIM cards. On others, depending on geographic regions, the Apple brand preferred to integrate two nano-SIM cards. And therefore two removable SIM cards.
Using dual SIM on iPhone with an eSIM card
In some regions, dual SIM smartphones have grown in popularity and have been for quite a few years. This is mainly due to their response to local constraints. But despite the large number of dual SIM smartphones on the market, those using eSIM technology remain rare.
Before seeing how to use dual SIM on iPhone, let's briefly see what an eSIM is. Unlike a conventional SIM card, an eSIM is a card integrated into the motherboard of the device. It is non-removable and allows the owner of the device to save the plans of one operator or another.
To be able to use dual SIM on iPhone and take advantage of this new feature, you must have a iPhone XS, XS Max ou iPhone XR. In addition to that, to use two different operators your iPhone must be unlocked and your second operator must offer the eSIM service.
Read also: How to recognize a real iPhone? An original iPhone.
Add an eSIM package by QR Code?
To add or configure a package, start by buying one from your operator. QR code will be provided to you, which you can then scan with your iPhone's camera. Here's how to do it:
Step 1 : Search and launch theyour iPhone camera. Point it in front of your QR code to scan it. Immediately after the scan, your mobile plan will be detected.
Step 2 : Accept the addition of a cellular plan. Then enter the number, the confirmation code provided to you by your operator, if it is requested before the activation of the package. From there you can already benefit from your package through the eSIM card.
Add an eSIM package via the operator's application or manually
To purchase a cellular plan through an operator's application, go to App Store. Find and install the app in question, launch and use it to purchase your mobile plan. Apart from that, you can install your mobile plan from a notification.
In fact, the recent version of iOS allows the acquisition of a package from an operator, by offering an installation. You will be able to receive a package and install it on your device directly from the notification received from your operator.
You can also add your mobile plan manually, by entering the information provided to you by your operator. To do this, go to the Settings> Cellular data ˃ Add plan ˃ Enter information manually.
Read also: My iPhone no longer turns on, black screen: What to do?
Use dual SIM on iPhone with two nano-SIM
In some regions, Hong Kong, Macao and mainland China, Apple has preferred to market dual SIM iPhones with two nano-SIM card ports. What is this decision due to? Why can't people residing in China use dual SIM on iPhone with eSIM?
It should already be specified that in Hong Kong and Macao, the iPhone SE and iPhone XS with eSIM are available. The other models, iPhone 11, 11 Pro and 11 Pro Max, iPhone XS Max and XR have two nano-SIM card ports. They thus offer the possibility of using two physical SIM cards.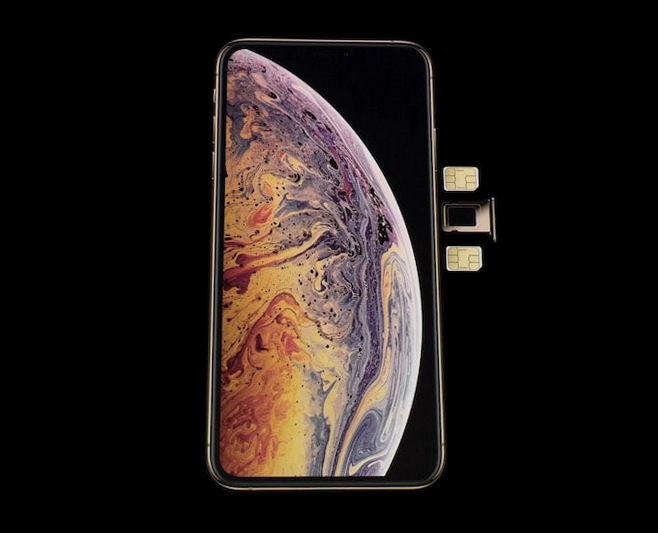 To come back to the question of why this choice of Apple in these regions, let's just say that it is a strategic choice. Two reasons should be noted here, firstly the fact that the Chinese smartphone market is invaded by dual SIM devices. And so the competition demands.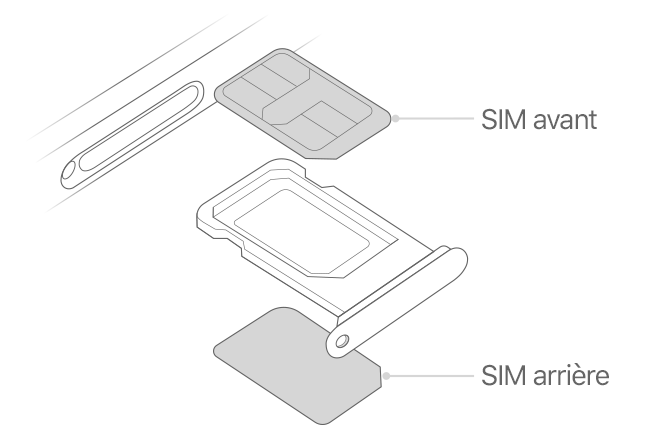 The other reason for Apple's choice is the issue of controlling communications in these regions. With devices using eSIM cards, authorities in these entities around the world would find it difficult to control, sometimes censor, user communications. It is therefore via two nano-SIM cards that Chinese users will be able to use dual SIM on iPhone..
Read also: How to backup iPhone and restore it with iCloud, Finder, iTunes?
Manage the plans for the two nano-SIM cards
To manage, better manage, the two packages, it will first be necessary to make them easily recognizable. They almost already will be, but it would be better to rename them and change their names. By default, they are named Principal et Secondary.
Through Dual SIM Dual Standby technology or DSDS used by the dual SIM functionality of the devices concerned, the SIM cards will be able to make and receive calls. They will be able to send and receive SMS, MMS or iMessages, make or receive voice calls or FaceTime. However, this will only be possible on one network at a time.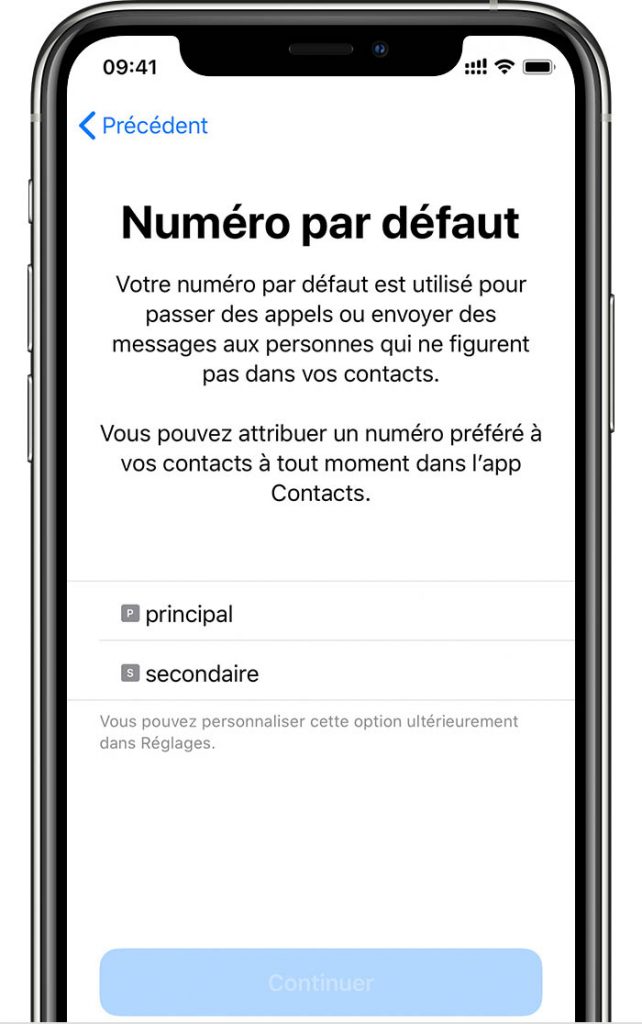 To rename your different packages, go to the Settings> Cellular data ˃ Cellular data. Select the first plan and rename it, then the second. Then choose the number that will be used to make calls or send messages. It is therefore a question of choosing your default number.
After that, set the plan you want to use for mobile data. If you allow it, your iPhone would decide on its own which plan to use for mobile data, depending on the coverage. To do this, enable cellular data failover.
Another advantage of using dual SIM on iPhone is that you won't have to choose which number to use each time to make a call. In fact, your dual SIM iPhone has the ability to remember the previously used number.
When placing a call, it defaults to the same number that was used the last time you called this same contact. But you can change it. To do this, select the contact. Change the cellular option by selecting the number to use each time you call this contact.
Read also: Your phone gets too hot: Why? How to end it?
Change the plan to use for mobile data
Unlike calls and messages, one number, only one at a time can use mobile data. Fortunately, you can change it, switch at will from one number to another. To change the number to use for mobile data, do the following:
Go to settings, cellular data then mobile data. From your two numbers, select one that you want to use for mobile data. If you allow data failover, your iPhone will use both services but intermittently. That is to say each time he will choose the package to use on his own, depending on availability and coverage.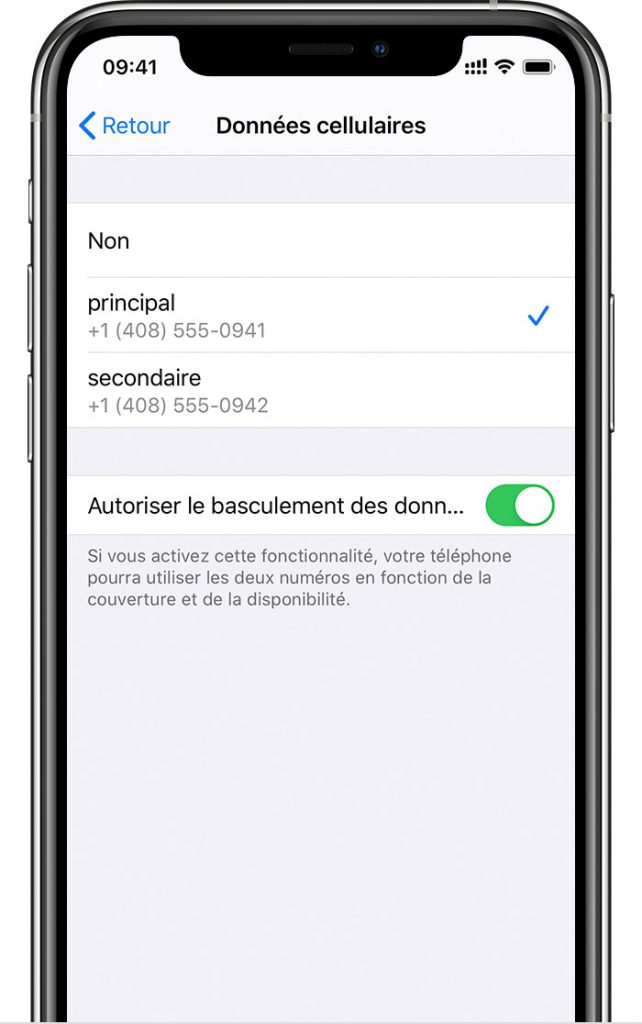 Compared to a removable card, the eSIM card has the drawback of not facilitating the change of phone. Perhaps this is why, although they do not reside in China, some fanatic iPhone and dual-SIM smartphone users are already thinking about how to acquire an iPhone with two nano-SIMs.
There are those who would like to use dual SIM on iPhone, but rather through two nano-SIM cards. Unfortunately Apple decided otherwise, the brand alone knows why. One thing is certain, a lot of people complain about it. Especially seeing the prices of new iPhones.
Another disadvantage of eSIM technology is that it is not supported by quite a few operators around the world. In addition, still on the operator side, it would facilitate the departure of customers. Once their plan expires, a customer could easily not renew and give up. Something that would surely not suit any mobile operator.