Currently in version 20.04 Long Term Support or Focal Fossa, Ubuntu is a Linux distribution that appeals to a lot of people by its simplicity. In this article you will find out how to install Ubuntu with Windows 10, and this in two methods.
The first will be to install Ubuntu with Windows via virtualization software, VMware. The second will be to install Ubuntu next to Windows 10, it is the installation in dual boot. The two systems will then be able to run side by side, but only one at a time.
These tips are not limited to Windows 10. If you are using Windows 7, 8, or 8.1 instead, you can follow the same steps to install Ubuntu with or alongside your running operating system.
Overview on Ubuntu Linux
Ubuntu is one of the Linux distributions. Currently, as said above, it is at version 20.04. It is an easy to use operating system, and exists in several variants including Lubuntu, Kubuntu or Xubuntu.

The LTS versions, (Long Term Support) come out every two years, and offer five years of user support. There are also intermediate versions, which are available twice a year, around every six months. You will learn about Ubuntu as you use it.
Read also: Learn how to install Windows easily (The Complete Guide).
Install Ubuntu with Windows 10 on VMware Workstation
To install Ubuntu and use it on Windows 10, you will need to acquire VMware Workstation and prepare the Ubuntu ISO file. VMware is virtualization software that allows you to install one operating system into another, which will be a host system. Installation is logical and not physical, although it does affect the hardware of the host computer
Creating a Virtual Machine with VMware Workstation
Here are the steps to create a new virtual machine and install Ubuntu with Windows 10 on VMware Workstation. Install and launch VMware to begin virtualization.
Before proceeding, make sure you have a computer with good performance, processor, RAM memory, hard disk. This maneuver causes poor performance computers to suffer. Now open the software and select " Create a new virtual machine ».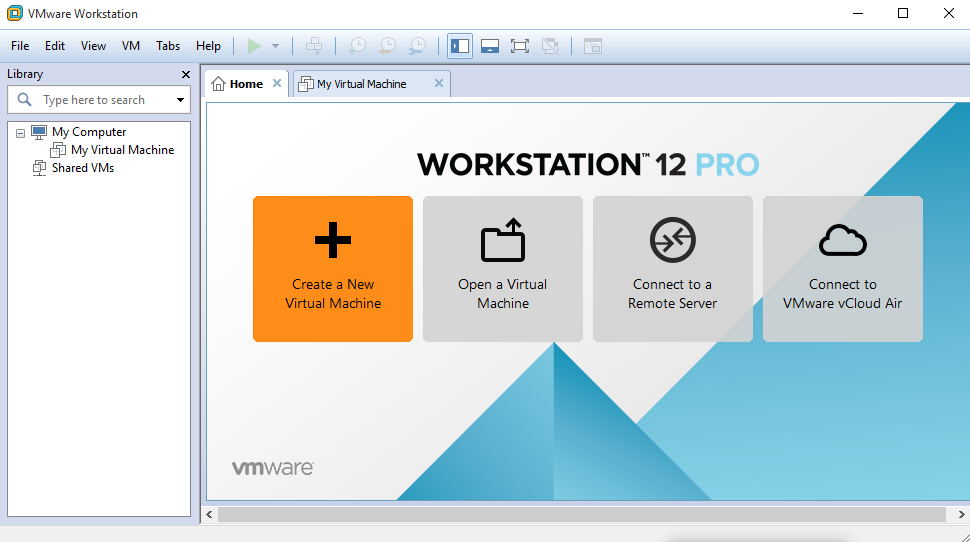 Then choose the option " Typical »And do next. Then select " Install disc image file (iso) And browse your hard drive to choose the Ubuntu iso file.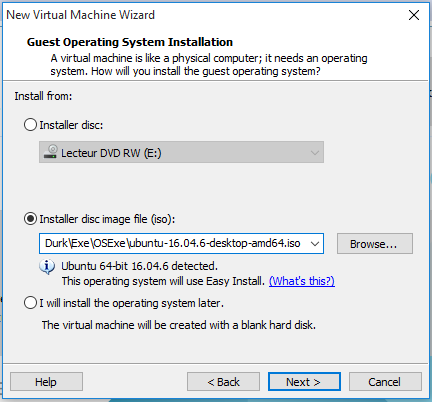 After choosing your installation file, go to the next step by clicking Next. Then enter the information that will be requested for the first configurations of your virtual machine. This is also the information with which you will access your Ubuntu virtual machine.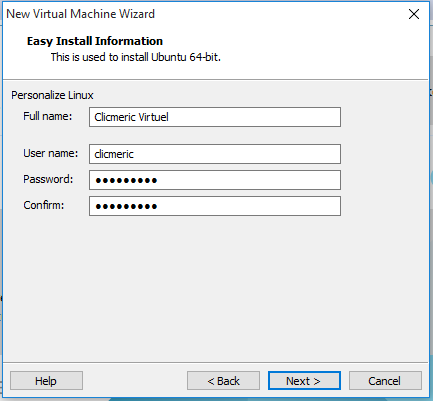 Do Next and, in the next step, give a name to your virtual machine. Leave the default location and go to the next step again. Define the disk size to assign to your virtual machine. The size (capacity) you assign to it will be subtracted from your system disk (C). After that go to the next step.
You will then see the properties of your virtual machine. To modify it, click on " Customize Hardware ". You will then have all the parameters with the possibility of modifying what you want: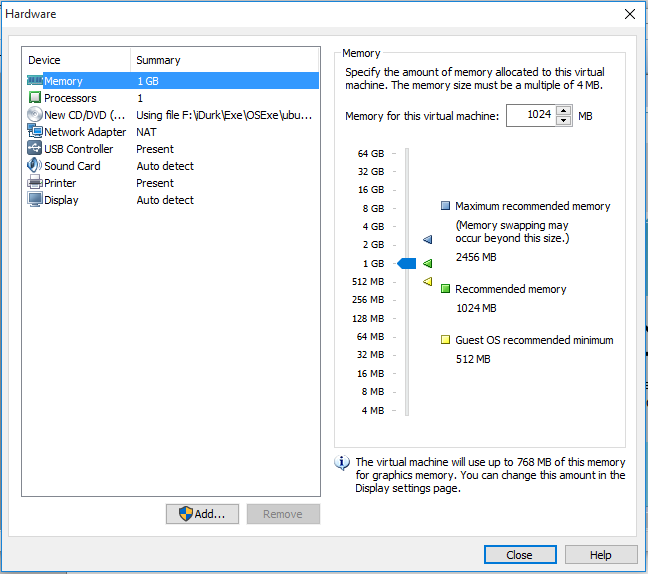 Adjust RAM size, CPU performance, etc. Change them or leave the default settings. Then close and go back to the previous step to finalize the creation by clicking on " Finish ". In a few seconds your machine will be ready to install Ubuntu with Windows 10.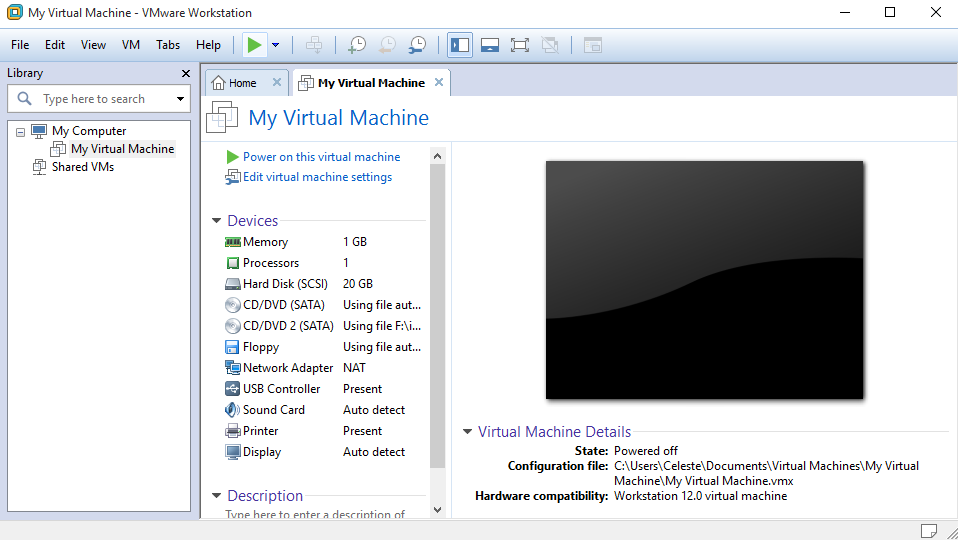 As in the image above, your virtual machine is ready. To start it, click on the small green button ► in the menu bar of the software.
Read also: How to update Windows from Windows 7,8 to 10.
Installing Ubuntu in VMware Workstation
Launch your virtual machine to install Ubuntu with Windows 10 on VMware. As you can see in the image below, launching the machine automatically starts the installation of Ubuntu.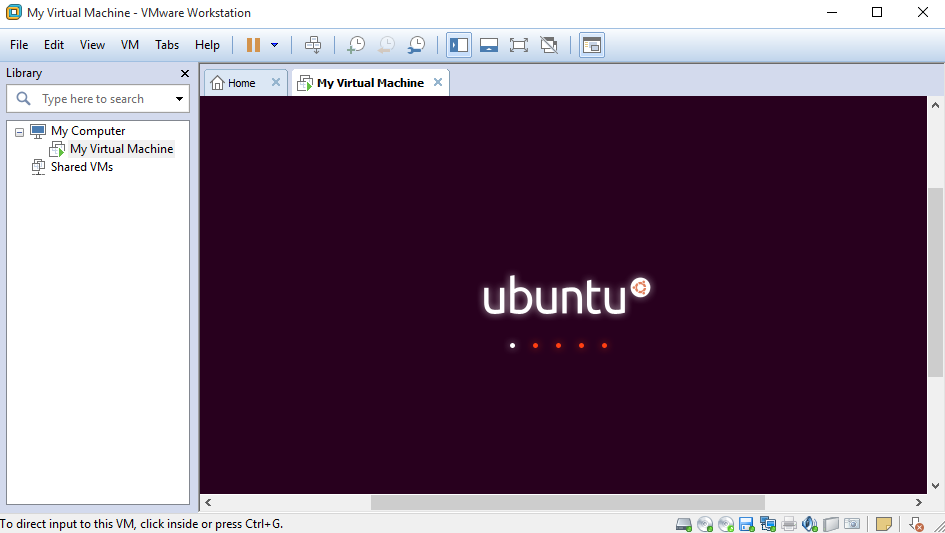 With virtualization, you will hardly have to configure anything to install Ubuntu. The latter will perform almost all the necessary configurations on its own. The system will copy its own files and begin the installation.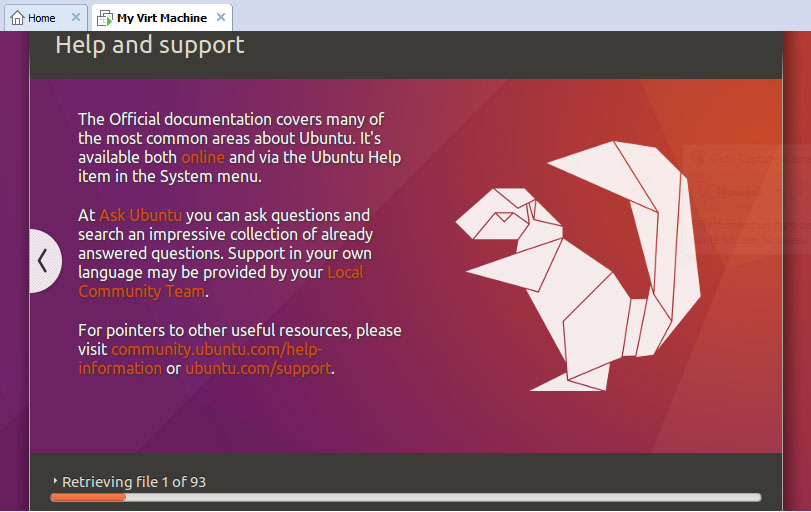 Wait, Ubuntu is being installed. At the end of this step, the Ubuntu system will restart. Then to connect, it will ask you to enter your mot de passe, configured during the creation of the machine. As in the picture below: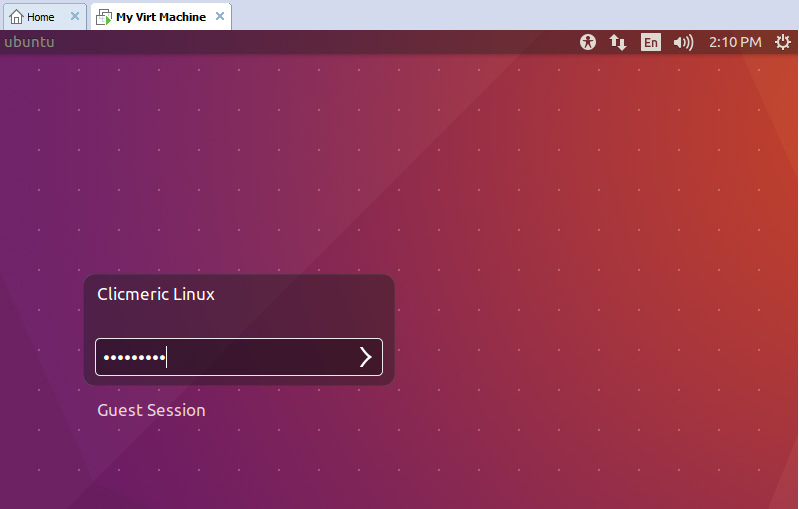 Enter your password and click on the button Enter, or the right-pointing arrow icon to access your new machine.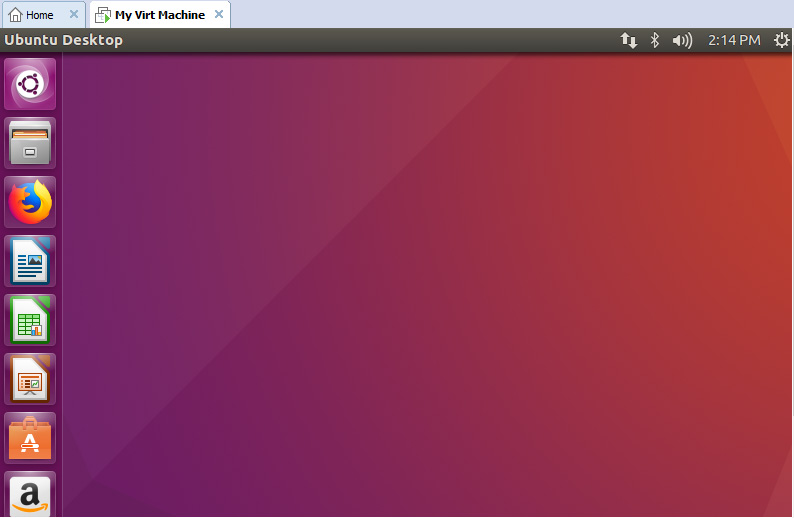 That's it, you just installed Ubuntu with Windows 10 thanks to VMware. You can already use your operating system virtually. But a problem arises here: our system is installed in English.
If yours settles down in English and you're doing well in that language, you shouldn't have a problem with that. All the same, you can change the language of your Ubuntu system. To do this, click on the settings icon at the top right of the screen: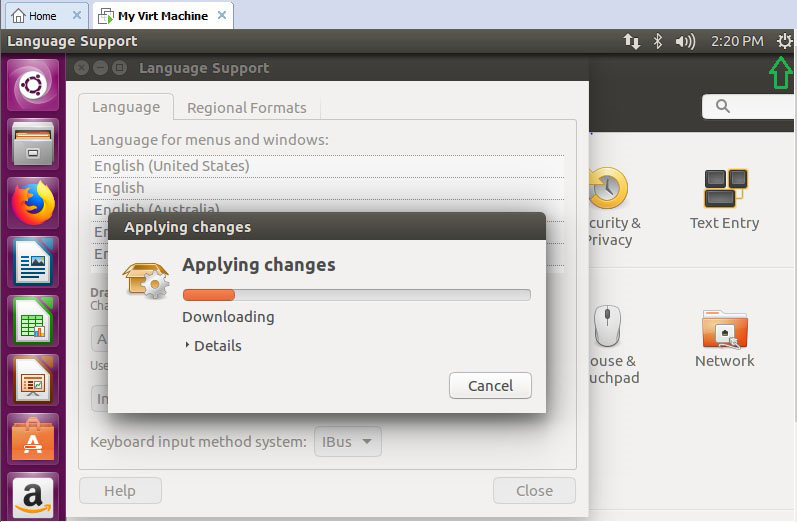 Select the option language support ". Then allow your system to install the packages of new languages and translations. But it does require an internet connection. To shut down the system and shut down your virtual machine, go to the menu bar. Select " Shutdown Guest " or " Power Off ».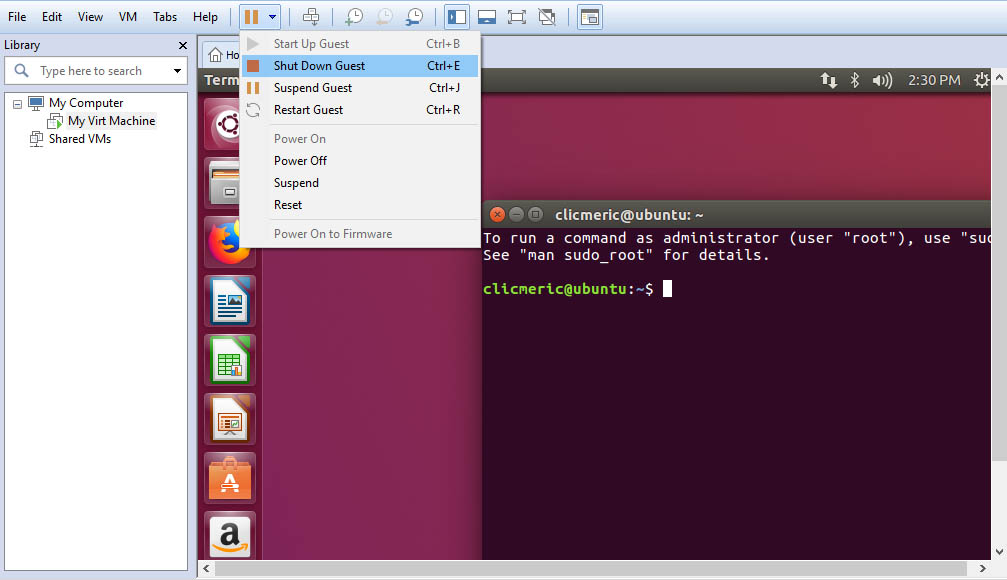 You can restart your machine anytime, always through VMware Workstation.
Read also: How do I update macOS Catalina?
Install Ubuntu with Windows 10 in dual boot (20.04 LTS)
Dual boot is a way of making Ubuntu and Windows coexist. The two systems will operate independently, but will be installed side by side. This method is a good option for those who want to run Ubuntu and Windows without having to choose one or the other.
For this maneuver, use the Ubuntu 20.04 LTS version instead. Here is how to install Ubuntu with Windows 10 in dual boot:
Download ISO Image Ubuntu | Debian. Create a bootable USB drive that you will use for the installation. Click here for a step-by-step guide to creating a bootable Ubuntu USB drive.
To enable Windows and Ubuntu to work together, disable Secure Boot and Fast Boot. Otherwise you will not be able to Install Ubuntu with Windows 10 in dual boot. Here's how to do it:
Disable Fast Boot
Quick Start is a feature that allows Windows to start up faster when you turn on your computer. It speeds up Windows startup time by delaying the loading of specific programs.
When you turn off your computer, Windows saves part of the system data in a file with the extension .sys. At startup, it will use it to load faster.
The problem with the fast boot option is that it does not allow access to the primary drive by another operating system. It is therefore an option to deactivate to be able to install Ubuntu with Windows 10 in dual boot. Otherwise Windows would not let Ubuntu access the partition, which would make their cohabitation impossible.
Here is how to disable Windows fast startup:
See you in Control Panel \ Hardware and Sound \ Power Options. Once inside, on the left of the window, click on " Choose what the power buttons do ».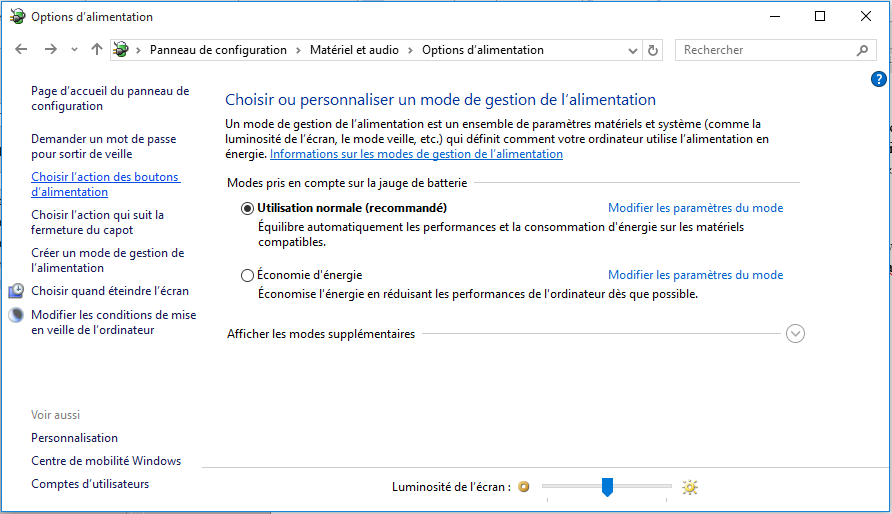 In there, click on " Modify currently unavailable settings It will be highlighted and you will notice it effortlessly. In these settings, scroll down to turn off fast startup.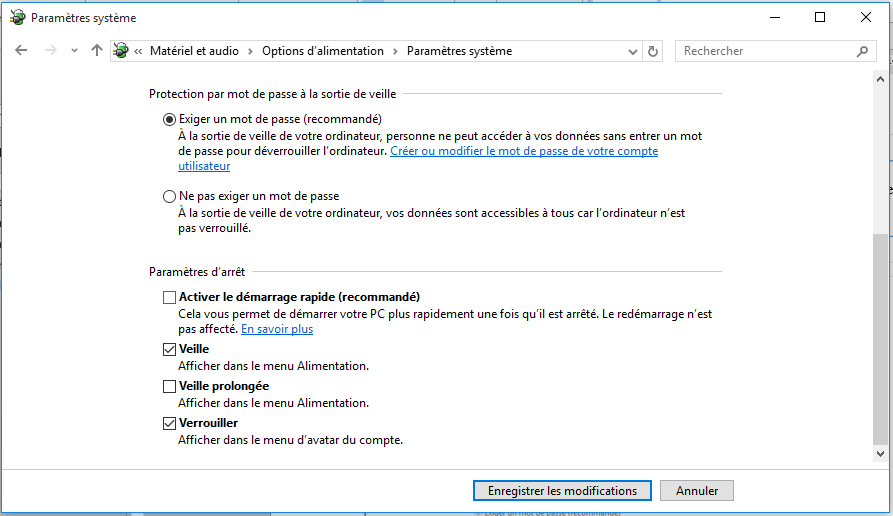 In the game " Stop settings », Turn off fast start and save the changes. You can reactivate it when you want. For now, disabling this feature is essential for us.
Read also: How to speed up a too slow mouse on Windows PC and Mac?
Disable Secure Boot
Restart your computer and enter settings UEFA / BIOS to change the settings. While restarting it, repeatedly press the "ESC" F1 ou F2 until you see the configuration menu. For most computers these are the keys to access them, but they can vary.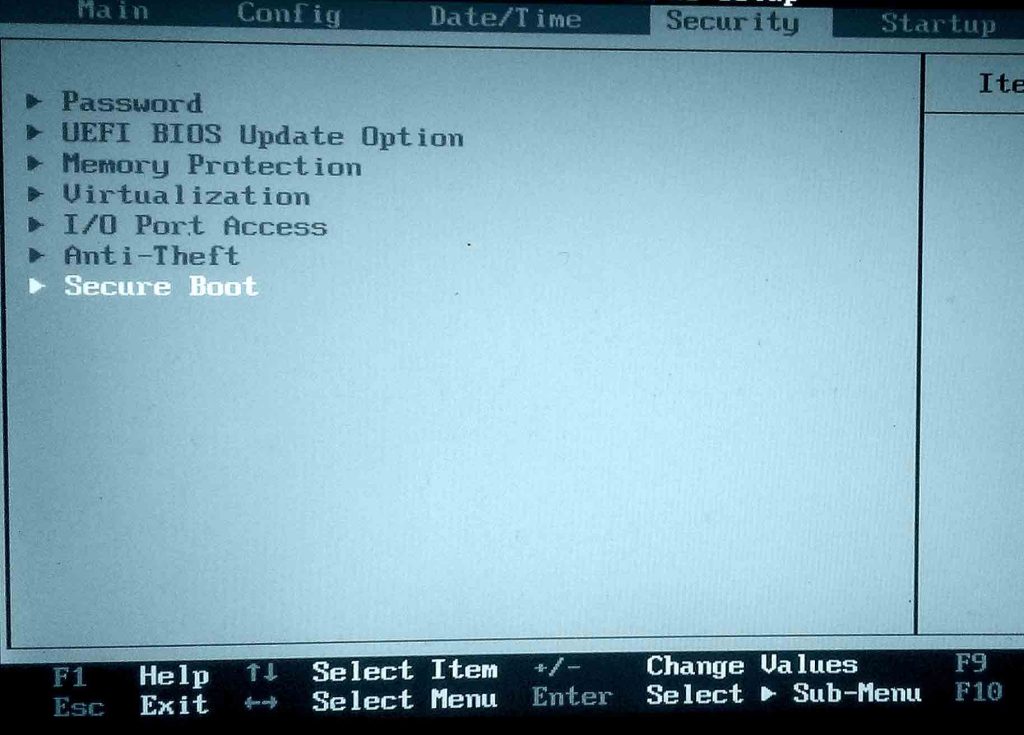 Once inside, look for the option " Secure Boot ". Firmware differs, but most often this option is in the tab Safety (Security). Locate the option, press it with the key Enter and switch between Enabled - Disabled. Disabled to disable.
Create Ubuntu Partition: Shrink System Disk
To install Ubuntu with Windows 10 in dual boot, you will have to shrink partition occupied by Windows. You can do or skip this task, since Ubuntu has an auto-shrink and create a new partition feature.
This does not prevent you from being able to take care of it all the same. On the C partition, you will create a space that will host the Ubuntu system. To do this, go to Windows Disk Manager. Click on the C partition with the right mouse button and select " Reduce volume ».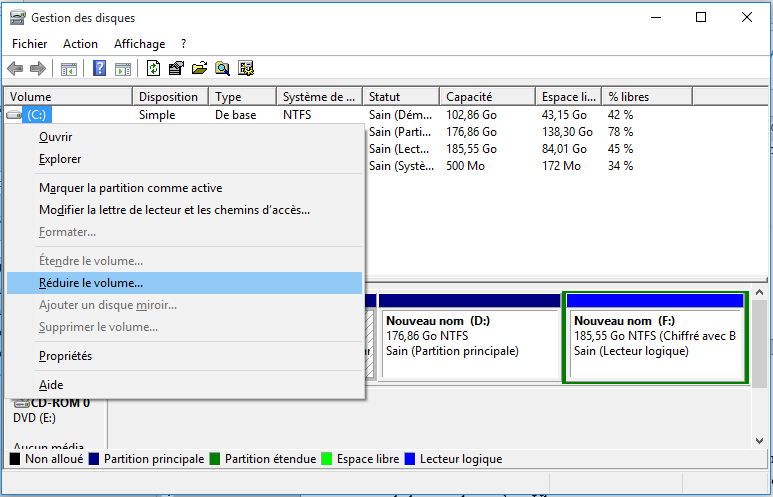 Here is an article that can guide you step by step to access Windows Disk Manager and partition your hard drive.. It will help you create a new partition, reduce the size of a partition in use, with just a few clicks.
Once in Disk Manager and after selecting the shrink option, set the capacity to shrink and click " Lower ". You will have an unallocated partition ready to be used, in which you will be able to install the Ubuntu system.
Ubuntu is not a system demanding in terms of capacity (memory space). For its installation, only 15 Giga of space is recommended. But I suggest you reserve more for it, around 30 GB or even more if you have enough space. In fact, the more space a system has at its disposal, the better it works.
Read also: Why is your PC battery draining quickly?
Installing Ubuntu in dual boot with Windows
If everything is done, then here is how to install Ubuntu with Windows 10 in dual boot. Take your bootable USB drive, plug it into your computer, and restart your computer. During boot, depending on the brand, repeatedly click the boot menu key.

In the list of devices, select your USB key to install Ubuntu with Windows 10. Here is a reminder about the keys to call up the boot menu, depending on the brand.
HP: Esc or F9. Toshiba: Esc or F12. Lenovo: F12, F8 or F10. Dell: F12. Acer: Esc, F9 or F12. Asus: Esc or F8. Samsung: Esc, F2 or F12. Compaq: Esc or F9. Fujitsu and eMachines: F12.
Step 1 : After accessing the boot menu and selecting your USB key, click on " Install Ubuntu ". Then wait for the system to check the disks. Subsequently, it will ask you to select your language. Choose the language and click on Install Ubuntu.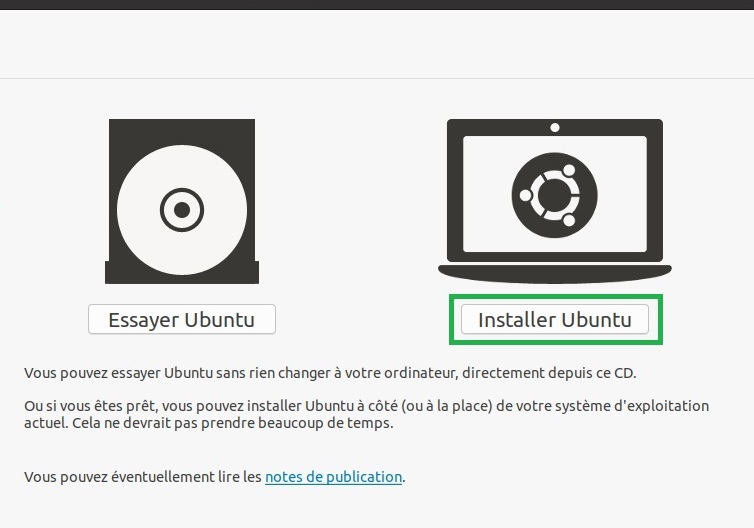 Step 2 : Set the layout you want for your keyboard or leave the default configuration. Then click on Continue.
Step 3 : Between the normal and minimal installation, opt instead for the minimal option in order not to confuse your system. Then check the other two additional options, to download updates while installing Ubuntu and install third-party software for graphics hardware, Wi-Fi, etc. Then go to the next step.
Step 4 : For the type of installation, select theinstalling Ubuntu alongside Windows Boot Manager and start the installation. A message will be displayed, asking you to confirm whether to apply the changes to the disks.

Click on Continue to move on to formatting if you first released a partition, like we did. Otherwise, you will be asked to allocate space for the Ubuntu system before proceeding with the installation. As soon as done, click on " install now ».
Step 5 : Choose the time zone and your Country of residence on the Map and click on Continue. Enter your name, your computer name and your username. Also enter your mot de passe and confirm it once more. As soon as done, continue by clicking on Continue to install Ubuntu with Windows 10 in dual boot.
Read also: Fix a MacBook that won't turn on.
Install Ubuntu with Windows 10 in dual boot: Starting the installation
After defining all this information, the Ubuntu system will then begin its installation. You will have to wait for the installation to complete, as the process itself may or may not take very long. Its duration, like that of any other installation, will depend on the computing capacity of your computer. Its performance.
When the installation is complete, the Ubuntu system will ask you to restart your computer. Allow the restart and, immediately, remove your USB drive to prevent the computer from restarting in boot mode.
You just installed Ubuntu with Windows 10 in dual boot, of course, but there is still a concern. You will notice that at startup, the computer will tend to always boot into Windows.
This is due to the boot order in UEFI, which gives priority to the Windows Boot Manager. To reverse the order and assign priority to the Ubuntu Boot Manager, go to your UEFI / BIOS configurations.
On the UEFI, Boot, or Bootstrapping tab, look for " Boot Priority Order ". Reverse the order to move the Ubuntu boot manager up to the first position. Thus at each start, the Ubuntu boot manager will be requested first and will launch its system. To change the order again, the procedure remains the same.
Remember to save before you leave. After that, the Ubuntu system will start and you can continue with its configuration. The configuration options that will be offered to you after startup are optional. These are the configuration of the cloud account, Livepatch, sending system information (report) and geolocation.
Configure them or skip the next / steps and finish. After that you will have finished installing Ubuntu with Windows 10. Your system will be ready for use and you will be able to install your favorite applications or use the ones built into it.