After exploding all download records in 2020, TikTok has just made its appearance on Android TVs. It is now possible to install TikTok on Android TV directly from the official store (Play Store on Android TV).
The application is already deployed for users in certain countries such as France, Australia, the United Kingdom or even Germany. For the rest of users around the world, it will take patience. It shouldn't be long now given the growing popularity of TikTok.
Although currently unavailable in some regions, TikTok users can now watch videos posted on the social network. To enjoy TikTok on Android TV, it must be supported by the TV model. Samsung, Sony, Philips, Hisense or Panasonic are among the currently eligible devices.
How to download and install TikTok on Android TV?
There are two ways to do this. You can install TikTok on Android TV by through Play Store, and this directly on your Android TV. You can also do this by downloading and installing the TikTok APK installer package for Android TV.
Read also: Install an app and APK on Android TV easily.
Here's how to install via Play Store on your Android TV:
Step 1 : Using the remote control, press the home button (Home) on your TV. Browse the list of applications and select " Google Play Store ". If Play Store is not visible on the Android version of your TV, tap on the "Apps" icon. Apps », Then on that of Google Play Store (Get more Apps).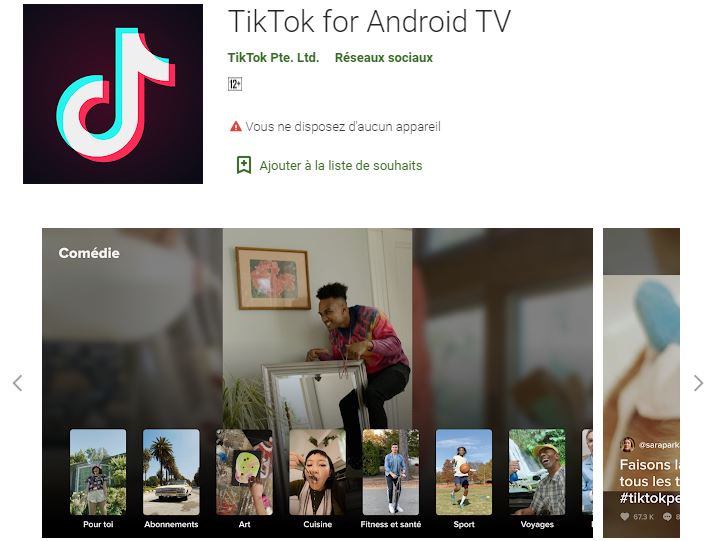 Step 2 : Once in Play Store, select the search icon. Then enter the name of the app (TikTok) using the onscreen keyboard or using voice search. Once found, all you have to do is select and install TikTok on Android TV.
Once the installation is complete, launch TikTok or go to the list of applications to select it. Go to the TV homepage, go to the list of installed applications, select TikTok and start using it.
Read also: Install Disney Plus on Apple TV.
How to use TikTok on Android TV?
On Android smartphone as on Android TV, TikTok works almost the same way. The content is offered according to the categories, with the possibility of interacting (commenting, etc.). You can also search, but to use the app on your TV, login to the TikTok account is required.
The big difference between these two versions of TikTok (Mobile and TV) is that TikTok for Android TV is designed for family use. In fact TikTok for Android TV, unlike the mobile version which is more geared towards creativity, focuses more on family entertainment.