HappyMod acts as a store of modified applications, MOD. The latter, modified applications, are attracting more and more users. Unfortunately, and you may know, modified versions are not welcome in the Play Store.
Being the official store of the Android operating system, Google Play Store only accepts official applications. Still don't know what a MOD is? You might even have one on your device. GBWhatsApp is a MOD, take it as an example.
A MOD is in fact a version of the application, not provided by the official publisher, which is designed on the basis of the official version. Modified versions usually offer loads of additional features, which is why they are becoming more and more popular.
Download HappyMod + APK 2022 on Android
HappyMod provides modified applications but does not modify them. They are added to the store by users, and so can you. In the store you will find all categories of applications. From instant messaging to the most famous games for Android, the number remaining limited compared to Play Store.
During use, you will realize that HappyMod presents, for each application, the modifications contained in the version made available to you. This is one of the features that makes HappyMod interesting.
Apart from presenting the changes made to each of the applications provided, HappyMod also allows you to download, for some applications, older versions. But that's not all, there is a lot to discover in this app.
Install HappyMod on Android, Use HappyMod
Use the link provided to download and install HappyMod on Android. You can also install the application from Play Store. Launch HappyMod if it is already installed on your device. Its use does not require an account.
Install HappyMod on Android: by opening the application, you will see that it has an interface specific to any application store. That is, the applications are organized by categories: Most popular, Games, etc.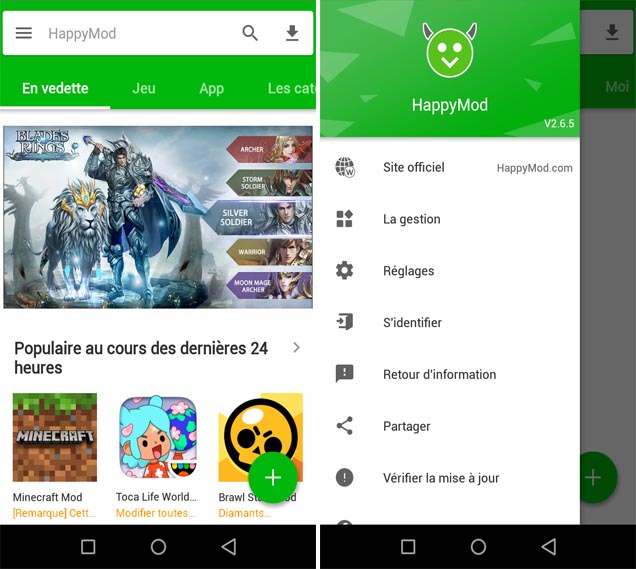 All the applications present in HappyMod have been subjected to a safety test. This is to avoid possible viruses or malware. Browse the apps or find the one you want and start downloading it.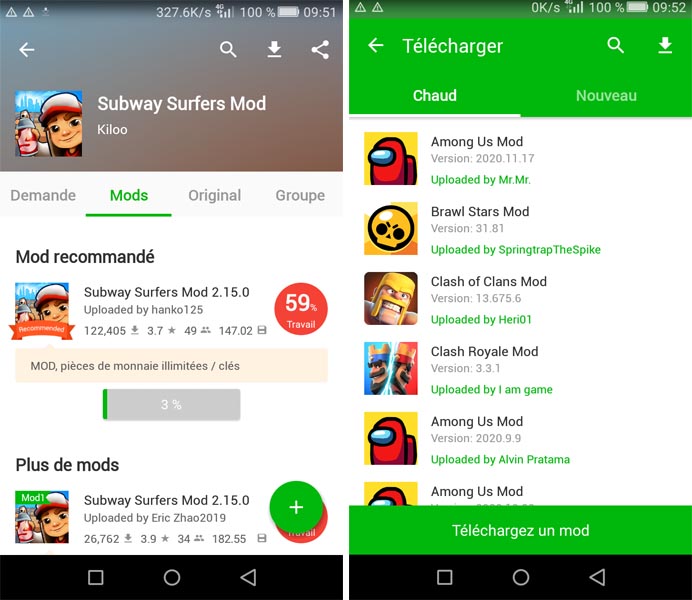 HappyMod does not require an account to download apps. However, in order to use certain features you must inevitably log in. For example to add an APK, a modified application to the store or to post a comment.
You will not find in HappyMod an absolute alternative to Play Store. It is more of a complement than an alternative. Like Play Store, HappyMod will offer you updates for some apps. You can uninstall and install HappyMod on Android again at any time.