For almost two months, it has not been possible to install Fortnite on iPhone and Android through their official stores. That is, from the App Store and the Play Store. Find out how to download and install Fortnite on iPhone and Android.
Like many other apps, Fortnite is a free game. However, some features (Premium) are chargeable.
The Fortnite's removal from the App Store and Play Store is the result of legal action, involving the giants Apple et epic Games (Publisher and owner of Fortnite). The latter judging the commission of 30%, requested by Apple and most Stores, exorbitant. This is how Epic Games and its applications got rid of the App Store and the Play Store.
Read also: Download and install Fortnite on PC and Mac for free.
Download Fortnite APK, Install Fortnite on Android
Despite the withdrawal from Play Store, Fortnite is still downloadable and usable on Android. You can therefore download Fortnite for Android without going through the Play Store, directly via the official website of Epic Games. Here's how to do it:
Step 1 : Go to Epic Games official website through this link. By opening the link, the type of your device will be automatically detected and a download will be offered. Or click on " Obtain in the Epic Games app ».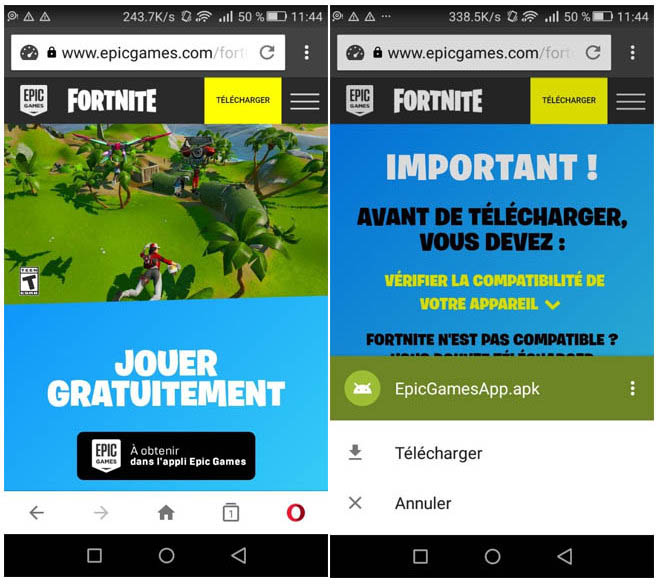 Step 2 : Download the package and start the installation of the file EpicGamesApp.Apk. After installation, open the app and from the Epic Games list of games, select Fortnite. If your device is compatible, then you can proceed to install the game.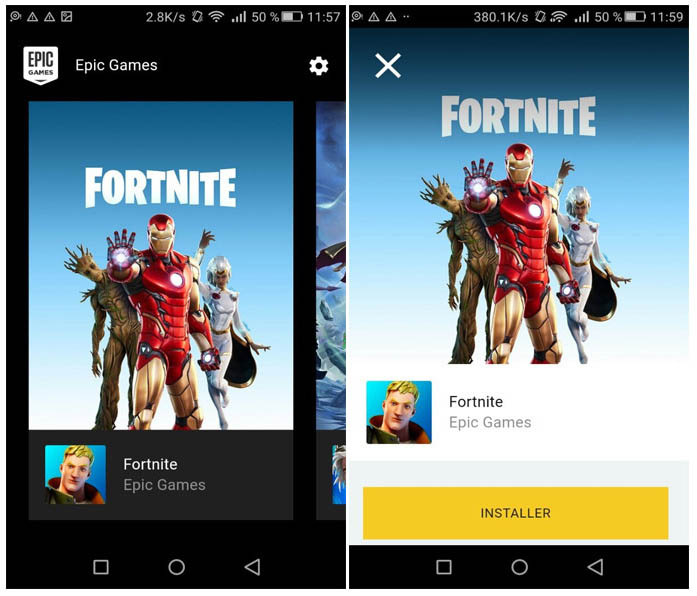 Install Fortnite on iPhone and Android: Installation on iPhone
There is a particular problem for iPhone users: the inability to install an application without going through the App Store. Knowing that Fortnite is no longer available there. The good news is that there is a solution to installing Fortnite on iPhone. Only no one knows how long it will last.
Unfortunately there too it will be necessary to have installed Fortnite in the past. More clearly, it will be a question of reinstalling the application. And so, this solution will be of no use to you if you did not use Fortnite before it was banned from the App Store.
Here is how to reinstall or install Fortnite on your iPhone or iPad:
Step 1 : Go to the App Store on your iPhone and, above right, click on your profile picture icon (account avatar) to access the account options.
Step 2 : In this menu, click on the " Shopping ". In the list of apps that are already installed but are no longer available on the device, search for " Fortnite And start the download again.
If in the past you have never installed Fortnite on your iPhone, then there is no point in attempting the maneuver. For you, we can only hope for the return of Fortnite on the App Store, something practically impossible at present.
Unless you have a loved one willing to lend you their Apple ID, which happens to be another option. Take advantage of this option as long as it works. No one knows if this will last as Apple may in fact remove this method. That's all to install Fortnite on iPhone and Android.