The popular chat app, WhatsApp, has a version that also allows you to enjoy it directly from your computer. Find out how to officially use WhatsApp on computer, whether you're on Windows ou MacOS, and this with or without downloading the installable software.
There are actually several ways to use WhatsApp on computer. The main way is to download and connect, via phone, the version of WhatsApp for computer. The only flaw is that this method absolutely requires the use of the application on a smartphone.
With this method, it will therefore not be possible to use WhatsApp directly on your computer, without using it on your phone. This has prompted some users to look for alternative solutions, including the one allowing to use WhatsApp on any computer through Android simulators. And, I specify, all without prior use on a smartphone.
For the method that you are about to discover, no need to think of a simulator. If you have a computer, laptop or not, and internet access, then you will be able to do it. The advantage of this procedure is that it makes it easier to use WhatsApp by transferring your application as well as its settings and conversations to your computer.
Read also: Schedule an automatic message on WhatsApp.
How to use WhatsApp on computer? Whatsapp pc
This part, I will present it to you in two ways, to give you more leeway. The first will consist of downloading the WhatsApp installation file on your computer, the second will consist of using one of your web browsers. You have to have one.
If you are not yet using WhatsApp, start with download and install the application on your smartphone. Configure it for use, then download the file to install on your computer.

After downloading and installing, launch WhatsApp on your computer. Upon opening the app, it will present you with a QR code that you will have to scan with your WhatsApp mobile application.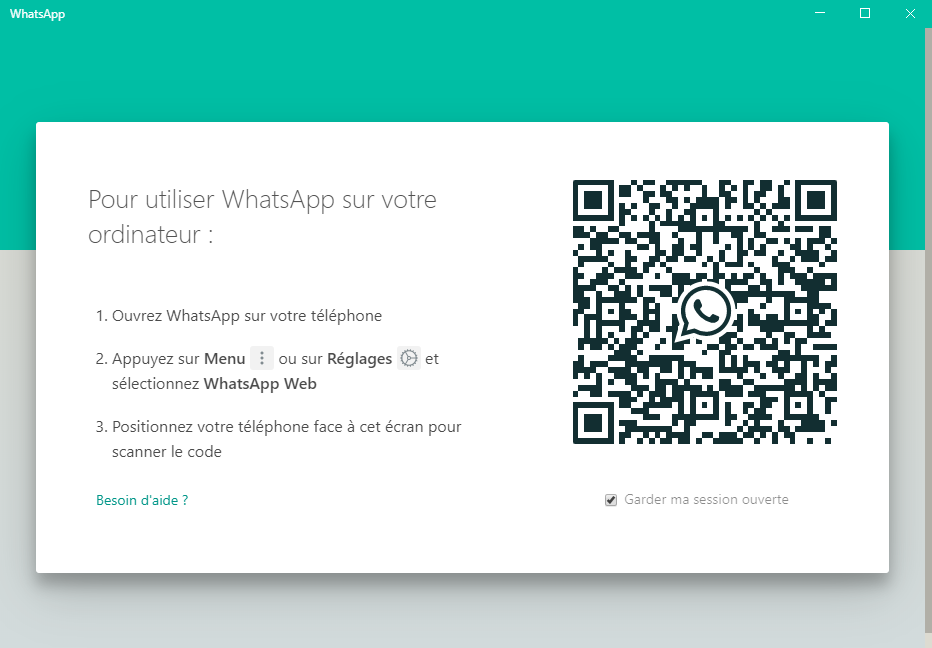 Make sure you have internet access, otherwise the application will not be able to generate the code to scan. Before scanning the QR code to use WhatsApp on computer, check or not the " keep my session open ».
By enabling this, you will be able to connect the application installed on your computer to your WhatsApp account, without having to scan the code each time. But for this, your two devices will all need to be connected to the internet. To continue, open WhatsApp on your smartphone.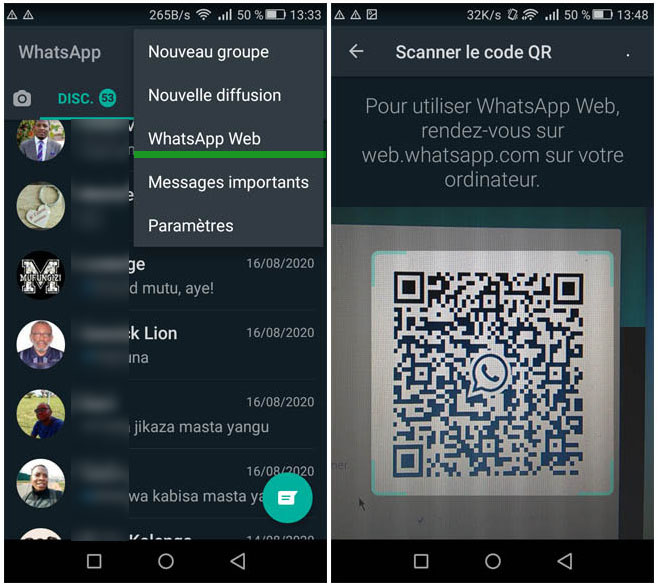 In the menu, open the option " Web WhatsApp »And scan the QR code on the application installed on your computer. After the scan, wait a few seconds for WhatsApp to connect to your phone to synchronize. Right after you can enjoy it.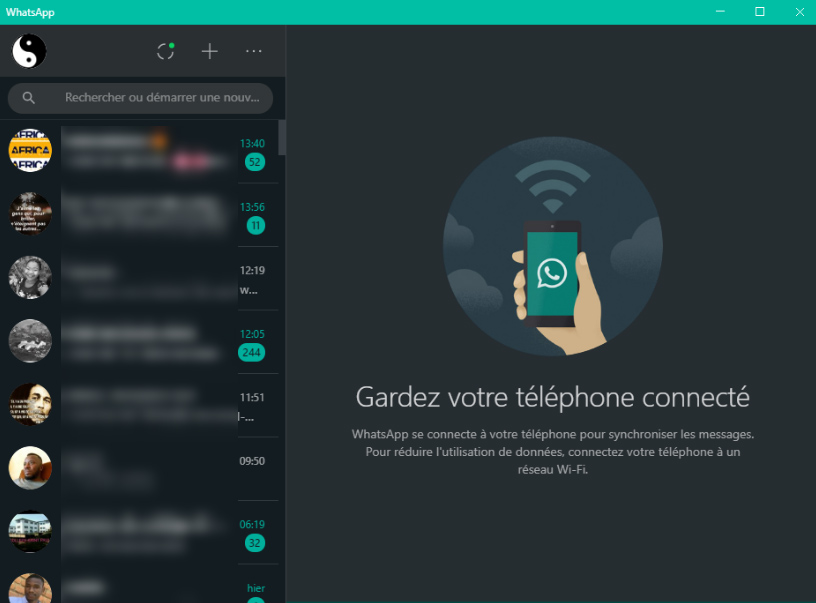 That's it. With your phone connected, you can now use WhatsApp on your computer and enjoy the app without touching your smartphone. Each gesture you take on a computer (sending, deleting, etc.) will be applied to your smartphone. Your apps are actually synchronized.
Read also: Download GB WhatsApp and / or YoWhatsApp apk.
Disconnect connected devices
To disconnect your devices, to stop synchronization and no longer use WhatsApp on a computer, nothing could be simpler. The procedure can be done in two ways, via the application installed on the computer and directly via the smartphone. To do this on your computer, open the app.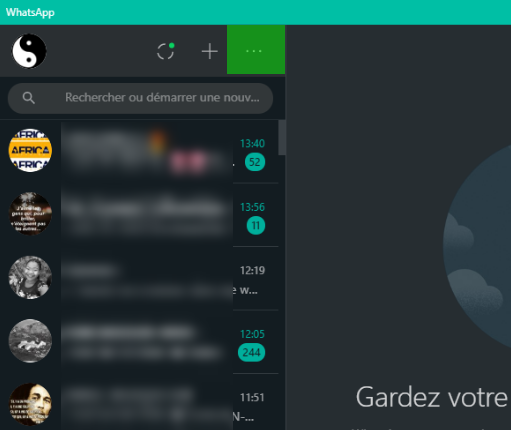 Expand the menu indicated by the three small dots (colored in green) and click on " Log out ". It can also be done directly via the application installed on mobile. To do this, open WhatsApp on your smartphone. In the menu, open again the option " Web WhatsApp »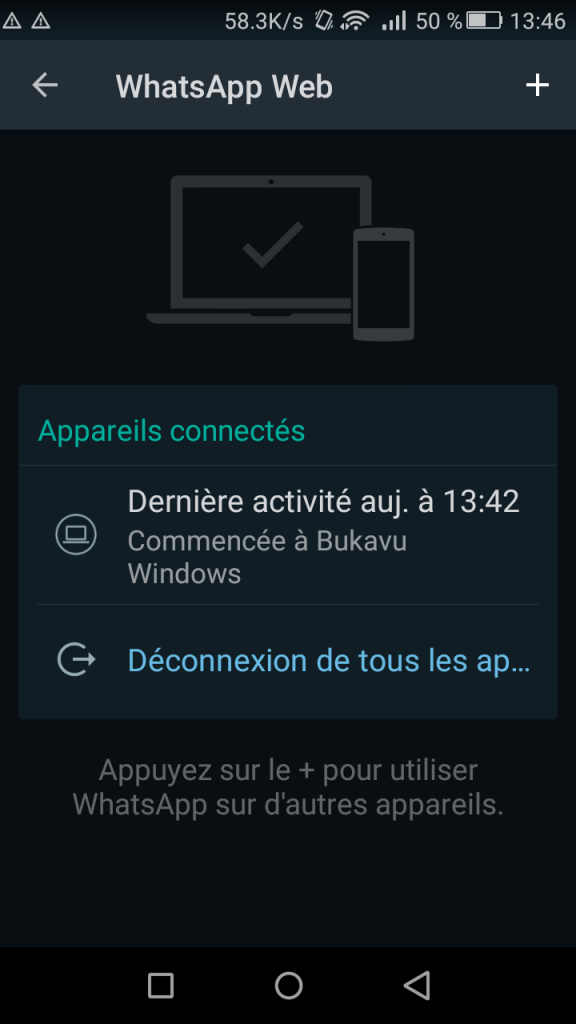 In there, you will have the list of all your connected devices. You can either add another or disconnect all connected devices.
Read also: Send temporary messages with WhatsApp.
WhatsApp also offers a possibility of use via web browsers. To do this, go to one of your browsers and enter the address: web.whatsapp.com. Do not put the period at the end, otherwise the URL may be unreachable.
By accessing the address, you will be presented with a QR code. You can then proceed as for the previous step, i.e. scan it using your smartphone. Some web browsers allow this connection to be established without having to enter the address. This is possible with Opera, computer version.

To use WhatsApp on a computer using Opera Browser, open the browser and go to the left sidebar. This bar allows direct use of a number of social networks, without needing to use a smartphone.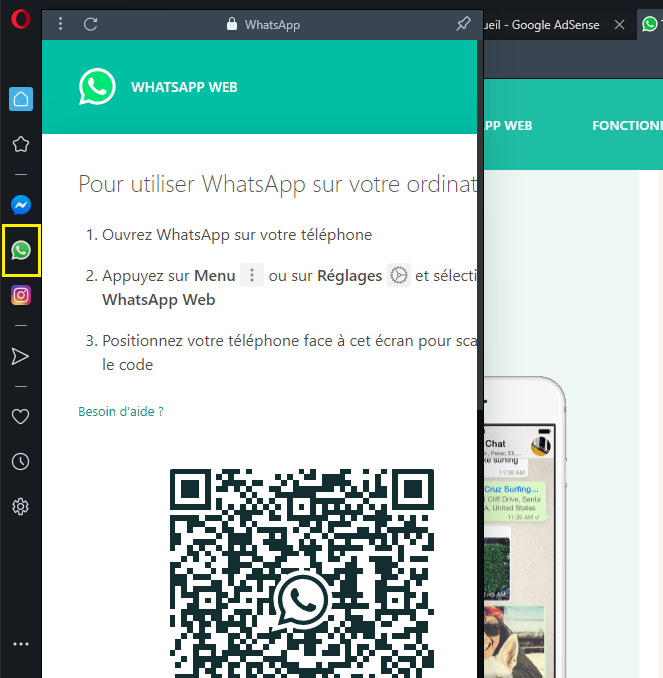 In this bar, locate the WhatsApp icon and click on it. The browser will connect to the WhatsApp server to generate a QR code that you will have to scan again using the application currently in use on your smartphone. Perform the scan and enjoy WhatsApp right on your computer.