Using an up-to-date operating system is essential for the proper functioning of your computer. Installing updates fixes, strengthens security, and improves computer performance.
If you are still using Windows 7 or 8, you will learn how to revert your system to Windows 10. And if you are already using Windows 10, you will find out how update windows 10 in just a few steps.
Switch from Windows 7, Windows 8 to Windows 10
As of January 2020, Microsoft has ended extended support for Windows 7. This means that all fixes to the system have been discontinued. No more fixes, no security updates can be made. So this is a gradual death of Windows 7 and an incentive for users to upgrade to a later version of Windows.
However, despite the discontinuation of support, you can continue to use Windows 7 on your computer. But with the difficulty of optimizing materials (with the pilots) and without any chance to take advantage of new Windows features. To continue to benefit from the new fixes and features, you will need to upgrade from Windows 7 to Windows 10.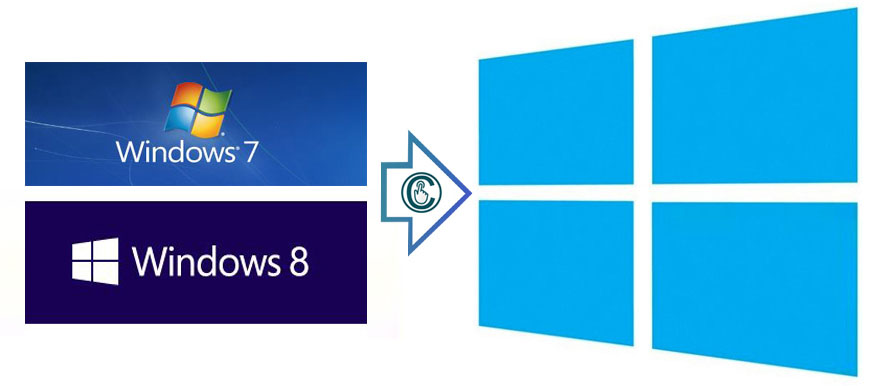 These two Microsoft operating systems are not very different in function and appearance. They have a lot in common, although Windows 10 performs better and has a more "modernist" look. You will therefore not have to worry about your adaptation in use.
As for Windows 8 users, the system is still receiving patches from Microsoft. But if you want to go back to Windows 10, you will also find out how to do it.
There are two ways to update Windows 10 by migrating from Windows 7 or Windows 8. The first is the use of a bootable disc with a Windows file, the second is the use of the Windows update manager.
Read also: Install DriverPack Solution Online and Download DriverPack Offline.
Migrate from Windows 7, 8 to Windows 10 using a USB drive
This operation has a lot in common with Windows installation. This is to update your system through a Windows 10 file in a bootable disk. Before embarking on the migration to Windows 10, be aware that this operation will not affect your data and applications. You can still save them from C drive to another partition glass disc.
The system requirements are nothing fancy, you don't have to worry about that. So to get started, here are the steps to follow:
Make sure you have a USB key of at least 4 GB. This will be your boot disk.
Do you have a Windows 10 ISO file on your computer? If so, it's good you've saved time. Otherwise, download Windows 10 ISO file for free here.
Make the USB drive bootable. If you do not know how to do it, read in another article the part " Make a bootable USB drive ". Proceed by following the steps described in the article, they are short and simple. After making the USB drive bootable, copy the Windows files from the ISO file to it.
Read also: How to interconnect two computers by cable and Wi-Fi ?
Installing Windows 10
After that, open your already bootable USB drive, and click on the Windows executable file.
Open the file setup.exe, box, and authorize User Account Controller to allow changes to be made. Windows will then do the preparation.

Wait for Windows to prepare to upgrade your system to Windows 10. It will only take a few seconds, then you will have the following window: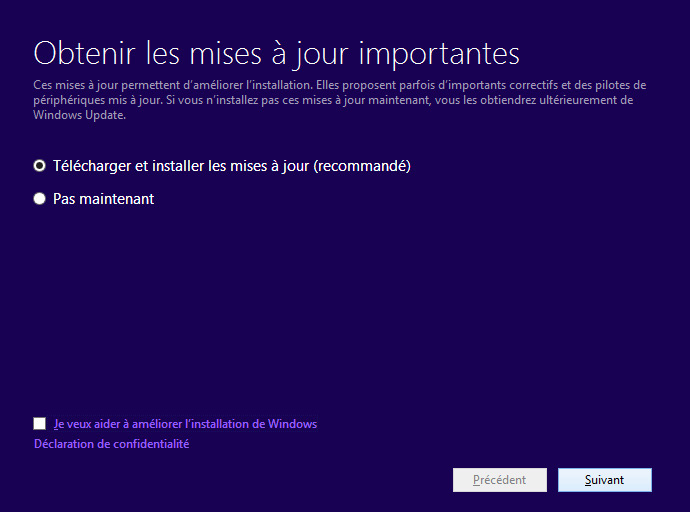 If you want to update Windows 10 and install the patches directly, check the first option. Otherwise, check the second to simply install the system.
I suggest you do this while installing all updates (drivers and others), even if this will slow down the operation. The advantage is that when finished, your computer will be ready for use, so be patient.
Follow the instructions for next steps. If your Windows copy is not activated, you may be asked for the Windows product key. In this case, you will have to activate your copy of Windows or search for another Windows 10 ISO file.
During the process, the installer will check for the latest updates available for Windows 10. When Windows is ready to install, change the settings for the items to keep.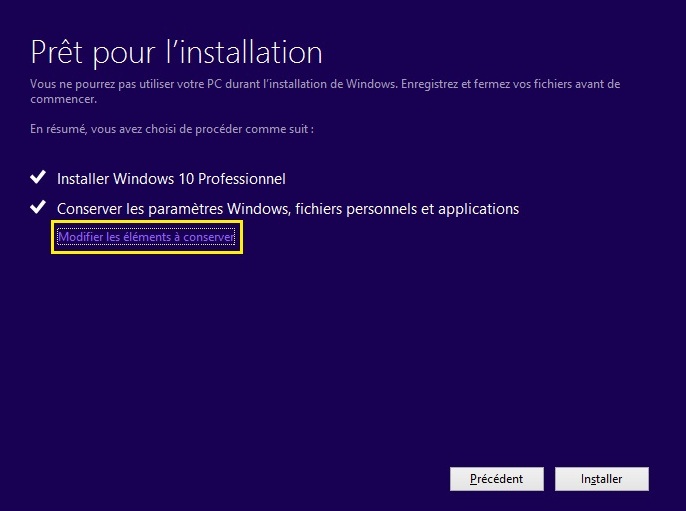 You will then have three options. Keep Windows settings, files and apps, keep personal files only, or keep nothing. Check the first option to change system and update Windows 10 keeping everything.
A few minutes later, your PC will restart and continue installing Windows 10.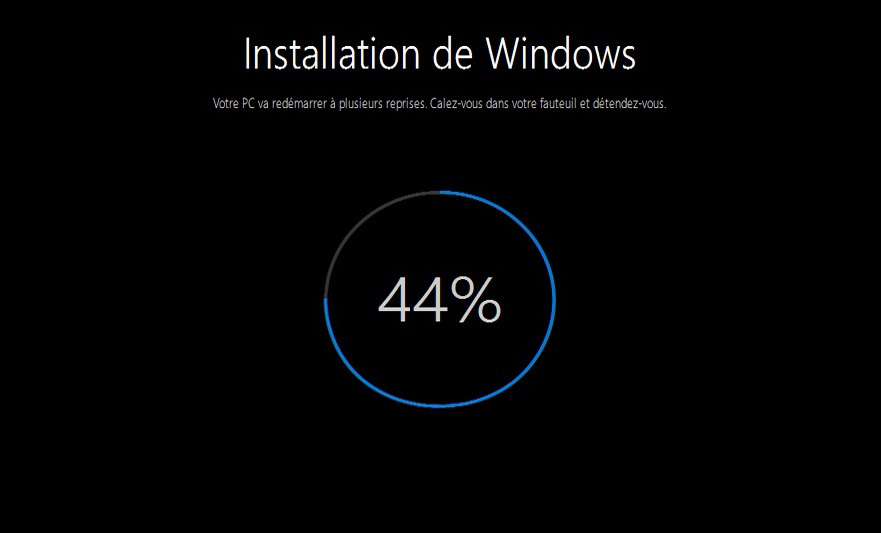 This process takes a long time, wait for it to end. Once finished, all you have to do is enjoy your new operating system.
Read also: How do I download and install macOS Catalina with a backup of all data?
Migrate from Windows 7, 8 to Windows 10 with Windows 10 Update Assistant
Windows 10 Update Assistant is a tool that makes it easy to upgrade the operating system. The operation takes about thirty minutes to a few hours, depending on your computer and the quality of your internet connection. Being a system update, your installed software and files should not be affected.
Here's how to migrate from Windows 7, Windows 8 to Windows 10 through the Windows 10 Update Assistant:
Download the update wizard for free. It is a tool offered by Microsoft, allowing to obtain the very last updates of your operating system. While it is running, it can run in the background so as not to interfere with the rest of your activities. After downloading and installing, launch the tool.
Click on " Update now ". The update wizard will inform you of the compatibility of your computer and will offer to continue the update.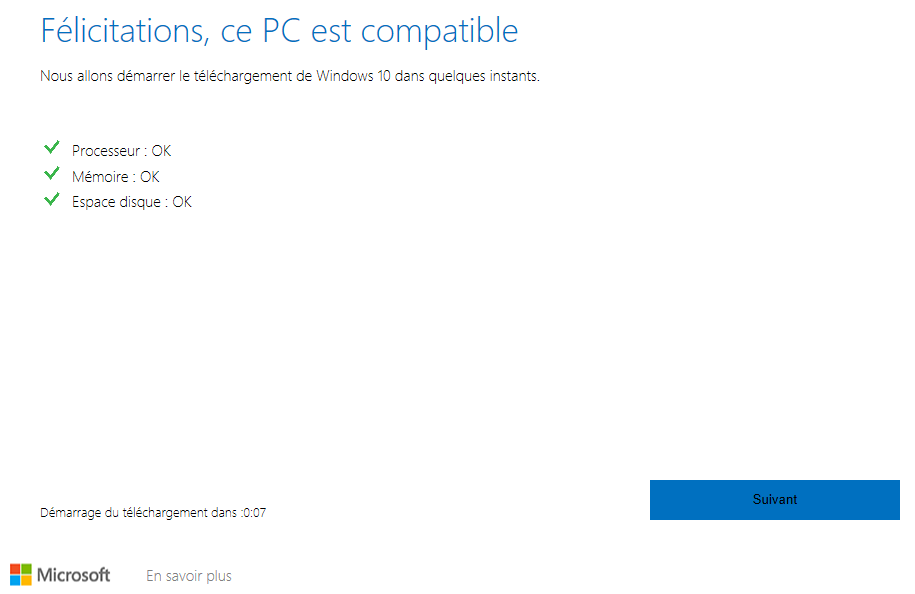 Click on Next to continue. During the process, the program will download the update files, decompress finally install them. Eventually, you will have a brand new computer with a Windows 10 in it ready to share its functionality with you.
If Windows Update Assistant fails to migrate your system to Windows 10, there is another similar alternative. It is Windows media creation tool. Run it and migrate to Windows 10. It works the same as the update wizard.
Read also: Create a bootable Linux USB from Windows and from Ubuntu.
Update Windows 10 already operational
Are you already using Windows 10 and want to update it? Nothing complicated, you have several options to proceed. From using a bootable USB drive to updating through Windows settings, to using the Windows 10 update assistant.
If you have an ISO file of the newer version in your system, you can use it to update Windows 10 on your computer. You can also use the update wizard, including I remind you that you can download here. For these two aforementioned steps, we will not go over how to proceed, since you already know how to do it.
How to update Windows 10 in use?
To get there, go to Windows settings. There are several tips for getting there, but your taskbar is a simple shortcut.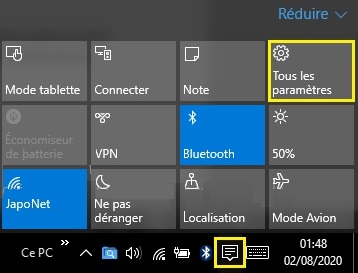 On the notifications icon, like in the image above, click All settings. Once in Windows settings: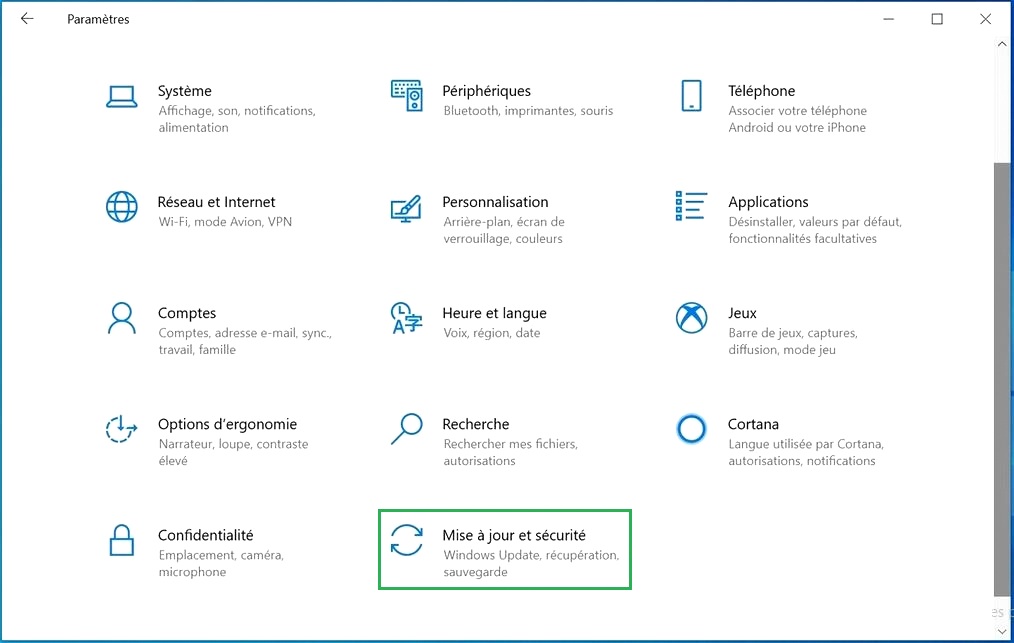 Click on " Update and security ". Once inside, click on " Check for updates To update Windows 10 on your computer. At this point, your system will begin to check for available updates.
If you are using the latest version of Windows 10, you will not be notified of an update after searching. Otherwise, Windows update will automatically download updates and install them. Then wait while your updates are being installed, then you will be asked to restart your computer.
Are you having difficulty, you cannot update Windows 10?