Many users still ignore it, but it is quite possible, through the built-in tools and commands, to take a Windows screenshot. Do you want to use or transmit the capture of one of your activities carried out on a computer? Find out how to take the capture.
Take a Windows screenshot with SnippingTool
SnippingTool is Windows built-in screen capture tool. It is a small, lightweight utility tool that is very easy to use. It allows you to take a Windows screenshot in two clicks and save the result in several formats. Among other things PNG, GIF, JPEG or HTML.
Read also: Capture screen content on macOS.
To take advantage of it there are no prerequisites. Apart from using the Windows operating system, which you are already doing. There are two ways to launch the Windows screenshot tool. The first is to click on the start menu and search for " Screenshot " or " Snipping Tool ».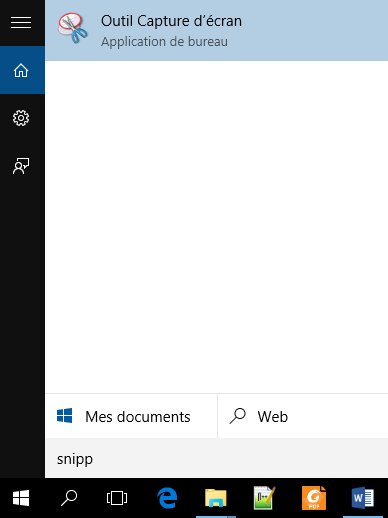 Windows will offer you the tool even before you finish typing its name in the start menu search. The second procedure is to use the Windows command executor. To do this, simultaneously press the keys Windows and R.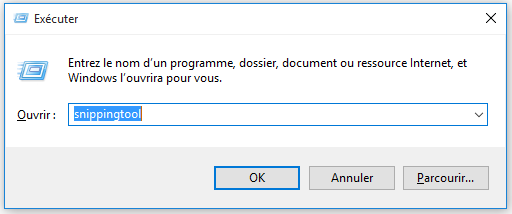 In the text box, type snippingtool And click OK. By opening the screenshot tool, you will be able to directly take a new capture in the shape of your choice, or postpone a capture for a few seconds.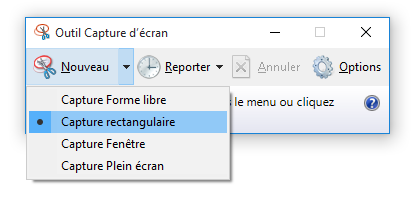 To take a Windows screenshot, select the shape and start the selection. Being in certain system settings, Windows does not allow you to take a screenshot at the desired time. While running, some tasks also do not allow this. This is where the option " Reporter »Finds its use.
It allows you to set a delay of up to 5 seconds, during which the screenshot tool will go on hold before handing you over. To use it, expand the option " Reporter And select the desired time. Then click on the new capture button and wait a few seconds.
Read also: Update Windows 7, 8 to Windows 10: Complete Guide.
Edit, save a new screenshot
Immediately after taking the capture, you can save it as such or submit it to some modifications. You can either copy and paste it into a document, software of your choice, orsend by e-mail (Outlook), highlight it, etc.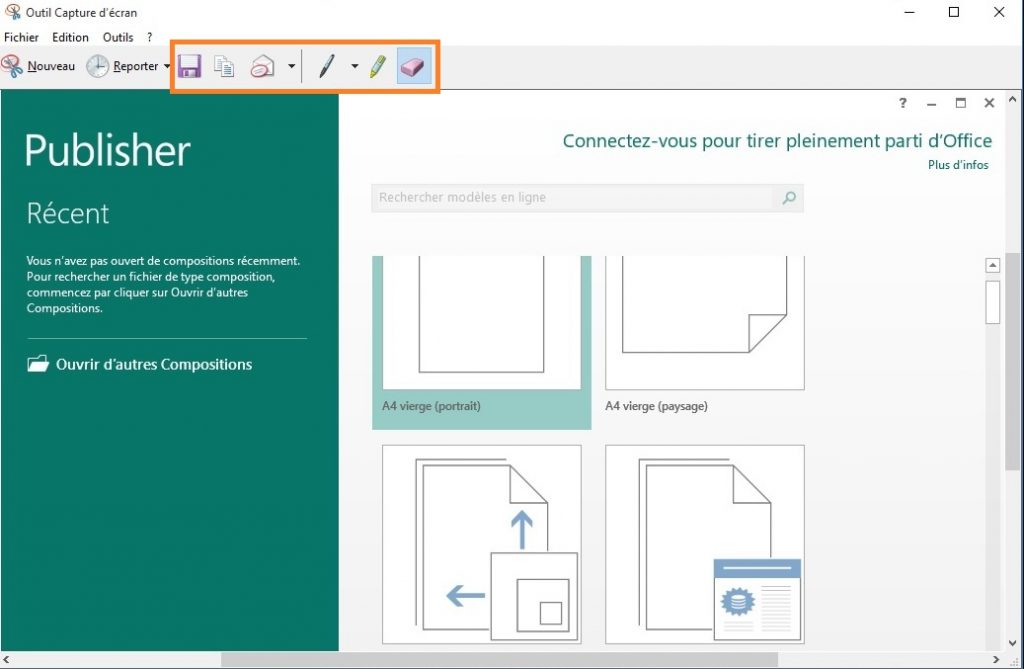 With or without modification, click on the button Save (small floppy disk icon) or simply do Control and the S key (CTRL + S). Then name your new capture, select the format (Type) to assign to it and click on Save. By default, the recording will take place in the " Pictures ».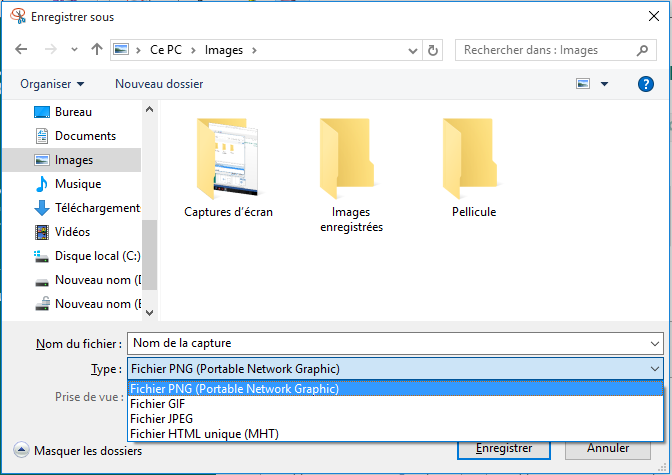 As you can see from the capture above, several formats are available. From PNG to HTML file via GIF and JPEG. If you want to save it as a single image, go for the JPEG (which I suggest) or PNG format.
If your capture contains a lot of colors and you save it in PNG format, then your file may have a large size (capacity). You can even try saving it in each of these formats and then compare and see which one you can keep. Taking a Windows screenshot is actually nothing complicated.
Read also: Too slow or too fast? Adjust the mouse on your PC or Mac.
Take a Windows screenshot with the keyboard shortcut
There is a combination of keys to perform to take a Windows screenshot without going through its capture tool. It is a question of combining the keys FN, WINDOWS and the key PRINT SCREEN, usually located above the right of the keyboard. Often next to the button DELETE.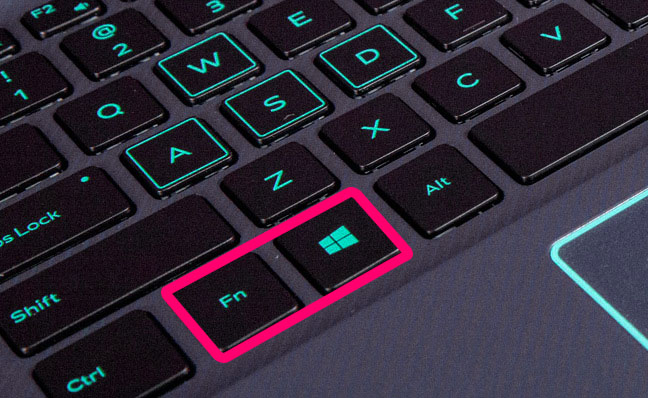 The key PRINT SCREEN (print screen, in French) as I just said, is housed above, right side of the keyboard. Due to lack of space, not all letters are always printed there. On some keyboards it is written PRT SC, on others PRINT SC ou PR SCREEN.
To take a Windows screenshot with this keyboard shortcut, press the FN Then on WINDOWS, after on PRINT SCREEN. Press the second without releasing the first, and the third without releasing the second. Darkness will appear and quickly disappear from your screen. This is a sign that your capture has been saved.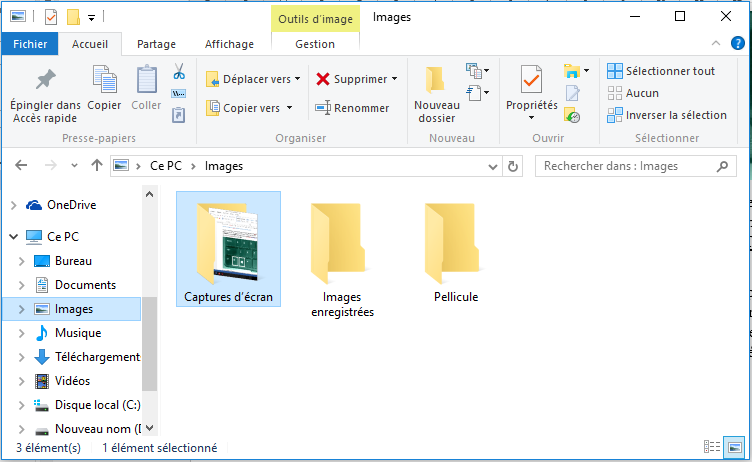 Your screenshot will be directly saved. To view it, go to the folder Pictures from the file explorer. In there, Windows will have created a folder named " Screenshot ". Explore the folder to see your capture and use it as you wish.
The captured capture will be saved in PNG format. The only downside with this procedure is that it does the full screen capture. Your entire computer screen will therefore be captured. You can then crop your capture to get the image you want.
Read also: Download, install DriverPack Solution Offline and Online.
Crop the screenshot taken with the keyboard shortcut
After you've successfully taken a Windows screenshot, using the keyboard shortcut, here's how to crop it to get an image of your choice. Go to the folder Pictures Windows, or the folder containing the capture. In case you have already moved it. Right click on the capture and click " Edit ».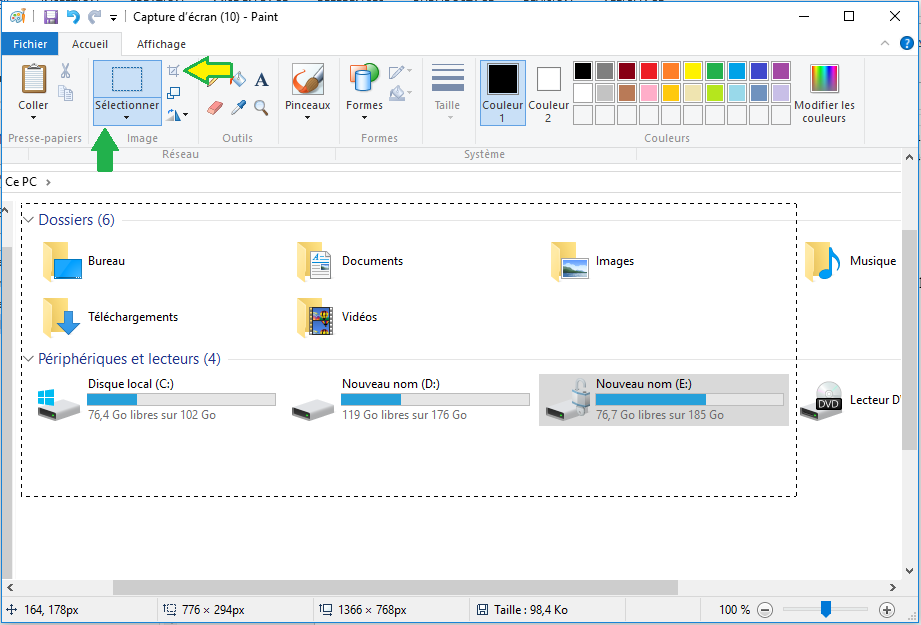 To select a desired part of the capture, click on " Select As indicated by the green arrow. Then click on the small cropping icon, pointed by the yellow-green arrow. I hope you can spot it despite its small size. Right after, your capture will be cropped. All you have to do is register.
That's all to take a Windows screenshot manually. There are tools that specialize in screenshot capture, but I doubt you will need them because of the ease of both of these methods. You may still need it, it all depends on how you use your captures.