Your mouse too slow does not make it easier for you to use your PC, your Mac? If, like me, you hate slowness, it must seriously disturb you. Fortunately, Windows and macOS offer the possibility of reviewing the properties of the mouse to customize it. You will therefore find out how to speed up a mouse that is too slow on your computer.
Let's see directly how to change the sensitivity of your mouse
How to change mouse speed on Windows 10, 8 and 7?
There are several things you can do with your mouse, other than increasing or reducing the speed of its cursor. To speed up a mouse that is too slow, you will have to go to the properties of the same mouse. Here's how to do it:
Open the control panel Windows by doing the following:
Combine keys Windows et R (Win + R). This combination will launch the command executor. Then enter the command " control " and do Enter.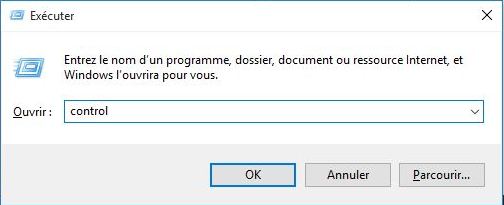 Entering this command will directly open the Windows Control Panel. Once inside, go to the top right of the window, in the search box. Enter " Souris And Windows will present it to you, probably before you even finish typing the word.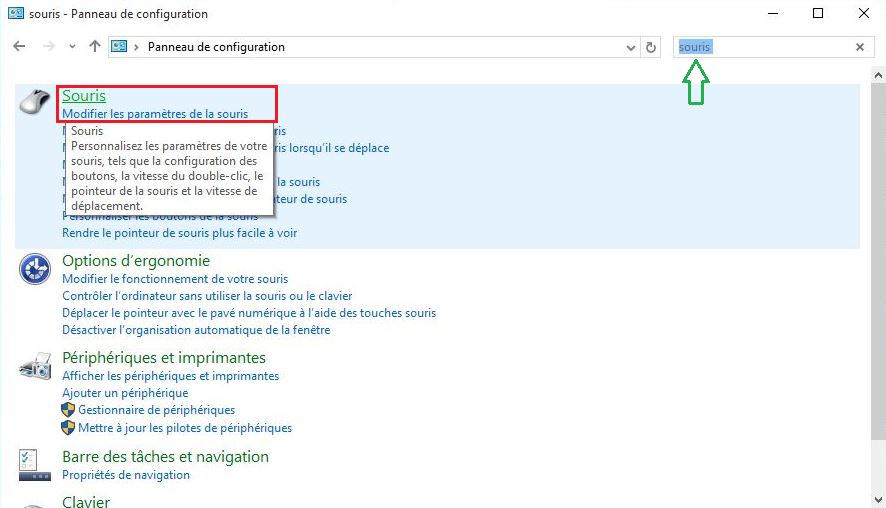 Then click on " Mouse " Or on " Change mouse settings ". Then start the adjustments according to your preferences: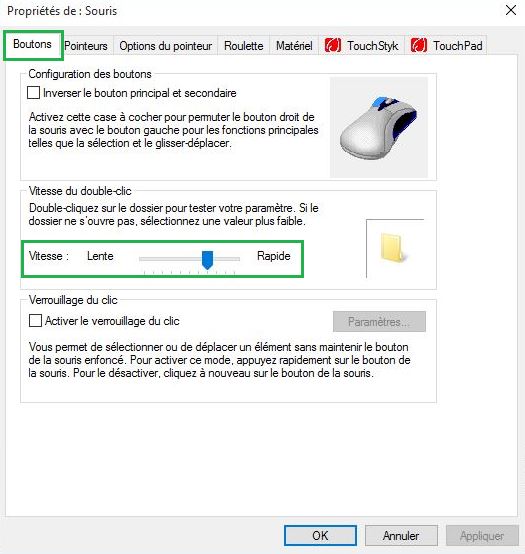 There you are in the " Buttons ". If you are looking to speed up a mouse that is too slow and in this tab you are only interested in button speed, then switch the bar between Spring et Fast then go to the next tab.
If, on the other hand, you want to go further, you can change other settings, for example reversing the roles of the mouse buttons. Whether you are left-handed or not, if the mouse configuration does not suit you, by checking " Reverse primary and secondary button »You will switch their roles.
By default, the left button is used to select, the right is used to call the context menu for more options. This inversion would cause the left button to respond instead of the right and vice versa.
Read also: Why is your PC battery draining quickly?.
The box " Activate click lock »Her, I do not advise you to touch it. Unless that tempts you, but I'm pretty sure if you do, it won't be long before you back off. Then go to the tab " Pointer options To adjust the speed of your mouse pointer: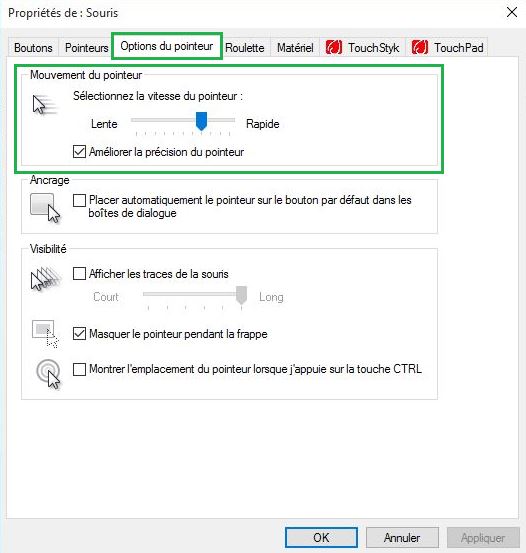 To speed up a too slow mouse and change the behavior of the pointer, you won't have to do a lot of maneuvering. Toggle the bar between Spring et Fast depending on what speed you are looking for. Also make sure that the " Improve pointer accuracy "Is checked.
To finish, click on Apply, Then on OK to exit your mouse settings. If after making these adjustments you are not happy with your mouse sensitivity, you can always go back and change the settings. And if despite this you are unable to increase the speed of your mouse, then it would be better to look for the problem elsewhere.
It could be the item you put your mouse on (if it's removable) or some other issue. The malfunction can also be caused by general sluggishness of the computer, incompatible charger, etc.
How to change mouse speed on Mac?
If you're looking to speed up a slow mouse on your Mac, there are a number of ways you can go. You can therefore change the scrolling speed of your Apple Magic Mouse, Apple Magic Trackpad or the integrated Trackpad on your computer.
Read also: How to fix a crashed Mac that won't turn on properly?
To increase your Mac's mouse speed, here are the steps you can take:
Through the apple menu, go to the System Preferences. Once in the system preferences, select " Reduced mobility ". In the left block of the utility, select " Mouse and touchpad ».
Already from there there are some settings that will present themselves to you. But to adjust the scrolling speed of your mouse or Trackpad, click the button Mouse options.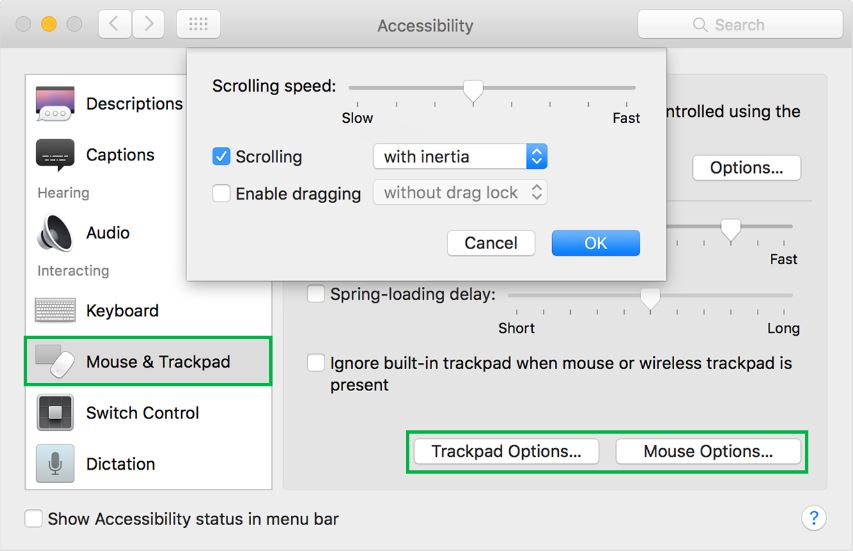 Then adjust the scrolling speed of your mouse pointer by switching the bar between Slow et Fast (Slow et Fast). By unchecking the box " scrolling (Scrolling), you automatically deactivate the scrolling of your mouse.
In general, changing the settings of your mouse, on PC or Mac will allow you to solve its slowness problems. However, some slowness problems could arise not from the mouse itself, but from the malfunction of other parts of the computer.
Speeding up a mouse that is too slow: frequency problem
Another problem with your mouse lagging behind is interference, which often occurs between a wireless mouse and keyboard. This problem typically affects wireless mice which, if they conflict with another wireless device in the vicinity, can lead to a computer crash.
To resolve this issue, you have some options:
Option 1 : Change the frequency of your mouse. To do this, open the mouse configuration software, or download it if you haven't already. Change the frequency of the mouse, then disconnect and reconnect its USB connector.
Option 2 : Some mice do not offer the possibility to select the frequency. Unplug its USB connector and plug it back in, change the USB port if necessary. Next, see if the mouse has a reset button, usually below it. If so, press it to reset the mouse.
Option 3 : If you have successfully located the equipment that is causing the interference, move it away from your mouse. Or simply opt for a wired mouse, that would be the easiest solution.
Note that other USB devices connected to your computer can also interfere with your mouse and slow it down. Disconnecting them can be a solution to speed up a too slow mouse.