Using data is one thing, securing it is another. It is very important to secure your personal data, so you keep it safe from malicious people. You never know who might stumble upon your computer.
In this article, we will see together some simple ways to secure your personal data (disks, folders and files). Whether it is a computer for personal or collective use, or even professional use.
To achieve this, you will be able to encrypt one or more partitions of your hard drive with a password using the Windows tool called Bitlocker. You will also be able to use a program to put a password on your folders or files, or also encrypt your files or compress them with a password.
Secure your personal data with Bitlocker
Bitlocker is a tool integrated in some versions of Windows (8, 10). It allows you to encrypt with password a targeted partition of your hard drive and thus secure your personal data.
To use it, you will go to your computer's file explorer (This PC under certain versions) and right-click on the partition to be secured. The option Activate Bitlocker will be visible at the top of the menu.
Password
Once opened, check the box "Use a password to unlock the drive". Then enter your password twice and click next. Choose a strong password that you cannot forget.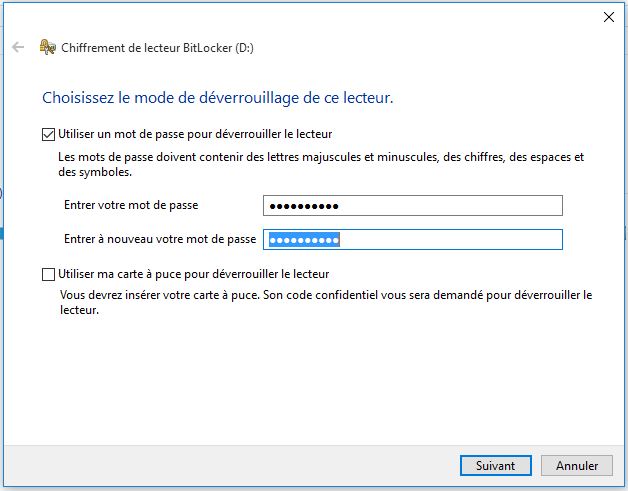 Recovery key
After entering your password, Bitlocker will offer to save your recovery key. This is a precautionary measure in case you ever forget your password. If that were to happen, then this key would be like your backup password.
It is therefore preferable to save it elsewhere than on your computer. That is to say either in a USB key, or in a file that you can then keep in your Cloud for example. You can also simply print it.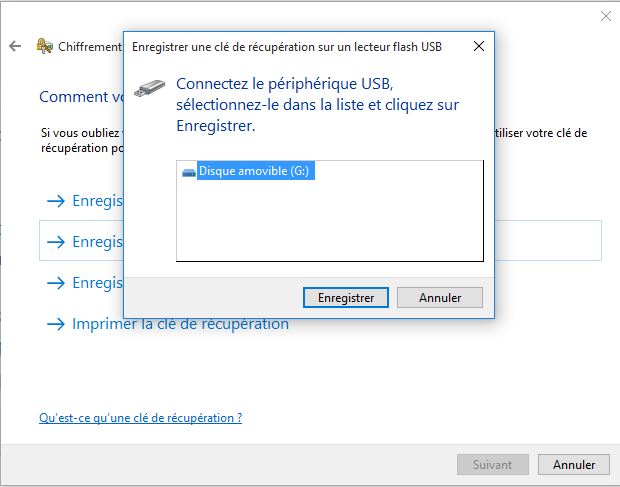 In our case, I chose to perform the backup on a USB key.
Read also: Tips for choosing a good password.
Proportion of encryption
Regarding the proportion of encryption, you will have to choose between encrypting part or all of your disk. I suggest you encrypt the whole drive, as partial encryption only affects the part of the drive that is in use.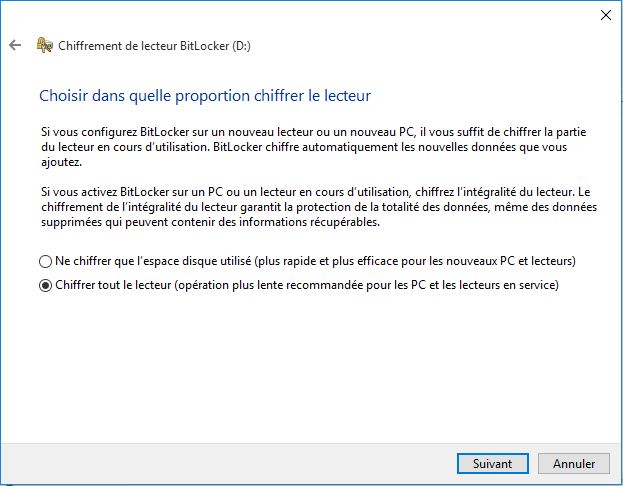 Start of encryption
After choosing how much you want to encrypt your drive, all you have to do is start the encryption process. Then Bitlocker will show you the progress level of the process.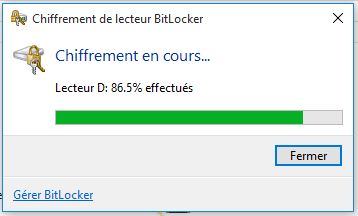 You can close and the encryption will continue in the background, your disk will only be secure after 100% encryption. Each time you start your computer, the encrypted partition will be inaccessible. Except when you decide to unlock it.
Secure your personal data with software
You can also lock your targeted folders and files, in this case it will be a software that will take care of managing the security of certain folders and files that you choose. It exists on Internet a number of programs to perform this kind of task, here we will use Folder Guard.
Install Folder Guard
It is a small, light and easy to use program that you can download directly and start the installation to secure your personal data. You can activate the software if you have the license, or use it for a 30-day trial period (but this period goes beyond).
Read also: Install Windows 10, 8 and 7: Your Complete Guide.
During installation, you may encounter a message stating that Folder Guard cannot create a restore point. Click cancel and continue with the process.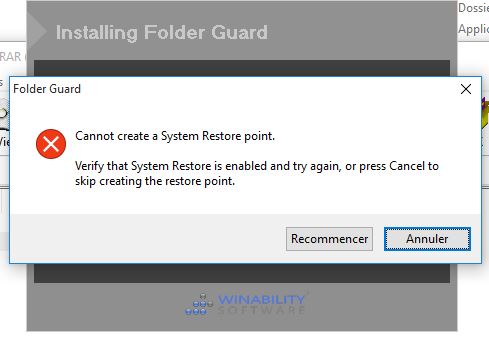 After installation, launch the program and enter the password you want to use twice. You will use this password each time you want to access the program.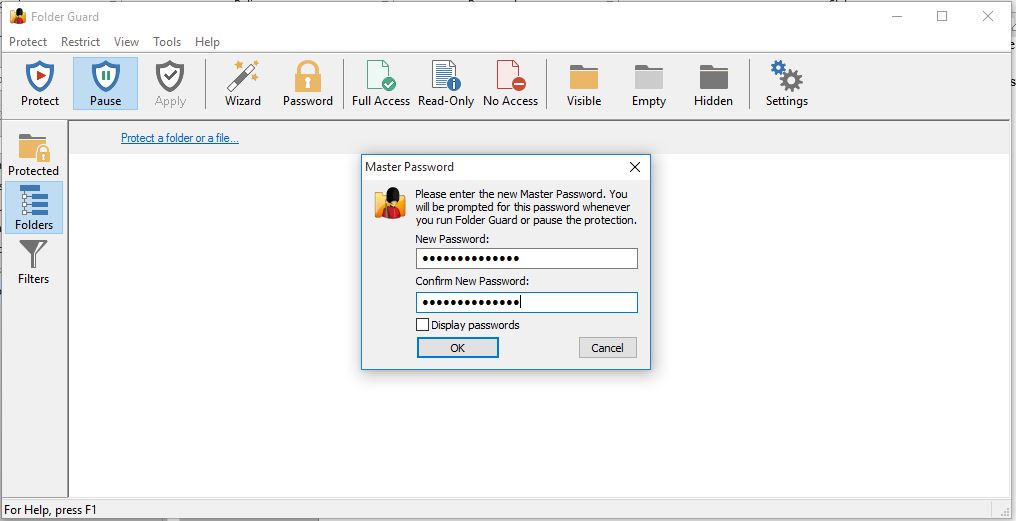 Choose a folder or file to protect
Since you have correctly entered and saved your password, you will now choose a file or a folder to lock. To do this, click on " Protect a folder or a file Which you will see clearly in blue and underlined.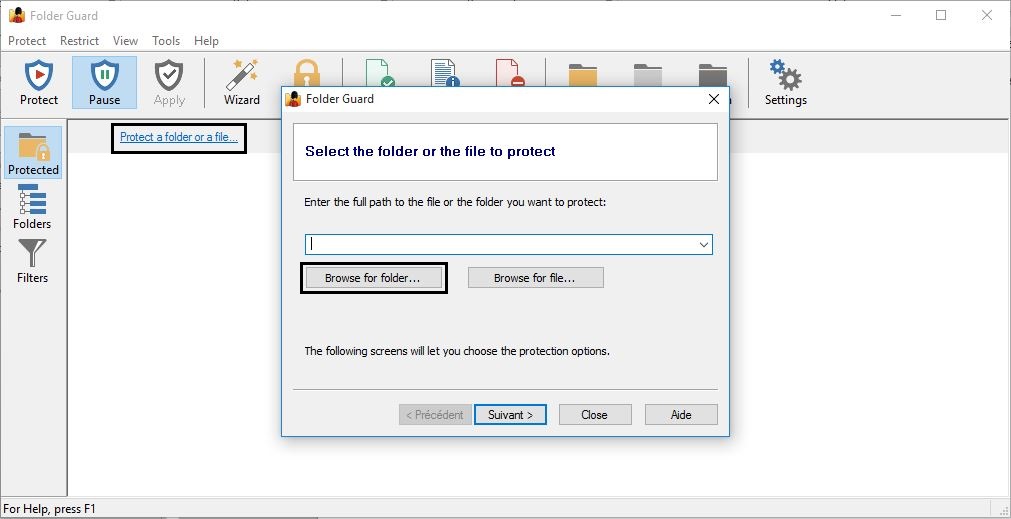 To secure your personal data with Folder Guard, choose between protecting a folder "Browse for folder" or a file "Browse for files". Then go to your computer to choose between a folder or a file depending on the choice made previously.
After choosing the item to protect, you will have to choose a password "Choose the password". Enter it twice, then do next.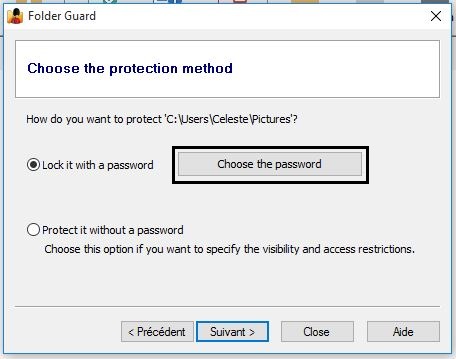 The password to enter here is not the same as the one entered when launching Folder Guard. The latter corresponds to the specific element to be protected. You can therefore use a different password for each item, or use the same one that you use to open the program.
You will notice, before exiting, that the program will offer you whether or not to maintain the protection of the files. By accepting, you will close Folder Guard (accessible in hidden icons in the taskbar), but all your folders and files will remain protected. Just like you can choose to keep all these folders open, and in that case you don't need to enter a password to access them.
Compress your folders and files with password
The compression process involves changing the format of a file. Some use it for storage reasons (once compressed, a file decreases in size), others for security reasons (compression protects your files from viruses). Still others use it for transmission reasons (easily transferable from a medium A to a medium B).
Read also: Compress a folder with password on Windows, macOS, and Linux.
No matter what version of Windows you are using, you have the option of compressing anything you want, but the compression will not be key-protected. For key protection, we are going to use a program known to many, WinRAR. You can download free WinRAR for Windows, macOS, Linux or Android and install it, in case you don't have it yet.
Compression
After installation, go to your file explorer. Choose a folder or file of your choice and right-click on it, "Add to archive"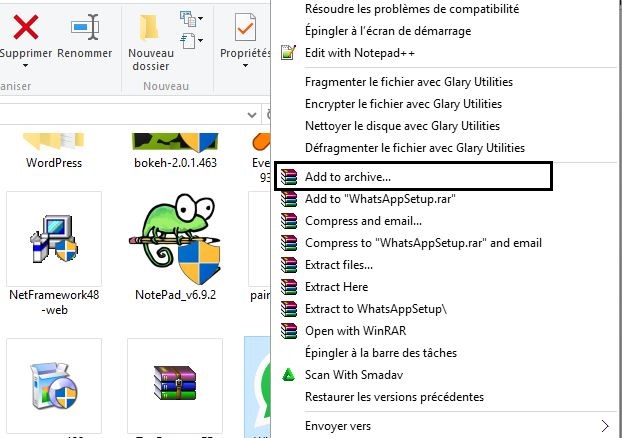 You will find yourself in front of the menu with the archive settings where you will choose the ZIP format, since the latter is supported by a lot of platforms.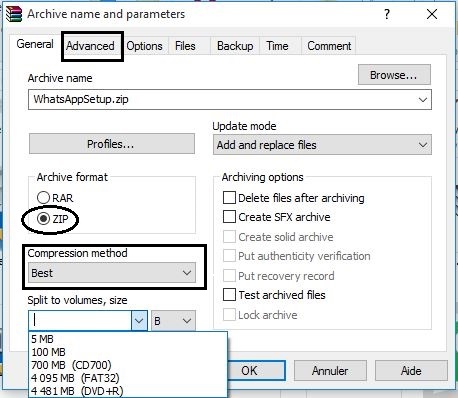 Then choose the compression method "Best", which is the best. You can ignore the option " Split to Volumes" or opt for if you prefer to allocate to your file a capacity proposed by WinRar. Then go to the advanced menu "Advanced" to be able to enter a password.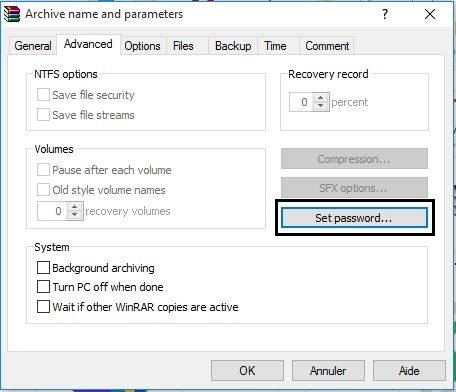 Through this menu, you will enter a password of your choice and start the compression. Please remember this password, it will then be your right to access the compressed file.
To better secure your personal data, you can also combine two or more methods for more security. Please especially remember or save your passwords.
Read also:Recover all your damaged or deleted files on PC and Mac.
Did you like this article ? Share it with your friends or leave a comment.