Many people still believe that Apple Mac computers can only run under their original operating system (macOS). Today there are some ways to install and use Windows on Mac, including the use of Boot Camp or also the virtualization.
In this article, you'll learn how to get Windows running on a Mac. First with Boot Camp Assistant, then using virtualization software.
With the assistant Boot Camp, Mac users can now officially install and use Windows on their computers. Integrated into macOS from version 10.5, Boot Camp Assistant allows you to take advantage of applications that can be run on Windows by creating a disk partition next to the one used by macOS.
How to install and use Windows on Mac?
Install and use Windows on a Mac with Boot Camp
Is your Mac eligible to use Windows?
All Macs produced from 2015 and later are eligible for this operation, but also certain models prior to 2015 such as:
MacBook Pro et MacBook Air : from 2012.
iMac et Mac mini : from 2012.
Mac Pro : from 2013.
Using Boot Camp, it's easy to have Windows on your Mac with just a few clicks. Before starting, please download the Windows ISO file to use during the operation. Download the Windows ISO file by following the steps outlined here.
Apart from that, please check if there are any new updates for your macOS version available. If so, update your macOS first. If you are already using macos catalina or a recent Mac model, you will need to install windows 10.
Before launching Boot Camp, finally check if:
You have made a backup of your important files, although in almost 100% of cases everything is fine.
You have reserved enough space on your hard drive. For installing Windows on a Mac, Apple recommends reserving up to 128 GB of space.
Read also: How do I download and install macOS Catalina?
Installing Windows on Mac
Here are the steps to install and use Windows on Mac:
Go to Applications, Utility, start the wizard Boot Camp and do Continue.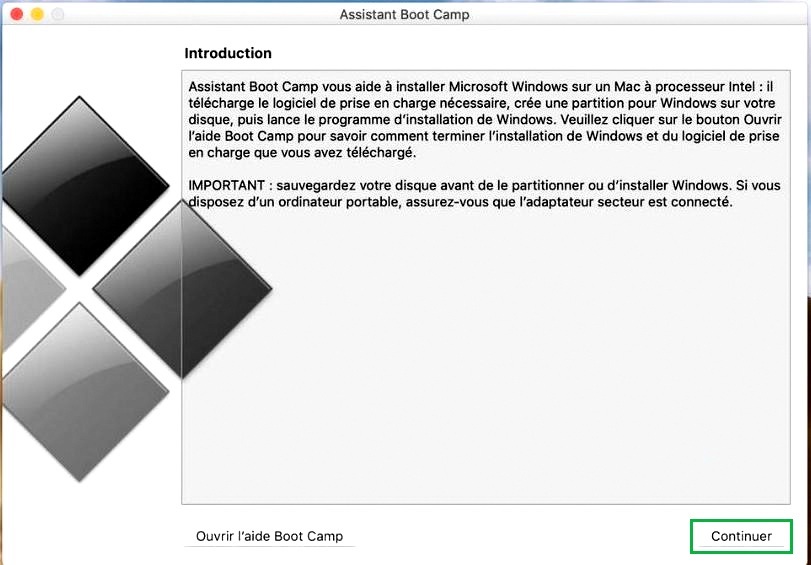 Browse your folders and select the Windows ISO file you want to use for the installation: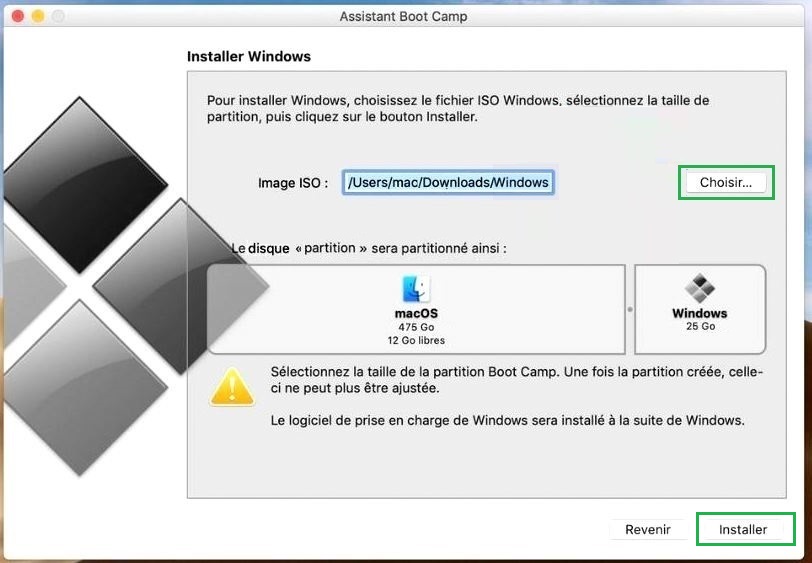 Then define the size of the partition that will host Windows: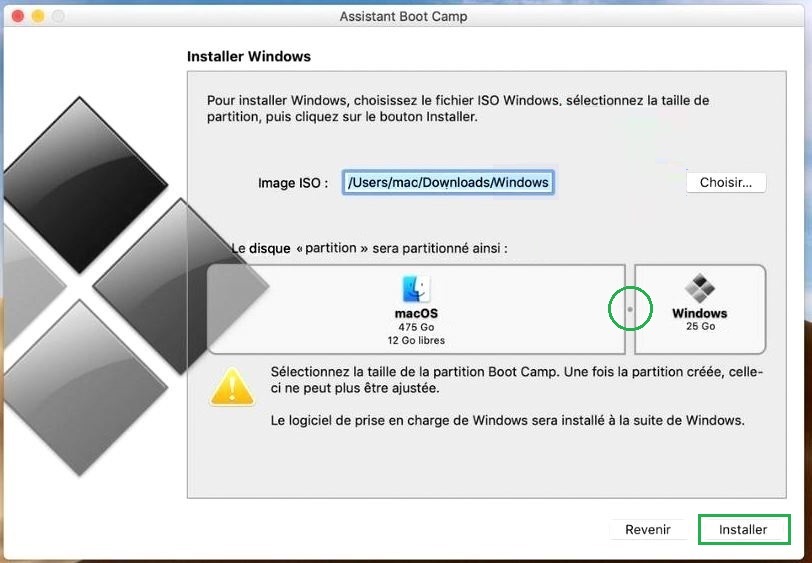 Drag the divider present in the middle of the macOS and Windows partition to set the size of the new partition (preferably following Apple's recommendation: Go 128). Once the size of the partition is fixed, you will not be able to resize it later. To start, click on Installer and wait for the installation progress.
Read also: How to fix your MacBook that won't turn on. | Fix a PC that won't start or partially turns on .
During installation, follow the instructions. At the end of the installation, your Mac will automatically restart in Windows. You can also turn it back on by pressing the ignition button and the button at the same time. Alt ou Option (⌥), then choosing whether you want to boot from the macOS partition or the Windows partition.
After installation, Boot Camp will take care of installing the pilots supporting devices your Mac. This is to allow a better functioning of your operating system. Using Boot Camp Assistant is still the easiest way to install and use Windows on a Mac.
Install and use Windows on a Mac with Oracle VM VirtualBox
The second option for installing and using Windows on Mac is to use a virtualization program. This involves using one operating system (Windows) on top of another (macOS) by accessing it from a window, as is done with any other program.
Virtualization shares the resources of your physical machine with the virtual machine, which is why it is an operation that requires a fair amount of mémoire RAM and a processor relatively powerful.
Apart from Oracle VirtualBox which is accessible for free, there are other virtualization software with which you can install and use Windows on Mac. Among them Parallels Desktop et vmware fusion, unfortunately paying but offering trial versions.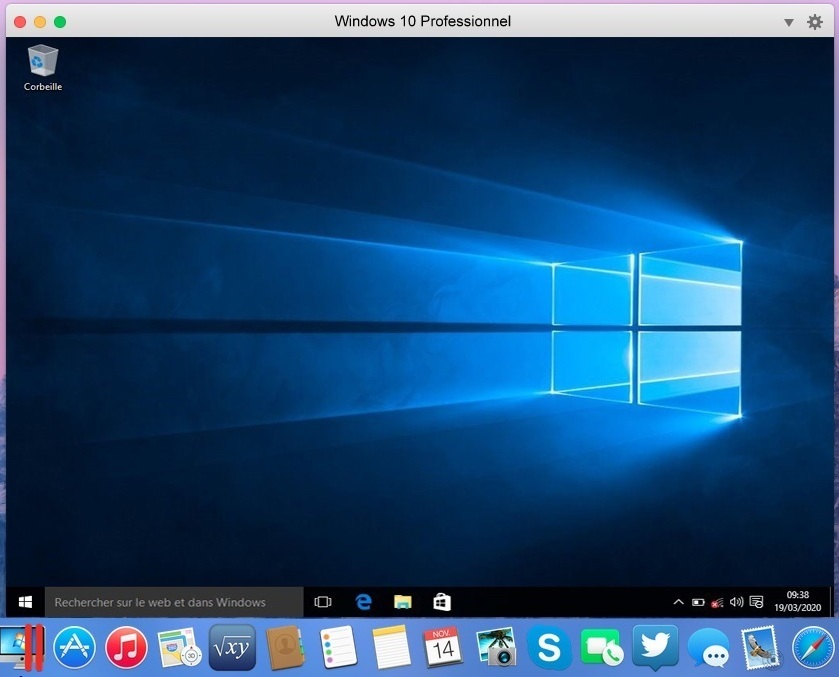 How to create a virtual Windows machine on macOS?
Start by download VM VirtualBox for Mac.
Creating a virtual machine
Before installing Windows, you must first create a new virtual machine in VirtualBox. Here are the steps to follow:
Install and launch VirtualBox through " Applications»
Click on " NewAnd name the new virtual machine to be created, you can name it whatever you like. Expand and then choose the type of operating system you plan to install (corresponding to the Windows ISO file you have in your possession). Click on Next.
Set the amount of RAM to allocate to the virtual machine.
Create a virtual disk by checking " create virtual disk now»Et cliquez sur Create.
Choose the type of file you want to use for the new virtual disk. select VDI (Virtual Disk Image) and do Next.
Select the dynamic space allocation by checking " Dynamically allocated»And finish by clicking on Create.
Read also: Share data between two computers by Wifi and cable.
Installing Windows in VirtualBox
Since you have just created your new virtual machine, let's see the steps to follow to install Windows in the new virtual machine.
Click on " Start" to begin.
Browse the folders to choose the ISO file to use. When starting the operation, select the language that will be used by Windows.
Made Next, then start the Windows installation (install now).
The steps for installing Windows remain the same as for installing on a physical PC. If you have a problem with installing Windows, let us guide you this article which details all the steps.
When finalizing the Windows installation, choose to use the quick configuration, you can customize your configurations later. Wait while Windows completes the operation and prepares your virtual machine for first use. Then create your user account by defining the user name and a password (optional).
This is how to install and use Windows on Mac. Remember to share the article if this content was useful to you.