You have a survey to conduct, data to collect and you would like to do it through a Google form but you do not know how to go about it? In this article, discover the steps to follow to create a questionnaire with Google Forms.
Google Forms is not the only one for this kind of activity, no, but is one of the most used. Its free (have a Gmail account), its ease of use and the many features it offers make it a very interesting tool.
Creating a questionnaire with Google Forms is not complicated, and you will find out. A tool like this will allow you to conduct surveys and collect data without having to move, without moving in a single step.
Create a questionnaire with Google Forms
To start your data collection, to create a questionnaire with Google Forms, only one prerequisite: have a google account (Gmail). If you don't have a Gmail account yet, here is how to proceed to create one. Already have a Gmail account? Then click here to start creating the form.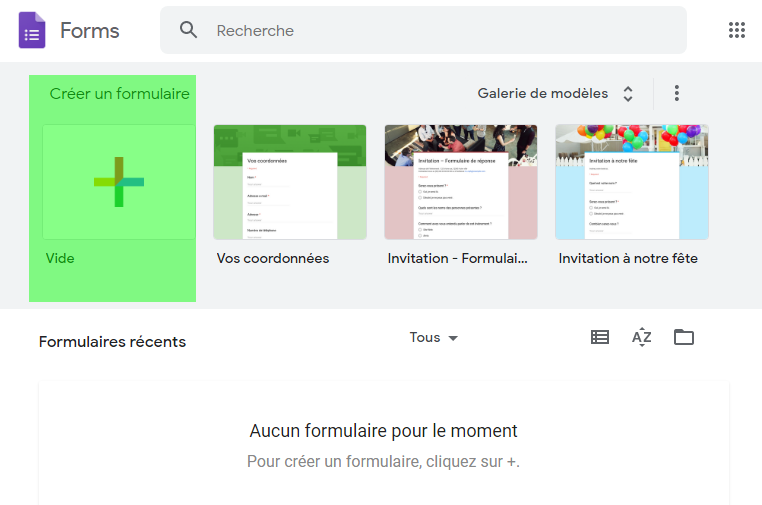 Once on the Google Forms home page, click on " Create a form ". After that, you will notice that there are two headings: Question et Replies. It is in the Questions part that you will be able to maneuver.

The answers part will help you to visualize the number of answers, the new answers each time a person will have answered the questionnaire. There are advanced functions for managing responses. But since you are new to building Google Forms (I guess), then let's stick to the questions part.
To create a questionnaire, add different elements. There are several (elements) that can constitute a questionnaire, as you can see on the capture below :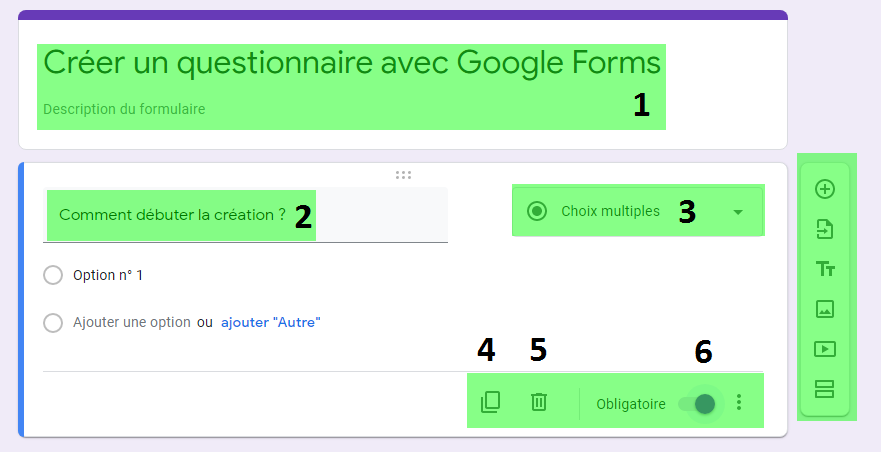 In the first block (1), enter the name or title of your questionnaire as well as the description, but the latter remains optional. In the second (2), enter the first question of your questionnaire.
The third block is a drop-down toolbox, in which you will be able to choose the format according to which the respondent will be able to answer the question. We will come back to this in more detail, let's continue the presentation.
The block below with elements 4, 5 and 6 is also very important. Element 4 allows you to copy an entire question with its details and reproduce it below. Element 5 allows you to delete a question and 6 helps you define whether the question must be answered or not.
Add items to the question
We have just made a brief presentation of the form. Now let's see how to add elements to create a questionnaire with Google Forms, a real questionnaire. First of all, let's go back to one of the elements presented in the previous point, block 3. Click on it and expand it.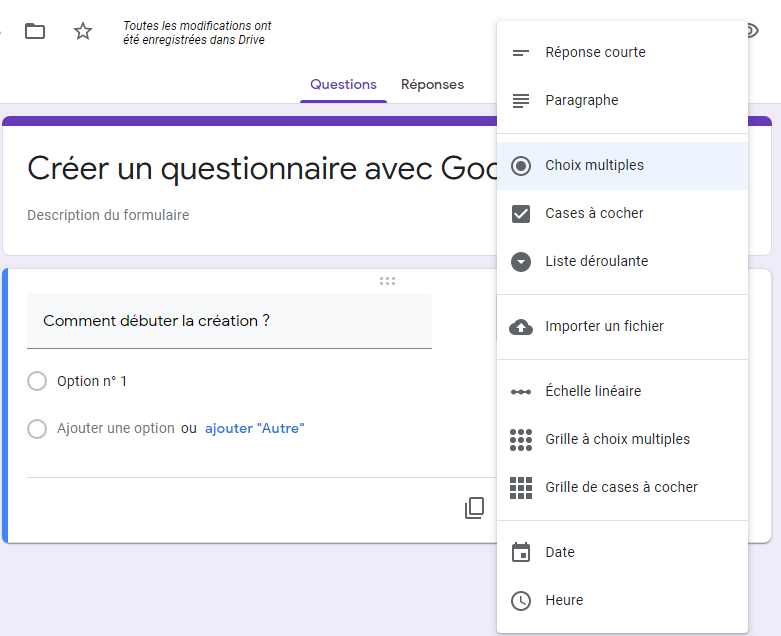 As you will have noticed, there are several types of elements in this block.
Short answer and Paragraph: If you select Short answer, then your question will give the respondent the opportunity to write a response of a few characters. By selecting Paragraph, you will do the opposite, the respondent will have the possibility of providing a response of several lines.
Multiple Choice and Checkboxes: Be careful with these two elements, they can lead to confusion. The first, Multiple choice, will offer the respondent the possibility of choosing one and only one answer among several. On the other hand the second, Checkboxes, will offer the possibility of choosing one or more answers.
Dropdown list : this element allows you to offer your respondents several answers in the form of a drop-down list. They will therefore have to choose only one from those you have proposed.
Import a file: this element of the form allows respondents to import and attach files to the questionnaire. The attached files will be imported into your Google Drive space. Be careful not to share this form with anyone.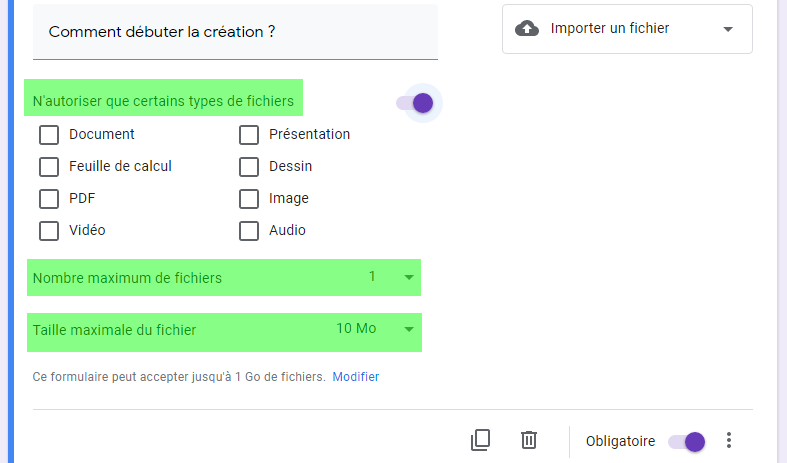 By accepting the import of files, you will have other additional settings at your fingertips. For example, you can exclude certain types of files, limit the number of files to be sent or the maximum size. Adjust the configurations to your preference.
Linear scale: this element will allow the respondent to choose his answer on a scale going from 0 or 1 to a number that you are going to define. If you choose 1 to 5, the scale will look like this:
The tools " Multiple choice grid " and " Checkbox grid Will contain multiple choice and checkbox items, but arranged in grids. So that shouldn't impress you. The tools " Date " and " Hour As for them, I think, shouldn't be explained to you, they speak for themselves.
Add other elements to the questionnaire
To create a questionnaire with Google Forms, you will need to add other elements, questions or not. After having seen how to modify, customize the question, let's now see how to add other elements to the questionnaire.
You can add a new question or import questions from another document, an existing form that you have worked on previously.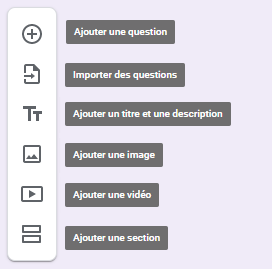 As shown in the screenshot above, you can add other questions, a title with or without a description, an image, video, or an entire section. By applying the changes, you have the option of viewing them each time. Add items, visualize and if you don't like the changes applied, edit, delete them.

Look on your page, above right, you will see something like the little screenshot above. The first icon is to customize the theme of the form. The second icon is to view the changes that have just been applied.
The small icon for the parameters, on the same screenshot, will allow you to modify certain configurations of your form. By clicking on it, you can for example define whether or not you want to collect respondents' email addresses, if you want to display the link to allow the same respondent to send another response, etc.
Read also: How to create and share a folder with Google Drive?
Send a Google Forms questionnaire
You have just created a questionnaire with Google Forms, how then to send it? By clicking on the send button, you will have the possibility to send your form by email, to obtain and copy the link to share it or to obtain an HTML code.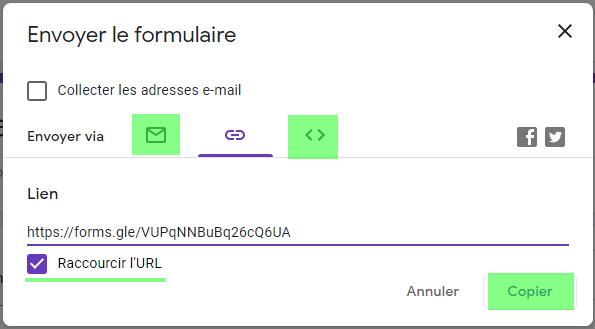 Before copying the link (URL) to share it, I suggest you shorten it by checking the box below the link in question. This allows you to have a shorter link. Copy the link to your questionnaire and share it with the people you want answers to. You can also add collaborators.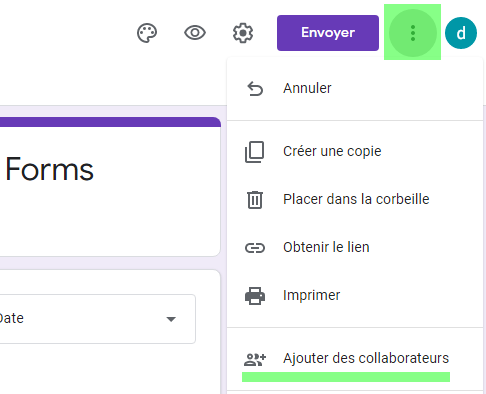 The collaborators are editors who will have, like you, the right to modify the form. They in turn will be able to add, modify or delete items. If you have a job to do in a group, this feature could be very important. To add collaborators, you will have to enter their email addresses, and assign them permissions.
Create a questionnaire with Google Forms: export the collected data
Once the data is collected, you can export it in several ways. You can either print the responses received, save them or download them in a file (.csv). This is a file, a workbook that can be opened with Excel, in which the collected data will be saved and structured.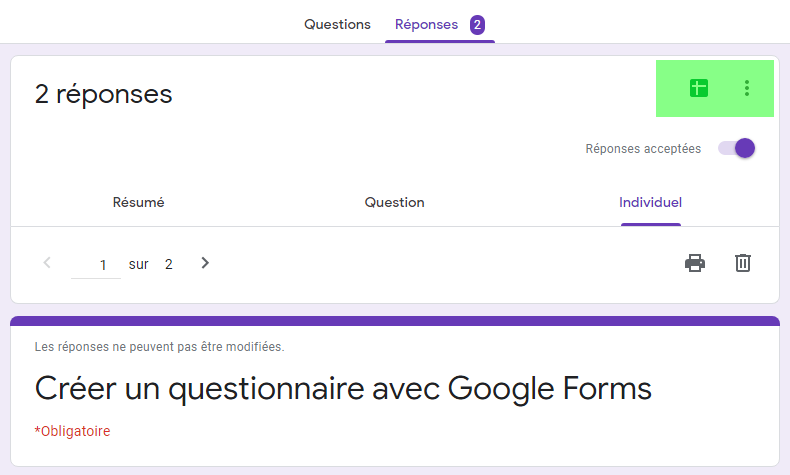 As in the image above, click on the green icon (top left) to create a workbook and view it online. Or click on the icon next to it (small dots) and select " Download the answers (.csv) ". Then go to the downloads folder on your computer or phone to open the file.
While you are creating a questionnaire with Google Forms, it will be automatically saved in your Google Drive folder. To avoid any problems related to losing changes, they will be saved instantly during creation.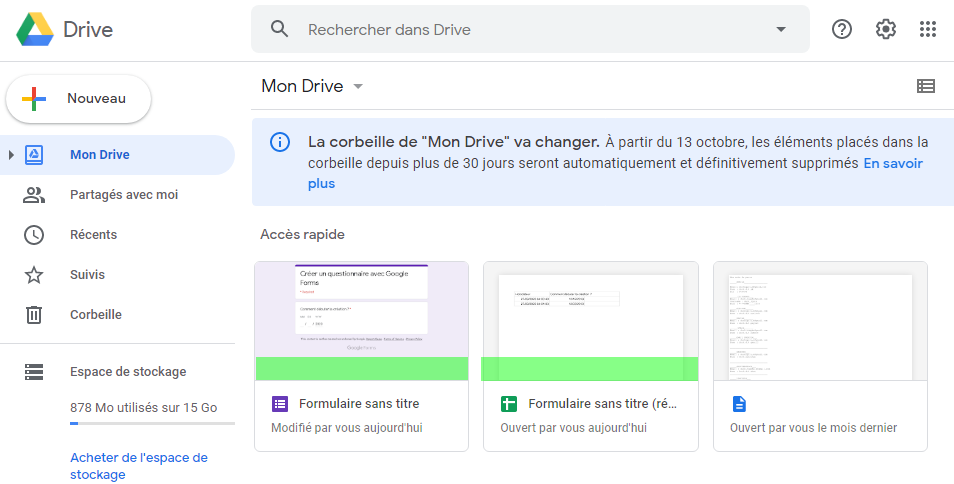 You can view or edit it directly from your Google Drive folder, on computer or phone. Creating a questionnaire with Google Forms is not complicated. Make your life easier by carrying out surveys, collecting and centralizing data without having to travel.