If you don't have one yet, you can create one now. Today, not having an e-mail address is hardly conceivable, given their multiple uses. In this article, you will find out how to create an email account for free.
For personal or professional use, it is essential to have an email address. But if you're here reading this article, then I shouldn't remind you of the importance of having an email address. You can also have more than one address, several at the same time.
What are the best email services?
Before you start creating your email account, be aware that there are several service providers, and many of them allow you to create an email account for free. Being the one known by several Gmail is the most used, but certainly not the only one. There are also other electronic messaging services including: Outlook, iCloud Mail, Yahoo! Mail, Yandex, ProtonMail, etc.
Create an account with GMAIL
Provided by Google, Gmail or Google Mail is the market giant. It allows anyone who wants to, to have one or more email accounts. With Gmail, you can therefore create an email account for free, simply additionally and use it immediately. Discover all the steps to quickly create a free Gmail account.
Create an account with OUTLOOK
Outlook is another high level tool, allowing to create an email account for free. Owned by Microsoft, it is one of the most widely used email services. Discover all the steps to quickly create a free outlook email account.
Create an email account with PROTONMAIL
Recent, since accessible to the general public in 2016, Protonmail is another alternative for who wants to create a free email account. The service is secure, highly confidential and highly encrypted. This makes reading emails virtually impossible for anyone other than the sender or recipient.

ProtonMail is operated by a company located in Switzerland, Proton Technologies AG. It now has several tens of millions of users around the world (over 20 million). Registration is free and paid, depending on the features and memory space configuration. By registering for free on ProtonMail, you get 150 MB of space for your emails with the possibility of sending up to 150 emails per day.
The paid plans offer even more, but here we are talking about creating a free email account. You can see why we are leaving out the paid options of ProtonMail and instead talking about the totally free one.
How to create a ProtonMail account for free?
So here are the steps to create a free email account with ProtonMail. To register, open the ProtonMail registration link and click on "Sign up".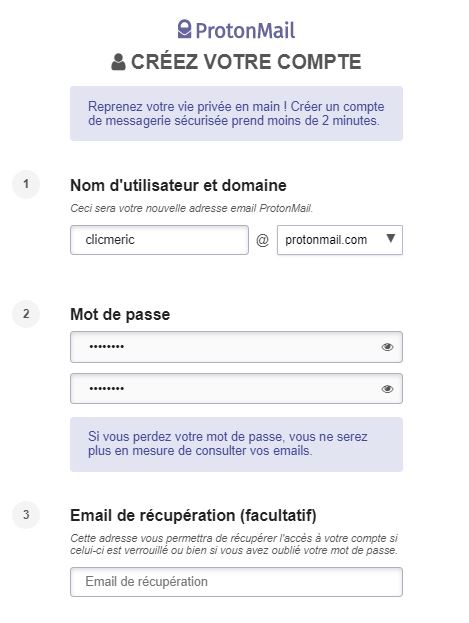 Enter the name of your e-mail account, as well as your password twice. As with Gmail and other email services, enter the recovery email address or not. You already know what this address would be used for, so finalize and create the account. If you receive a warning that you have not set a recovery email, confirm.
Then perform the check so that the system can make sure that the operation is done by a human and not a robot.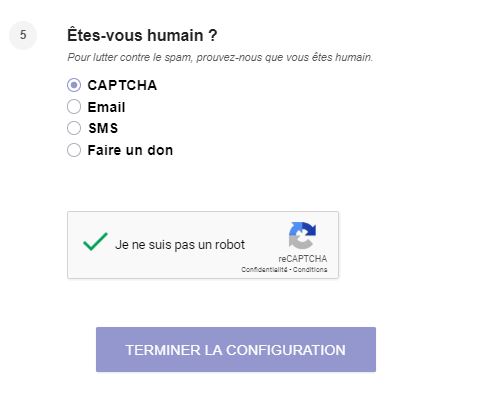 The CAPTCHA test is the fastest, go ahead and click to complete the setup.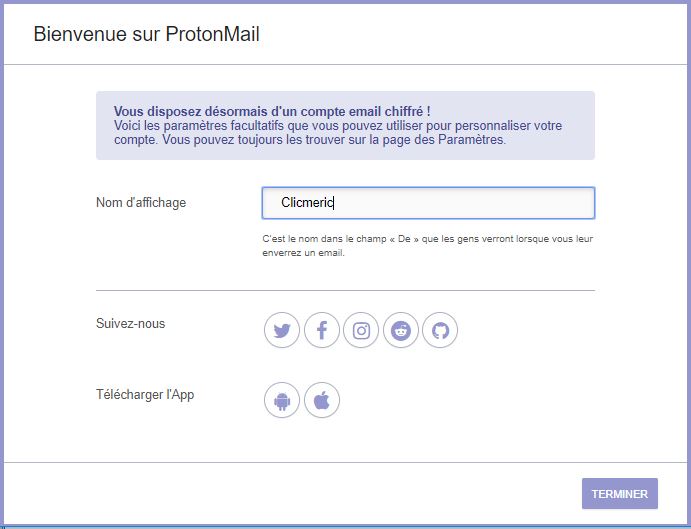 There you have it, your ProtonMail account is ready for use. Don't worry, the service is easy to use and loads just as quickly. Just like Gmail and Outlook, you can download a ProtonMail app for your Android smartphone, iPhone or iPad.
Read also: Why use a VPN et surf the internet safely ?
Create an email account with iCLOUD MAIL
Already used by many as an Apple ID, an iCloud Mail account also offers a full e-mail service. User of Apple devices or not, you can also create a free email account and benefit from the services it offers.
It allows sending and receiving emails in an orderly and very professional manner. It allows you to store (your account) images, videos, contacts, documents and more. If you are an Apple device user, iCloud Mail will allow you to access Apple tools and applications like the App Store, Apple Music, etc.
How to create an iCloud Mail account for free?
To create a free email account with iCloud Mail, here are the steps to follow. Start by accessing this link to start registration on the iCloud site. At the bottom of the page, select the option to create a new account.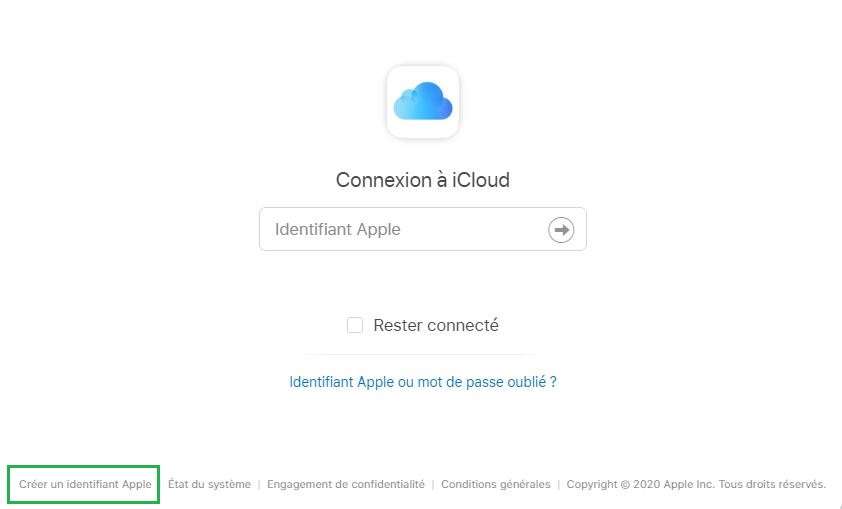 Now you will be able to start the registration.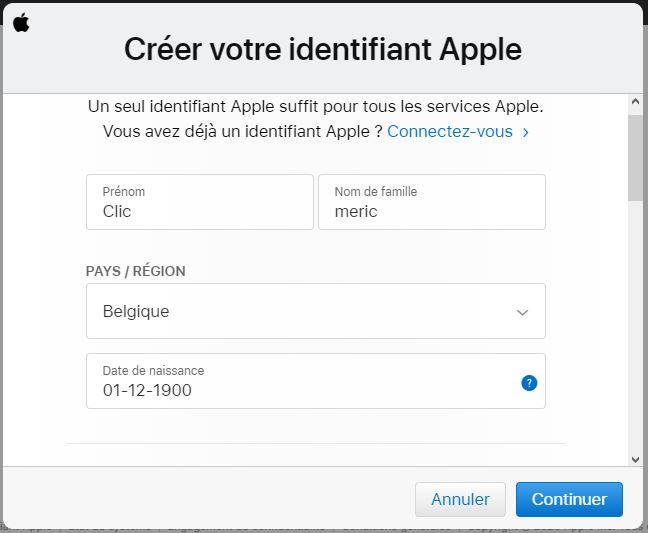 Enter your first and last name, region of residence and date of birth. Also enter your username, which will be the combination of your first name and your last name. Then enter your password twice, making sure to enter a strong one. Then select the country to enter your phone number.
The telephone number entered will allow you to confirm your identifier through a telephone call or a confirmation SMS.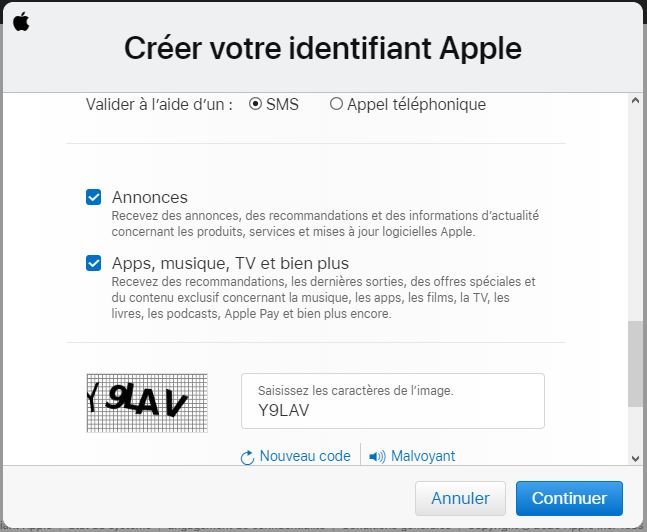 Uncheck or leave the Announcements and App, Music, TV options checked. Then enter the code in characters to continue. If it is not visible enough to you, click New code to generate a new one, or on Visually impaired to listen to it vocally.
After clicking on " Carry on », You will receive a confirmation code via the channel chosen previously. That is to say, if you have checked the validation by SMS, you will receive a code to enter to finalize with the configuration of your iCloud Mail account.
Create an email account with YAHOO! MAIL
One of the email services to never exclude from the lead is Yahoo! Mail. Allowing you to create an email account for free, Yahoo is a service that has been used by several people for many years.

Founded in 1997, Yahoo offers an improved and better organized inbox, along with other services besides email management. For example, it offers a notepad, an address book for contacts as well as a calendar with a storage space of up to 1 Terabytes.
Yahoo also offers you the possibility to search for an email according to criteria such as date or contact. Apart from that, it allows you to personalize your inbox by choosing themes, all for free.
Read also: Everything you need to know about the 5G network .
How to create a Yahoo! Mail for free?
Here is how to create your free email account with Yahoo! now. While following the steps in this article, go to the Yahoo site through this link to register. Once in the site, click on " Create account ».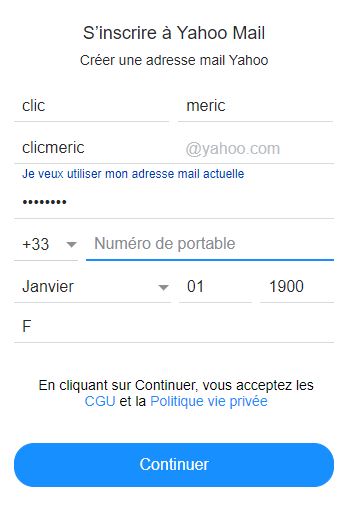 Enter your details in the required fields and click continue. Then click on the confirmation button to receive the verification code by SMS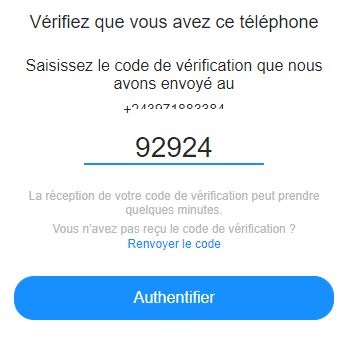 Enter the confirmation code received through your phone number. Once done, authenticate to continue and finalize with your Yahoo account.
Other services to create a free email account
Gmail, Outlook, ProtonMail, iCloud, or Yahoo Mail are not the only email service providers. There are others that also allow you to create an email account for free, so the list is long. Among, you can discover:
AOL Mail: in addition to managing mail, offers calendar management. It also allows you to better organize your emails, as well as customize the way received emails are displayed.
Tutanota: offers the possibility of using a calendar as well as encrypted emails as well as several other services.
Yandex mail: Yandex is a full-featured email service. Can also be used on mobiles, it allows you to personalize your inbox. It allows you to check for spammed emails and to schedule subsequent sending of emails. Having a Yandex email account also allows you to have direct access to other Yandex services.
It also exists GMX Mail, Zaho Email Address, Lycos Mail, etc.
Have questions or difficulties creating an email account? Leave a comment and let us know if this content has been useful to you.