Did you know ? When you launch queries, perform searches on Google, these are recorded by the search. In this article, find out how to view or delete your Google, YouTube, etc. search history.
This might frighten some, but it is a fact. It is possible that all the searches that you have already performed are in the history in question. It's not just Google that does this, some other search engines do.
As for Google, the search engine's algorithms, using artificial intelligence, track all of your activities in all Google services. That is to say from the search engine to the electronic mail (Gmail), via YouTube. Um yeah, Google would know all the videos you've ever searched on YouTube.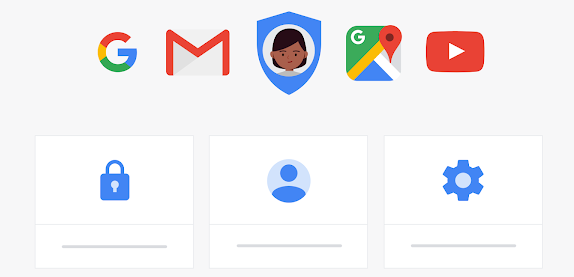 Would you be worried if someone stumbled upon your Google and YouTube search history? Remember one thing, if you don't know it yet, someone's internet research defines it. By analyzing your searches on Google for example, we can guess your personality, your desires and passions or plans for the future.
So be careful what you search for on Google, or rather how you search for it. Especially since we already know that a significant part of our data collected by the digital giants (Google, Amazon, Facebook and Apple) are exploited for commercial purposes.
It was worth giving you this brief overview, I think, before showing you how to view or delete your Google search history. We will then give you ways and tips to perform searches on Google without it being able to be added to your history.
Read also: How to share a folder in Google Drive?
How do I deactivate the recording of search activity on Google?
In one of your web browsers, on computer or smartphone, open the following link to access your search history. If you are logged in to your Gmail account, you will have direct access to the history. Otherwise, you will have to provide your email address and your mot de passe.
As you open the page, at the top, see the status of the following features: Activity on the web and in applications, Position History et YouTube History. By default, only YouTube history is enabled. The others, your positions and activities on the web, are disabled.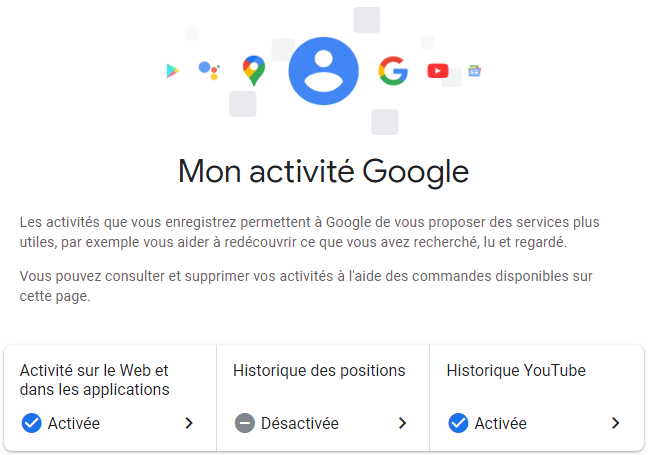 If, when you open the page, you find that the first two features are activated, then be sure: all your searches on Google and your movements (positions) are recorded. To deactivate the functionality of your choice, click on it then on the deactivation button (green, on the right):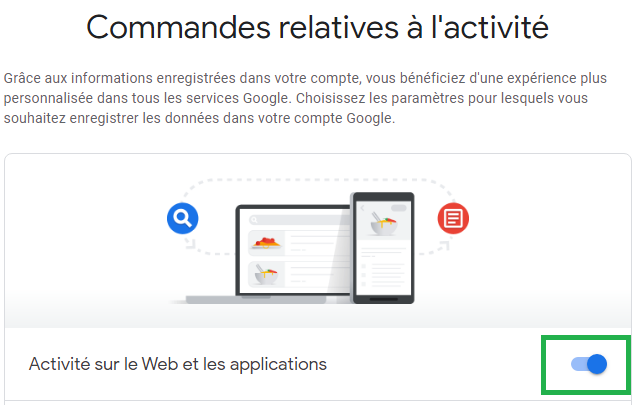 In the window to follow, as in the capture below, scroll down and click on " To suspend ":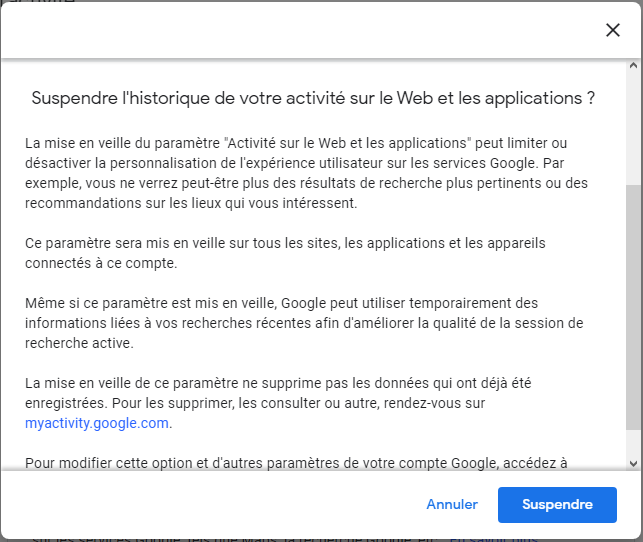 At that point your Google searches will no longer be saved. However, searches already saved will remain. Until you delete them manually or set up automatic deletion.
How to view and / or delete your search history from Google, YouTube, etc. ?
En opening the same page and by scrolling down slightly, you will have the list of all your activities and can then delete your Google search history. Only your known activities, those related to your Gmail account, are recorded.
In the page in question, you will find that the items are classified according to several criteria. In the game " Group view ", You will have the possibility to filter the elements, by clicking on" Filter by date and product ».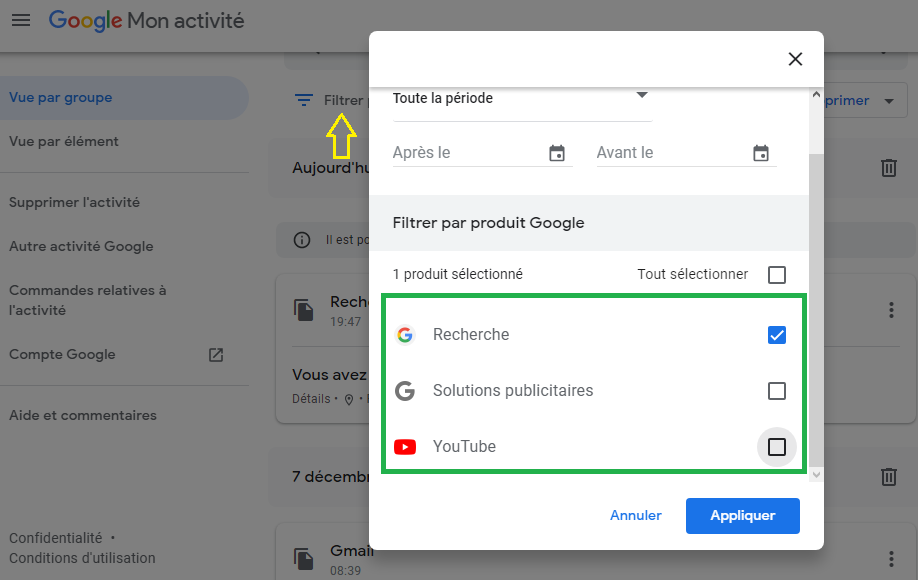 Then choose whether you want to display items from all time periods or from a specific date. To delete your Google search history, first display it by checking it (SEARCH).
If you want, you can also view your YouTube search history. Check the elements of your choice, then click on " Apply To view the details of the selected items.
After sorting, you can delete the items one by one or apply a set deletion. To delete an item, click on the trash can icon. For an assembly deletion, click on the delete button framed in yellow on the image below, and proceed with the deletion.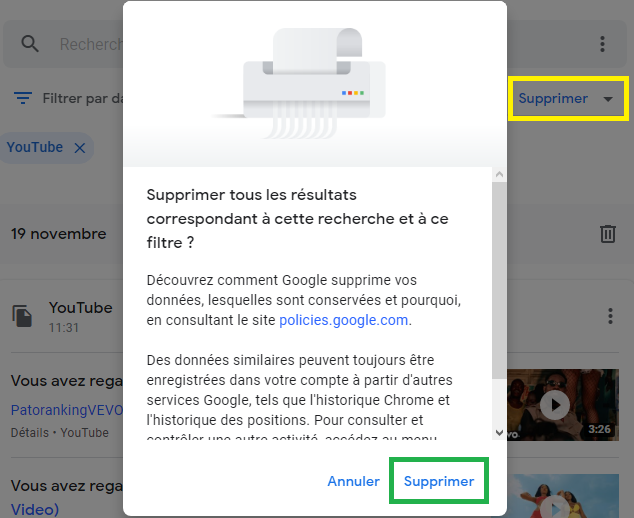 After clicking, wait a few seconds for the items to be deleted. Another interesting thing for you to discover on this Google history page is the part " Other Google activity ».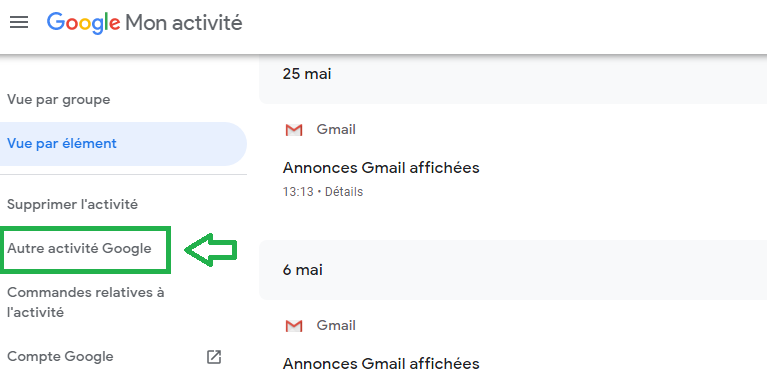 This section covers all Google activities. By accessing it, you will be able to delete your Google search history by going to the management of your activities on the web. You will also be able to view / delete YouTube history and positions, your responses to YouTube surveys and comments on videos, etc.
How to do a Google or YouTube search discreetly?
It is also entirely possible to perform searches on Google and YouTube without spoiling your search history. So you can do research that you think " intimate Without taking your head. Without this being recorded by Google.
For that, the solution is to launch a request while being disconnected. Uh yes, it's a virtual anonymity. By opening Google in your browser, make sure you are logged out. So the research you have to carry out will not be credited to you. Here is an example in picture: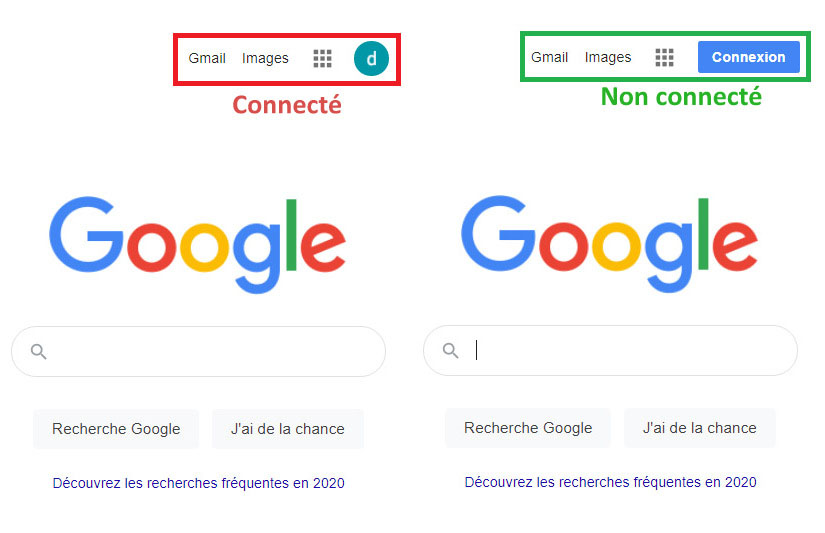 The image above illustrates the situation. The first user is logged in, so all their searches could be saved by Google. However, the second is not connected. This means that his searches will not be linked to any Google account.
There is a problem at this level, it is that of having to disconnect the Gmail account whenever you want to perform a discrete search. It is true that this would be annoying, and could disrupt some of your internet activities.
The good news is, you don't always have to do this just to log out. To discreetly carry out a search, which you deem "intimate", open one or more private tabs in your browser. You can then launch your research without fuss but be careful, private browsing does not make you completely anonymous. Read this article to learn more.
With Google activity history, you might have noticed how our private lives are starting to lose all of their privacy. It's surprising, but I hope this article has helped you consult and, if necessary, delete your Google search history.