Right now, you are probably one of the millions of people who are looking for a job or an internship. If this is the case, know that you can now receive all job offers directly to your mailbox.
Only one condition to take advantage of it: have an account gmail, and a device of course (Computer ou Smartphone). No need to dig too far, Google will do everything for you. It will target all the offers you want and send them to your account as soon as they are published.
This does not guarantee you an interview or a job, but will surely increase your chances of landing one. Whether you are on a browser Web or phone portable, this article is for you.
How do I configure my account and receive all job offers?
To get started, Open this link to go to Google Jobs.
You may reside in a different country than the one whose name is visible in the image! You don't have to worry about this, Google will recognize your country of residence and your city automatically from your IP address.
Log in
You can consult the offers. But to access some features of this Google service, you will have to log in with your account gmail on the same page by clicking on the button "Login", pointed by an arrow on the previous image.
Otherwise, you will not be able to save the offers that interest you or activate the notification service to receive all the job offers corresponding to the criteria you are going to define. You don't have an email account yet? Create one now.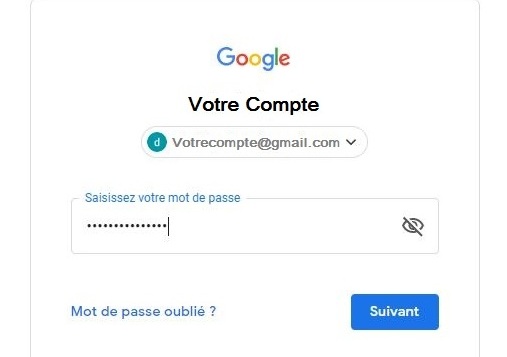 For the connection phase, you will have to enter the address of your Gmail account, then your mot de passe and start the personalization by specifying the criteria for the offers you want to receive.
Read also: Create a shared folder in Google Drive for free.
Define your criteria to receive all job offers
Before receiving all the job offers in your account, several criteria must be defined. Categories, types (full-time, part-time, provider or internship), up to employers.
Choose Categories
Depending on your skills, you will select one or more categories of offers that you want to receive in your mailbox.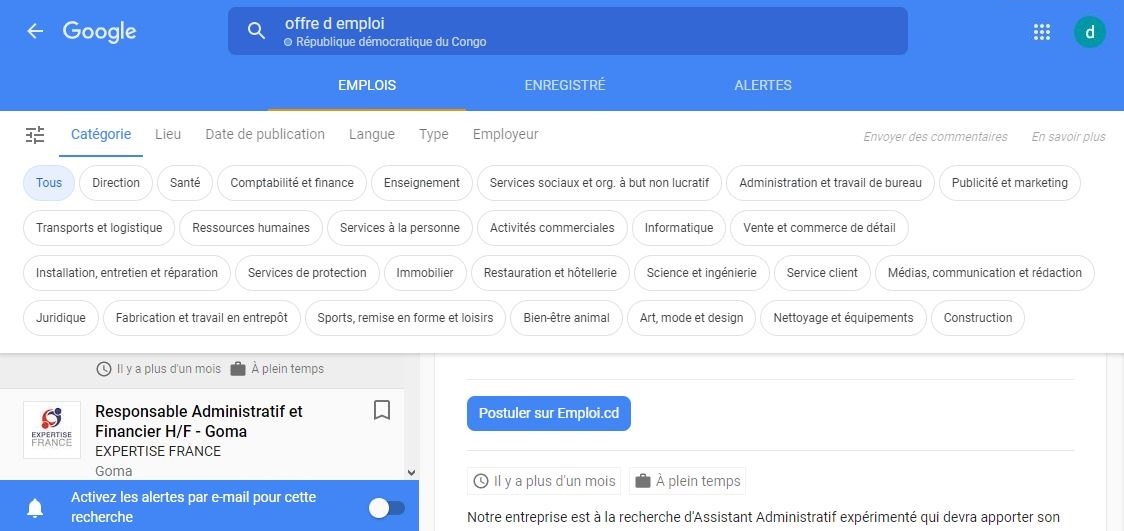 Click on the categories of your choice, all if you want, but I don't recommend it. There is nothing wrong with selecting them all, other than the fact that your mailbox may look like a bins for offers, not desirable.
Choose locations and distance
Here, you will choose in which perimeter you want Google to identify the offers to send you. It could vary from a few kilometers or from city to city.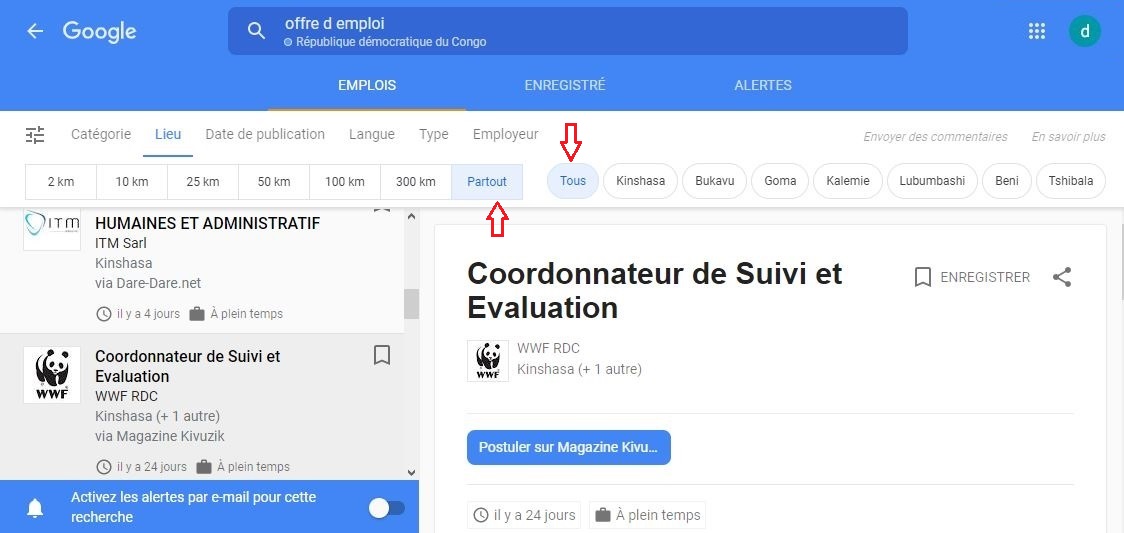 For kilometers, I advise you to click on "Everywhere", and on "All" for cities. Unless you are targeting a particular city, but then you will significantly reduce your chances.
To continue, go to the menus Date of publication, Language et Type to specify your criteria, and in these three menus also I advise you to opt for the option "All". This allows you to receive a certain number of offers respecting your categories and to apply on those of your choice.
Choose employers
This menu will introduce you to the most influential employers in your area. Here too my advice remains the same, choose "All".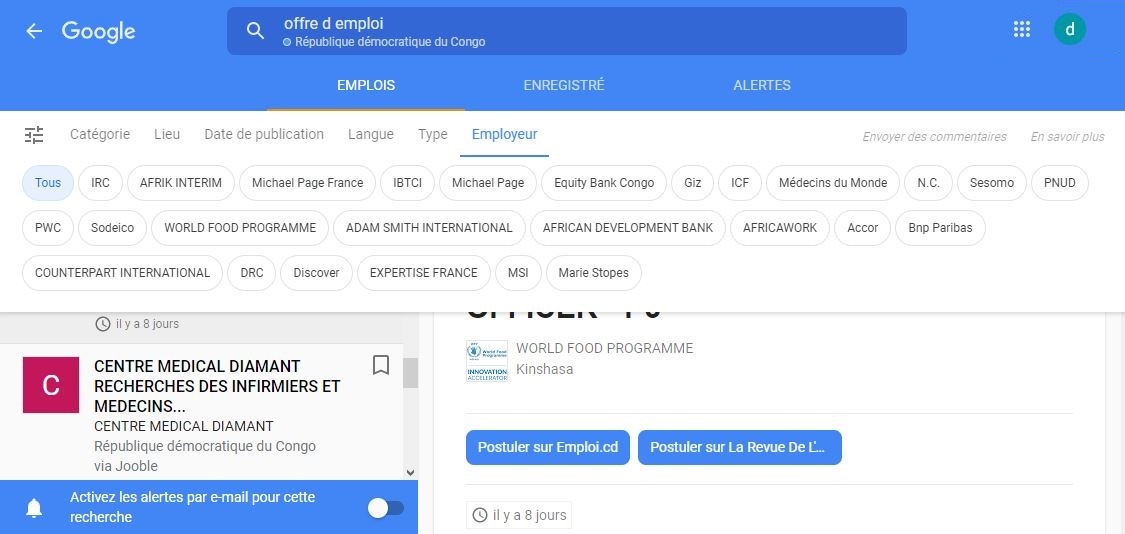 You do not limit your chances by choosing all the employers.
Register the offers that interest you
You can save one or more offers that interest you, for later consultation.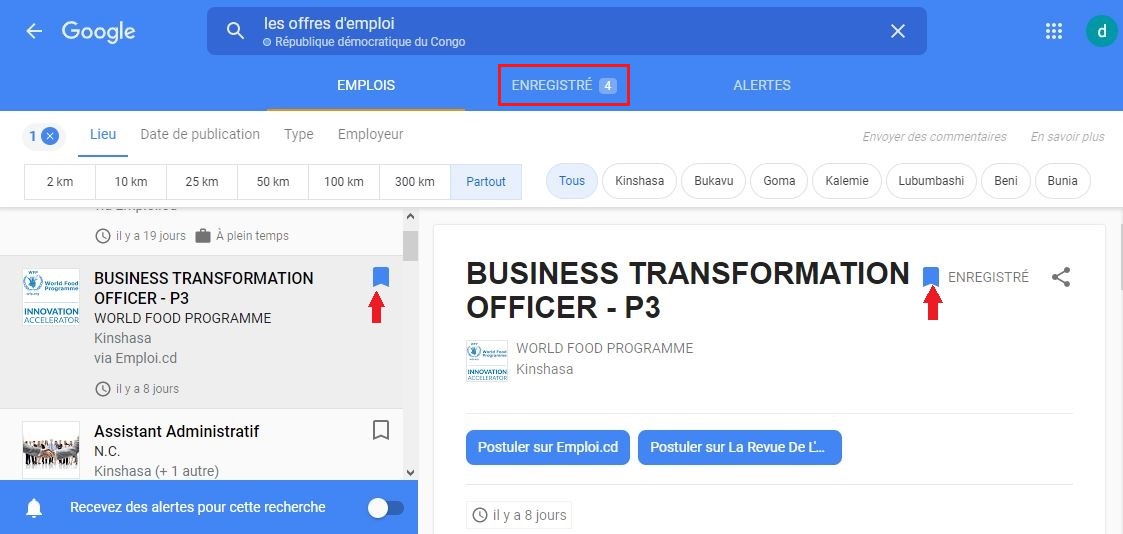 I'm using the little red arrow to show you where to click to save an offer. I have just saved the pointed offer, you can do the same for the offers of your choice. Each time you save a new offer, it is added to your list which you can consult with a single click on the tab recorded above the page.
Read also: How to Back up the drivers in Windows?
Receive alerts in your mailbox
You have well defined your criteria, you have saved the offers of your choice, it's OK. Now let's see how to activate the alert service to follow up and receive all job offers directly in your mailbox.
You can activate several notifications according to the category, the place, the date of publication, the language, or the type of employer. To do this, start by returning to the tab Careers, click on the menu category.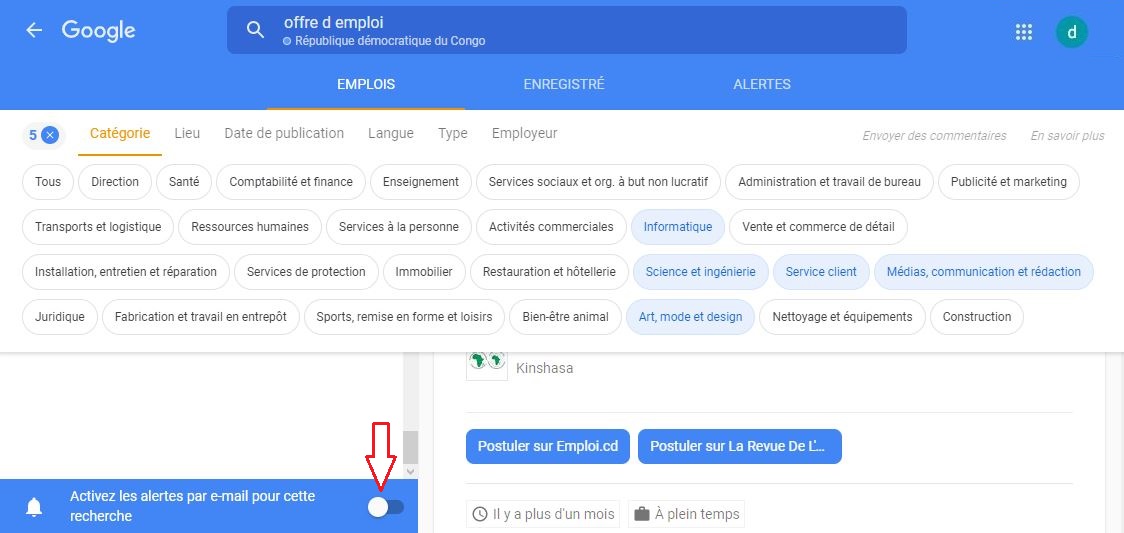 The categories you have chosen will be clearly visible. To activate notifications, go to the bottom of the page and click on the small button (pointed by the red arrow). There you have just activated the alert service for the selected categories.
Now go to the menus Location, Date of publication, Language, Type et Employer then do the same (activate the notifications button).
At this point you have done what is necessary to receive the alerts, but there is one more thing to do. It's actually about how often Google will send you different alerts. Let's go to the tab Alerts (at the top of the page) to see that.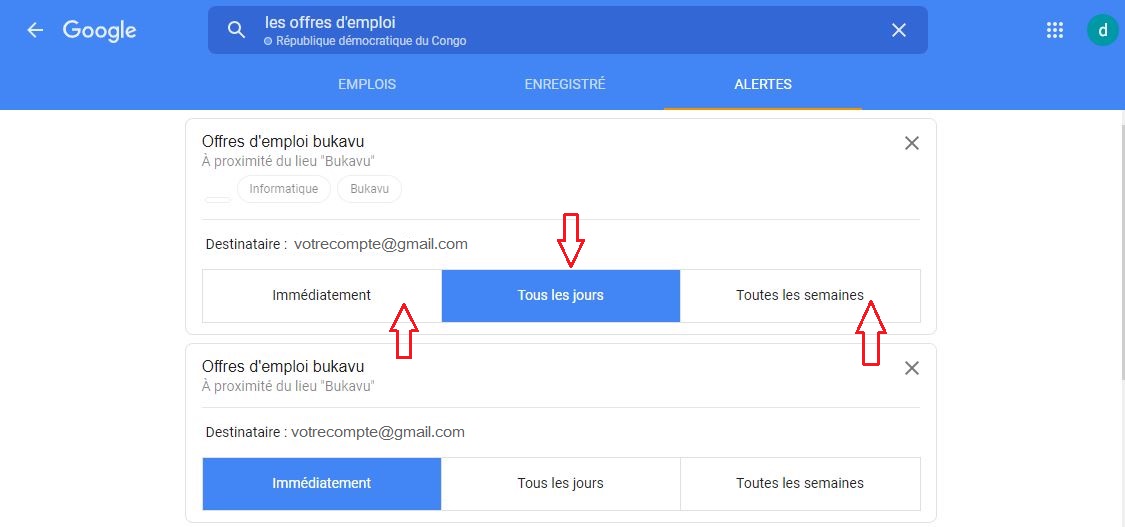 Specify if you want to receive the offers Immediately, every day or every week.
Read also: Landscape a single page with Word. | Add an automatic table of contents.
Do you use a cell phone?
Well, don't let that impress you. You can also receive all job offers and benefit very well from this service. The link to access Google Jobs remains the same.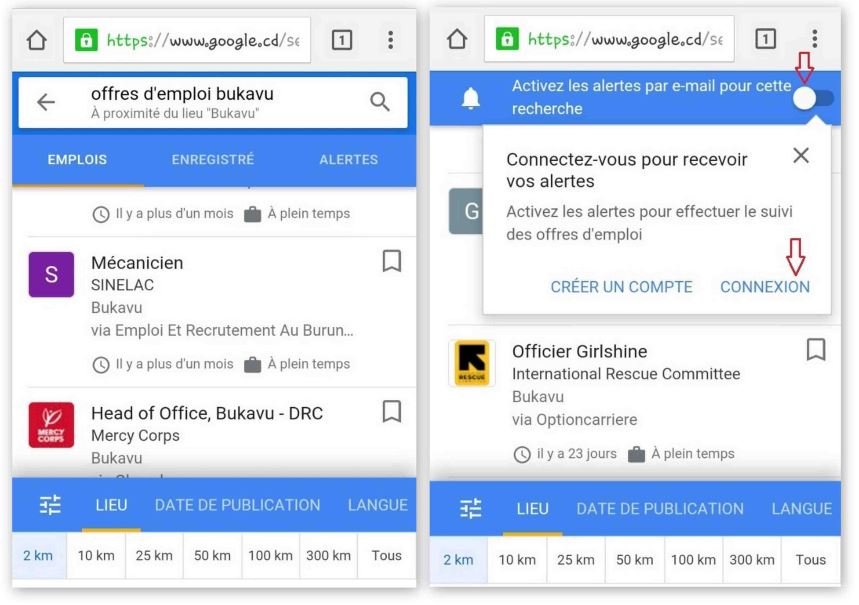 The process also remains the same, all that changes is the appearance of the page. As you can see, the tabs Careers, Enregistré et Alerts are at the top. The menus Category, Place, Date of publication, Language, Type and Employer are rather in the lower part.
There you go, now you will be able to receive all the job offers in your Gmail account and submit your applications whenever you want.
As I mentioned at the very beginning, this does not guarantee you an interview or a job, but it will surely increase your chances of landing one.
Did you like this article ? Share it with your friends! Or leave a comment.