You want to track the login activities of one or more of your contacts WhatsApp ? So far the only way " official to do so is to view the contact's profile or your conversations with him/her. In addition you must have WhatsApp open, you must be logged in.
Now there is another way, without opening WhatsApp, to know if a person is online on WhatsApp or not. It consists of using an application to track and collect data relating to a person's WhatsApp activities, a "Tracker".
Apps to find out who is online on WhatsApp
There are many tracking applications, including WaControl, allowing to know if a person is online on WhatsApp or not. Most being paid, they allow you to follow the connection activities of several contacts by simply entering their numbers.
Read also: Lock WhatsApp with fingerprint, Android and iOS.
Please note: : WhatsApp, having no control over this type of application or the use they can make of the data collected from users, advises against their use. They are therefore only to be used when necessary, although, according to their developers, they do not compromise the privacy of users.
WaControl
To know if a person is online on WhatsApp, WaControl is one of the applications that some users resort to. It allows you to analyze the activities of one or more people (know when these people are online or offline) and to be informed about the time spent online.
WaControl is only available for Android users. There is however a web browser extension, WA Web Plus for WhatsApp, downloadable for Google Chrome, allowing to add functionality to the WhatsApp web application. WA Web Plus can be used even with an iOS, provided you have a computer and Google Chrome.
Read also: Add functionality to WhatsApp with WA Web Plus for Chrome.
Find out if someone is online on WhatsApp without being seen
By using the WaControl application, you will be able to follow the activities of the contacts of your choice and know who is online. It allows you to follow a dozen profiles. With its comparison function, you will be able to analyze and compare the periods during which one or more numbers were online.
Download WaControl, install the app on your device.
Launch the app and click " Continue».
Grant permissions and accept the privacy policy.
To add a number, tap the small person icon (with the sign +) and add the number (preceded by the country code) as well as the name of the contact. You can also make a quick selection from the contact list and click on " Okay ».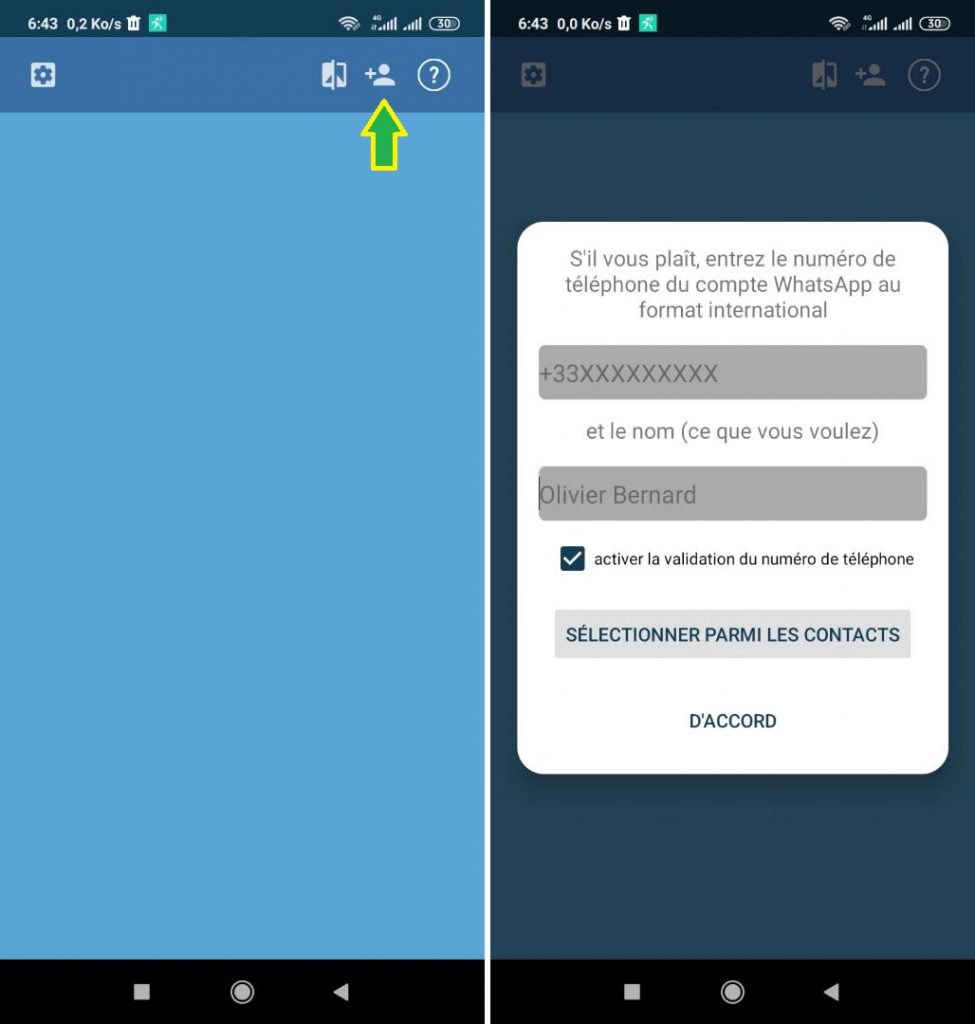 The app will take a few seconds to establish a link and will show you the connection status of the provided contact. You can then activate notifications, rename, delete the contact or compare their activity with that of another contact.