Facebook Messenger is the all-in-one chat application of the social network Facebook. To take advantage of its features, find out how to download Facebook Messenger for Android, iOS, Windows ou MacOS. The application allows you to send and receive messages in several formats, text, photo, audio, etc.
Messenger can also be used to make group audio and video calls. videoconference or play games with friends. Available on multiple platforms, Messenger is an app that you can download and install on just about any device.
Read also: Lightweight apps to use Facebook faster.
Download Facebook Messenger for Android and iPhone or iPad
To do this, you will have a number of choices. If you are already using Messenger, this will only be an update for you. If not, then you will be able to download Facebook Messenger and launch the application for a first use.

Downloading from the Play Store for Android or the App Store for iPhone, iPad is easier and starts right after the automatic installation of the application. If you don't want or can't get the app through play store, then you can download Facebook Messenger in APK package here.

Download Messenger Lite for Android
Facebook Messenger has a lighter and faster version, the so-called " Lite ". If you've never used it before, it might be time for you to give it a try. Messenger Lite takes up less memory on the smartphone and works without overload the device processor.

You can also download Messenger Lite APK package. After downloading, open the package and install the app. If you are already running a version of Facebook Messenger Lite, it will update automatically. Otherwise the application will simply be installed.
Read also: How to use Tinder without paying and meet new people?
Download Messenger for PC, Messenger for Mac
Public chat computer, PC or Mac, you can also take advantage of Messenger features. Before proceeding, remember that you can use the application on your computer without having to download or install Facebook Messenger. This through the Opera browser.
Download Facebook Messenger for Windows | MacOS.
How to use Messenger via Opera Browser?
The operation is very simple, no need to download or install the Facebook Messenger software. With the Opera browser, you will be able to chat with your friends while working on your computer. How do I use Messenger with Opera Browser?
First of all, make sure you have the updated version of Opera.

After downloading and installing Opera, open the browser. In the left sidebar, locate the Messenger icon and click on it. Then enter your username and mot de passe to start the connection.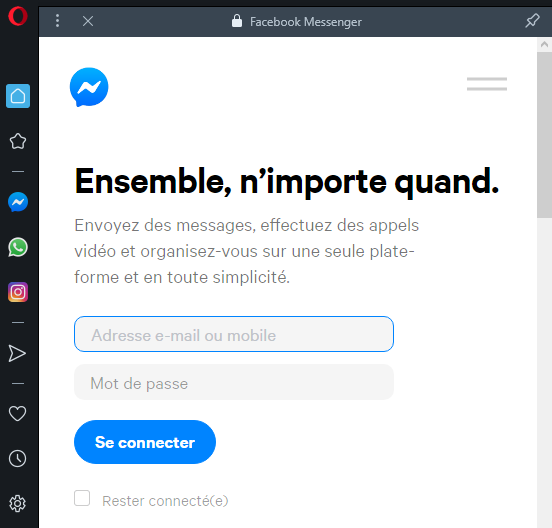 Once logged in, you will receive and respond to all notifications without having to interrupt the rest of your internet activities. Too simple no! Now all you have to do is enjoy it.