Windows 11 is currently the last version of the Windows operating system. It was recently unveiled by Microsoft, and its stable version was released on October 05, 2021. You can download Windows 11 ISO and install it directly on your PC to have the latest version of Windows.
Users of Windows 10, 8, 8.1 and 7 may also switch from their operating systems to Windows 11 through a simple update, if they have a valid Windows license and if their devices are compatible with Windows 11.
Windows 11 64 Bits, 32 Bits: Compatibility, minimum configuration
The minimum system requirements for Windows 11 are, in some detail, different from those required by other Microsoft operating systems. If you are using a relatively newer PC, then you can already hope to use Windows 11. Find out in this article the system requirements to install Windows 11, and how to check if your computer is eligible.
Windows 11 ISO file download
Downloading Windows 11 ISO file from any site can be fatal to you, you might get viruses without knowing it. The download method that we offer here protects you from any risk of viruses, since your download will be done directly from the official Microsoft website.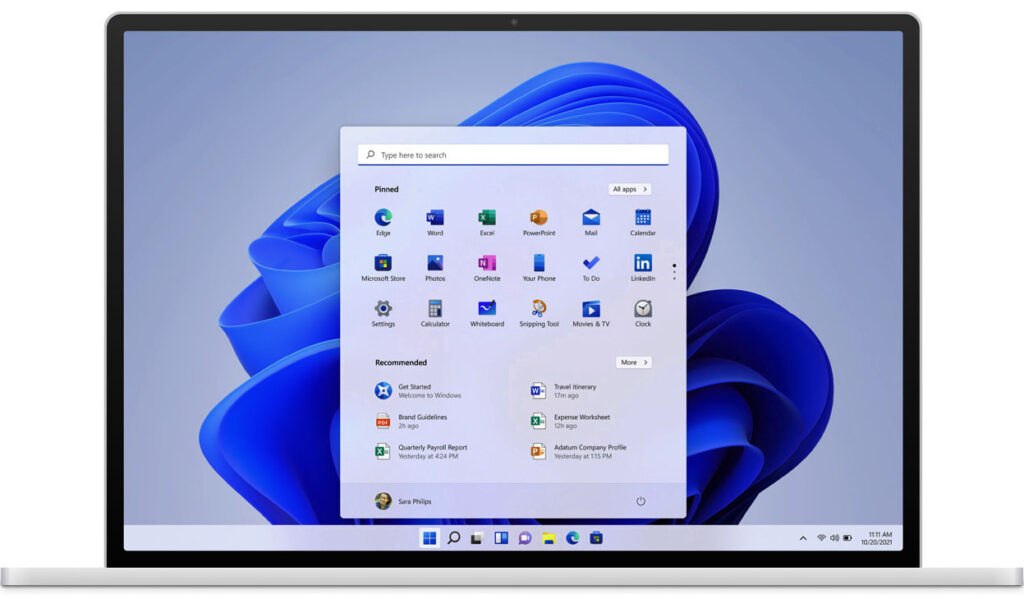 To download the beta version of Windows 11, register for the program Insider from Microsoft was imperative. It is a program which allowed, to the users who wished it, to install and to test the various versions of Windows 11. Currently Microsoft offers ISO files of Windows 11, downloadable directly.
Download Windows 11 ISO from Microsoft's site
To download the Windows 11 ISO file, first go to the Microsoft site. This is the link for Windows 11. Scroll down the page to the part" Windows 11 Disk Image (ISO) Download ". In the drop-down box, select Windows 11 and click " Download ".

Scroll down to select the language and confirm. Finally start the download. Here, there is no need to select a location for the download. The ISO file will automatically be saved to your default download folder. Usually, you will find it in " Downloads ».
Read also: Prepare Windows 11 ISO file for installation.
Download Windows 11 ISO with Media Creation Tool
The Media Creation Tool not only allows you to download the Windows 11 ISO file. It also allows you to create an installation disc directly. By downloading the Windows 11 ISO file, you will be able to use it on a USB drive or other device to install Windows.
Here's how to download Windows 11 ISO using Microsoft Media Creation Tool:
Step 1 : Go to the Microsoft site for Download Media Creation Tool for Windows 11. Click on " Download the tool now And wait for the download to complete. It's a lightweight file, it shouldn't take long. Run it to download Windows 11 ISO.
Step 2 : Accept the terms of the license agreement. Continue by choosing the option " Create installation media And go to the next step. The authoring tool will offer you a version of Windows 11 suitable for your computer.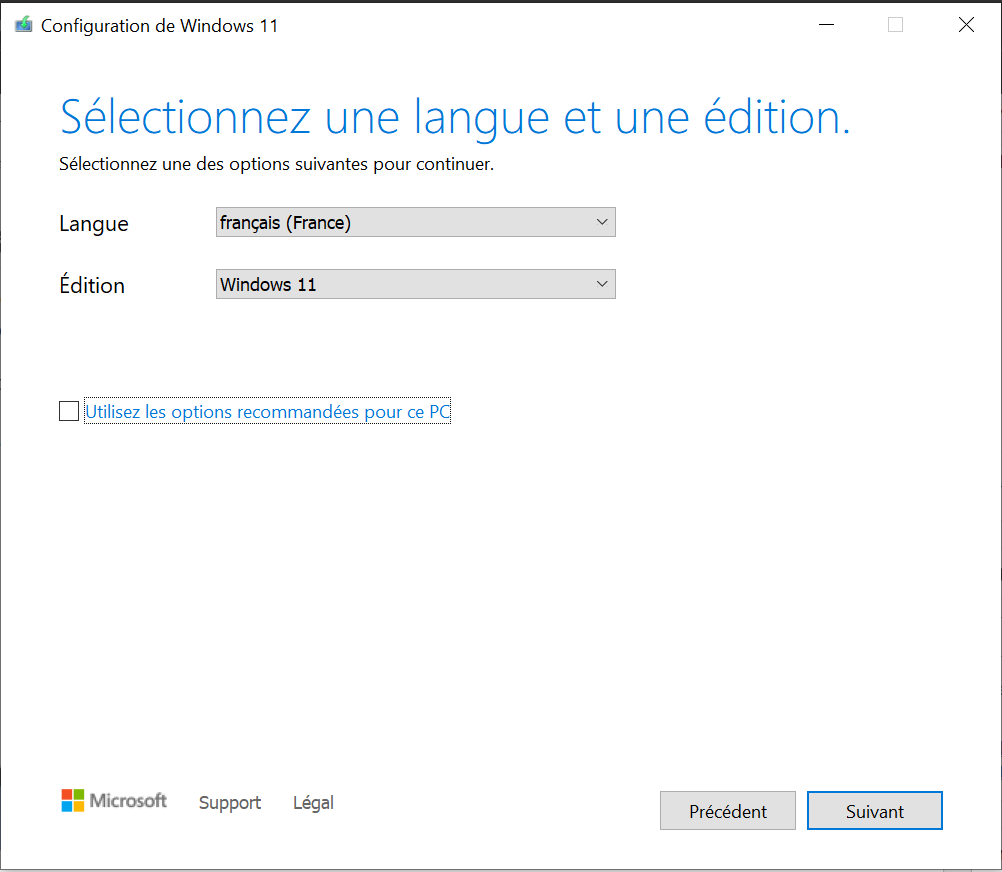 To select a different language, edition, and architecture of the Windows 11 ISO file to download, uncheck the " Use recommended options for this PC ". After that go to the next step.

Step 3 : Select " ISO file For the choice of media to use, then browse your disk to choose the download destination of the Windows ISO file. Choose a folder of your choice or, preferably, create a dedicated one for the ISO file to download.
To easily identify your file, it is best to rename it before starting the download. You will be able to give it the name of your choice then click on " Save To start the process and download Windows 11 ISO.
Wait for the download to complete. Once finished, you will be able to use your Windows 11 ISO file according to your preferences. That is to say either to install Windows on other computers, or to keep it on your hard disk. here are the details to know before installing a Windows operating system.
Join the Insider Preview program
Sign up for the Insider program in order to download Windows 11 ISO, for this you need a Microsoft account. Don't have a Microsoft account ? If yes then open the Windows Insider link to register for the program: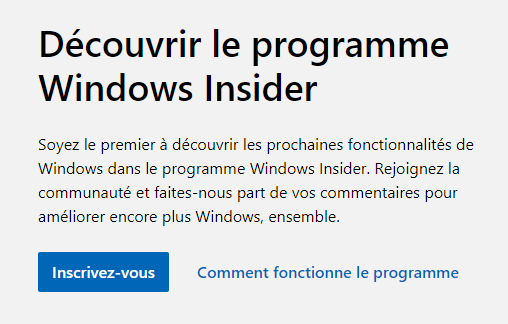 On the page, click on " Subscribe And sign in with your Microsoft account or your work account in Azure Active Directory. Enter your email address and mot de passe :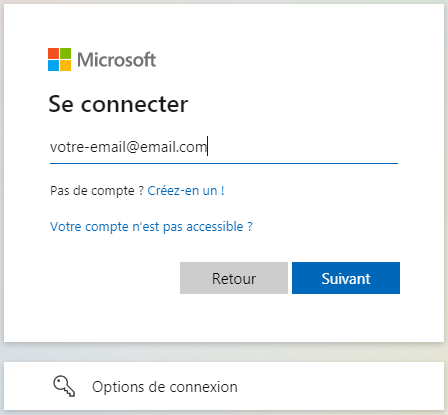 Read and accept the terms of the program, finally click on " Subscribe ". You will then be enrolled in the Windows Insider program, and will be able to use pre-release versions of Windows Insider and, if necessary, provide feedback on Windows 11.
Download Windows 11 ISO 32 and 64 Bits
Registered in the Insider program, here is how to download Windows 11 ISO on your computer, from the official Microsoft website: Click on this link to go to the download page. Scroll down, select the edition and confirm, then the language: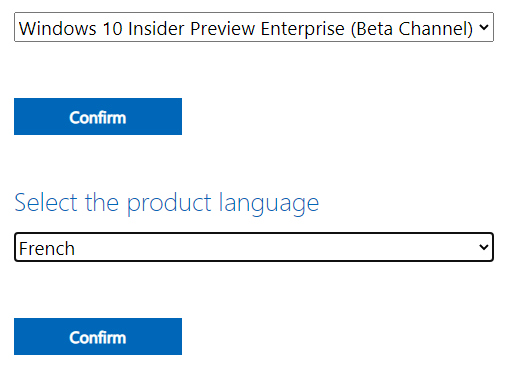 Next, select the version to download, depending on the architecture of your processor (32 or 64 bits). Your download will start automatically. The ISO file to download will have a capacity ranging from 4 to 5 GB. Start, wait for the download of the ISO file to finish, which you can prepare for installation.