VidMate is an application which acts both as a web browser and as a download manager. It is free and allows you to download content in several formats like MP3, 3GP, AVI, MP4, etc. It is not possible to download VidMate via Play Store, not being available there. To use it you will need to download VidMate APK (its installation package).
VidMate allows you to track and download content from multiple platforms. From YouTube to Vimeo via TikTok, Instagram, Facebook or Twitter, etc. The application also allows you to save statuses viewed on WhatsApp. But it doesn't stop there.
It allows you to download high definition video content from any site, but other than that, it offers downloading and updating of applications. Further down, you will see how to download YouTube, TikTok, Instagram, Facebook or WhatsApp videos with VidMate.
Download VidMate APK, Install VidMate on Android
By offering direct downloads of content, VidMate misses the rules of certain platforms, including YouTube for Google. VidMate is therefore currently not available in the Play Store. Use the following link to download VidMate APK directly and install the package.
Download the APK package from VidMate and proceed with the installation. After downloading and installing the APK package on your smartphone, launch VidMate. When you open the app, you will find some featured videos, which you probably won't be interested in.
Read also: Download Snaptube APK for Android.
Download YouTube Videos with VidMate
Go to the " Sites »Of VidMate to choose from which platform you want to download videos or music. If you choose YouTube, the app will open it and give you the option to search and download one or more videos of your choice.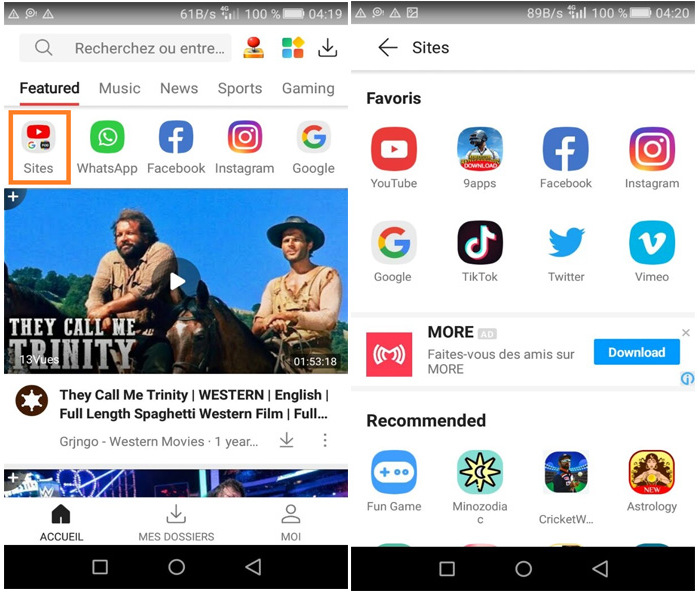 Find a video and start playing. During playback, tap the download icon (small button in red). Rename your video, if necessary. Then, choose a format of your choice among those that will be offered to you and start the download.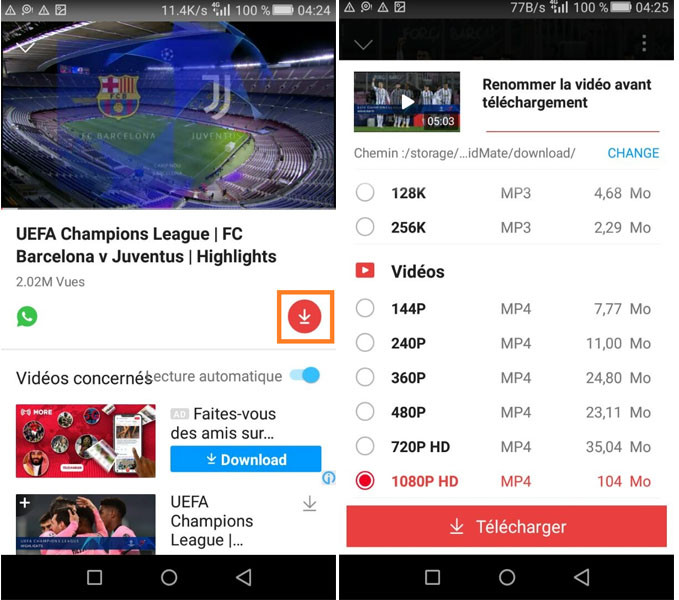 You can copy the YouTube video link from Firefox, Chrome or any other browser and paste it into VidMate to finally track or download the content. You can also use VidMate as your web browser. It's part of his roles.
Read also: Download videos from YouTube without an app.
Download WhatsApp statuses and videos with VidMate
If you are looking for how to backup WhatsApp statuses, you can do it right with this app. With VidMate, all videos and photos posted by your WhatsApp contacts can be downloaded with one click. Or two, if you will.
Read also: How to use WhatsApp on computer ?
The statuses of your contacts that you are viewing are stored by WhatsApp on your device in an invisible folder, and deleted within 24 hours. To download WhatsApp statuses, launch VidMate and, directly in Home, click on the WhatsApp icon. The photos and videos viewed will be displayed to you.
Select the image or video of your choice, view and save it on your device.
Read also: Download TikTok videos without watermark.
Download VidMate APK: Download TikTok Videos with VidMate
VidMate also allows you to download videos directly from the TikTok platform / social network. To do this, go to your TikTok account as you usually do. Find, start playing a video.
If you are using a web browser, go to the address bar and copy the URL of the TikTok video. On the other hand, if you use theTikTok mobile app, while the video is playing, locate and click on the share button " Share And copy the link.
Then open VidMate and paste, in the address bar, the link of the previously copied TikTok video.

Paste the link and start the query. The video will start playing, and you can then download it. The procedure remains the same, click on the download button icon, choose the format and start the download.
Read also: Apps to chat faster on Facebook.
Download videos from Facebook and Instagram with VidMate
For users of Facebook, Instagram and even Twitter, it is also possible to download videos with VidMate. All you have to do is go to the " Sites From VidMate and select the social network you want to download videos from.
You can even enter the URL directly into VidMate, like (facebook.com ou twitter.com). You will be asked to log into your account to chat and download whatever you like directly into VidMate.
VidMate allows loading of almost any type of file; videos, music, applications, etc. Also allows direct updating of certain applications installed on the device.