On computer or Android smartphone, you can use files .torrent to download content from the internet. This is a different download than the one called " Direct download », Which is why the use is made of certain software such as μTorrent.
Before seeing how to download torrents with µTorrent on a computer and / or smartphone, it would be better to remember what an extension file is. .torrent, how it works as well as the difference between its download mode and the one that says " Direct ».
What is a .torrent file? How does it work ?
An extension file .torrent is a data container. It contains the information of the file to download and tells software that supports .torrent files, such as μTorrent ou BitTorrent, from which server to retrieve the file.
Downloading through .torrent files is very different from direct downloading " direct download ". By direct download, you get the file directly from the server on which it is hosted. The operation takes place between the server and your device, we are talking about the model " Client server ».
While for downloading via a torrent file, the operation takes place between computers. That is, through specific torrent software, the file is recovered in parts from multiple sources. These software exploit the network exchange model called " Peer-to-Peer » Peer-to-peer, or computer to computer.
By downloading content using .torrent files, you will save time and download comfort. In fact, you will download faster than for direct download, and your download will not stop in the event of a connection cut or link error with one of the sources.
Download torrents with µTorrent on PC and Android
To download torrents with µTorrent or other software, you must first go to a site that offers .torrent files and grab the ones you want.
Which sites to download .torrent files?
There are several on the internet, in various languages ​​and offering content from all categories. Here is a small list of sites to download .torrent files. As a reminder, these sites offer content generally protected by copyright, which makes them liable to legal proceedings.
And so : take care. By downloading illegal content, you run the risk of attracting hadopi (High authority for the distribution of works and the protection of rights on the Internet).
Something else : use a VPN to hide your IP address as well as your activities on the internet. By visiting these sites and downloading content from them, your internet service provider as well as third parties would be informed about all your activities and downloads. With a VPN you go under total anonymity.
Install µTorrent on your PC or Android to download torrents
To download torrents with µTorrent, you must have one or more extension files .torrent, locally on your computer. You must also have the µTorrent software installed on your computer or smartphone. There are other software, including BitTorrent.
It is free but offers a paid version, without ads. After downloading, install and launch µTorrent.
Download torrents with µTorrent on Windows PC
To launch the operation and download torrents with µTorrent on Windows, go to the menu ficher, Add a torrent :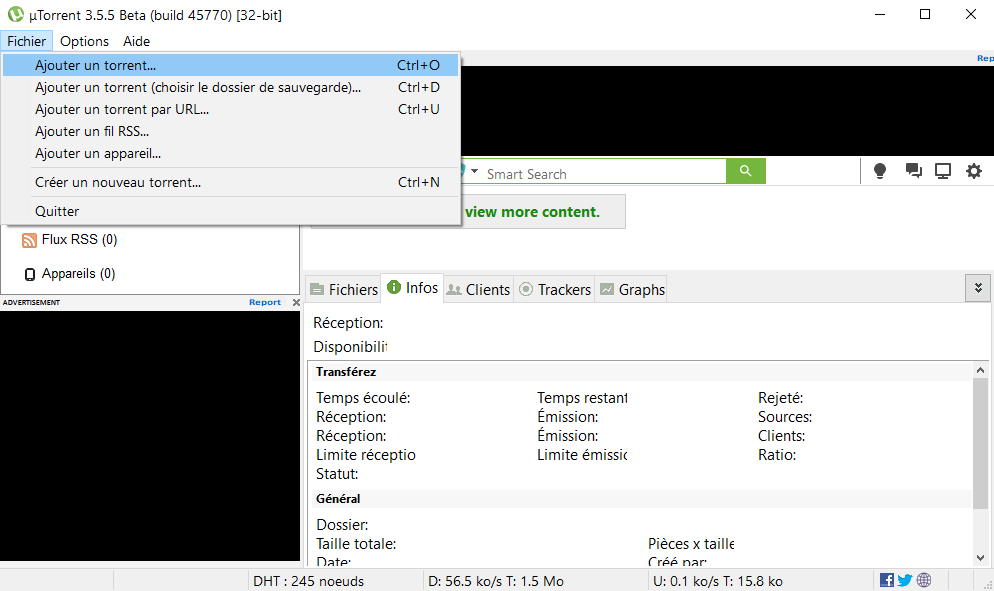 Browse your folders to select the .torrent file to download. In my case it is DriverPack Solution. You will usually find your torrent files in the Downloads. Select it and go to the next step: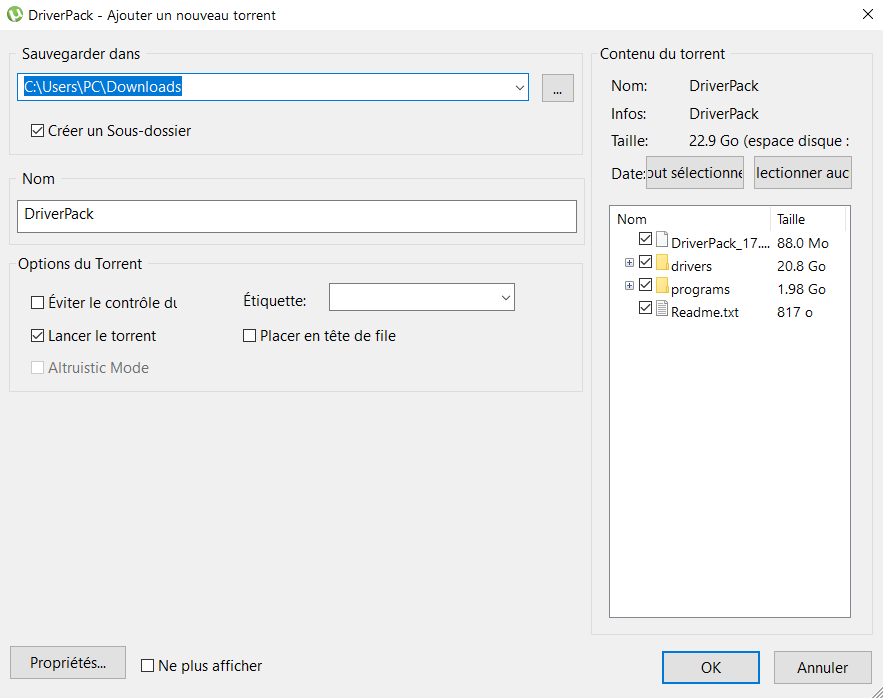 Change the save directory of the file or leave the default one, Downloads. Leave the " Create a subfolder », This will give your file its own subfolder and avoid confusion with your other files. For the rest click on " OK ».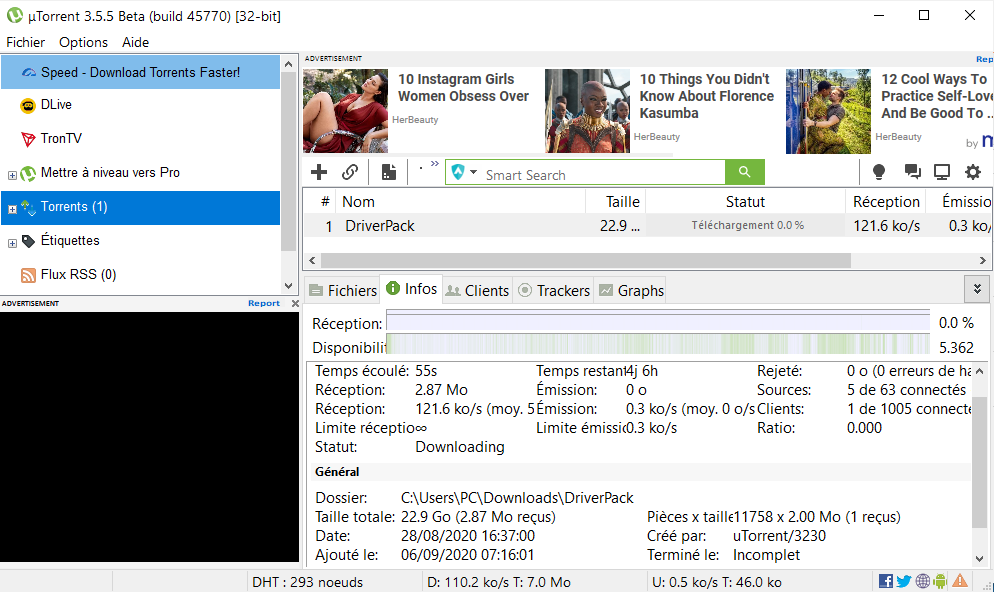 Your download will be started. Its duration will depend on the quality of your internet connection, but you do not have to monitor it. µTorrent runs well in the background, so you can close the program without interrupting the download in progress.
Download torrents with µTorrent on Android
You may want to download torrents with µTorrent, being somewhere, without the possibility of accessing your computer. You can do this directly from your Android smartphone. To do this, start by downloading and installing µTorrent for Android.
After downloading and installing, launch µTorrent. Assuming you have a .torrent file on your device, DriverPack in my case. Browse your files to find the already downloaded one, extension .torrent. Once found click on it, it will open directly in µTorrent and start the download.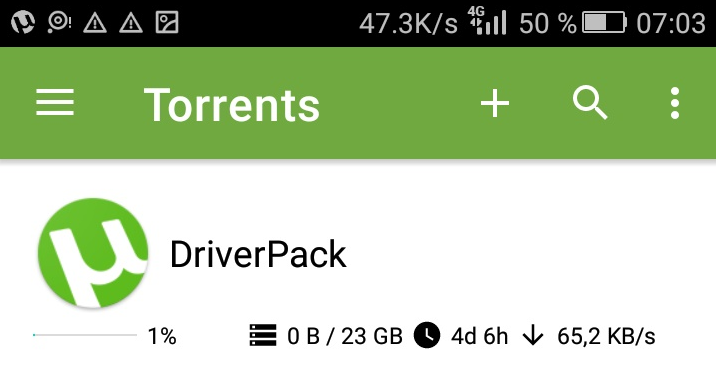 The file will automatically create its own folder in your phone's file manager. After downloading, you can keep it on your phone or transfer it to another device. Use the method of your choice (computer or smartphone) to download torrents with µTorrent.