Signal is a messaging application offering a very high level of security, compared to all others known to the general public. The app is getting talked about a lot, exceeding WhatsApp in number of downloads in the Stores. Find out in this article how to download Signal Messenger on Android and iOS.
Preview on Signal: what to remember from Signal Messenger?
Signal Messenger allows secure communication through messages, voice and video calls or sending media files. Developed by Signal, the application is completely free and works on Android, iOS, Windows, MacOS and some Linux distributions.
Developed by Signal, an American organization, the application is funded by donations and grants through Foudation signal. This is one of its great assets, since it frees the application from the financial power of digital giants - who exploit and sell our data - and from any kind of contract, advertising or not.
With Signal, special emphasis is placed on the confidentiality of users' personal data. The conversations are encrypted from end to end, through very strong encryption methods. Thus, neither your mobile operator nor the Internet service provider can read or intercept your conversations. Not even the publisher of the application.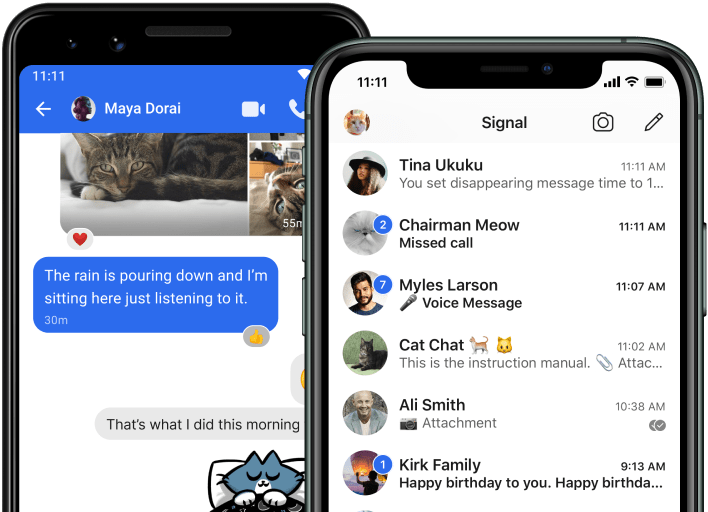 Signal is a messaging application endorsed by many digital security specialists, and recommended for use by several celebrities and whistleblowers. Edward Snowden (revealing the NSA spy program), Elon Musk (boss of Tesla Motors and Space X), and many others encourage the use of Signal.
All Signal communications are end-to-end encrypted. Encryption keys are generated and stored by user applications. For better confidentiality, the application even uses a control mechanism, making it possible to ensure that communications are not intercepted by third parties.
In some countries, to circumvent censorship, Signal operates an apparent domain service.
Read also: Use Signal: Make calls, change themes, etc..
Download Signal Messenger for Android with APK, Signal Messenger for iPhone or iPad
You can download and use Signal Messenger on just about any device. For Smartphones, Android, the application can be downloaded from the Play Store. Go to Play Store to download Signal Messenger. It is also possible to install Signal on Android from the APK package.

But for security reasons, installing Signal from the APK package is not recommended by its developers. In fact, going through Play Store or App Store, the signature of each application is verified to ensure that the updates provided are genuine.
If you are using an iPhone or iPad, go to the official store (App Store) to download Signal Messenger.

On your computer, you can also download Signal Messenger. The application can be used on Windows, MacOS as well as on some Linux distributions like Debian or Ubuntu. Download the installation file to computer and follow the installation instructions depending on your platform.

How to configure Signal on Android and iOS?
To use Signal Messenger, you must provide and verify a phone number. This article describes how to configure Signal for first use., how to add a number. Also learn how send temporary messages with Signal.