Since its official release, more and more Apple computer users are switching to the new version of the operating system of their devices. If you also want to download and install macOS Catalina, you will now discover the steps to follow.
Upgrading your macOS to the Catalina version has several benefits. This allows you to enjoy its apps like Podcasts and new system features like using apps from your iPad on Mac etc.
How do I update macOS Catalina?
Before downloading and installing macOS Catalina, it is essential to know the prerequisites of this new operating system from Apple. For example, your computer should have 4 GB of RAM and 12.5 to 18.5 GB of free space. To learn more about what's new and compatibility with your Mac, read this to find out if you should or can migrate to macOS Catalina.
For some users running macOS Lion or Mountain Lion versions, you will need to upgrade to macOS El Captain first before downloading and installing macOS Catalina.
Back up Mac data to download and install macOS Catalina
Before upgrading, it is important to back up the data on your Mac. While installing macOS Catalina won't affect your personal files and data, it's a good idea to go through this step. This is a safety measure in case the upgrade operation encountered any difficulties.
There are several backup methods, but here you will be able to go with the functionality time Machine. It's built into your Mac, so there's no need to worry.
Read also: How to fix a Mac that won't turn on ou fix an iPhone that won't turn on ?
How to backup Mac data with Time Machine?
Time Machine allows you to back up your files, photos, music, music, emails and documents, applications and system files. In the event of a malfunction or an upgrade error, you can use your backup to restore your Mac.
Here are the steps to back up with Time Machine, to download and install macOS Catalina:
First of all, you need to have an external storage device, like an external USB hard drive. It will then be a question of defining it as your backup disk. Next :
Connect the external hard drive to your Mac. By connecting it, your computer may suggest that you use it as a backup device with Time Machine. In this case, click on " Use as backup disk ", And check the box" Encrypt backup disk»To protect your backup with a mot de passe. Leave the box unchecked if you are not interested.
Open the Time Machine feature from System Preferences from menu .
Select your external device as the backup disk.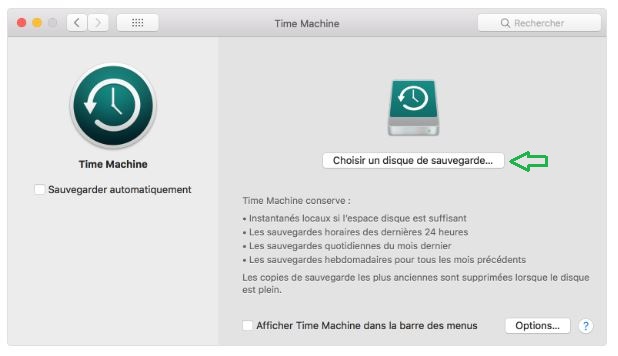 4. From the following list of disks, select the one you choose for backup.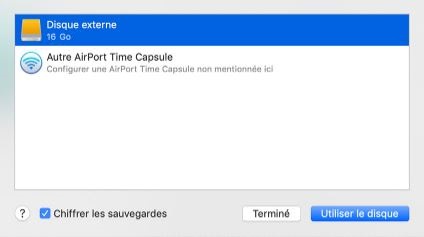 As you can see, the checkbox " Encrypt backups Is still present. It's up to you to see if you need to put a password there or not, depending on the importance you attach to the security of your data.
Clear data from disk, if you are asked to do so before starting the backup.
There is also the possibility to configure a periodic automatic backup. You can change your backup disk always in Time Machine or exclude certain items from your backup. There are a whole bunch of additional backup options available.
Upgrade: Download and Install macOS Catalina
Now that you've backed up your Mac's data, here are the steps on how to download and install macOS Catalina:
Connect your Mac to a Wi-Fi hotspot
Wi-Fi access point or other connection source, choose the one with a quality and reliable connection. Since the macOS upgrade takes a relatively long time, be sure to connect your computer to AC power, if the Mac is portable. If it's a stationary Mac, be sure to connect it to a reliable power source to deal with any cuts.
Download macOS Catalina and proceed to installation
It's easy to upgrade. For those already using macOS Catalina or previous version users, here are the steps to follow:
Go to the apple menu .
System Preference.
Software update.
Wait for the download to complete and the installer to open.
Click on Continue and follow the instructions.
If necessary, install a utility. If prompted during installation, enter your username and mot de passe.
Wait for the installation to complete.
Read also: How to install Windows on Mac ou Install Windows easily on any PC ?
While waiting for the installation of macOS to finish, do not close the door or attempt to put your Mac to sleep. Many prefer to do it overnight, so that they can close one eye and keep another on the process.
During system installation, your Mac may change display intermittently. It may therefore display a black screen, progress bar, or updates. It can also restart on its own several times. Once the installation is complete, you will be notified.
You can also download and install macOS Catalina by accessing the App Store, from this link. In the event of software or hardware incompatibility, it is still possible to install an older version of macOS.
Reinstall macOS Catalina in recovery mode
Your Mac won't start ? It's possible that you have a device that won't start or gets stuck on the apple. If for some reason you need to go through recovery mode to download and install macOS Catalina instead, here's how to do it: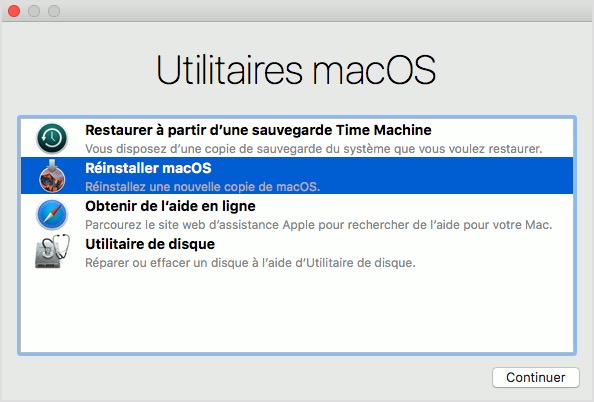 Shut down your Mac if it's on.
Turn on your Mac and press the keys directly ⌘ (Command) et R. Keep them pressed.
When the Apple logo appears, release them. Your Mac has then entered recovery mode.
Enter the requested password, in case it is required. From there, you'll access the macOS utility window.
Select Reinstall macOS, then do Continue and accept the terms and conditions.
Select the hard drive where you want to download and install macOS Catalina, then click Installer.
Follow the instructions and wait for the download and installation to complete. At the end of the process, your Mac will need to restart and you can then enjoy your recovery.
Read also: Clean up your Mac for free et recover damaged or deleted files from your Mac.
If, despite everything, you are unable to download and install macOS Catalina, then you can contact the apple support center to get in touch with a specialist. For the rest, wave through the comments and don't forget to share if you liked the article.