Currently unavailable on the official application stores of Google (Play Store) and Apple (App Store), Fortnite remains one of the most popular games for gamers. In this article, you will learn how to install Fortnite on PC and Mac for free.
How to install Fortnite on PC and Mac?
Before proceeding, remember that it is possible to install Fortnite on other types of devices such as the Play Station, Nintendo Switch, etc. Here is the list of devices eligible to play Fortnite:
PlayStation 5.
PlayStation 4 / PlayStation 4 Pro.
Xbox X Series / Xbox S Series.
Xbox One / Xbox One X / Xbox One S.
Windows or macOS computers.
Read also: Install Fortnite on iPhone and Android.
On PC as on Mac, the Fortnite installation procedure remains the same. Here are the steps to follow to install Fortnite on PC and Mac via the official website of Epic Games (Publisher and owner of Fortnite):
Step 1 : From a browser of your choice, access the Epic Games website through this link. Log in or create an Epic Games account. Then download the software Epic Games Installer clicking on " Download Epic Games ».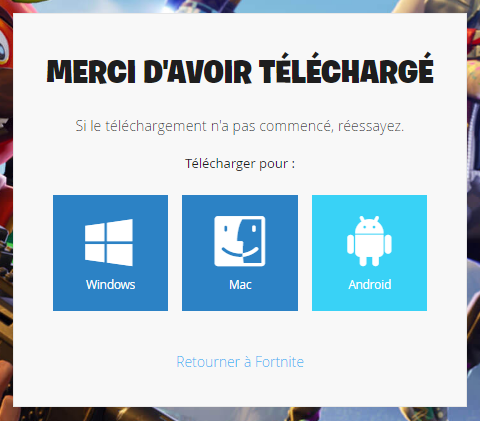 As for the connection, you can create an account on the site or connect using one of your accounts as Facebook, XBOX Live, an Apple account or also a Google account (Gmail).
Step 2 : After downloading, install and launch Epic Games Installer. When the program opens, it will ask you to provide your connection data. Here I am referring to the previous step, the phase of connection or creation of an account.
Step 3 : Once the connection is established, you will be able to download an Epic Games game of your choice. Browse the list or search for " Fortnite »And click on« Installer ". Choose the installation options such as language, check the "automatic update" box and proceed with the installation. In the end, you will have Fortnite installed on your computer.