Would you like to turn off Windows updates? Updating Windows, and any operating system, helps keep it secure. Updates don't just bring security improvements, but new features too. Besides that, an update can be the source of big problems.
After updating Windows, the system sometimes loses its execution speed or shows some other malfunction. What can lead to Windows restore or an relocation. To prevent this, some people simply prefer to turn off Windows updates.
Read also: Switch from Windows 7, 8 to Windows 10.
Block automatic updates from Windows Update
There are a number of ways to turn off Windows Updates. Whether it is Windows 7, 8 or 10, you can do it by going through the system settings or by going to the Windows service list. The second method remains the simplest:
Combine keys Windows et R to call the Windows command executor. In the input box, paste or type the command " SERVICES.MSC », Without quotes. The rule is not case sensitive, uppercase or not this is not a problem: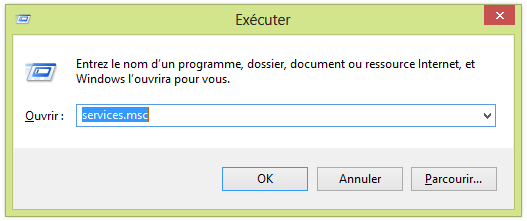 Once the order has been entered, click on " OK "Or press the" Enter " of the keyboard. Administrator rights are required to run this command and continue. You will have the Windows services window in front of you. Scroll down, locate " Windows Update ":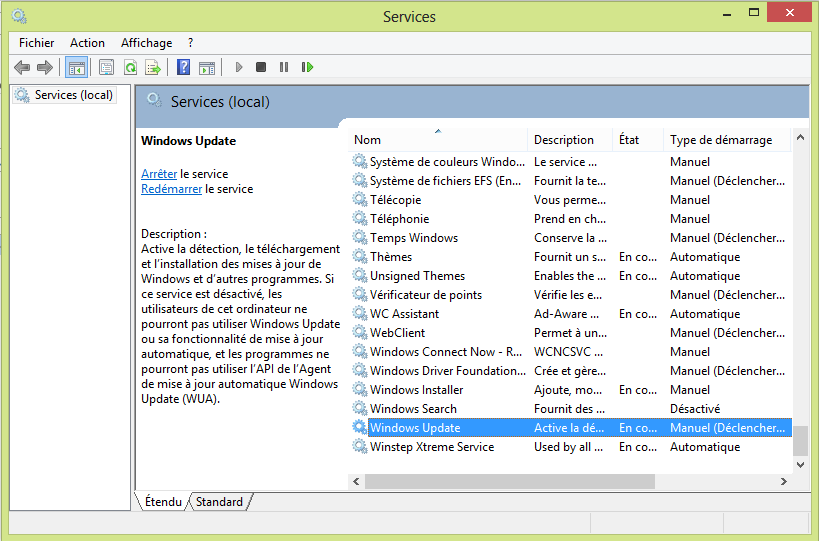 By clicking on it, you will automatically see a description on the left of the window explaining how it works. Make a right click sure " Windows Update "And, on the pop-up window, click" Manufacturing ". Double-clicking also works.
Read also: Stop an unresponsive Windows process.
Disable Windows 10, 8 and Win 7 Updates
The drop-down menu of the " Start type »Allows you to deactivate Windows updates, or to define other parameters which will apply. As you scroll down, you will see that there is not just the option to deactivate. For any service there are four: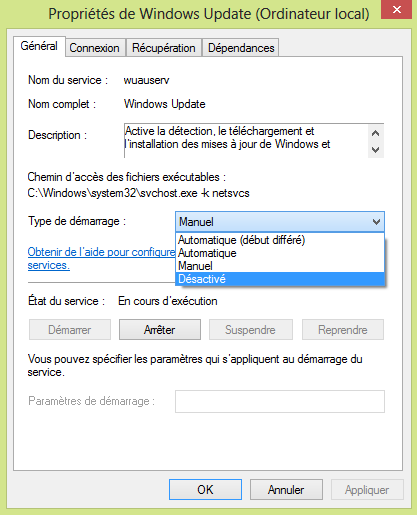 Here is a little description of each of these parameters:
Automatic (delayed start): When starting the computer, the service starts automatically but a little late. That is, shortly after starting Windows.
Automatice: The service also starts during Windows startup. If this option is enabled, which is the case by default, Windows will automatically check for and install updates.
Manual: Windows will check for, but not install, updates. If you don't want to disable Windows Updates then you can choose this option. Once the new updates are found, Windows will ask you if you want to activate them or not.
deactivate : This is your option if you still want to completely disable Windows updates.
From the startup type drop-down menu, select " deactivate »And click on« Stop ».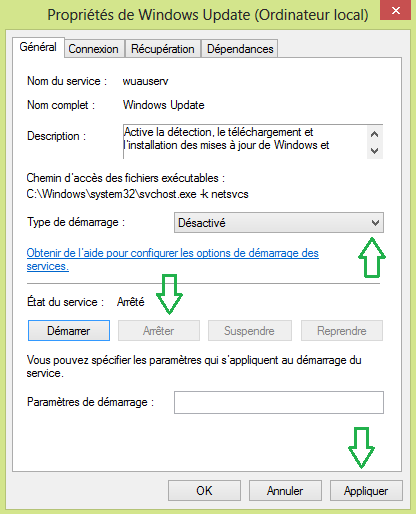 You will then have stopped the service. You will notice the indication " Service status: Stopped ". Then click on " Apply To save the changes. You will do the same to re-enable updates or change Windows Update settings.
However, there are times when re-enabling updates not all work properly. This deactivation disrupts the operation of the system and in some cases causes Windows to be unable to find or install updates even after re-activating Windows Update.