With Apple's facial recognition technology (Face ID), unlock your smartphone becomes easier and easier. However, it can threaten the privacy and confidentiality of users' personal data. Find out how to deactivate Face ID on iPhone.
This technique of quickly disabling facial recognition would help you miss some urgent or dangerous situations. Situations that could affect your privacy or security.
Read also: Lock iPhone: Set up passcode and Touch ID on iPhone and iPad.
How to turn off Face ID on iPhone quickly?
You'll see two ways to do this, but they are all temporary deactivation methods. They allow you to very quickly deactivate the facial recognition function on your iPhone. Here is how to proceed:
1 method : Press the side (power) button on your iPhone 5 times in a row. The device will present you with the power off screen with emergency call options. To deactivate facial recognition, press " Cancel At the bottom middle of the screen.
2 method : Press one of the volume keys (Volume + or -) as well as the side button (ignition). Do this simultaneously and wait to see the power off screen then release them. Then press " Cancel To deactivate Face ID on iPhone.
Note : Using the second method, be sure to do not hold down the volume and power keys for a very long time. As soon as you see the power off screen, release them.
In fact, this same key combination would trigger other types of actions on your iPhone. It would trigger, for example, an emergency call (SOS) or a restart of the device.
In case of automatic emergency call, your iPhone would contact emergency services (Police for example). Be careful not to trigger a false positive.
Read also: Why should you always lock your phone?
Other methods to turn off Face ID on iPhone
The methods presented above are the fastest ways to turn off facial recognition on an iPhone. There are other methods to temporarily disable Face ID. But for a complete deactivation, you will have to go through the settings of your iPhone.
To permanently deactivate Face ID on iPhone, here is how to proceed:
Step 1 : See you in the Settings of your iPhone and go down to select the option " Face ID and Code ". To access the option, enter your unlock code.
Step 2 : Once in the option, deactivate " Unlock iPhone " or reset your Face ID configurations.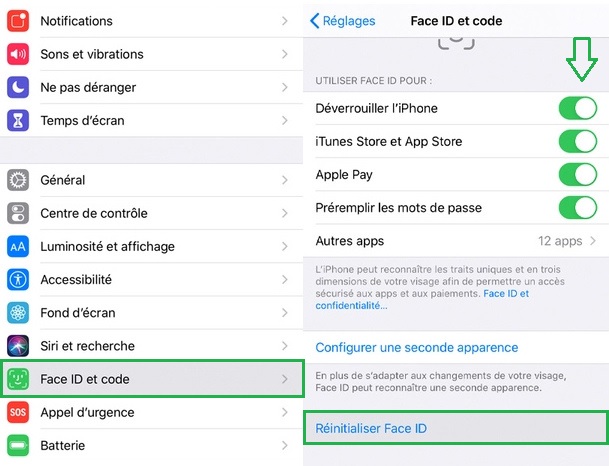 Among other methods to disable Face ID on iPhone, we can cite the fact of leaving your iPhone unused for more than 48 hours. The recognition function is also deactivated following a recognition failure after 5 consecutive attempts.
Facial recognition on iPhone is an additional security option. Disabling it is therefore not very advisable, but remains an option if you think your privacy is in danger.